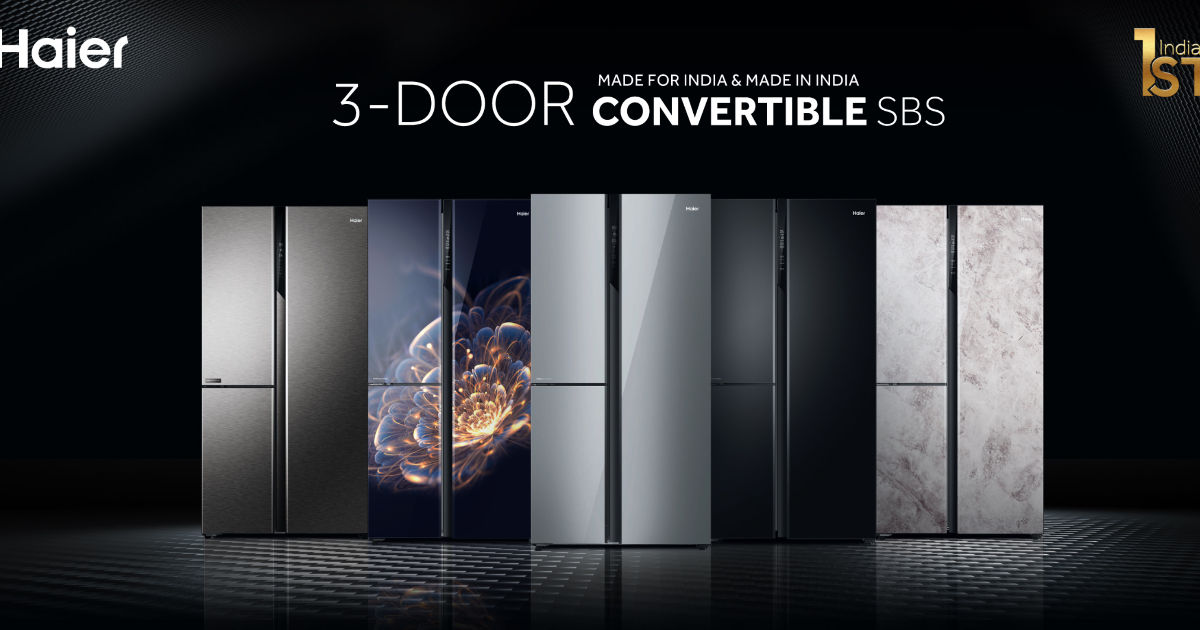 Haier Electronics has launched a new range of refrigerators in India. The new premium refrigerators from Haier are claimed to be "Made for India". The Chinese electronics giant is also manufacturing its newly launched refrigerators in India. The new SBS (Side-By-Side) series joins Haier's HRB series of premium range of refrigerators in India. The SBS series consists of 2 & 3 door convertible refrigerators. Its USP is that customers can customise the refrigerator as per their requirements. The aim is to offer better space management while offering the best of features. Let's take a look at more details of the Haier 2 and 3 Door Convertible SBS Refrigerator series launched in India.
Haier SBS Refrigerator series price in India
The 682 and 683 series of SBS convertible refrigerators come in two and three door options. The two door option starts at a price of Rs 1,27,000, whereas the three-door option starts at Rs 1,40,000. The company is offering 10 years of warranty on the compressor and fan motor.
Pricing of all the models is as follows:
| | | |
| --- | --- | --- |
| Model Number | Gross Capacity (in litre) | MRP (INR) |
| HRT-683SMG-SIGNATURE(WIFI) | 628L | 1,70,000 |
| HRT-683FG | 628L | 1,50,000 |
| HRT-683GG | 628L | 1,50,000 |
| HRT-683KG | 628L | 1,50,000 |
| HRT-683IS | 628L | 1,40,000 |
| HRT-682MG | 630L | 1,40,000 |
| HRT-682EG | 630L | 1,38,000 |
| HRT-682KG | 630L | 1,38,000 |
| HRT-682KS | 630L | 1,27,000 |
| HRT-682SS | 630L | 1,27,000 |
Features
Haier states that it conducted an intensive consumer research in India to understand the usage patterns of customers owning a side-by-side refrigerator. It was found that consumers not only wish for an SBS refrigerator that has a bigger refrigerator section but also gives the control in their hands to personalise it the way they want. Haier's SBS series was launched for such a consumer.
The 682 series is the company's two-door SBS refrigerator. It is said to be India's first 2-door 100% convertible SBS with the capability to work as a 100% refrigerator unit. With an improved fridge to freezer ratio of 66:34, users will be able to convert and use the 34% of freezer space as a refrigerator, to suit their needs.
The 683 series is a more premium offering that has a 21% convertible section on the top left. This design allows the user to increase the refrigerator space from 62% (dedicated) to 83% with just 17% reserved for the freezer at the bottom left, making it truly customisable to complement the needs of a contemporary Indian home. In case a user requires more freezer space, they would have the flexibility to increase it to 38% using the convertible section. Moreover, it also introduces a Hanging flexi box that is meant for the storage of cosmetics and other utility items of the consumers.
Both models come with the company's Deo-Fresh technology and Magic Cooling feature to help retain the freshness of the food. They also feature a fresh box, a jumbo ice maker, and additional door pockets that will allow for more vegetables, beverages, and cold food items to be stored fresh for a long time. Select models of the Hair SBS series also come with WiFi connectivity.