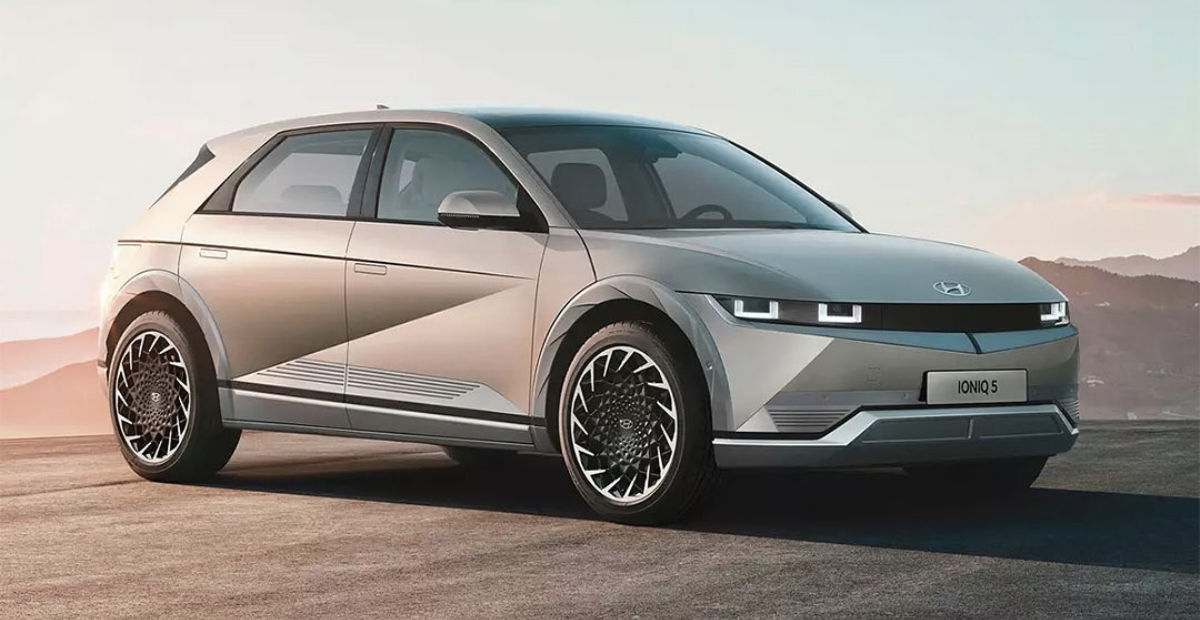 It has taken a while for the Hyundai IONIQ 5 EV to arrive. After the Kona Electric, this electric crossover will be Hyundai's second electric vehicle in India. It will also be the first vehicle built on the E-GMP Platform, supporting the Kia EV6. In reality, Hyundai will introduce its specialized BEV Platform E-GMP, which will produce its future electric vehicles, in our market with the new IONIQ 5.
The new E-GMP platform consists of a vehicle chassis with an electric power system, a motor, and a battery. The advanced battery pack in the battery system has a long range, and the high-voltage battery's bi-directional charging outlet allows it to power various electrical devices. According to Hyundai, the E-GMP has been engineered to give superior driving dynamics, better turning, and more stability at high speeds. It is accomplished by having a balanced weight distribution between the front and back. The high-speed electric motor on the Hyundai IONIQ 5 EV has a peak speed of 185 kmph. The platform's 5-link rear suspension can improve handling and ride comfort. Furthermore, a 350 kW DC charger powered by E-GMP can charge the electric crossover to 80% capacity in 18 minutes. This article will discuss the price, availability, features, range, etc., and give you a complete overview of the Hyundai IONIQ 5 EV.
Also Read: TVS iQube Electric Scooter: Price in India, Range, Specifications, Colours and More
Hyundai IONIQ 5 EV Price in India and Availability
The Hyundai IONIQ 5 has been announced in India at an ex-showroom price of Rs 45.95 lakhs for the first 500 customers. The price range for this highly praised electric vehicle in India is between Rs 40 lakh and Rs 50 lakh. Due to the top-notch features of the hatchback, this pricing is competitive and will likely be well received by the general customer.
Hyundai introduced the Ioniq 5 in India during the January 2023 Auto Expo. The Hyundai IONIQ 5 EV is a sibling of the Kia EV6, which is already available in India. Hyundai will domestically construct the Ioniq 5 in contrast to the Kia EV6, which is entirely imported.
Hyundai IONIQ 5 EV Features
| | | | | |
| --- | --- | --- | --- | --- |
| Driving Range | Charging Time | Fuel Type | Motor Power | Battery capacity |
| 507 km | 18 minutes | Electric | 53 kW front / 120 kW rear | 72.6kWh |
There are many engine options for this car's solely electric drivetrain. 168 horsepower is produced when the normal-range battery is coupled with a single electric motor positioned at the back. The rear-drive option produces around 225 horsepower and 256 pound-feet of torque, accelerating the vehicle from 0 to 60 mph in 7.4 seconds with a longer-range battery. Moreover, power is available in the all-wheel drive model, with 320 horsepower and 446 pound-feet of torque. This automobile is sporty because to its low centre of gravity and wide EV tyres. In addition, the Hyundai IONIQ 5 EV's basic 58 kWh battery pack can deliver a 220-mile range. The longer 77.5 kWh battery has a range of 303 miles on a single engine and 266 miles with twin motors. It took around 18 minutes to charge the bigger battery, from 10% to 80%.
When equipped with a long-range battery and rear-wheel drive, the IONIQ 5 gets a combined EPA rating of 114 MPGe. When all-wheel drive is included, the MPGe drops to 98. The EV should get 113 MPGe when equipped with rear-wheel drive and a battery with a standard range. With various driver-aid features, including a Level 2 autonomous driving mode called Highway Driver Assist 3, the IONIQ 5 can navigate highways and change lanes with little input from the driver. Key features include adaptive cruise control, lane-departure warning, automated emergency braking, and forward-collision warning, and automated emergency braking.
Hyundai IONIQ 5 EV Key Specifications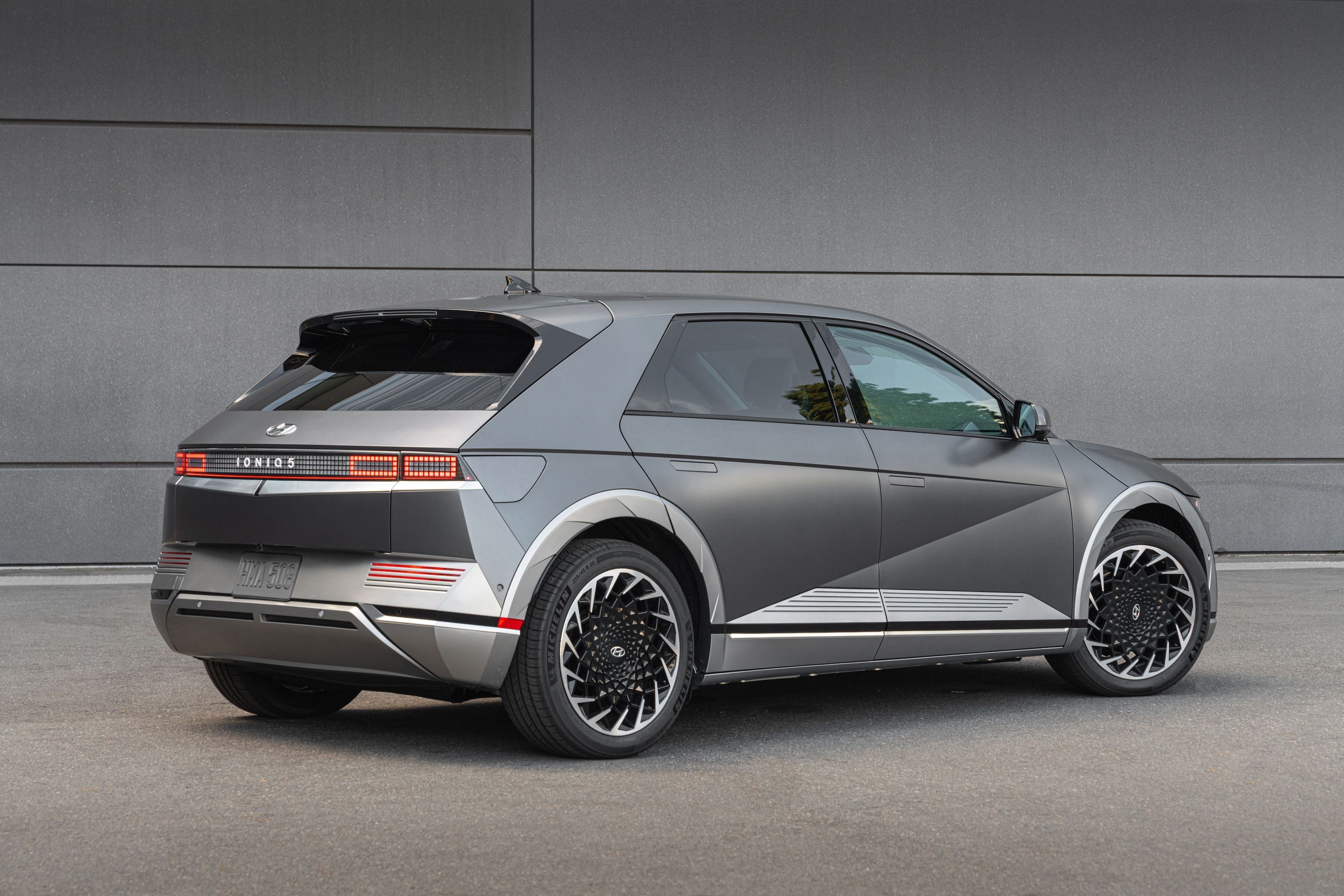 The IONIQ 5's cabin is a high-tech area with an electronic dashboard and environmentally friendly materials. The EV has a heads-up display that uses augmented reality to transmit driving instructions onto the windscreen. The little hatchback also benefits from being entirely electric by having a flat floor for passengers' convenience and freight storage. While the IONIQ 5 charges, passengers may unwind in the front seats since they can recline and have footrests. Legroom is generous both up front and in the back in this vehicle. The IONIQ sub-brand, according to Hyundai, stresses connected living, which is why the vehicle includes various infotainment and connection options. A 12-inch touchscreen and 12-inch digital gauge cluster are on the same dashboard panel. The center of all entertainment is the former. This includes sophisticated vocal pattern recognition technologies and smartphone-integrated apps like Apple CarPlay and Android Auto.
Range
The Ioniq 5 and Kia EV6 both use the same platform. Therefore, the Hyundai EV has the same batteries and setup. The Ioniq 5 EV is anticipated to come in Standard Range and Long Range models, with rear-wheel drive and all-wheel drive configurations. The extended-range model will reportedly have a 72.6kWh battery pack, while the normal model would have a 58kWh battery. It claims to have a total range of 480 kilometers. The EV can reach 100 kmph in 6.1 seconds for the regular AWD version and 5.2 seconds for the AWD long-range version thanks to these astounding specifications, the vehicle's low weight, and the quick torque of the electric motor.
Power
The Ioniq 5 features an all-electric drivetrain with various power options. The vehicle's lone electric engine, located at the rear, and the standard-range battery work together to provide 168 horsepower. With the longer-range battery and the 225 horsepower and 258 pound-feet of torque it produces, Hyundai claims the Ioniq 5 will reach 60 mph in 7.4 seconds. The all-wheel-drive model has 320 horsepower and a significant 446 pound-feet of torque, making it far more potent and faster. It took 4.5 seconds to reach 60 mph on our test track. The Ioniq 5 we tested was smooth on various roads, and its wide for EV tyres combined with a low centre of gravity gave it the appearance of being nimble when going from side to side. We only desire a bit more stiffness in the suspension and more feedback from the steering.
Battery
In the international market, Hyundai offers the Ioniq 5 in two battery pack configurations, AWD and rear-wheel drive: 58kWh and 72.6kWh. In rear-wheel drive and all-wheel drive configurations, the smaller battery generates 170 horsepower; in both configurations, the bigger battery generates 217 horsepower and 305 horsepower.
While the smaller battery pack is adequate for 383km in the official test cycle, the larger battery boosts the range to a claimed 481km (WLTP cycle). With the Ioniq 5's capability for ultra-rapid 800V charging, the battery may be charged from 10 to 80% in just 18 minutes. Which powertrain set-up travels to India is yet to be discovered.
Electric Motor
An all-electric powertrain with various power sources is standard on the Ioniq 5. The vehicle's lone electric engine, located at the rear, and the standard-range battery work together to provide 168 horsepower. With the longer-range battery, Hyundai claims the rear-drive system's 225 horsepower and 258 pound-feet of torque can propel the Ioniq 5 to 60 mph in 7.4 seconds.
Other Key Specifications
Despite the Ioniq 5's recent launch, Hyundai has made subtle enough equipment improvements to improve several of its EPA scores. The EPA has increased the range estimate for all-wheel drive versions from 256 miles to 266 miles. Additionally, their MPGe ratings have marginally increased. All versions now have a standard battery heating system and a preconditioning feature. Finally, if you decide to tow something with the Ioniq 5, you should know that the SEL and Limited versions have a 2300-pound maximum tow rating.
Also Read: Audi e-Tron vs Audi e-Tron GT: Price, Battery Pack, Range, Specifications, and More
Hyundai IONIQ 5 EV Design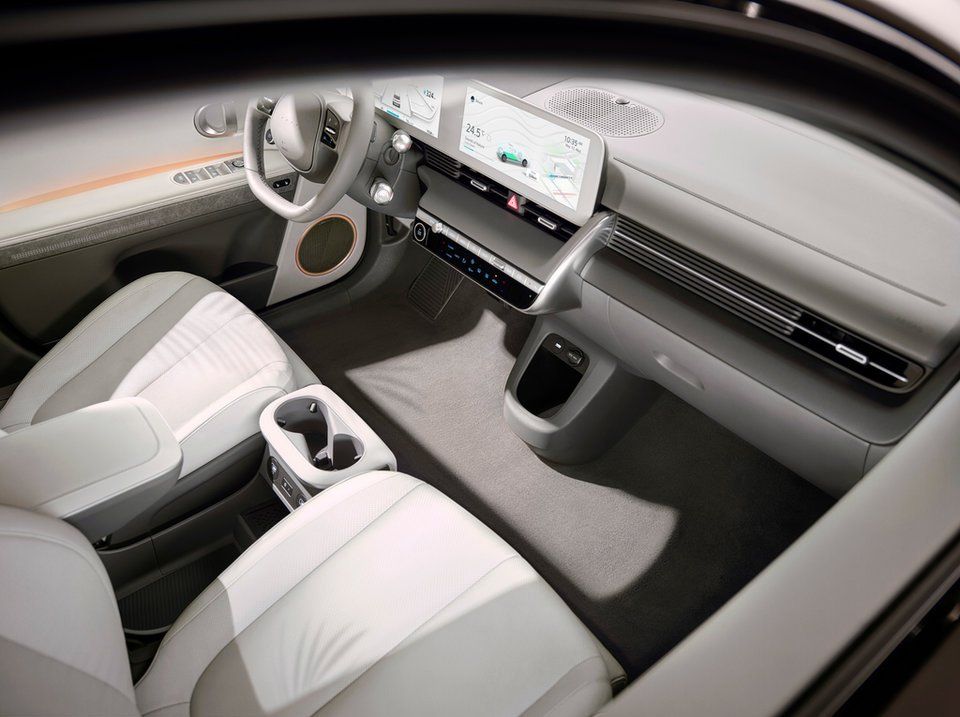 Overall, its design is characterized by many sharp cuts and lines that give its boxy appearance personality. One cannot help but notice the sharply angled windscreens and the eye-catching alloy wheels while gazing from the side. Retro styling gives the car its distinctive appearance, with square headlights and tail lights constructed of individual pixels. The Hyundai IONIQ 5 EV's stunning external design earned it the title of World Car of the Year 2022.
The specialized EV architecture Hyundai is using to manufacture the car ensures that the cabin is unquestionably roomy. There are several benefits to creating an all-electric platform from the ground up, and an improved cabin room is among them.

Simply said, the automobile is completely loaded. The 12.3-inch infotainment touchscreen and the instrument panel are combined on a floating dual-screen display. There is also a magnetic pad where you may mount your phone using magnets. a large sunroof with a panoramic view, motorized sliding, reclining seats, and other creature conveniences.

Additionally, vehicle-to-load (V2L) technology is anticipated to be included to power superfluous appliances, equipment, and even EVs like electric bicycles.
Also Read: Upcoming Electric Cars in India 2022: Mercedes Benz EQA, Tesla Model Y, Hyundai Ioniq 5, More
Hyundai IONIQ 5 EV Color, Service and Maintenance
Five different colours Atlas White, Cyber Gray, Digital Teal, Lucid Blue, Phantom Black, and Shooting Star are offered for the IONIQ.
One of the greatest warranty programs in the business is offered by Hyundai.
Additionally, it includes a significant quantity of gratis planned maintenance. The limited warranty covers five years or 60,000 miles. The warranty on the powertrain is valid for ten years or 100,000 miles.
A 10-year or 100,000-mile guarantee is offered on the battery. Three years or 36,000 miles are covered under the free maintenance period.
How to book or buy Hyundai IONIQ 5 EV?
The business still needs to disclose the car's pricing, although it is currently available for reservation for Rs 1,000,000.