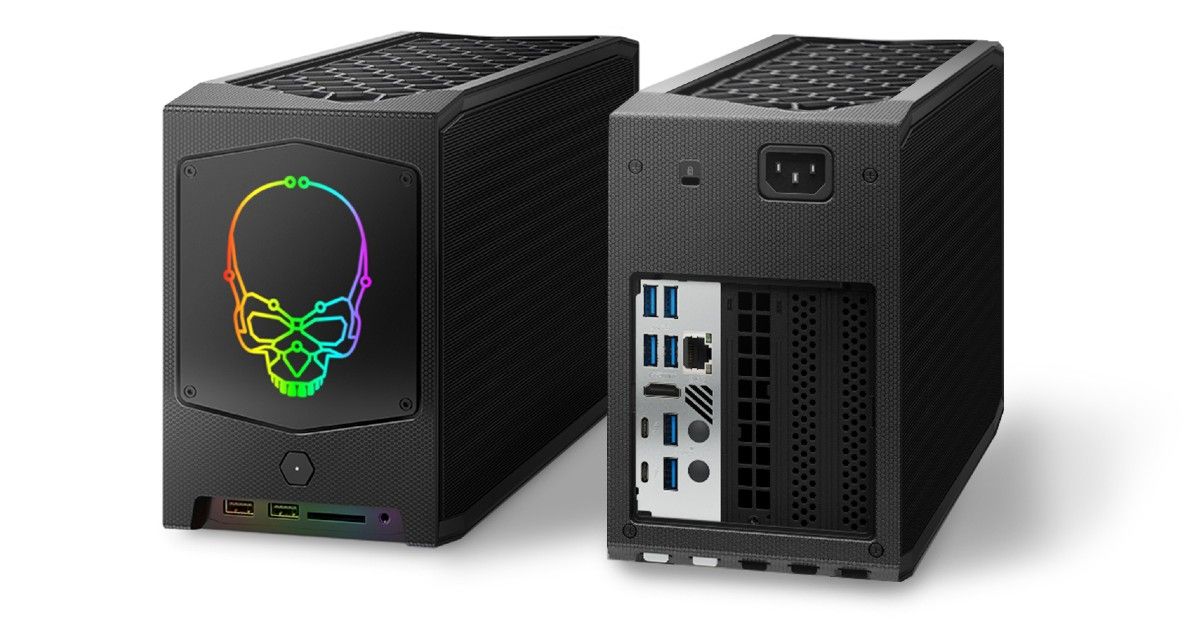 Intel has announced the launch of the NUC 11 Extreme compact gaming PC. The mini PC offers full scale performance specifications, including up to the latest 11th gen Intel Core i9 processors, and space inside for a full size, 12 inch graphics card. The Intel NUC 11 Extreme was previously codenamed Beast Canyon, and offers flagship grade specifications in an 8-litre volume case. It features RGB LED lighting on its front, along with a super generous helping of input and output ports.
The Intel NUC 11 Extreme features two USB-A ports, a memory card slot and a 3.5mm audio port at the front, below the interchangeable front panel. This panel offers inlaid backlit RGB LED lighting, which means that users can opt for unique front panel designs while getting the RGB LED lighting ubiquitously. The NUC 11 Extreme features a 650W internal power supply unit, and other configuration details include support for 64GB dual-channel RAM, and four M.2 slots for adding a fairly generous amount of SSD based storage.
It also has enough space inside to house a full size, 12-inch graphics card, and along with its power draw specification, the NUC 11 Extreme appears set to support up to the Nvidia GeForce RTX 3080 Ti — albeit on paper. The mini PC also features six USB-A 3.2 Gen 2 ports, two Thunderbolt 4 ports and a full-size HDMI 2.1 port, in terms of the entire set of connectivity features. There are three 92mm fans inside the NUC 11 Extreme for cooling purposes, and configurations available from Intel right now include the eight-core Intel Core i7-11700B, as well as the eight core Core i9-11900KB CPUs.
The PC offers a sizeable upgrade over the previous generation NUC 9 Extreme. India specific prices and availability details are yet to be revealed, which should follow some time soon. The mini gaming PC represents an interesting offering going by how mini PCs go, and global pricing suggests a starting range of USD 1,399 (approx. Rs 1.04 lakh) — which is approximately the price for mid-range gaming PCs in the market right now.