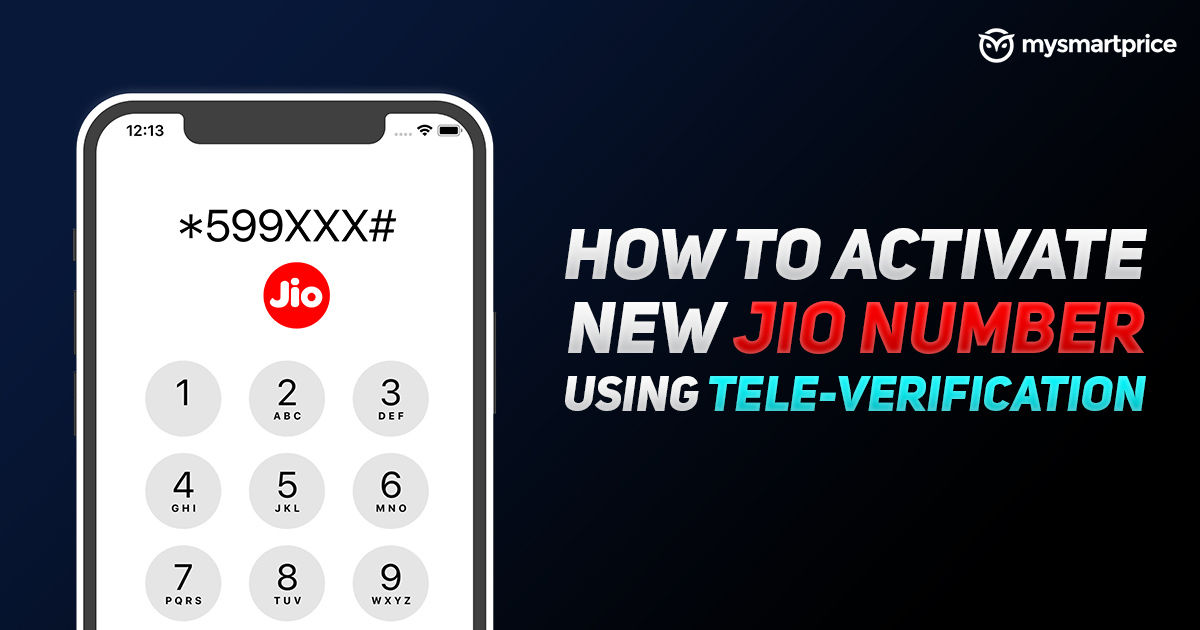 Reliance Jio is one of the most popular telecom operators in the country. The company has a host of different services at its disposal, including prepaid, postpaid, broadband, and more. It is also one of the few brands that offer some attractive benefits like bundled OTT subscriptions, extra data, unlimited voice calls, and more. So, naturally, it has an ever-growing customer base.
And if you are one of those who have recently bought a new Reliance Jio SIM, the first and foremost thing is to activate it. The whole process is fairly simple and all you need to do is use the tele-verification feature to activate your Reliance Jio SIM. With this, one can activate voice-based or data services or both of them simultaneously. In this article, we are going to show you the simple way to activate your new Jio SIM using tele-verification process.
Also Read: Forgot Jio Number? How to Check Your Jio Mobile and JioFi Number in Easy Steps?
How to activate Reliance Jio SIM using Tele-verification?
The company has laid out a simple process to activate your new Jio SIM. All you need to do is follow these steps:
Insert your new Reliance Jio SIM in your smartphone.
Then go to the Phone app and open the Dialer.
You need to call 1977 from your Jio SIM to complete the tele-verification process.
One can enter 5 Digit PIN received on the alternative number or last 4 digits of Aadhaar number. One can also reach the nearest store for manual verification.
Once you complete these steps, your Jio SIM will be activated. The company also gives you an option to activate only the data services as well. This is particularly required for JioFi dongle users. You can follow these steps:
Open Phone app and go to Dialler.
Dial 1800-890-1977 from any number (Airtel, BSNL or Vodafone Idea Vi).
Also Read: Jio Recharge Plans and Offers 2021: Jio Prepaid Recharge Plan Price List with Talktime, Validity, 4G Data Benefits
With this, your data services will be easily activated. However, there are a few things to note here. Once you complete the tele-verification process, the SIM will be activated within 1 or 2 hours. In some cases, the activation process might take about 4 to 5 hours. So, if your SIM is not activated within 1 hour, can wait for a little longer. Furthermore, the data services on your new Jio SIM will only get activated when you enter the new Jio mobile number. You will be notified via SMS when the internet on your Jio SIM is active.
Also Read: Jio Balance Check: How to Check Jio Data, Talktime Balance, Validity Online and Using USSD Number Codes
What documents do you require to get a new Jio SIM?
If you want to purchase a new Jio SIM, you need to show Proof of Identity (POI) and Proof of Address (POA). This means you can submit either provide your Aadhaar card, voter ID card, passport or driving licence to the nearest Jio Stores or retailer to get a new SIM card.
Frequently Asked Questions (FAQs)
How do I know if my Jio SIM card is activated?
Once you are done with the verification process, you will receive an SMS on your Jio mobile number that the operator has activated your services.
Is Jio SIM activation free?
Yes, the Jio SIM activation is done for free. However, it is important to note that you need to activate a plan at the time of collecting the SIM card.
Can Jio Sim be reactivated after it has been deactivated due to non-usage?
It all depends on the usage. If the Jio SIM card is deactivated for more than 15 days, then customers need to go to Jio Store and re-submit all the documents in order to activate the SIM card. However, if it is less than 15 days, then a customer can simply make a recharge to activate the SIM card.