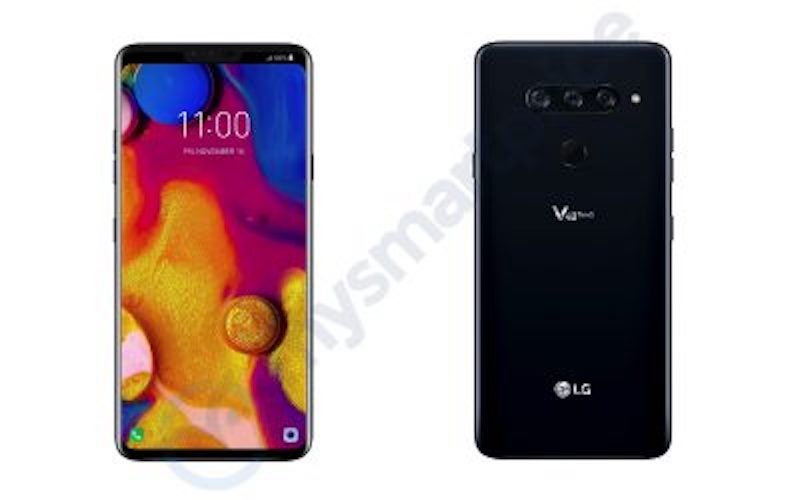 LG is all set to launch its next high-end smartphone model, the LG V40 ThinQ. The Flagship device from the Korean giants is expected to be launched tomorrow, while there are multiple variants to the smartphone. The LG V40 promises to be a real flagship device, with high-end specifications and features, with LG focusing plenty of its efforts on the incredible camera setup. From what information we have so far the LG V40 will feature a triple, rear camera setup, and dual front cameras, making it five cameras in the flagship smartphone.
LG has been teasing fans with little info on the much-anticipated flagship device. MSP Gear also posted the first released, credible images of the LG V40 around last month and now we have more detailed info on the camera set up. Apart from boasting five incredible cameras on the smartphone, the LG V40 ThinQ has each camera for a different function, thus, creating a unique use for each of them.
LG V40 ThinQ – Five Cameras, Five Unique Functions
It's not an everyday occurrence to see five cameras on a smartphone, irrespective of it being a flagship or not. Yes, we already have smartphones such as the Huawei Mate 20 and Mate 20 Pro, although, with this LG device, each of those five cameras has a unique function to it.

At the rear end, the LG V40 boasts a 16MP+13MP+8MP setup. The 16MP standard lens provides with regular photos, with depth effect and other typical features. The 13MP is a super-wide zoom lens, allowing users to capture a full frame with their photos. The third 8MP camera is a telephoto Zoom lens with the reported feature of lossless zoom with photos.
On to the front side of the LG V40, the smartphone has an 8MP + 5MP dual camera setup and here as well, the lenses carry unique features. The primary 8MP lens provides with standard selfies, while the secondary 5MP lens allows wide-angle photos to be clicked. All this looks incredible from LG, while we are curious enough to see how well these cameras can deliver.
Then there's the Cine Shot feature with the cameras. In the Cine Shot feature, the camera lets users create cinema-like graphs. These are GIFs, with only a specific part of the image moving, while the rest remains still. Its more like a blend between a picture and a video.
LG V40 ThinQ: Specifications, Features
The LG V40 will pack a Qualcomm Snapdragon 845 chipset as expected, with an Octa-core (4×2.7GHz Kyro 385 Gold & 4x1GHz Kyro 385 Silver) CPU alongside an Adreno 630 GPU. The smartphone is scheduled to run on Android 9 Pie onboard and will pack 8GB RAM with up to 256GB of internal storage.
The LG V40 will feature a 6.4-inch P-OLED screen with QHD+ resolution and a 19.5:9 aspect ratio. As mentioned earlier the LG v40 has a 16MP+13MP+8MP triple camera setup which includes features like Wide-angle telephoto zoom, depth effect and Cine Shot. The smartphone has an 8MP+5MP dual front selfie cameras with wide angle feature. The LG V40 ThinQ includes a 3300mAh battery with fast charging capability and expected compatibility with wireless charging.
Additional features include Stereo BoomBox loudspeakers and Hi-Fi Quad-DAC for improved audio quality through earphones. The smartphone has a rear-mounted fingerprint scanner, accelerometer, Gyro, proximity sensor, compass, barometer and colour spectrum.
LG V40 ThinQ – Price and Availability
The LG V40 ThinQ's launch will happen tomorrow. The reported global price for the smartphone expected would be around 800 for the smartphone, which should be upwards of Rs 60,000 (approx) in India.