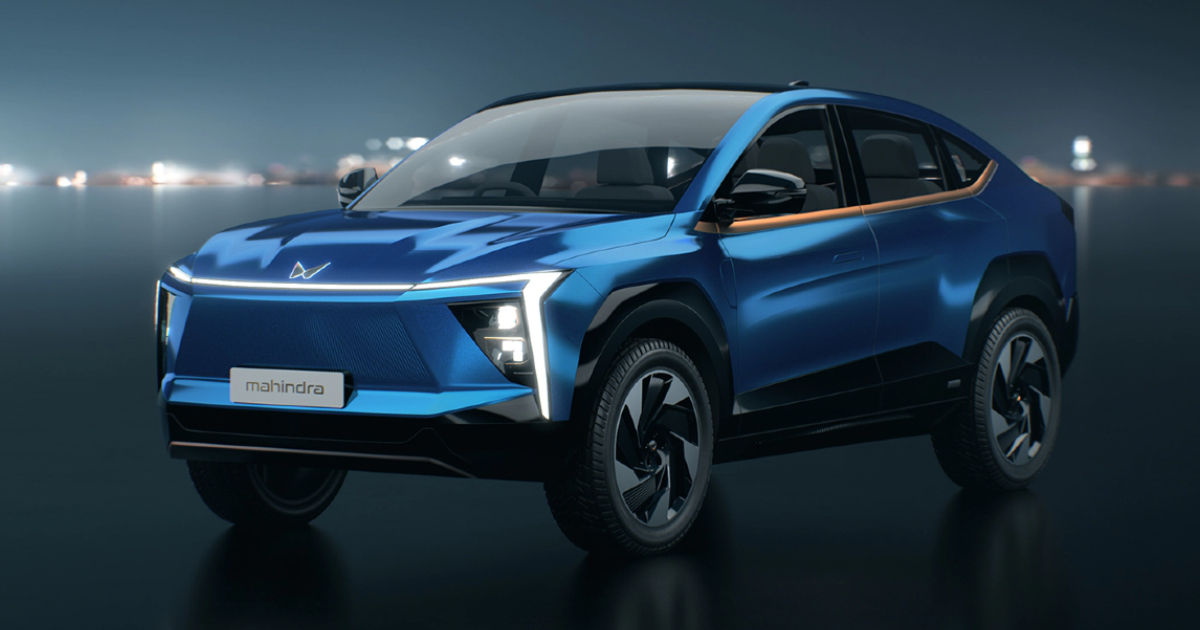 Mahindra is finally out with its plan for the future lineup of electric vehicles for India and other international markets. At a virtual event held on India's 75th Independence Day, the automotive major has announced a total of five new electric SUVs that it plans to introduce within the next five years. Alongside, it also showcased its new EV-focused brand BE as well as the new INGLO EV platform which will power its battery electric vehicles.
So what does this mean for Mahindra and its future in the EV space? From a consumer's perspective, the most important thing to note is that Mahindra will be coming up with a total of five new electric SUVs over the next few years. We can see the concept versions of these SUVs in the image here. Of course, we expect to see several changes in the final product but for now, Mahindra has provided us with a very good look at what it plans to achieve with its EV endeavors.
The five electric SUVs will mark their debut under two different brands. Two of these will represent Mahindra's XUV brand, associated with the notable SUV lineup of the company that is currently on sale in petrol and diesel options. The three remaining electric SUVs will unfold a new chapter for the automotive major – a brand named Born Electric or BE.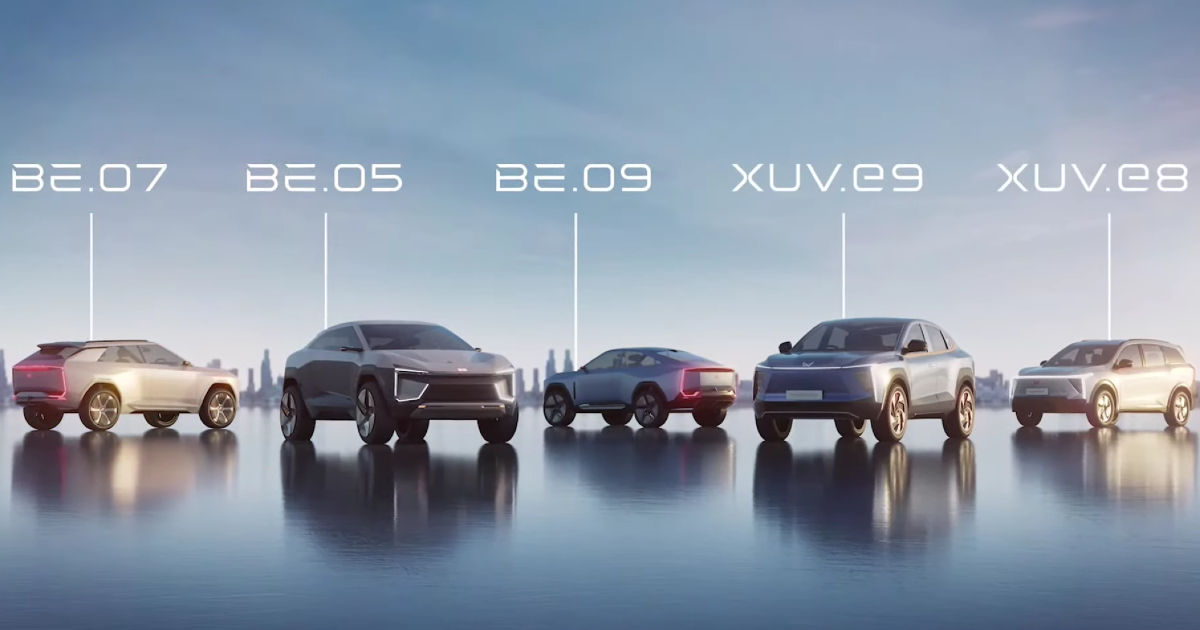 With that, we now know the names of these five SUVs and their tentative launch timelines. Here is a closer look at the electric vehicles under work at Mahindra.
1. XUV.e8 – Launch in December 2024
The first EV that will represent Mahindra's vision for electric vehicles will be the XUV.e8. From what we can see in the concept version of it, the XUV.e8 will be a smaller option from among the lot of five SUVs, with a coupe-like design. As we would wish to see on an EV, the SUV will be adorned with continuous LED strips both at the front and the back.
The dimensions of the EV will be 4740 x 1900 x 1760 mm (L x W x H) and the wheelbase will measure at 2762 mm. Mahindra says that the electric car will come with an all-wheel drive system, sophisticated cabin, supreme ride comfort and "best-in-class technology and safety."
2. XUV.e9 – Launch in April 2025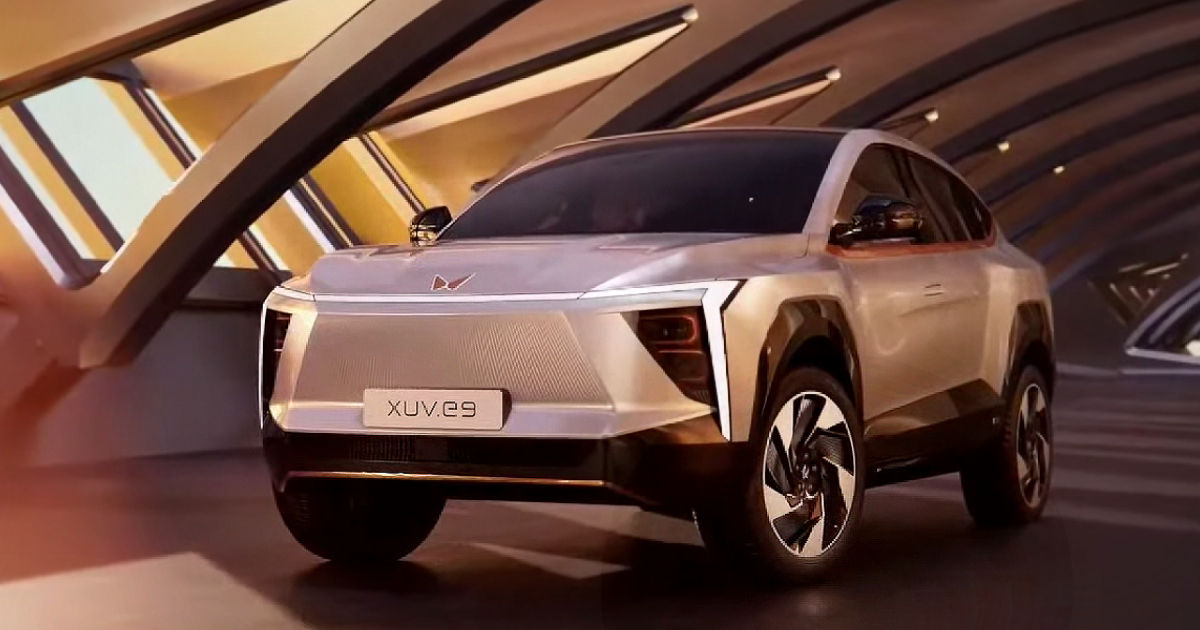 A more premium version, the XUV.e9 will come with "intelligent interiors," a panoramic sky roof and a bolder design than the XUV.e8. It will be slightly longer too, measuring at 4790 mm, while the width and height will be marked at 1905 mm and 1690 mm respectively. The wheelbase will measure 2775 mm, again, longer than what we see on the XUV.e8.
3. BE.05 – Launch in October 2025
Mahindra's Born Electric vehicles will attempt to stand out with a sportier ensemble. The BE.05 will be the first example of this, with dimensions smaller than the XUV.e8 and a similar design mix of a coupe and an SUV. The noted dimensions stand at 4370 x 1900 x 1635 mm (L x W x H) and the wheelbase measures 2775 mm.
4. BE.07 – Launch in October 2026
Following the BE.05 will be the BE.07 a year after. This one will be larger than the first BE vehicle and will serve as a vehicle for those who like to venture to new places with their families and friends.
For this, the BE.07 will be longer than the BE.05, measuring 4565 x 1900 x 1660 mm in length, width and height respectively. The wheelbase will measure 2775 mm.
5. BE.09 – Launch TBC
While we know the dimensions of all other EVs from Mahindra, the company is yet to finalise any details on this one. From the only details we have yet, we know that the BE.09 will be a grand tourer "with a chiseled design, dynamic roof and solid stance." More information on its launch and specifics are yet awaited.
Mahindra's INGLO EV Platform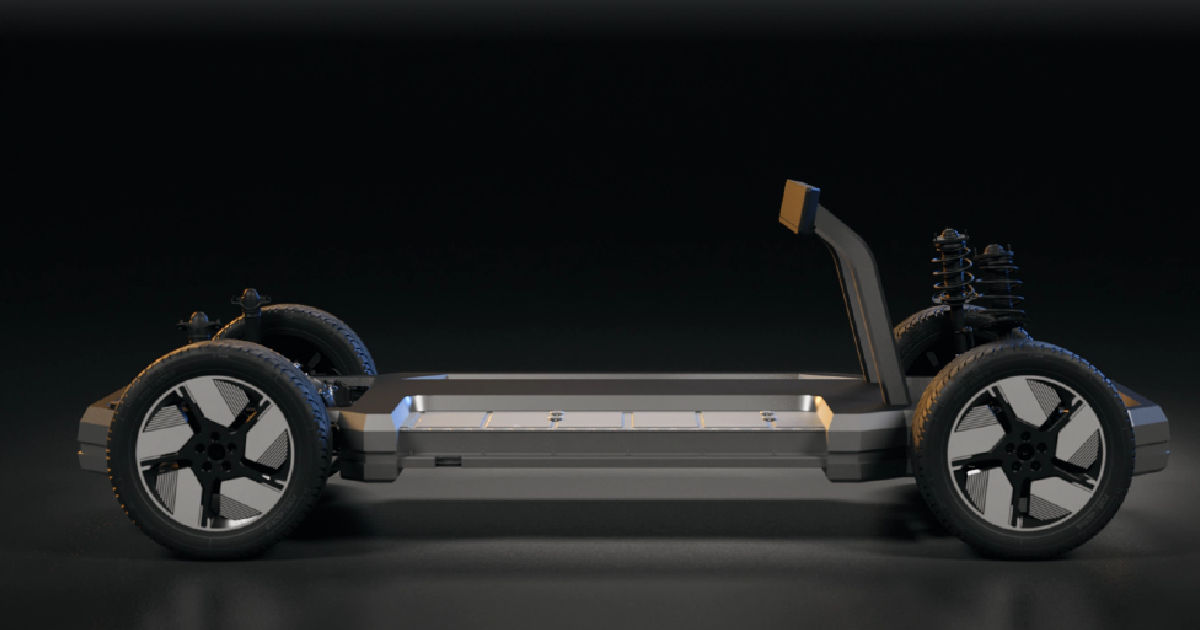 We only have limited information on the five electric SUVs so far but the one thing common among these is the company's new INGLO EV platform. A combination of "Indian" and "Global", the INGLO will underpin all of Mahindra's electric vehicles going forward.
As some of its highlights, Mahindra mentions that INGLO will offer "class-leading safety standards, exhilarating performance, excellent range and efficiency, exemplary driving dynamics, versatility, and intelligent HMI." Other than this, expect the platform to enable Mahindra's EVs with futuristic technology like an augmented reality-enabled heads-up display, edge-to-edge screen, 5G connectivity, and Over-The-Air updates.
Mahindra has also shared some performance numbers. The INGLO platform will fill its EVs with up to 250 kW power in All-Wheel Drive mode. With this, the cars will be able to go from 0 to 100 kmph in 5 to 6 seconds. A rear-wheel drive will be limited to 170kW.
Backing this will be a 60 to 80kWh battery that will support fast charging capabilities of up to 175kW. With this, the company claims a charging time of 0 to 80 per cent of battery capacity within 30 minutes.
It is easy to see that Mahindra has big plans for electric vehicles and as the company progresses towards their production, we should see it living up to its title of an EV pioneer in both India and other markets.