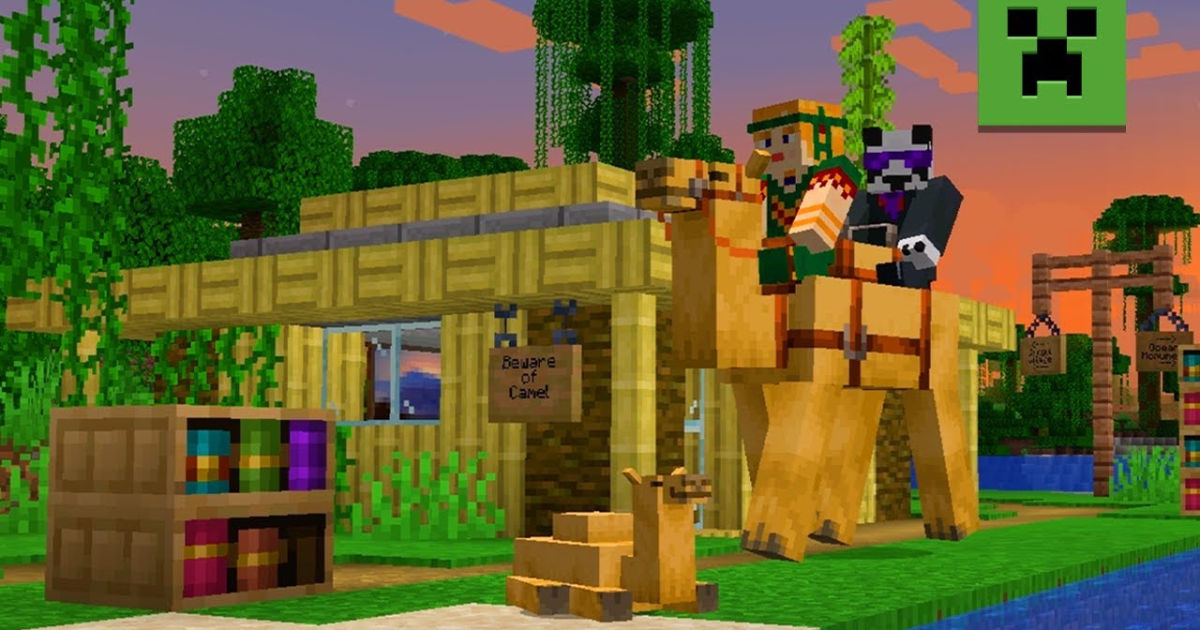 Minecraft 1.20 Update was revealed earlier yesterday during the Miencraf Live 2022 and some of its features will be available in Java Snapshot and Bedrock Beta & Preview. There are a ton of new features headed players' way including camels, hanging signs, a chiselled bookshelf, and a bamboo woodset.
The features available in Snapshot and preview builds are still in the early stages of development, which means, they will be worked on more before they are released into the main game. The camel is one of the most exciting additions to the game as this mob can also be tempted and bred. Players can saddle the camel, and additionally, since the animal is so big – players can ride it along with a friend.
Hanging signs is also a new addition that can be placed beneath or on the side of wood blocks. The update will likely be folded into the main game sometime in 2023 – the exact release window is yet to be confirmed by Mojang.
Also Read: Minecraft Download for PC: How to Download Minecraft Java Edition, Play Free Trial on PC or Laptop
Minecraft Update 1.20 Introduces Camels, Hanging Signs, and More
New Features
Camels – A new mob that can be tamed to saddle and ride. The animal will allow two players to ride it.
Chiseled Bookshelf – The bookshelf can be used to store quills and enchanted books.
Hanging Signs – Can be created using any type of wood. Can be placed beneath or on the side of blocks.
Bamboo Wood Set – Like other wood times, players can craft things such as slabs and stairs. However, bamboo can also help players get mosaic blocks, which are perfect for flooring as well as to create rafts.
To try out these features early, players can download the Java Snapshot or Beta/Preview. Snapshots allows players to play around with new features that are currently in development and will be available in the game at a later date. This allows the devs to gather feedback directly and integrate said feedback into the game when the features are ready to be released.
To sign up for Java Snapshot, simply open the Minecraft Launcher and enable Snapshots in the Installations tab. It is recommended that players create a backup of their world and run the Snapshot in a different folder from their main worlds. Mojang encourages players to provide feedback to their Snapshots through the feedback website or the official Minecraft Discord.
Minecraft made its way to the top of the gaming charts several years ago and continues to flourish and grow even bigger each year. With the addition of new updates, DLC, and multiple game types, Minecraft remains as popular as ever and it will be interesting to see how Mojang evolves the game further in the coming years.