Highlights
Â
Xiaomi will launch MIUI 15 for its smartphones soon!
MIUI 15 will bring some changes to the skin.
Here are the expected features, launch date, and list of compatible devices for MIUI 15.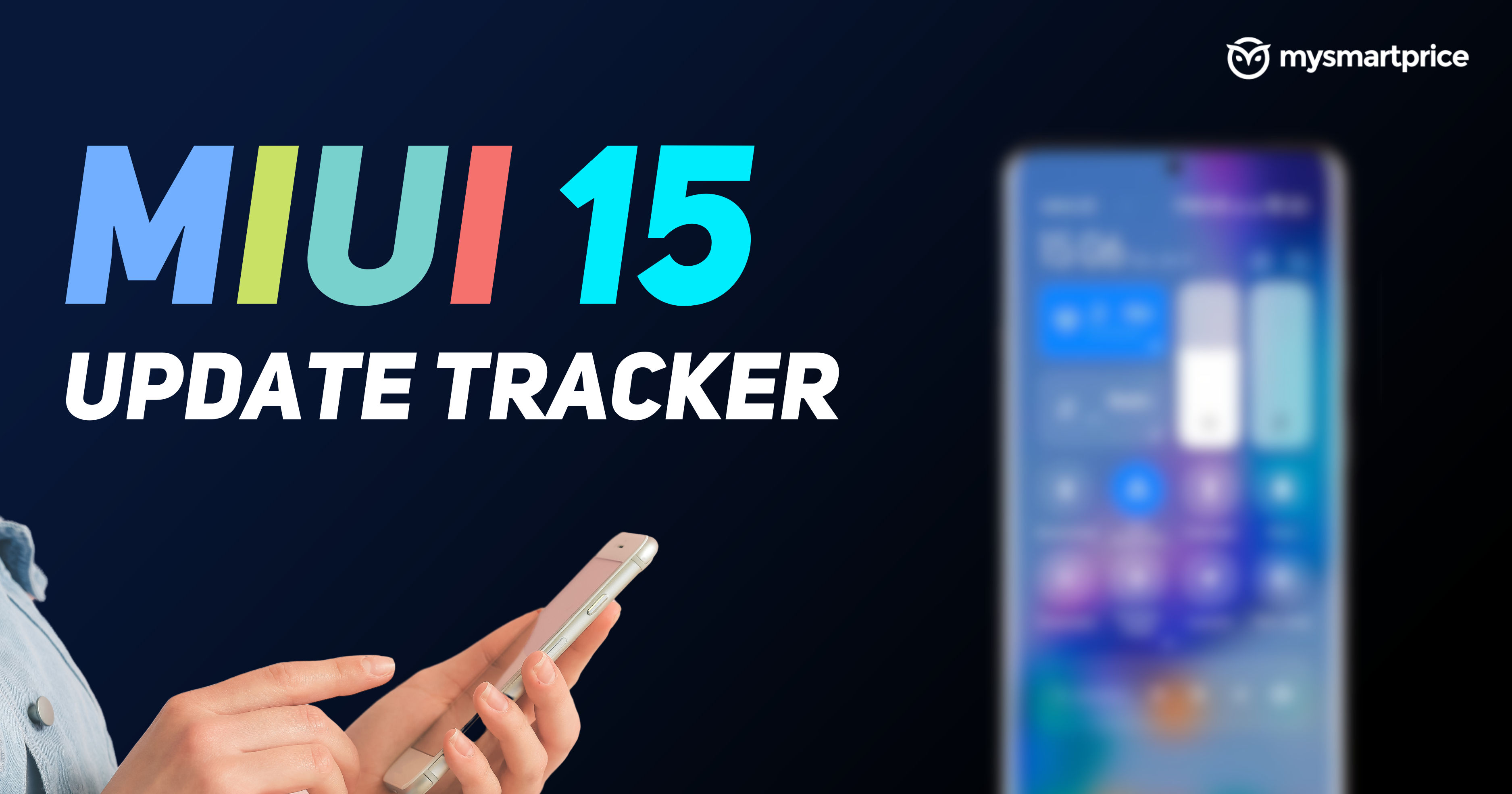 MIUI is one of the most polarising Android skins out there. Depending on who you ask, it is either the most loved or hated skin. But you can't deny it is one of the most popular custom skins in the country, owing to the popularity of Xiaomi, Redmi, and Poco smartphones in India.
Every year, Xiaomi updates the MIUI version, like Android gets version updates. But Android version updates don't correspond to MIUI version updates; both are out of sync.
The next version of MIUI is MIUI 15, and it is going to be launched soon, and you will get the MIUI 15 update on your device if your device is supported. This article discusses the MIUI 15 update with its top features, rollout schedule, and the list of compatible Xiaomi, Redmi, and Poco phones.
MIUI 15 Release Date
MIUI versions are generally released by the end of every year. MIUI 14 was launched back in December, and we can expect a similar schedule for MIUI 15 as well. We can expect MIUI 15 to launch by November end or December of this year.
MIUI Versions And Android Versions
MIUI versions and Android versions aren't tied together, unlike other skins like ColorOS, FuntouchOS, Realme UI, and more. That means that MIUI 15 update can arrive with and without Android 14. MIUI 15 will be based on Android 14 on some phones, while on others, it will be based on Android 13. Some phones will get MIUI 15 based on Android 13 first; later, those will get MIUI 15 based on Android 14. Some phones might get only MIUI 15 based on Android 13 as well.
You'll get a different feature set with MIUI 15 based on Android 14 and MIUI 15 based on Android 13. MIUI 15 based on Android 14 will get some stock Android 14 features ported over to it, while MIUI 15 based on Android 13 could be limited. So let us talk about the expected features for MIUI 15 next with these in mind.
MIUI 15 Expected Features
Under The Hood Optimizations
Xiaomi always boasts about the under-the-hood optimizations it brings with MIUI version updates. We can also expect the same with MIUI 15; get ready for some numbers to drop, saying how much better optimized MIUI 15 is compared to MIUI 14.
Enhanced Privacy
Xiaomi always brings more and more privacy features with new MIUI version updates. With MIUI 14, Xiaomi introduced on-device privacy protection mechanisms that process data in the device. We can expect more privacy features with the arrival of MIUI 15.
Enhanced Security
Android 14 now won't allow apps built for Android 5.1 and earlier to be installed for enhanced security. With MIUI 15 based on Android 14, we can expect the same feature.
Regional Preferences
Android 14 introduced regional preferences option. With this, you can set the preferred units of measurement for Temperature, First day of the week, and Number Preferences. This will set these preferences across the apps. We expect the same feature to arrive in MIUI 15 builds based on Android 14.
Predictive Back Gesture
With Android 14, a new bubble for the back swipe gesture has been introduced, along with the preview, which shows a preview of the page before you visit it. This feature is expected to come to MIUI 15 as well.
Also Read: Android 14 Update Tracker: Release Date, Top Features, Compatible Devices, and More
MIUI 15 Update Tracker: List of Compatible Devices
Xiaomi hasn't officially revealed the list of devices to get the MIUI 15 update. However, based on previous promises, we have made a list of devices that would possibly get the MIUI 15 update. Please note that this isn't an official list, and the devices may vary. We will update this list once Xiaomi releases the official list.
List of Xiaomi Devices to get MIUI 15 Update
Xiaomi 13 Ultra

Xiaomi 13 Pro

Xiaomi 13

Xiaomi 12x

Xiaomi 12T Pro

Xiaomi 12T

Xiaomi 12S Pro Dimensity Edition

Xiaomi 12S Pro

Xiaomi 12S

Xiaomi 12 Ultra

Xiaomi 12 Pro

Xiaomi 12 Lite

Xiaomi 12

Xiaomi 11T Pro

Xiaomi 11T

Xiaomi 11i Hypercharge

Xiaomi 11i

Xiaomi 11 Lite 5G NE

Xiaomi Civi

Xiaomi Civi 15

Xiaomi Mi 10 Ultra

Xiaomi Mi 11

Xiaomi Mi 11 LE

Xiaomi Mi 11 Lite 4G

Xiaomi Mi 11 Lite 5G

Xiaomi Mi 11 Pro

Xiaomi Mi 11 Ultra

Xiaomi Mi 111

Xiaomi Mi 11X

Xiaomi Mi 11X Pro

Xiaomi Mi Note 10 Lite

Xiaomi MIX 4

Xiaomi MIX FOLD

Xiaomi MIX FOLD 2

Xiaomi Pad 5

Xiaomi Pad 5 Pro

Xiaomi Pad 5 Pro 5G
List of Redmi Devices to get MIUI 15 Update
Redmi Note 12 Pro+

Redmi Note 12 Pro

Redmi Note 12 5G

Redmi Note 12 4G

Redmi 12C

Redmi Note 11T 5G

Redmi Note 11S 5G

Redmi Note 11S

Redmi Note 11SE

Redmi Note 11E Pro

Redmi Note 11E

Redmi Note 11

Redmi Note 11 Pro+ 5G

Redmi Note 11 Pro 5G

Redmi Note 11 Pro

Redmi Note 11 5G

Redmi Note 11 4G

Redmi Note 10T 5G

Redmi Note 10S

Redmi Note 10 Pro Max

Redmi Note 10 Pro 5G

Redmi Note 10 Pro

Redmi Note 10 Lite

Redmi Note 10 5G

Redmi Note 10

Redmi K50S Pro

Redmi K50S

Redmi K50i Pro

Redmi K50i

Redmi K50 Pro

Redmi K50 Gaming

Redmi K50

Redmi K40S

Redmi K40 Pro +

Redmi K40 Pro

Redmi K40 Gaming

Redmi 540

Redmi K305 Ultra

Redmi K30 Ultra

Redmi K30 Pro

Redmi K30 4G

Redmi 10C

Redmi 10A

Redmi 10 Prime+ 5G

Redmi 10 Prime 2022

Redmi 10 Prime

Redmi 10 5G

Redmi 10 2022

Redmi 10
List of Poco Devices to get MIUI 15 Update
Poco F5 5G

Poco X5 Pro

Poco X5

Poco F4 5G

Poco M4 5G

Poco M4 Pro

Poco M4 Pro 5G

Poco F3 GT

Poco F4 GT

Poco X3 Pro

Poco X4 Pro 5G

Poco C55

Poco C51

Poco C50

Poco C40

Poco C40+