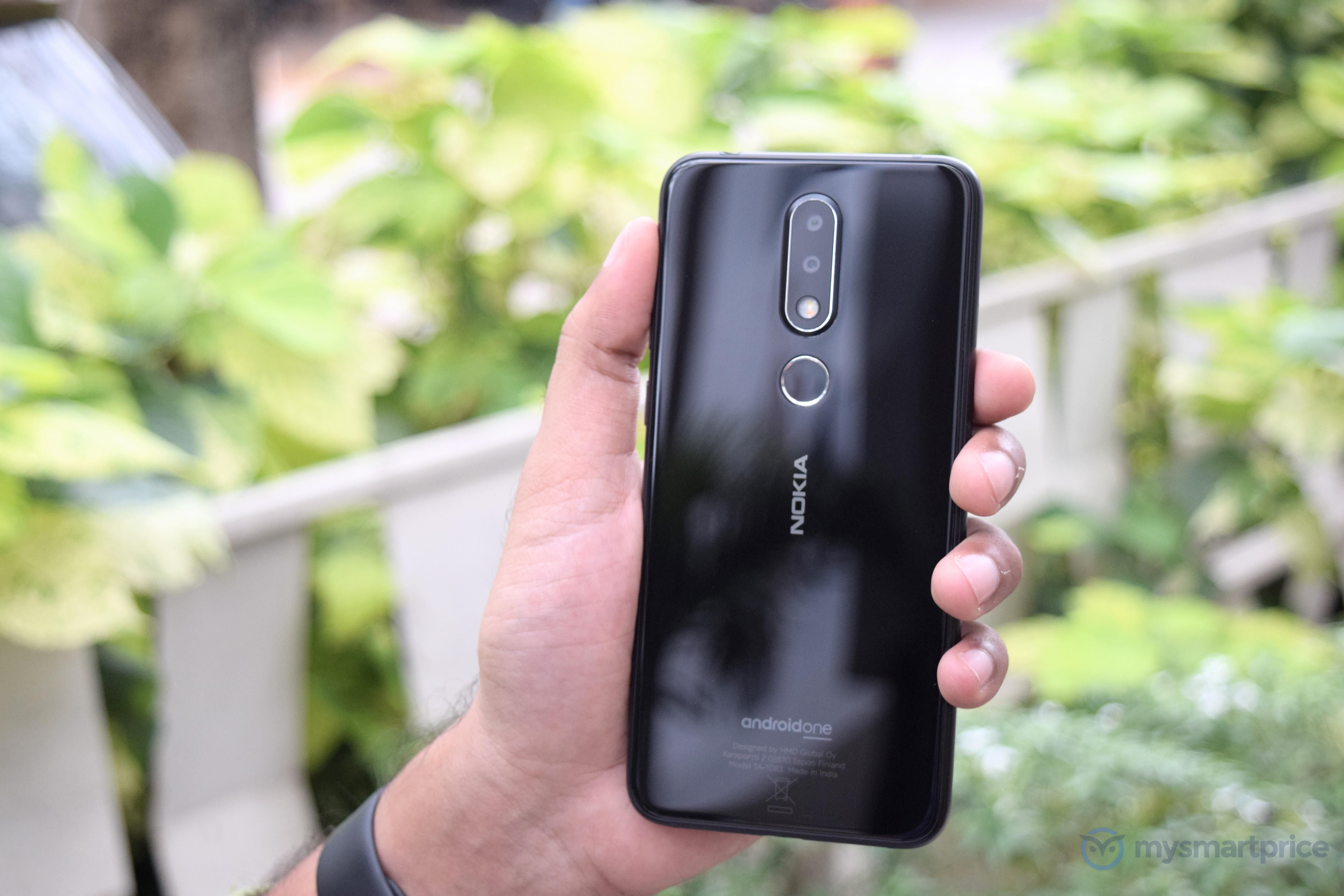 HMD Global has been noticeably vocal regarding its plans to focus on the budget segment of the smartphone market. As a part of this effort, the Finnish company launched the Nokia 6.1 Plus, a device we were first introduced to when it came out as the Nokia X6 in China earlier this year. The phone offers admittedly mid-ranged specifications relative to its price tag of Rs. 15,999 in India. Android purists will also appreciate the fact this is an Android One device that offers a stock build of Android 8.1. With this combination, the Nokia phone happens to compete with the likes of the Xiaomi Mi A2, Redmi Note 5 Pro and Asus Zenfone Max Pro M1.
Can the Nokia 6.1 Plus offer better value than its competition? Read ahead to find out.
About This Nokia 6.1 Plus Review
I used the Black variant of the Nokia 6.1 Plus for about two weeks to properly assess how the phone stands on its own. While the device does offer a dual-SIM hybrid slot, I used it in a single SIM setup on a Vodafone network in Hyderabad. My usual setup is comprised of 3 email accounts running alongside the usual collection of social media and messaging apps such as WhatsApp, Facebook, Twitter, Slack and so on. The device only offers a fingerprint scanner for biometric unlock, which I used as my primary unlocking method for the duration of this review. The 64GB of internal storage was also adequate during this time that I did not feel the need to use a microSD card.
[P_REVIEW post_id=113087 visual='full']
Nokia 6.1 Plus Review: Design, Build Quality
Nokia has acquired a reputation for building sturdy handsets. The Nokia 6.1 Plus is no exception and is certainly a marvel to look at. This is partly thanks to its large 5.8-inch screen that covers 81.5% of the front of the device. Then we have the sleek and glossy back that neatly houses the Nokia moniker, fingerprint scanner and vertically mounted rear camera in a straight line. Even with its predominantly glass construction wrapped around a smooth metal frame, the phone was easily able to survive a few drops now and then. However, there were a few scratches by the end of my time with the device. A standard case might be a worthwhile investment.
The bottom is where we find a USB Type-C charging port just beside the bottom firing speaker. The right side is comprised of the power button and volume rockers. Both provide adequate tactile feedback while still being recessed enough so as not to cause any discomfort while holding the device. Moving over to the left reveals a hybrid SIM slot. This is said to support up to 400GB of additional storage with a microSD as long as you are willing to sacrifice the second SIM card. Thankfully, we don't have to say goodbye to the 3.5mm headphone jack just yet as the Nokia 6.1 Plus houses one at the top.
Overall, the device's relatively short demeanour ends up being a godsend in this day and age of unusually tall phones. I had no issues in holding and using the device with just one hand most of the time. While there are certainly noticeable bezels at the sides along with a sizeable chin at the bottom, these end up helping with the ergonomics and prevent any phantom touches. The only real complaint I had with the overall design of the device is in the placement of the fingerprint scanner as it is located too low. The index finger doesn't naturally fall there and needs to be bent each time the phones needs to be unlocked.
Nokia 6.1 Plus Review: Display
In my time with the Nokia 6.1 Plus, I was pleasantly impressed with the phone's display. All in all, we get a 5.8-inch IPS LCD panel that sports a 1080 x 2280 pixels resolution, stretching the aspect ratio up to 19:9. No matter how you feel about the notch, there is no denying how refreshing it is to hold and use a bezel-less handset from Nokia for the first time. Content in full screen is unlikely to be obstructed anyway as the OS ends up adding a black bar on either side of this notch. While standard 16:9 aspect ratio videos do admittedly suffer when zoomed-in by having their tops and bottoms cut off, many movies and YouTube videos now come in wider aspect ratios that fit in very well.
When it comes down to the actual quality of the Nokia 6.1 Plus's screen, the LCD panel used here is one of the best you can find even on pricier offerings. This display is capable of exceptional white and black levels without any discernible noise. Colour reproduction is also surprisingly good across the entire spectrum. All this results in reasonably accurate colour reproduction along with sharp and detailed outputs.
Being stock Android, you also get a modest array of customisation options for the display. These include adaptive brightness, night light, and the ability to adjust the font size and display element size. Furthermore, the phone offers 'tap to wake' along with 'ambient display'. The latter feature especially comes in handy considering this device doesn't have a notification LED. Finally, the display also offers a colour correction option for those who may suffer from one of the three main types of colour blindness (Deuteranomaly, Protanomaly, Tritanomaly).
Nokia 6.1 Plus Review: Software
The primary USP of pretty much all modern Nokia smartphones is the fact that they are part of Google's Android One initiative. This results in the Nokia 6.1 Plus offering a clean and bloatware-free Android 8.1 Oreo OS running out-of-the-box. Using stock Android on this device is certainly an enjoyable experience. If you are accustomed to using heavily modified Operating Systems from other manufacturers, then the experience will undeniably feel barebones. But in this scenario, this is meant to be a good thing.
The UI on the Nokia 6.1 Plus is similar to that found on Pixel devices. The notification bar and app drawer switch between dark or light themes depending on the type of wallpaper used. You do not get the option to toggle between the two. Furthermore, there aren't any unnecessary apps to deal with, and the standard collection of Google apps should suffice for getting started. Nokia does provide one additional app called 'Support' that lets you monitor your device's health, go through a user guide, check warranty related details, and even locate a care centre nearby.
The actual experience of using an untampered ecosystem is meant to be liberating in the sense that users get to enjoy applications for what they are without having to contend with OS-related distractions. While the Nokia 6.1 Plus certainly exceeds in this regard, there are still some aspects of the UI that don't exactly contribute to a seamless experience. One such issue, for example, is where applications in full-screen add a black bar on either side of the notch so as not to be obstructed by it, but the edges where the frame cuts off are straight while the base of the display is rounded. Then there is the recent "Notch Gate" fiasco where during the entirety of this review, I wasn't able to black out the notch. While not a major issue for me personally, I understand the frustration of having the choice taken away.
Nokia 6.1 Plus Review: Performance
The Nokia 6.1 Plus is powered by a Qualcomm Snapdragon 636 SoC which is paired with 4GB of RAM. This chipset is quite capable of handling pretty much all of your daily tasks. Everything from unlocking the display to switching between apps is fairly smooth, with the RAM being sufficient for a good amount of multitasking. The lightweight operating system also ensures optimum utilisation of system resources. This can be felt while using and moving between the standard array of multimedia and social networking applications.
Even the gaming performance was acceptable given the mid-range nature of this processor. Games such as PUBG and Modern Combat are certainly playable, as long as you are on lower graphics settings. Asphalt 9 fared a bit better with the graphics turned up, but a loss in frame rate was noticeable. On the other hand, less demanding titles such as Alto's Odyssey perform marvellously. However, it is worth mentioning that the phone has heating issues which especially manifested while running demanding games. PUBG specifically caused the top half of the rear of the phone to get uncomfortably toasty.
While the hardware limitations of the Snapdragon 636 are understandable, there are other performance inconstancies that are likely a result of the aforementioned poor software optimisation. An instance of this can be noticed when swiping down on the notification shade and being greeted with noticeable jittering. It became evident that this was an issue with the software and not the chipset when I turned on the 'swipe fingerprint for notification' feature, which resulted in near-perfect animation fluidity.
Moving on, the fingerprint scanner itself functions very well. Registering a fingerprint on this device is one of the fastest I have experienced, with the detection being just as good. Furthermore, the bottom firing speaker is also one of the better ones I have come across. It gets reasonably loud without any noticeable distortions at max volume. There is a lack of base which doesn't make this speaker ideal for music, but vocals from sources such YouTube videos are surprisingly clear and distinct. The headphone jack at the top of the device also functions as good as one would expect.
Other than the 'swipe fingerprint for notifications' feature mentioned above, other gesture-based actions can be performed on the Nokia 6.1 Plus as well. There is the option to turn the device over to reject calls. Another feature automatically mutes the ringtone when lifting the phone to an upright position. Double pressing the power button from any screen can be assigned to trigger the camera app. Finally, there is the option to trigger ambient display each time the device is picked up.
Nokia 6.1 Plus Review: Camera
Getting to the photography aspect of this review, we begin by taking a look at the dual rear camera setup. The primary lens measures 16MP with an f/2.0 aperture, which is paired with a 5MP depth-sensing camera with an f/2.4 aperture. This setup is capable of 4K video recording at a maximum of 30fps. While it does not offer OIS, you do get auto-HDR functionality along with dual-tone LED flash. On the other hand, a 16MP camera is provided at the front for handling selfies. Both cameras offer AI-assisted portrait modes (Bokeh).
It isn't entirely certain why Nokia decided to replace Android's stock camera app with its own. This isn't to say that its bad, as all the main options you need are right there at the forefront. A bar at the top houses toggles for flash, HDR, timer and beauty mode. There is also the option to enable both cameras and take "Bothie" images in either a 'Dual' or 'PIP' mode. While I did not find these options particularly useful, I suppose they are nice to have for those who may want to use them. Also, the Panorama, Bokeh and Manual modes are hidden away in a menu at the top left of the viewfinder.
I was impressed by the imaging prowess of the phone's rear camera setup considering the price bracket this device falls in. Images captured in daylight have surprisingly accurate colours and also seem to have a decent amount of detail. Zooming in on the images on a monitor reveals some loss in fine detail, but this is not going to be an issue for those intending to upload them on social media platforms. The Bokeh mode was also very good with acceptably accurate edge detection. The beauty mode on both cameras can be slightly excessive at its max setting but still does not make the image look overly artificial.
Nokia 6.1 Plus Rear Camera Samples
Selfies taken from the 16MP rear camera of this phone are also just as good and detailed as the rear camera. The edge detection for Bokeh shots is also equally impressive. While not perfect, it gets surprisingly accurate results most of the time. Auto-HDR does come in handy on the front camera as much as it does on the rear. However, there were some instances where a weird halo effect was cast around the subjects in the frame. These were presumably a result of some issue with the HDR processing.
When it comes to the low-light photography, the rear camera was not too bad either. While the images do lose a bit more clarity and detail, the noise reduction algorithm does a surprisingly good job. While I did notice some lens flare in such shots, they weren't exceedingly bothersome considering the overall image quality. However, the front-facing camera fares much worse in this regard. The noise is noticeably more, and beauty mode fails to work most of the time. The screen flash was also not too impressive here.
Nokia 6.1 Plus Selfie Samples
It is clear that imaging prowess of the Nokia 6.1 Plus is despite its inconsistencies in darker scenarios. However, it was the video capabilities of this camera that left me wanting for more. The device boasts 4K recording at 30FPS with its rear camera. Without the support for any sort of stabilisation at this resolution, videos are jittery and shaky at best. While 1080p video recording loses on the clarity, it offers gyro-assisted EIS that result in much more usable videos. Furthermore, there is the ability to record time-lapse and slow-motion videos. While the former can come in handy with a tripod, the video quality of the latter is abysmal and not worth using at all.
Update:
It was recently brought to my attention that the Nokia 6.1 Plus's rear camera images end up with a yellow tinge when the flash is turned on. I hadn't initially noticed this during my camera tests but I can now confirm that this certainly is a real issue which I was able to reproduce. While I still admire this camera's overall performance, this issue does affect my final score.
Nokia 6.1 Plus Review: Battery Life
Compared to the Nokia 6.1, the new Nokia 6.1 Plus barely gets an upgrade in terms of its battery size. The older device came with a 3000mAh battery while the new one comes with a 3060mAh cell. With continuous heavy use, I was able to get close to 6 hours and 35 minutes of screen-on-time while only being able to get about 15 hours of standby time. Lighter usage was able to give me up to 35 hours of standby time, with the screen-on time taking a hit down to 5 hours. The latter result was when I had the 'ambient display' feature turned on, and disabling it gave me half an hour of more screen time.
You do get the ability to automatically enable a battery saver mode which is meant to push the phones life by reducing the screen brightness and cutting down on the animations. You can set it to auto-enable when the battery reaches either 5% or 15%. There is also the ability to manage which applications take battery resources in the background. Regardless, the most this device can do is offer a 1.5 day's worth of use, and I ended up resorting to the practice of thoroughly using the device during the course of a single day and plugging it up every night while going to bed. Since charging is handled over the provided USB Type-C port with support for Quick Charge 3.0, it takes roughly two hours to entirely top up the battery after it has been completely drained.
Nokia 6.1 Plus Review: Should You Buy It?
The Nokia 6.1 Plus will be an excellent offering for those searching for a relatively well-balanced package. I appreciate Nokia's care with the build and aesthetics of this phone. The phone's display is by far one of the best I have seen at this end of the market. It offers surprisingly good camera setups at both the front and the back. While the battery might not be that impressive, it is still manageable for a full day's worth of use. Even the overall performance of the device is commendable despite the plaguing software optimisation issues. Hopefully, these grievances can be resolved with the soon to arrive Android Pie update.
When it comes to the competition, however, the Nokia 6.1 Plus is only Rs. 1,000 away from the Xiaomi Mi A2 which also offers an Android One experience while being powered by a significantly faster Snapdragon 660 SoC. Furthermore, you have the option of going with the ASUS Zenfone Max Pro M1 (Review) if you wanted the same Android One experience paired with the Snapdragon 636 performance starting at just Rs. 10,999. Even the 6GB RAM variant of this phone costs Rs. 1,000 less than the Nokia handset, comes with almost similarly performing cameras, and offers significantly better battery life.
My advice for potential buyers would be to either wait for Nokia to drop the price of its handset or go for it during some promo campaign where you can grab it at a reasonable discount. At its current price, the above-mentioned offerings from ASUS and Xiaomi offer much better value.
Nokia 6.1 Plus
Rs. 15,999
Design and Build Quality
8.5/10
What Is Good?
Solid build with premium aesthetics in a comfortable form factor..
Excellent display.
Stock Android without any bloatware
Decent imaging especially in bright conditions.
Good overall performance.
Value for money.
What Is Bad?
Software poorly optimised.
Low-light selfie performance could have been better.
4K video recording is too unstable.
The device heats up while gaming.
Fingerprint scanner placement is not optimal.