Highlights
The 12GB RTX 4080 has been rebranded to RTX 4070 Ti.
The GPU will be available from January 5, 2023.
The price of the GPU has also been lowered by $100 USD.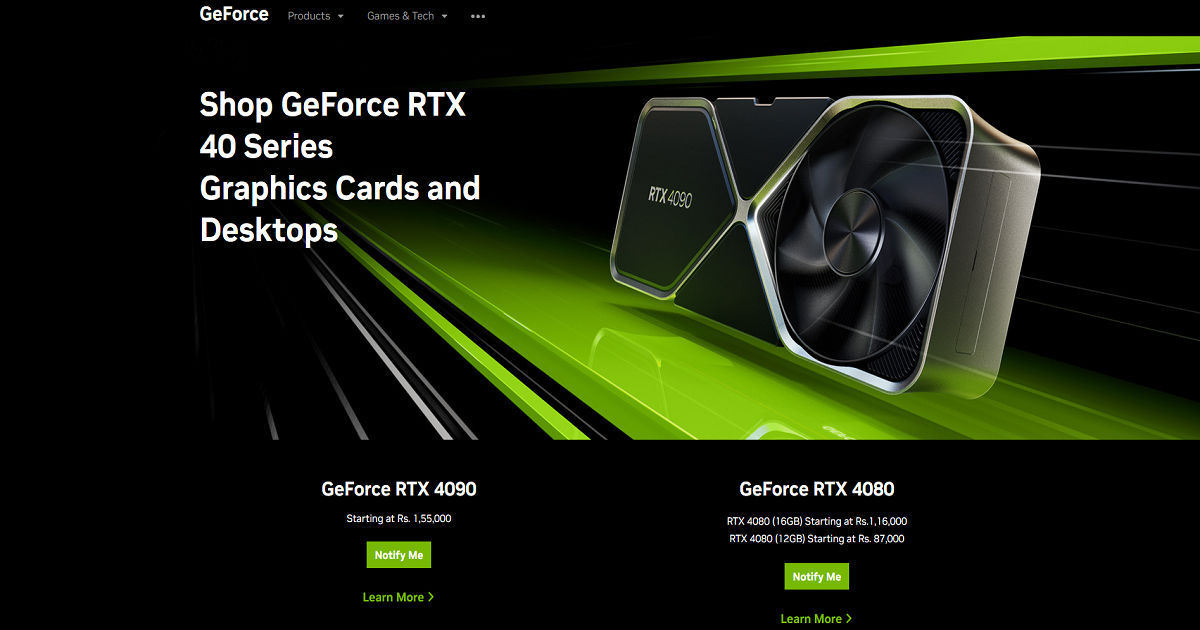 NVIDIA has just announced that the upcoming 12GB RTX 4080 will now be rebranded to the RTX 4070 Ti. The GPU is priced at $799 (USD) and will be revealed soon at the CES (Consumer Electronics Show) and will be available from January 5th, 2023. This places the RTX 4070 Ti in the same bracket (specs and price-wise) as the Radeon RX 7900 XT.
Priced a full $100 less than it was initially supposed to. The GPU's specs were leaked earlier and it is now being prepped for a full reveal, followed by a launch.
NVIDIA RTX 4070 Ti Specs:
40 Shader TFLOPs/ 93 TFLOPs / 54 1 Tensor TFLOPs
Faster than RTX 3090 Ti
DLSS 3
The RTX 4070 will be available from Colorful, Gigabyte, Zotac, Galax, KFA2, MSI, PNY, Palit, Asus, and Gainward. The rebrand was likely made to avoid confusion around the RTX 4080 as the 2 GPUs would have identical names.
Also Read: Nvidia GeForce RTX 4090, RTX 4080 Graphics Cards Unveiled: Introduces DLSS 3 with AI Powered Frame Generation
NVIDIA RTX 4070 Ti To be Available from January 5 for $799
The RTX 40 series lineup contains 3 GPUs at the moment, with RTX 4090 being the flagship GPU, offering high-quality performance through DLSS 3 and 24GB GDDR6X memory. It stands to reason that NVIDIA will eventually work out a lower-priced entry in the 40 series with an RTX 4050.
NVIDIA showcased the new GPUs at work towards the end of 2022 and introduced new tools for developers such as RTX Remix, which will allow users to tinker with existing games to create RTX-enhanced games.
Games have gotten considerably taxing and PC gaming is looking more expensive by the day. At the same time NVIDIA is rolling out these massively priced GPUs, they are also working on improving the tech that powers cloud tech like GeForce Now. Cloud gaming could potentially be the next major frontier for gaming as PC parts continue to skyrocket.
Cloud platforms like JioCloud have been making some headway in the country by offering AAA-level games like Saints Row 3 through the cloud. This will effectively make PC specs redundant in the long but it is severely predicated on the strength of the speed of internet connectivity in India, which continues to be a major problem to solve in the country.
It will be interesting to how this shapes up and whether console manufacturers will eventually try and offer their shiny new consoles at a more competitive price in markets like India. As it currently stands, that possibility looks like a far cry as both Xbox and Sony have elected to increase prices for their consoles in India in response to the global economic climate.