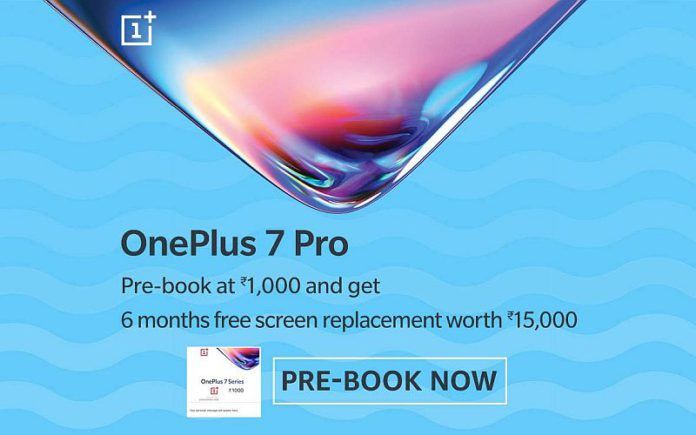 OnePlus is all set to launch its latest OnePlus 7 and OnePlus 7 Pro smartphones later this month. Ahead of their launch, the phone maker has started a pre-booking campaign specifically for the OnePlus 7 Pro. Users will effectively be able to secure the smartphone on the day of the launch without having to worry about the phone selling out on the first day of sale. Here is everything you need to know about this pre-book offer.
Pre-Book The OnePlus 7 Pro For INR 1,000
The upcoming OnePlus 7 Pro is up for pre-booking exclusively via Amazon.in. The offer started at 12 noon today (May 3, 2019) and will last until 11:59 PM on May 7, 2019. In order to avail the offer, all you need to do is head on over to Amazon India's gift card page and purchase a OnePlus 7 gift card worth INR 1,000. The gift card will be emailed to you upon successful payment. This gift card can be used to purchase the OnePlus 7 Pro on the day of its first sale. Note that you must use the gift card within 60 hours from when the sale first starts. The INR 1,000 you already paid for the gift card will be discounted from the final retail price of the smartphone.
While the launch of the OnePlus 7 Pro is scheduled for May 14, it is not certain when exactly the first sale for the phone will be. It is likely the sale will start a few days after the launch, as that is how OnePlus has usually handled smartphone launches in the past.
Offline pre-booking is also going to be offered to customers starting from May 8, 2019. To avail this offer, you can walk into your nearest Chroma, Reliance and OnePlus Stores and avail the offer. However, you will have to pay A deposit of INR 2,000 for offline pre-booking. The amount will indeed be discounted when you purchase the smartphone.
6-month Free Screen Replacement For Pre-Book Customers
Another benefit of pre-booking the OnePlus 7 Pro is that you will be eligible for a one-time screen replacement which is said to be worth INR 15,000. To get the offer, you will need to download the OnePlus care app on your new OnePlus 7 Pro smartphone and register within 30 calendar days from when it gets delivered to you. Once registered, you will be eligible to redeem OnePlus's 'Complimentary Screen Damage Protection Plan' which is valid for six months from the date of purchase.
The offer is not entirely free, however, as OnePlus has informed us that a processing fee of INR 750 will be charged for those who redeem this free screen replacement plan. Considering an out of warranty screen replacement for the phone is said to cost INR 15,000, this processing fee sounds quite nominal.