Highlights
OnePlus has officially teased its upcoming foldable smartphones.
OnePlus had previously trademarked OnePlus V Flip and V Fold names.
The launch is scheduled for Q3 of 2023.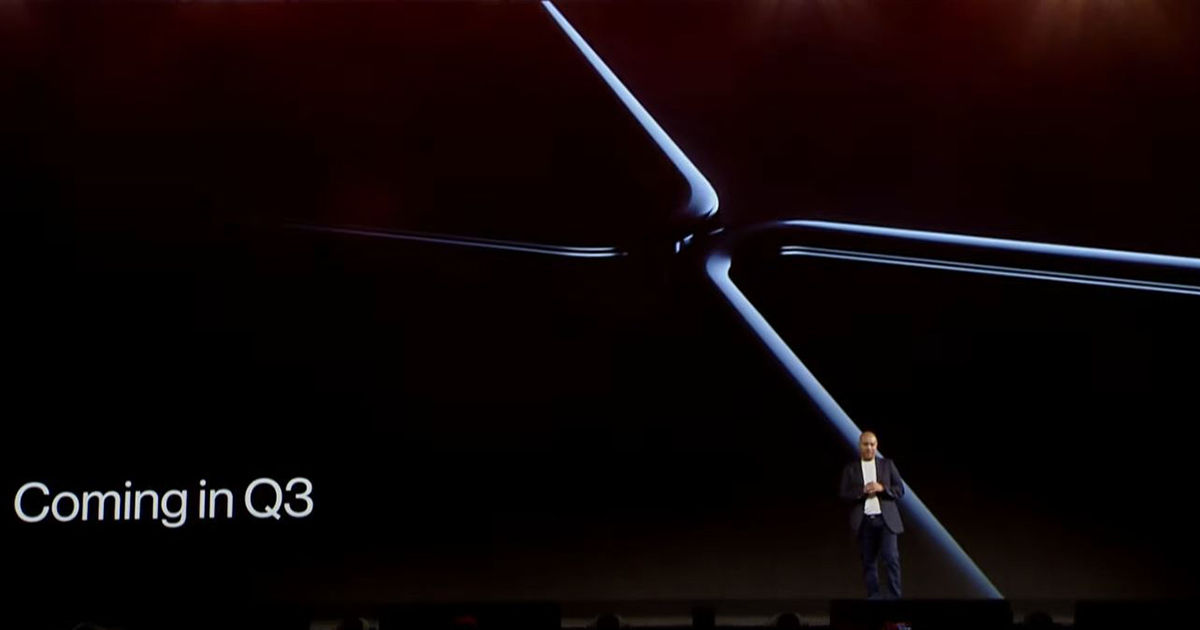 A few weeks ago, we reported about OnePlus filing trademarks for its upcoming OnePlus Foldable and Flip smartphones. Both these smartphones were rumored to be in internal testing in many regions. OnePlus has unveiled the OnePlus 11 series globally in India, along with many other products. The Chinese smartphone giant teased the upcoming fold and flip devices in the launch event. It is the first time since the brand has officially teased the devices after a tweet by OnePlus CEO in August 2022. The teaser has revealed the launch date of the forthcoming OnePlus V Fold and V Flip smartphones.
OnePlus Teasing its V Fold and V Flip Smartphones Officially
As mentioned above, OnePlus has shared a teaser image of the upcoming fold and flip devices. The teaser reveals that the smartphones will be launched in the Q3 of 2023. OnePlus has skipped the Pro series smartphones in the OnePlus 11 series. It seems like the BBK group-owned brand has been utilizing its resources to unveil the fold and flip devices as soon as possible.

The only piece of information we've about regarding the names of the upcoming foldable and flip smartphones are the trademark filings by OnePlus. Previously, OnePlus had trademarked OnePlus V Fold and V Flip names. The trademarks were filed with China National Intellectual Property Administration (CNIPA).
A tipster reported about the trademark filing and revealed that these smartphones are being tested in various locations, including Europe. It seems like OnePlus wants to create a similarity with Samsung's foldable and flip devices named Galaxy Z Fold and Z Flip, respectively.
There are reports that the upcoming devices would be based on OPPO Find N2 and Find N2 Flip, which was announced in China a couple of months ago. Earlier, it was rumored to be based on OPPO Find N, but since the successor has arrived, there are no more chances for OnePlus to launch them.
OPPO had announced that the Find N2 Flip would make it to the global markets and would be unveiling the MWC 2023 event. Since the OPPO foldable smartphone doesn't make its way to international markets, it would be easy for OnePlus to launch the device without any alterations. OnePlus may differentiate its upcoming V Flip device from the existing Find N2 Flip smartphone.
Summing Up the OnePlus 11 Launch Event Which Unveiled Multiple Products
OnePlus has launched OnePlus 11R 5G, OnePlus Pad, OnePlus Buds Pro 2, OnePlus TV 65 Q2 Pro, and OnePlus Keyboard with the OnePlus 11 5G smartphone. The only products absent from OnePlus's product lineup are foldable devices. As mentioned above, OnePlus will fill the vacant space by unveiling the smartphones in Q3 of 2023.
What do you think about OnePlus launching foldable smartphones? Please let us know your thoughts and opinions on the same.