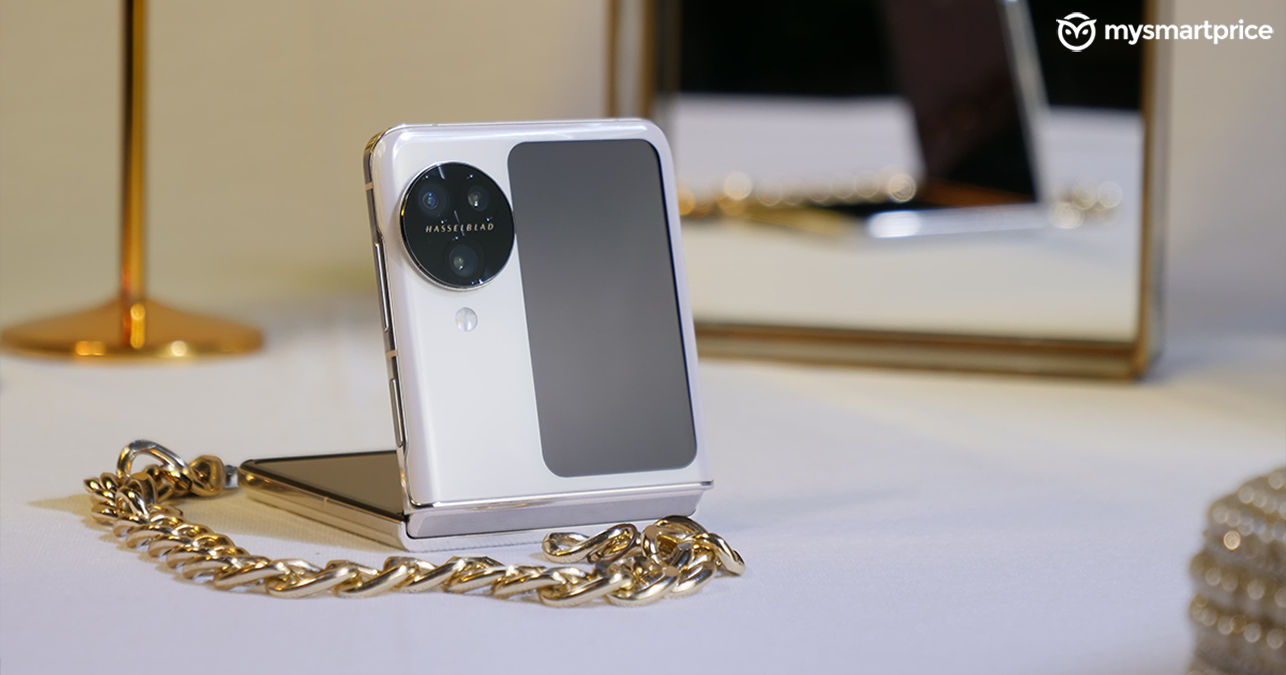 OPPO's stance on foldables has been rather interesting. They were one of the first phonemakers to fiddle around with flexible displays, but when it came to launching foldable products, they chose to wait it out. In early 2023, they one-upped the Galaxy Z Flip 4 by having the largest cover screen on a flip, but its functionality was still half-baked. Six months later, the Find N3 Flip offers the most complete smartphone experience OPPO has ever offered in India – proving that foldables do not mean a compromise. Read our review to know why we are all praises for the OPPO's latest.
OPPO Find N3 Flip
Rs 94,999
What Is Good?
First flip with all-day battery life
Awesome cameras
Gorgeous foldable display
Quick access widgets on cover display
Alert slider makes life easier
Fantastic performance
What Is Bad?
Bloatware at this price
No official IP-rating
OPPO Find N3 Flip Review: Design & durability
| | |
| --- | --- |
| Design | Specifications |
| Weight | 198 grams |
| IP Rating | NA |
| Dimensions (Open) | 166.2mm × 75.78mm × 7.79mm |
| Dimensions (Closed) | 85.54mm × 75.78mm × 16.45mm |
| Rear panel protection | Corning Gorilla Glass Victus |
| Foldable/cover display protection | NA |
The OPPO Find N3 Flip's design is mostly derived from its predecessor, except for a few tweaks. The first is going for a circular camera configuration instead of a vertical one, because there are three sensors to accommodate now. Then there's the presence of an alert slider, which we have always loved on the OnePlus phones, and finds its way in OPPO's offering too. The last noticeable change is in the colour variants – we now have Cream Gold and Sleek Black colourways.
So, gone is the sandstone texture of the black variant in the favour of a mirror finish that attracts fingerprints really quickly. The other hue is the more sensible choice – the white glass tends to draw attention to its wavy patterns and, as a result, it appears far cleaner.
Everything else in terms of design has remained the same. So, you get the same comfortable in-hand feel thanks to curved edges of the rear glass panel and an easily accessible fingerprint sensor.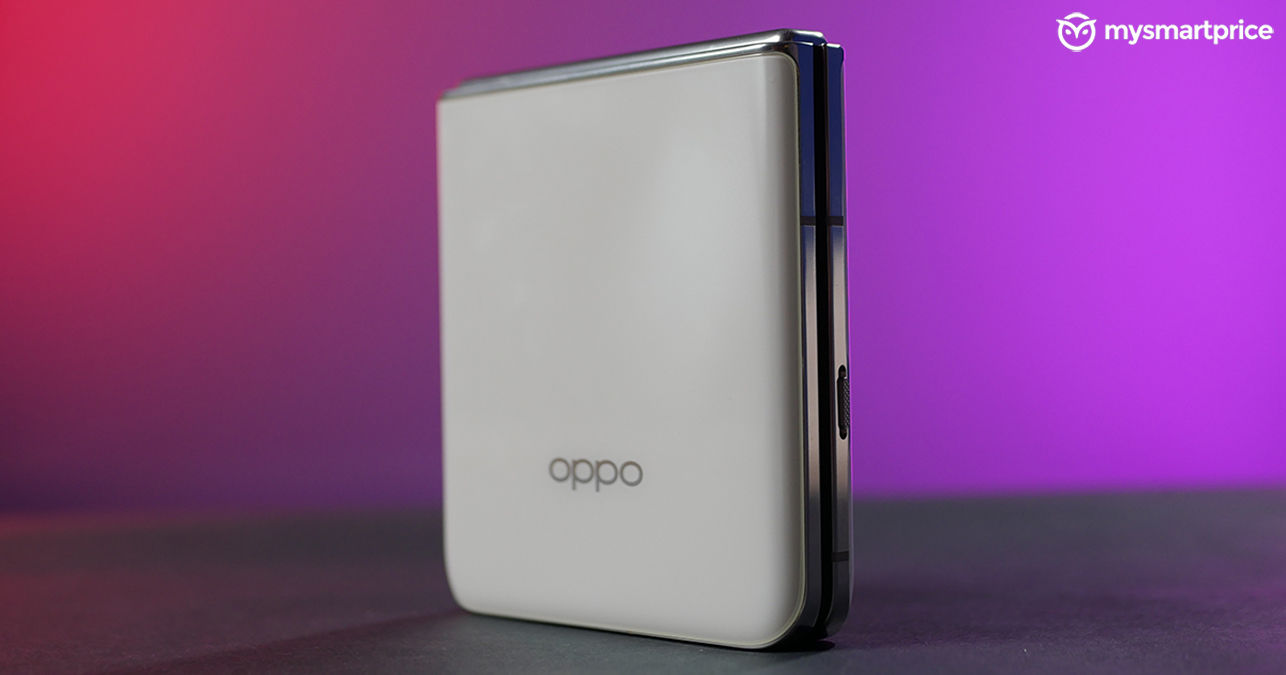 Durability has taken a bump, as the hinge is now rated for 6 lakh folds or roughly 16 years of use even if you open and close your phone for 100 times a day. We can not test that yet, but it is good to know they have at least tried to get a certification for that. But, for some reason, they chose not to apply for an IP rating. That said, we have showered with the phone on multiple occasions and have not noticed any water ingress as of now.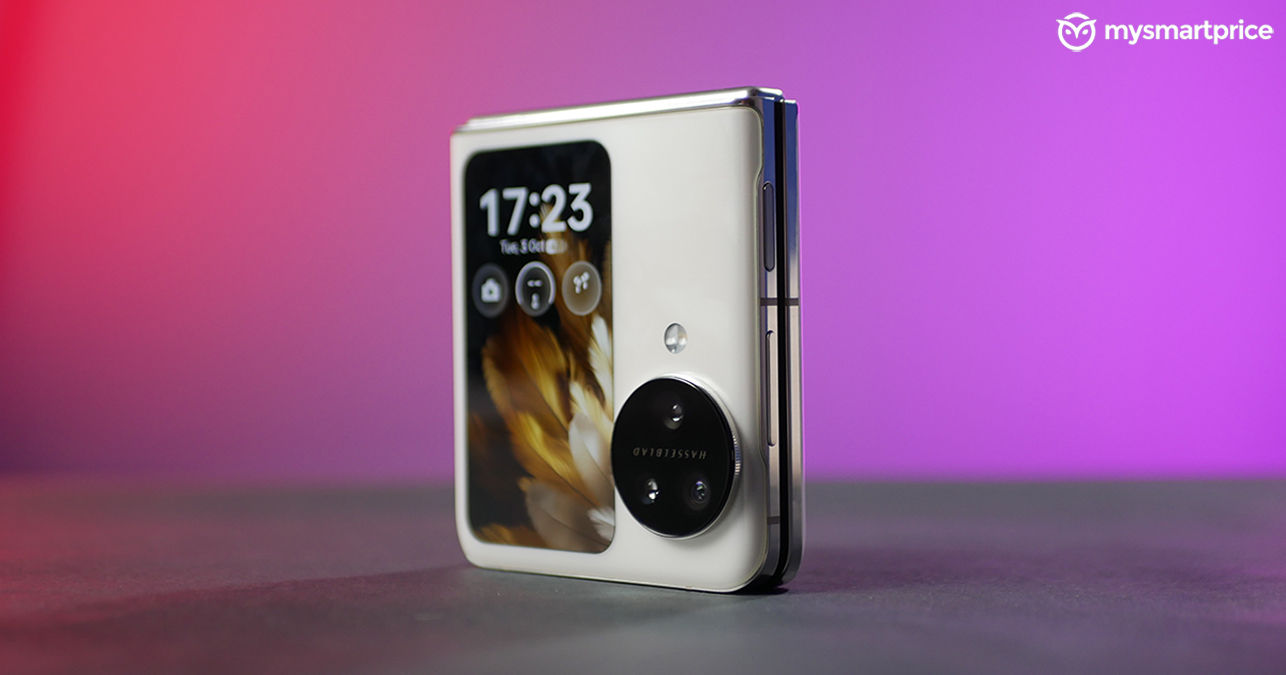 Nevertheless, we found the N3 Flip's far more helpful than previous-gen Galaxy Flip and Moto Razr phones, as it can run full-fledged apps. The 60Hz refresh rate is not the most responsive, but then again, this display to access stuff in a jiffy, not to indulge yourself.
For that, you have the main flexible display. It's an absolute feast to your eyes and fingers, and thanks to the clever teardrop hinge design, you get very little visible crease. It can also remain open at a proper 180-degree angle, without any kind of hunch on the back.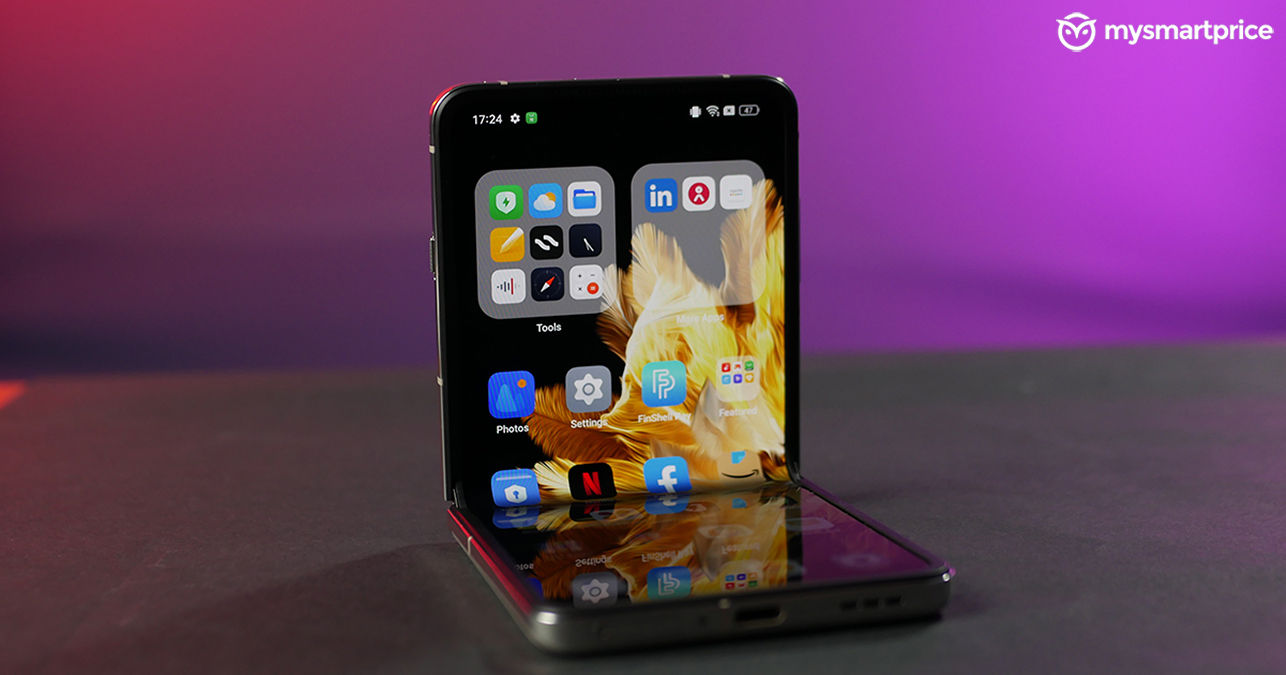 The viewing angles are impressive, and not once did I ever feel that I was using a foldable display. Because it is OPPO, the 1440 Hz PWM dimming feature is being marketed heavily, much like the rest of their Reno lineup. It basically reduces screen flickering in low-brightness viewing, which is something many people do.
OPPO Find N3 Flip Review: Performance and software
| | |
| --- | --- |
| Processor | MediaTek Dimensity 9200 |
| RAM/ROM variants | 12GB+256GB |
| RAM and Storage tech | LPPDR5X and UFS 4.0 |
| AnTuTu v10 Benchmark Scores | 1050432 |
| Geekbench 6 Benchmark Scores | 1841- Single-Core, 3002- Multi-Core |
| Android version/UI | Android 13, ColorOS 13 |
| Connectivity details | 5G, WiFi 7, Bluetooth 5.3, and GPS |
Because of the way its internals are placed, the Find N3 Flip has very little area for heat dissipation, so it can not afford a processor that runs hot. The MediaTek Dimensity 9200 has proven its mettle in the past in the Vivo X90 Pro, offering ample horsepower while being thermally stable, and the same holds true here as well.
By default, the Find N3 Flip has its performance mode turned off but you never really realise that. Animations are fluid and snappy, and I observed no stuttering while switching between heavy apps.
The hardware runs ColorOS 13.2 based on Android 13. OPPO's promising support for the phone till Android 17, with up to five years of security updates, which is about the same as what Samsung is offering.
ColorOS 13 may be familiar to OnePlus users, except it's a bit more loaded on the bloat end of things. It is a little strange to see, especially at this price – Vivo's stopped doing that in their flagships, I think it's OPPO's turn to do the same.
Nevertheless, it took me about 10 minutes to do a deep cleanse, which included disabling / uninstalling pre-installed apps and turning off notifications.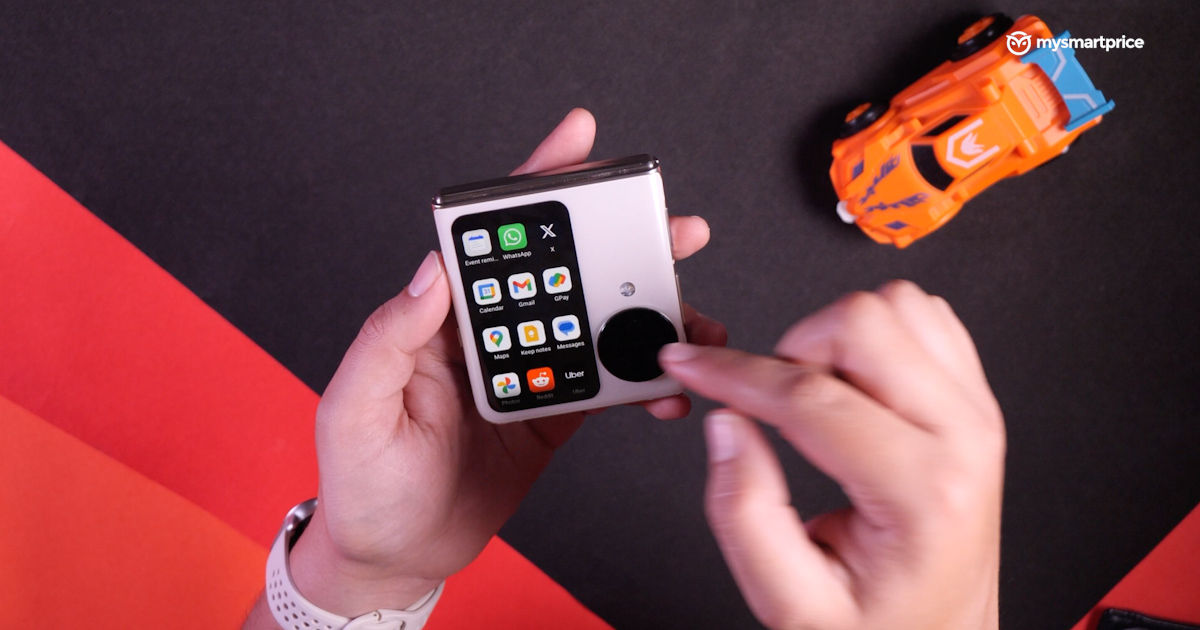 OPPO has worked hard to make the N3 Flip's cover display even more functional now. You can access more than 40 apps, and new apps are added to the brochure every week. You can also set three widgets to quickly access your preferred apps. So, one tap on the widget followed by fingerprint authorisation, and you can quickly access the full-fledged app of GPay or WhatsApp – all from your cover display! Not too bad, right? Also, OPPO's bringing all of this new cover display stuff to the Find N2 Flip as well.
OPPO Find N3 Flip Review: Cameras
| | |
| --- | --- |
| Primary Camera | 50MP (Sony IMX890) OIS, f/1.8 |
| Ultra-wide Camera | 48MP (Sony IMX581, f/2.2 |
| 2x Portrait/Telephoto Camera | 32MP (Sony IMX709), f/2.0 |
| Front Camera | 32-megapixel (IMX709), f/2.4 |
| Video recording capabilities | 1080p at 60fps, 4K at 30fps |
The Find N3 Flip is blessed by a triple-camera setup – a first for any flip phone. I personally like the way OPPO's going with their algorithms, at least on this end of the price spectrum. The photos look natural, without too much of a boost in saturation or contrast in the day.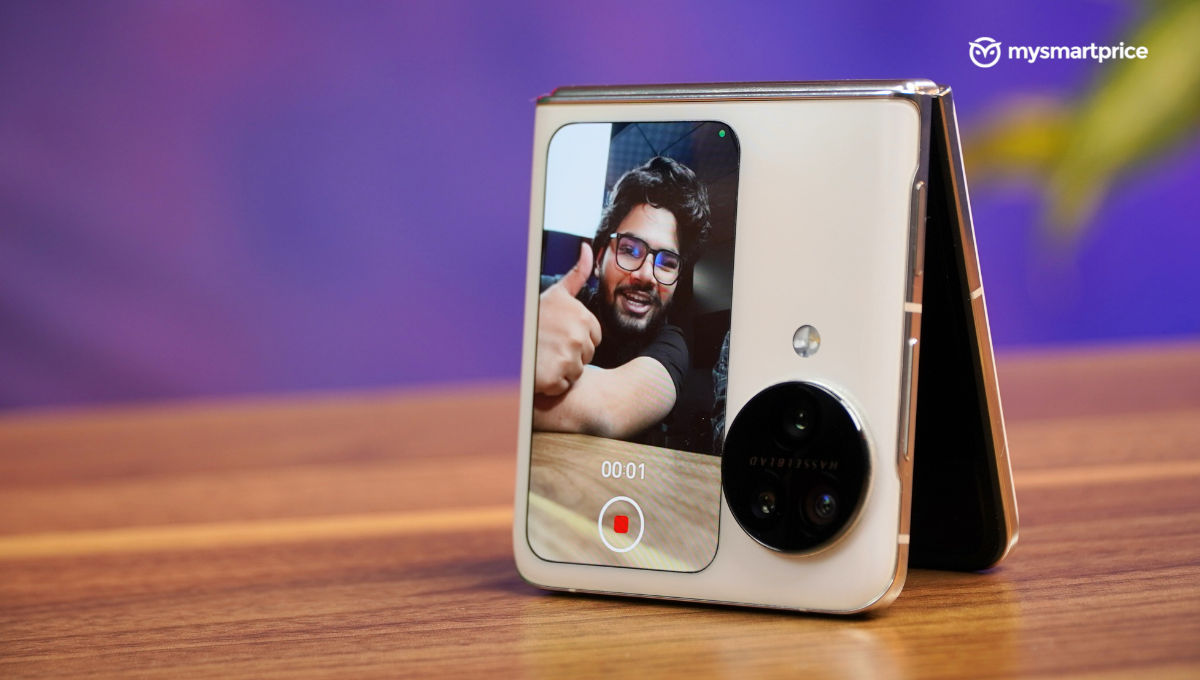 I missed having a telephoto in every flip phone I've reviewed, and boy, does that really shine in here. It clicks nice, detailed close ups with good natural bokeh– it is a portrait camera first, after all.
Find N3 Flip camera samples daytime
Which brings us to night-time portraits. OPPO has tweaked its algo to emulate a spotlight on a subject while clicking low-light portraits. It essentially extrapolates the light sources around a subject and adds a little bit of AI magic on a subject's hair to create a very tasteful rim-light. Also, the algorithm is able to boost the exposure of a subject in extremely poor lighting, without introducing too much noise in the photos. You will have to remain still for a couple of seconds for this to work properly. But when it does, oof… It really hits the spot!
Find N3 Flip camera samples low light
While the 32-megapixel selfie camera is also capable of performing its duties well, both in the day and night, I found myself using the rear cameras on the cover screen more. Hot take, but I liked it more than the Flip 5's solely because of one reason – it is able to give me an accurate end result thanks to its vertical aspect ratio.
I like the fact that they have not stinged out on the resolution of the ultra-wide sensor either. As a result, you get crisp ultra-wide shots even after zooming in.
OPPO Find N3 Flip Review: Battery
| | |
| --- | --- |
| Battery capacity/type | 4,300mAh, Li-Po |
| Charging wattage | 44W |
| Charger in the box? | Yes, 80W |
| Screen-on time | 6 hours |
| Charging speed | 55 mins to 1 hour |
Despite a small-ish 4,300mAh battery (by regular smartphone standards), the OPPO Find N3 Flip is able to go the mile and be an all-day phone. OPPO has done a commendable job background battery management – it loses only about 2-3% battery overnight. It charges itself rather quickly too with the bundled charger – it only takes about an hour for a full charge.
I liked this whole combination of portability and reliable battery life so much that I preferred it over the Pixel 7 Pro for a really hectic day consisting of flight travel and non-stop work all the way from five in the morning to post midnight. Except for a quick 10-minute charge in the evening, the phone was able to go the distance without giving me any kind of range anxiety.
This battery saving does have a bit of caveat – you tend to miss out some notifications because of how aggressive it can get even without the battery saving mode turned on.
Still, treating a flip phone like a normal phone was something new for me, and something that I will cherish for a long time.
OPPO Find N3 Flip Review: Verdict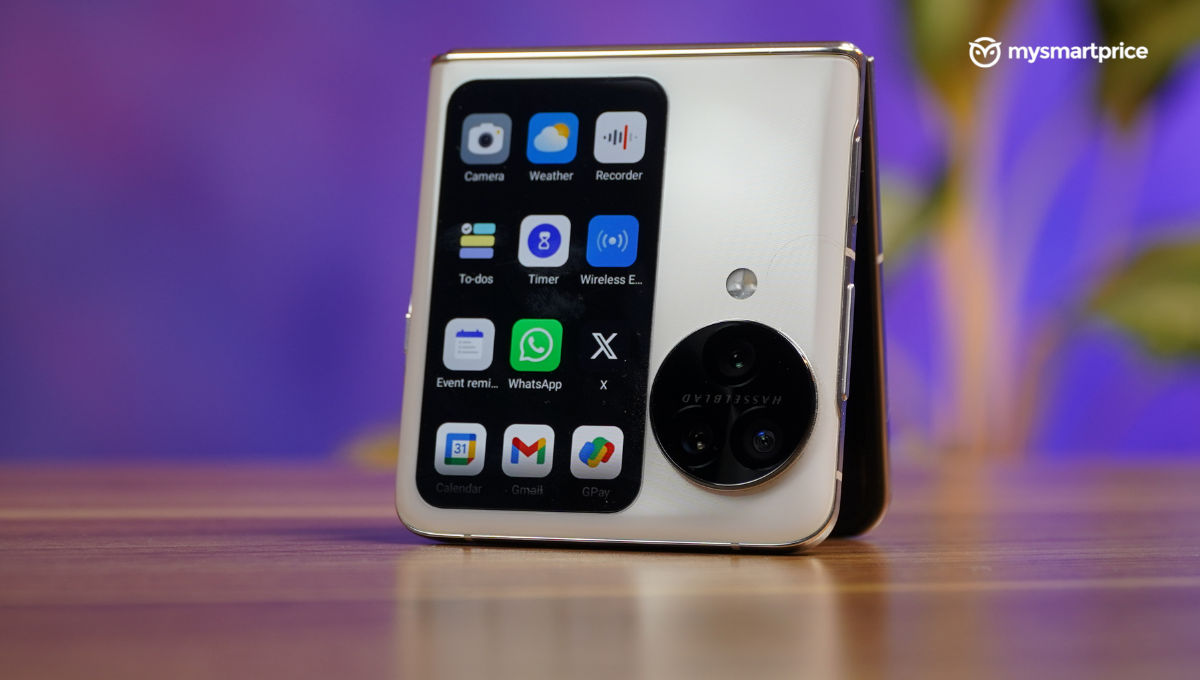 Modern flips are no longer in their awkward adolescent phase – they have matured to a point where they can be considered over a full-fledged smartphone experience. And now that OPPO has made the god of foldables bleed, it's only a matter of time everybody tries to do that – for cheap.
Yes, the Find N3 Flip's Rs 94,999 price tag is going to make some people grimace, given OPPO still has a nascent image when it comes to making foldables. But boy, have they beaten the top dogs, and that too by a huge margin. It is honestly refreshing to review a flippable and refer to it as a normal smartphone – without any major compromises.
Of course, every premium foldable commanding a near-lakh rupee price tag has had a stunning display and an eye-catching design, but it's the little stuff like battery life, charging and practical cameras that really make a difference – something that the Find N3 Flip nails. Its cover display is a work in progress, with new apps being added all the time, but that is a good thing.
The only major flaw I could find in this entire package was the presence of bloatware. The fact that it retains the same cover display and design silhouette does not mean they have not tried anything new.