Highlights
OnePlus recently announced the OxygenOS 14 Open Beta rollout roadmap.
The OnePlus 11 will be the first device to get the newest version of Android.
OxygenOS 14 offers a more intuitive Aquamorphic design.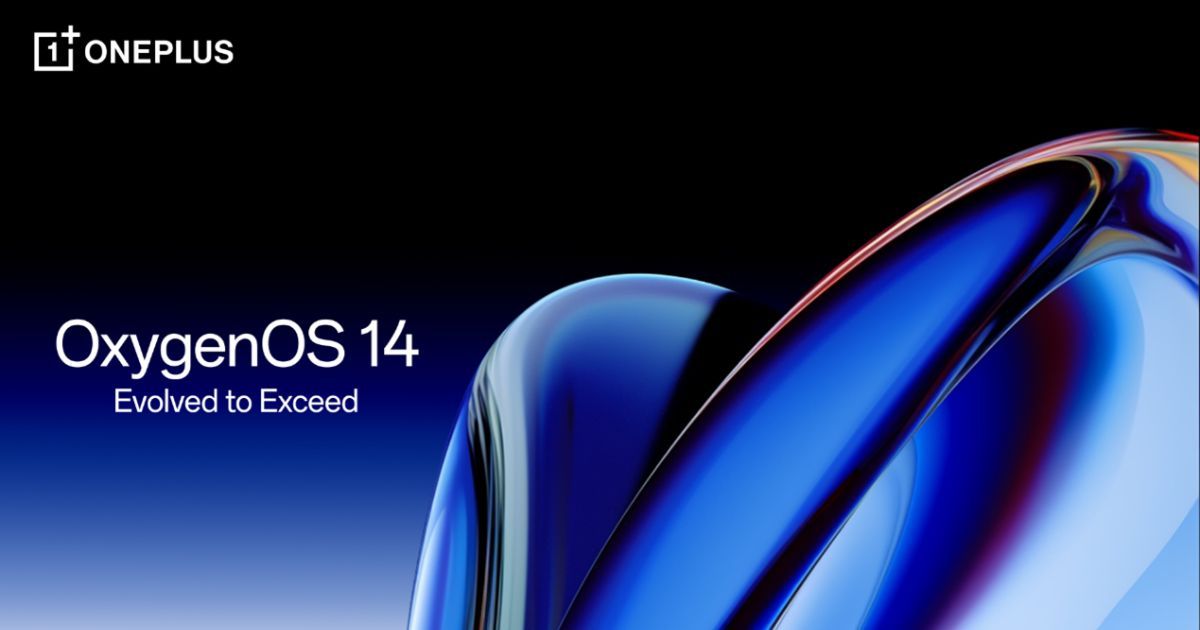 OnePlus is expected to launch its first-ever foldable device, the OnePlus Open next month. Also, the brand is scheduled to launch its affordable tablet in India, the OnePlus Pad Go on October 6th. Ahead of these hardware launches, the company has today made the OxygenOS 14 official.
The next iteration of the Android skin from OnePlus, the OxygenOS 14 will be based on Android 14. Google is expected to make the Android 14 version official soon, as we are nearing the launch of the Pixel 8 series. Although there is no confirmed report, the company might make the new version of Android official during the unveiling of the Pixel 8 duo itself. In the meantime, here is what one can expect from the new iteration of OxygenOS along with the list of OnePlus devices expected to get the new update.
OxygenOS 14 Based on Android 14 Announced: Features
OxygenOS 14 comes with an "Evolved to Exceed" tagline 一 basically suggesting that this will be an iterative upgrade over the OxygenOS 13. OnePlus says that the new OxygenOS 14 announced today will come with comprehensive improvements to offer a fast, smooth, stable, and secure experience.
The first feature that OnePlus highlights is called Trinity Engine, which is a proprietary platform with six technologies that intelligently unlock the full potential of the smartphone's hardware. It is designed to deal with demanding scenarios including multi-tasking, heavy tasking, and long-term usage. The core of Trinity Engine is CPU Vitalization, RAM Vitalization, and ROM Vitalization, which is said to smartly allocate the phone's internal resources to achieve enhanced performance, extended battery life, and long-term smooth experience.
CPU Vitalization is a system-level computing power scheduling tech that adopts a sophisticated computing power model to determine the best balance between enhanced performance and reduced power consumption to fit different scenarios, which results in an extended battery life of up to 20 minutes.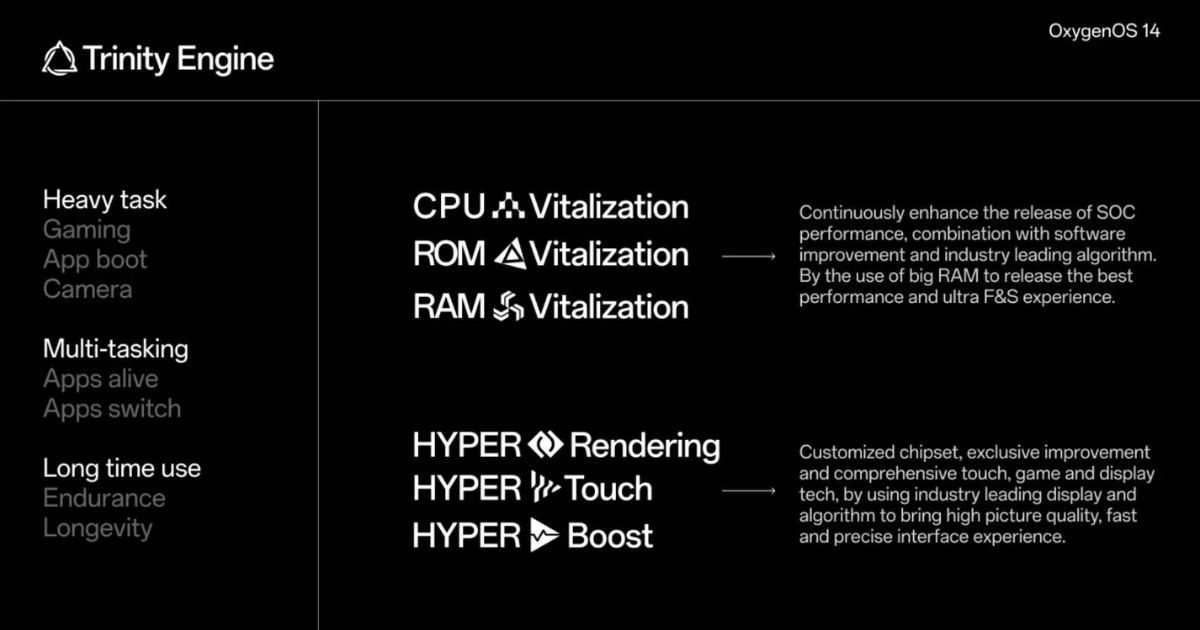 Furthermore, there are features like HyperRendering, HyperTouch, and HyperBoost features that make the phone function smoother than ever. HyperRendering graphics optimization algorithm helps to generate better graphics quality in mobile games while the HyperTouch ensures a smooth, precise, and stable touch and to address high power consumption HyperBoost incorporates AI machine learning, intelligent performance control, and graphics element arrangement techniques.
As for the security and privacy-related features, OnePlus is adding Device Security Engine 3.0 based on the Trusted Execution Environment (TEE). The Security Center also receives upgrades for a new single interface which makes it easier for users to manage the device's security status and privacy options. This is also capable of alerting users to potential security risks. In addition, there will also be a chip-level security encryption technology named Strong Box. The company is also adding a feature where details such as contact details and numbers like credit cards, can now be automatically pixelated when sharing screenshots.
Other Features
A new permission management option for photos and videos as the "Ask every time" setting.

Aquamorphic Design 2.0 with an intuitive flow will guide users instead of asking you to try to adapt to it.
Aquamorphic Design 2.0 is inspired by solid, liquid, and gas structures.

OxygenOS 14 will change dynamically based on factors including time of the day, smartphone status, and content.

Nine new sets of Aquamorphic-themed ringtones — including calls, alarms, and notifications — and eleven global UI sound designs have been added.
The new carbon footprint AOD theme will change based on your daily step count, intuitively showing how more steps can lead to less CO2 and a better environment for our planet.

File Dock feature enables the collection, analysis, and sharing of global information through the Dock or other applications using gestures.

Notes app allows for various formatting options including colours, underlines, strikethroughs, and dividers.
Smart Cutout feature accurately recognize and extract the subject from complex backgrounds, or background that shares a similar color scheme with the subject, or in group photos.
OxygenOS 14 Rollout Timeline
OnePlus has confirmed that the OnePlus 11 will be the first device to get the stable version of OxygenOS 14 based on Android 14. This is scheduled to happen in mid-November. More devices will get the update later on. As of today, OnePlus has announced the list of eligible devices in India to get OxygenOS 14 Open Beta, which will eventually get a stable version as well.
OxygenOS 14 Open Beta October 2023 Roadmap
OnePlus Pad
OnePlus Nord 3 5G
OnePlus 11R 5G
OnePlus 10 Pro 5G
OnePlus 10T 5G
OxygenOS 14 Open Beta November 2023 Roadmap
OnePlus 10R 5G
OnePlus 9 Pro 5G
OnePlus 9 5G
OnePlus 9R 5G
OnePlus 9RT 5G
OnePlus 8T 5G
OnePlus Nord CE 3 5G
OnePlus Nord CE 3 Lite 5G
OnePlus Nord N30 5G
OnePlus Nord 2T 5G
OnePlus Nord CE 2 Lite 5G