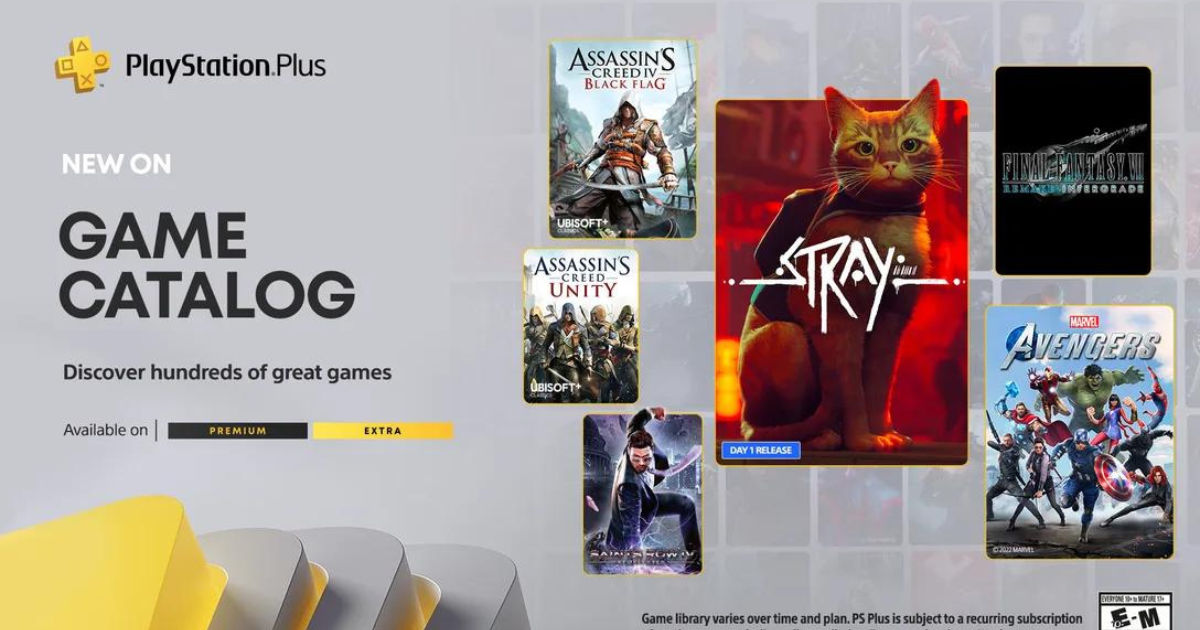 PlayStation has officially revealed the July lineup for PS Plus Extra and Premium/Deluxe tiers and it includes a number of bangers from past console generations. Despite Sony's insistence that there won't be as many day-one launches on the service, July 19 will see the arrival of Stray on PlayStation Plus, one of the year's most exciting releases.
Stray, developed by BlueTwelve Studio and published by Annapurna Interactive, puts players in control of a cat who must now navigate a world of robots and machines and find its way home. Stray, along with the other PS Plus games will be available for Extra and Premium/Deluxe subscribers from July 19.
Other great new additions to PlayStation Plus include Assassin's Creed IV: Black Flag and The Ezio Collection. Also joining the fold are Saints Row IV: Re-Elected and Marvel's Avengers.
Also Read: God of War Ragnarok: 5 Things We Want to See in God Of War's Culmination of the Norse Mythology
PlayStation Plus Games Available for Extra and Deluxe Subscribers from July 19
Available on July 19:
Stray (PS4/PS5)
Final Fantasy VII Remake Intergrade (PS5)
Marvel's Avengers (PS4/PS5)
Assassin's Creed Unity | PS4
Assassin's Creed IV Black Flag | PS4
Assassin's Creed Rogue Remastered | PS4
Assassin's Creed Freedom Cry | PS4
Assassin's Creed: The Ezio Collection | PS4
Saints Row IV: Re-Elected | PS4
Saints Row Gat out of Hell | PS4
Spirit of the North: Enhanced Edition | PS5
Ice Age: Scrat's Nutty Adventure | PS4
Jumanji The Video Game | PS4
Paw Patrol on a Roll! | PS4
ReadySet Heroes | PS4
Classics Catalogue for Deluxe Subscribers:
No Heroes Allowed! (PSP)
LocoRoco Midnight Carnival (PSP)
This is a pretty solid lineup of games and is sure to please fans of the Assassin's Creed franchise. Black Flag is one of the most celebrated entries in the series, as is the Ezio Collection, which is regarded as one of the strongest trilogies in gaming.
Marvel's Avengers, over the months since its release, has become somewhat of a sleeper hit as it seems to have found its core audience and has introduced enough new content to keep them happy. It being on PS Plus is sure to bring a whole host of new players to the game.