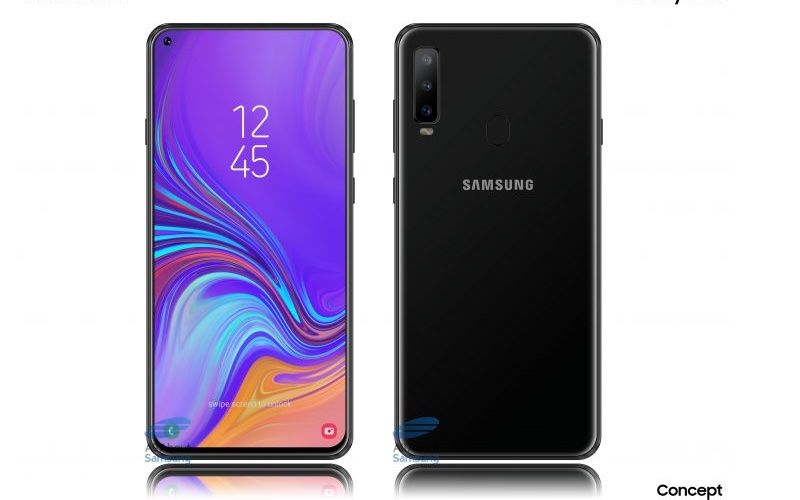 In a new leak today, key specifications of the upcoming Samsung Galaxy A8s have emerged. A German technology publication reported that the handset is confirmed to be released with a triple rear camera, 6GB RAM+128GB internal storage, and the superb Qualcomm Snapdragon 710 chipset.
The Samsung Galaxy A8s has been in the news lately, especially for its Infinity O display, which could make it the world's first smartphone with a neat pinhole-type selfie camera. The screen design was unveiled at the Samsung Developers Conference 2018 expo recently. Needless to say, there is high anticipation around it. The same design is expected to be seen on at least one of the Samsung Galaxy S10 variants, next year's flagship phone series by Samsung.
Samsung Galaxy A8s Specifications
What is also quite clear by now is that the Samsung Galaxy A8s will sport a 6.39-inch FHD+ LCD display instead of an AMOLED one, which is an unsurprising move to save on costs. We are, however, happy about the processor. The Qualcomm Snapdragon 710 is a brilliant SoC, with built-in AI and slick performance. It is among the best chipsets you can equip a mid-range smartphone with, so kudos to Samsung there. To pair this processor with 6GB of LPDDR4 type RAM is also a good decision since 4GB of RAM won't really do justice to it. Internal storage is decent at 128GB, and it looks like there will be a microSD card slot for adding storage up to 512GB.
As mentioned above, the display will be new, with a 6.7mm diameter hole packing a 24MP front camera. It seems that there will be at least one gradient color for the device, with black and gray hues merging into each other. Also, the device is only 7.38mm thick, which could mean that it is too sleek to fit in a 3.5mm audio jack. On the other hand, the fingerprint sensor on this phone is rear-mounted, so there should be enough space to fit in the audio jack. The battery on the device is 3400mAh, and it gets USB Type-C with fast charging. Pricing details are not yet known, but we expect the device to be unveiled officially in the first month of 2019.
Samsung Galaxy A8s Triple-Camera Setup Inspired From Galaxy A7?
For the Samsung Galaxy A8s, leaked images show a tall display handset with a tiny hole notch that is barely noticeable, giving the device a unique and neat bezel-free look. This is expected to work out well for Samsung, the South Korean brand that has been on a roll with its mid-range A series smartphones.
The Samsung Galaxy A7 (2018) with its triple-camera setup at the rear and the Samsung Galaxy A9 with its quad-camera setup at the rear have been quite well-received, as they break new ground in the crowded mid-range smartphone segment. It looks like the Samsung Galaxy A8s will only add to this momentum. Check out what else we know about this phone.
Full details about the triple-camera setup on Samsung Galaxy A8s have not yet come out, but we know that the setup is quite similar to that of the Samsung Galaxy A7. The Samsung Galaxy A8s will have a 24MP sensor, a 10MP sensor and a 5MP sensor. The only difference you will find in the camera setup of the Samsung Galaxy A7 is that it has an 8MP sensor instead of 10MP.