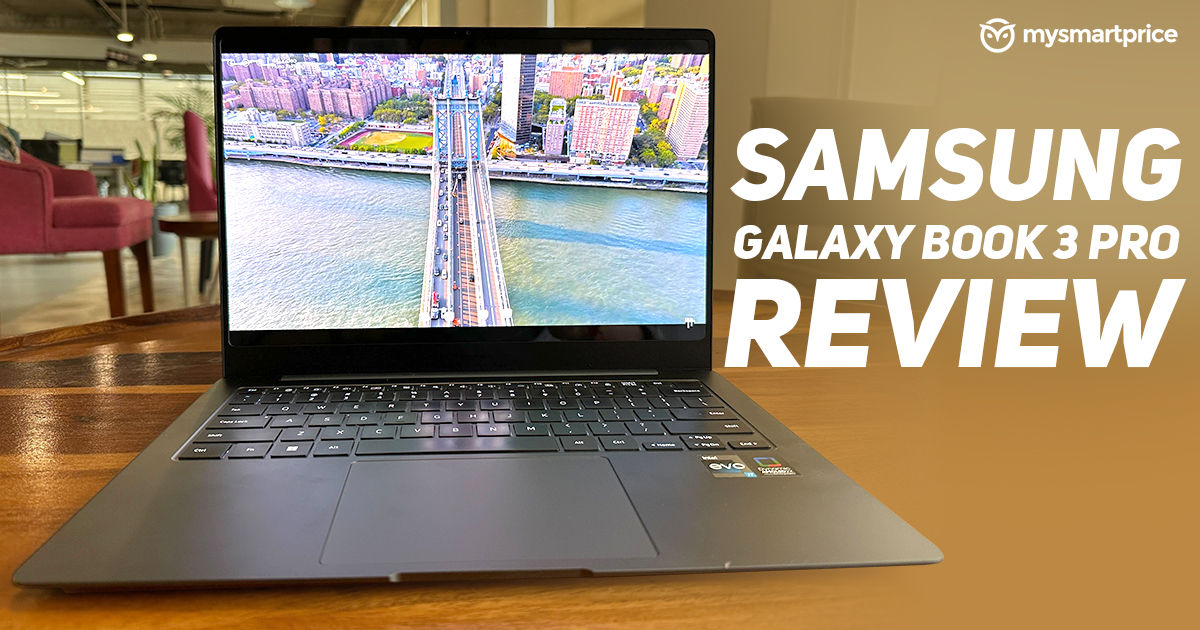 Galaxy Book 3 Pro is among Samsung's latest laptops, targeting working professionals with the biggest USP – portability. We reviewed the Samsung Galaxy Book 2 Pro last year, and it turned out to be an excellent work companion, so hopes from this one were high from the word go.
Samsung Galaxy Book 3 Pro
131,990
KEYBOARD AND TRACKPAD
8.5/10
What Is Good?
Minimalistic design and solid feel
Stunning display
Slick keyboard
Productivity oriented
What Is Bad?
Fans get noisy
Speakers could have been louder
No touchscreen display
Pricey
The good news is Samsung's Galaxy Book 3 Series hasn't moved away from the highlights of its previous-gen laptop – thin and light, which attract buyers who want an everyday machine that scores maximum in terms of portability and, at the same time, ease of use. However, the pricing has changed this year, which is now slightly costlier than its predecessor and is also the best example of how currency appreciation can impact prices.
Unfortunately, much of the attention has been grabbed by its flagship sibling – Book 3 Ultra, this year. But, Ultra isn't for everyone as it is priced upwards of Rs 280,000 in India. And this is also where the Samsung Galaxy Book 3 Pro becomes a more accessible and better option for most people who do not want an absolute beast of a laptop. The Galaxy Book 3 Pro packs enough improvements over its predecessor to justify the prices, like a 16:10 screen with a 120Hz refresh rate and still offers two screen sizes. So, how well does the Galaxy Book 3 Pro fare in everyday use, and can it become the ultimate laptop choice for professionals? We answer that in the review.
Samsung Galaxy Book 3 Pro Review: Sleek and practical
Starting with the design, the Samsung Galaxy Book 3 Pro follows its predecessor closely, and in first impressions, thin and light are the two factors that strike the most. The flat clamshell design offers a premium touch while it feels solid.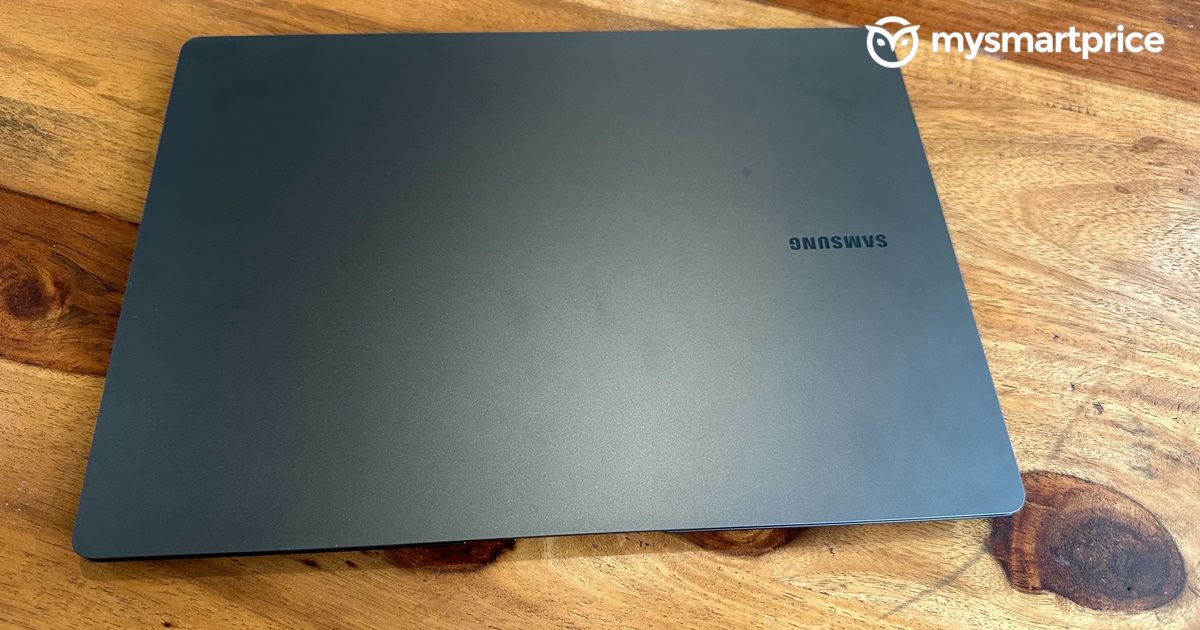 Samsung says that the Galaxy Book 3 Pro has been built using a singular aluminium material, making it more appealing than plenty of options in the market. In addition, Samsung launched the Galaxy Book 3 Pro in Graphite and Beige colours globally, but India gets only the former. In our usage during the review, the Graphite indeed looked like a colour that may last longer and will not likely give you the anxiety of wiping the lid and keyboards every few days – something we pointed out in Galaxy Book 2 Pro, which came in Silver colourway but in real life looked closer to White.
The Galaxy Book 3 Pro is available in India in 14-inch and 16-inch screen sizes. We got the smaller one, and it's a more portable option out of the two. At 1.17 kilograms, the Galaxy Book 3 Pro is easy to use around the office or in any cafe. Moreover, it is 11.3mm slim, which means it can fit into the smallest of backpacks comfortably.
If there's something that we liked the most about the Galaxy Book 3 Pro, then it has to be the keyboard. The laptop packs an island-type keyboard and is backlit. As a result, it offers one of the most comfortable keyboards in the range, and for us, it is better than the one we get on the MacBook Pro M2.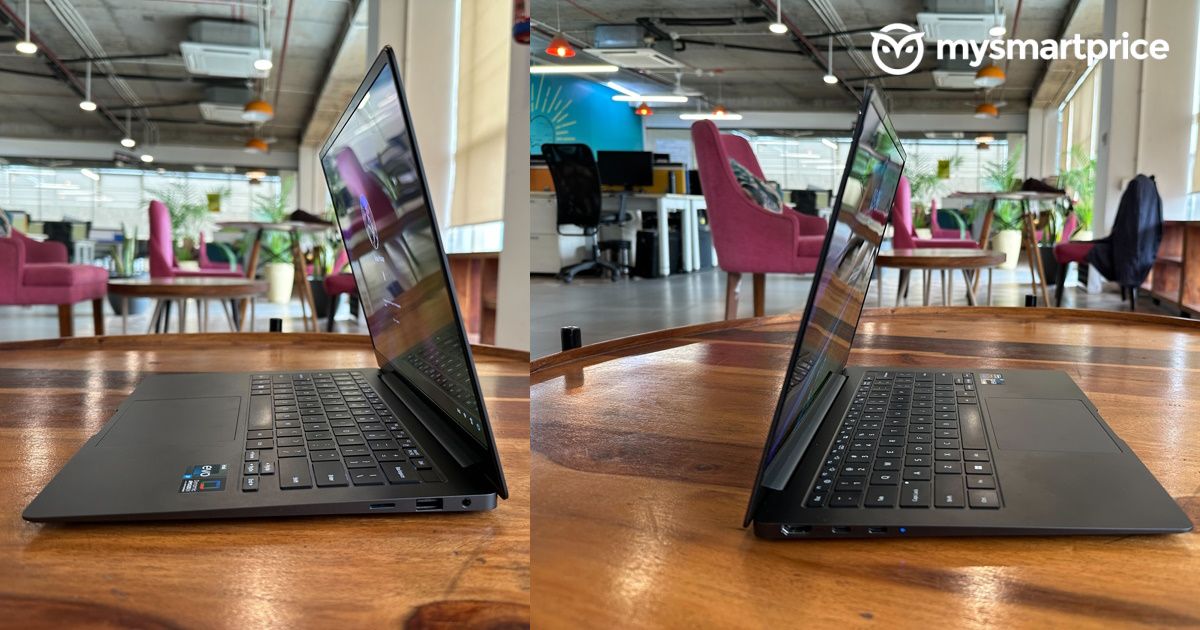 Everything is on point, from proper letter spacing to the large palm rest beneath the keyboard. The Galaxy Book 3 Pro packs up to 39% larger touchpad than the one we see on the Galaxy Book 2, and we will talk in detail about the touchpad in a bit. The laptop scores extra brownie points for the keyboard, which could be a boon for people who spend a lot of time typing emails, writing articles and more. By the way, we had a great time typing multiple articles on the Galaxy Book 3 Pro's keyboard, and this review, too, has been typed on the same.
Talking about ports, the Samsung Galaxy Book 3 Pro sports 2 x Thunderbolt 4 ports, 1x USB Type-A, 1x HDMI 1.4, a MicroSD port, and a headphone/mic jack. For a sleek laptop like Galaxy Book 3 Pro, it comes with enough connectivity ports to keep users satisfied. It measures 312.3×223.8×11.3mm.
Around the 14-inch display, there's the bezel, especially at the bottom. While Samsung has reduced the bezel size compared to its Galaxy Book 2 series, we expect more scope. The 1080p webcam is decent for every meeting, and we will talk more about quality in the performance section.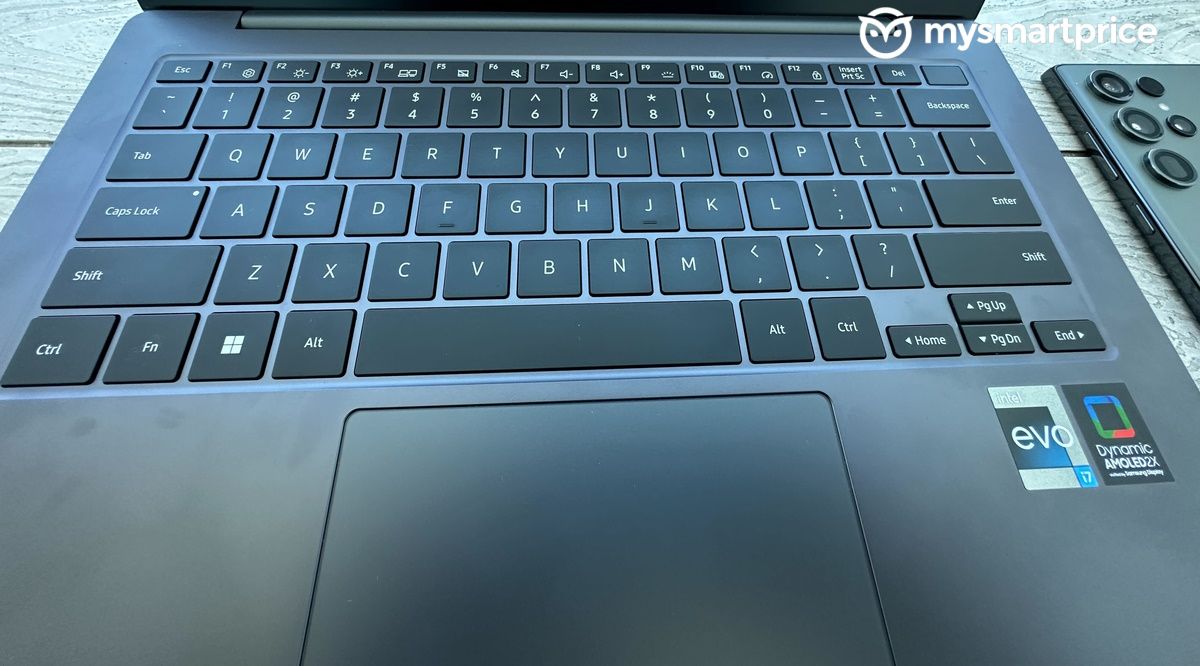 Samsung Galaxy Book 3 Pro Review: Top-notch display, again
The Galaxy Book 3 Pro display gets a major refresh as Samsung switched to a 16:10 aspect ratio, dropping the 16:9 we saw on its predecessor. As a result, compared to a 13.3-inch laptop, the 14-inch looks way bigger despite being barely a few inches larger. In addition, the screen resolution now stands at whopping 2880×1800 pixels, a big bump from the 1920×1080 screen seen on the predecessor. As expected, the AMOLED panel on the Galaxy Book 3 Pro is the best we have used in this segment. Finally, the company has added an Adaptive 120Hz refresh rate to add to the fun, making it smoother transitions and a better overall experience in the display department.
Samsung says that the Galaxy Book 3 Pro offers 400 nits brightness typically, though it can max at 500 nits, which is impressive.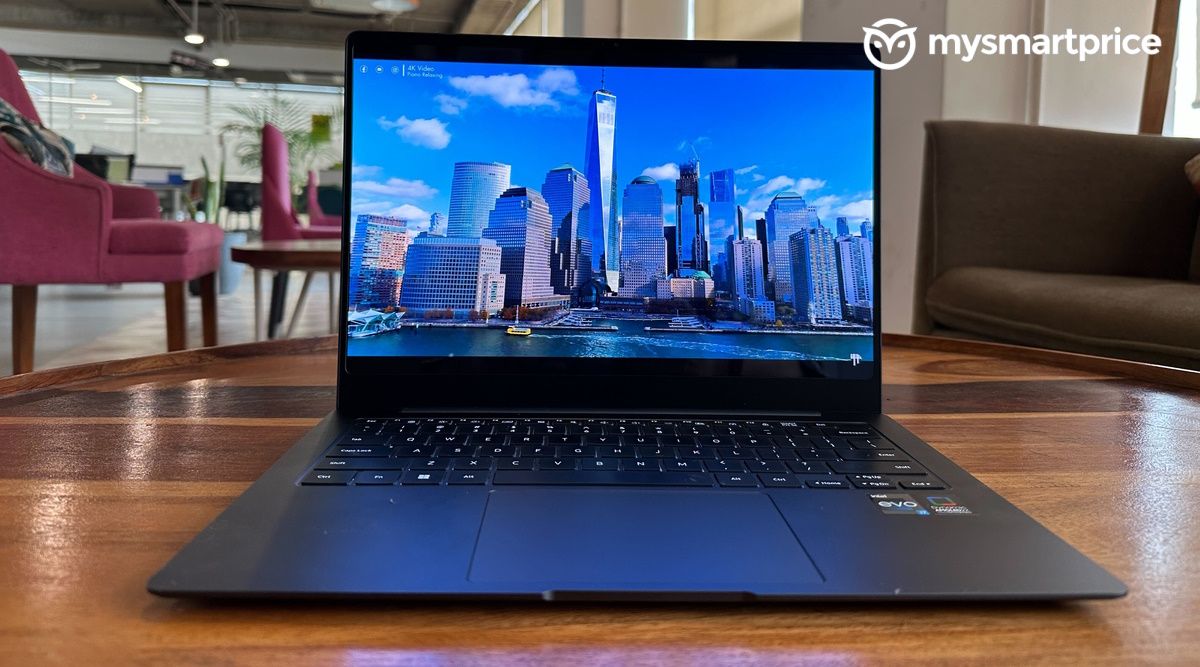 Talking purely about the display, the Galaxy Book 3 Pro offers an excellent display for multimedia consumption and even for tasks like image and video editing. The texts appear sharp while the colours are crisp and colour accuracy is top-notch. Sunlight legibility is also decent, while viewing angles are excellent. The only significant missing feature is the touchscreen experience which would have definitely added more to the overall product.
Samsung Galaxy Book 3 Pro Review: Excellent everyday companion (but not for gamers)
Samsung sent us the best spec Galaxy Book 3 Pro 14-inch model featuring 1TB storage, 16GB RAM and powered by 13th Gen Intel (Core i7-1360P) processor clocked at 2.20GHz. In addition, there's Intel Iris Xe Graphics onboard. As Samsung is pitching this laptop as the best work laptop for working professionals, we used this for most of our productivity tasks, be it writing, stories editing, image editing using Adobe Lightroom Classic and often Photoshop, (sometimes) streaming videos, and very (very) light casual gaming. In addition, the laptop runs Windows 11 Home.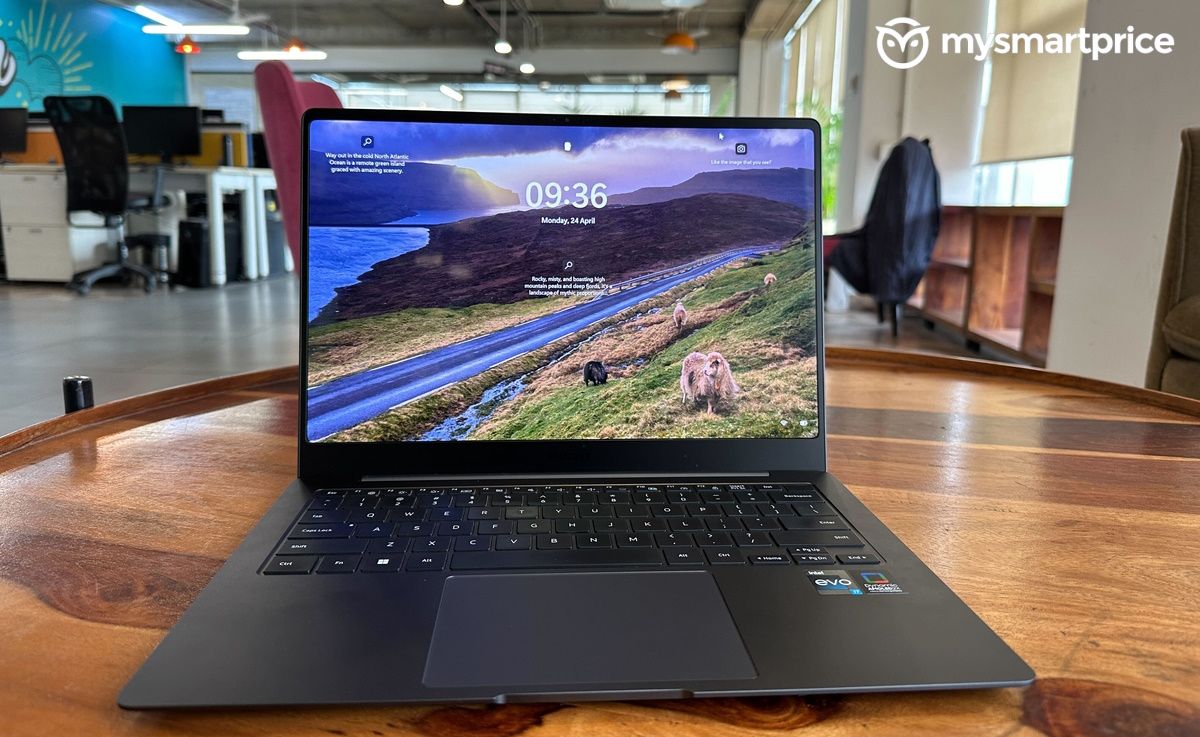 In the whole review duration, we haven't seen the Galaxy Book 3 Pro stuttering once, and we were mostly impressed by the laptop's performance. However, one word of caution for people considering the Galaxy Book 3 Pro for video editing or some gaming stuff, look at the Ultra model as it is best suited for all those tasks. Also, we skipped the benchmarks for this one as we expected underwhelming scores, considering it is targeted at productivity.
What was average on the laptop was the speaker output. The Galaxy Book 3 Pro packs quad speakers tuned by Samsung's AKG brand, which pack 2 units of 5W speakers, and 2 units of 2W tweeters and yet the speaker output isn't impressive in our opinion.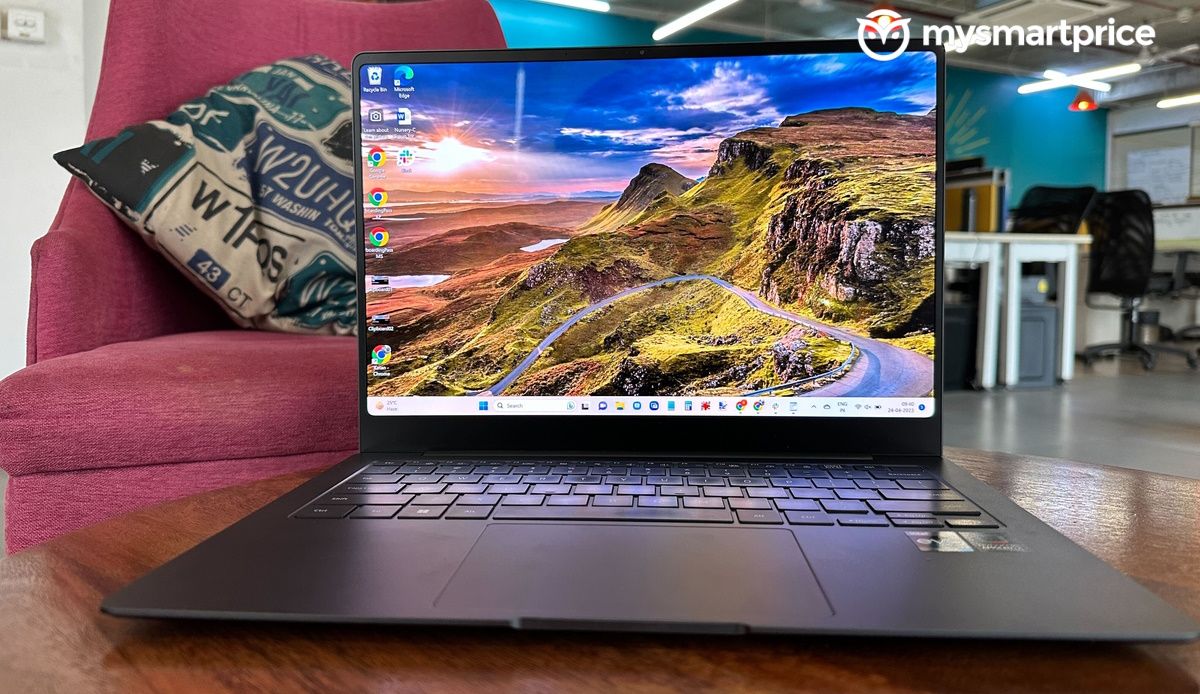 The Galaxy Book 3 Pro offers fingerprint biometric authentication, which is integrated into the keyboard, and it worked 10 out of 10 times during the review. Samsung has done an excellent job on the fingerprint scanner, though we expected face unlock also be included on the laptop considering the premium price.
The touchpad is one of the largest we have lately used on a laptop in the premium segment and is great for precision work. For example, we used the touchpad on the Galaxy Book 3 Pro while image editing, and it worked well.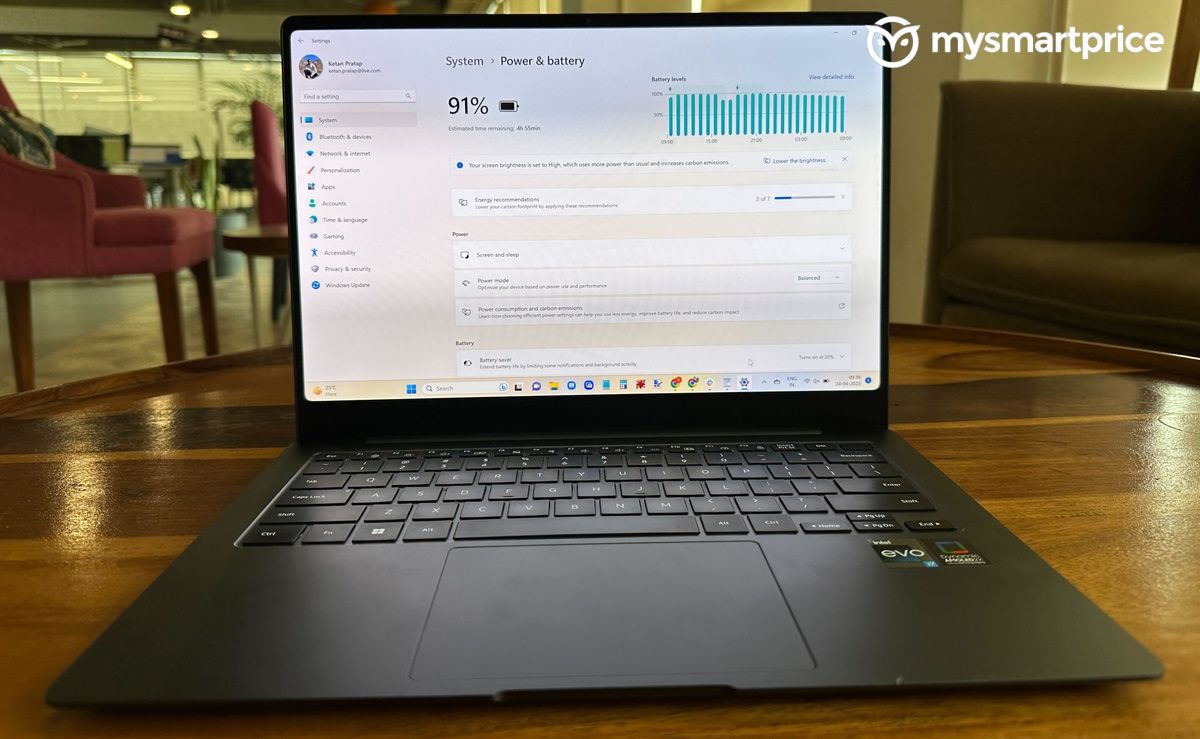 The one department where we expected some better results on the Galaxy Book 3 Pro is fan noise. While extended use, the fans get eager and start making noise. We reviewed the laptop in the summer, and the fan noise became problematic after a point. The laptop also gets warm but nothing that you can't handle.
Another department where the laptop fared average was the battery. The Galaxy Book 3 Pro lasted for roughly 5-6 hours on battery which is below than what the company claims. It packs a 63Wh battery and comes with a 65W charging adapter in the box. The fast charging comes as a big relief at times while working at locations like a cafe where you sometimes get access to a charging port for a limited time. The battery is one department where the Galaxy Book 3 Pro scores less than its rivals.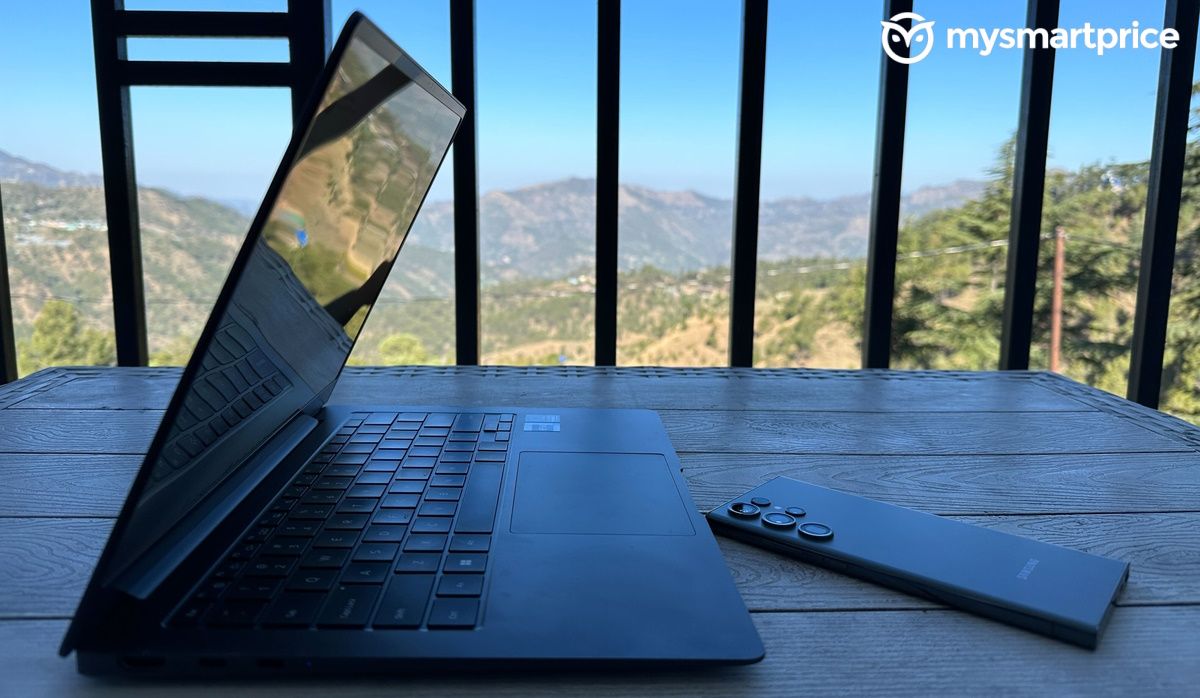 The Galaxy Book 3 Pro packs a Full-HD webcam and an excellent dual mic setup that is great for meetings. The webcam comes with Studio mode, an AI-enabled feature to enhance the video meeting experience on the Galaxy Book 3 Pro. In addition, it can help you with auto framing and packs better mics. We loved the webcam on the Book 3 Pro, and it is definitely among our favourites.
What's in there for Samsung phone users?
The Galaxy Book 3 Pro has become an even better choice for people using a Galaxy smartphone. The company's efforts to make its laptop work seamlessly with its phones has paid off. Features like Multi Control let users control Galaxy smartphones with the laptop's keyboard and touchpad. We tried the feature with the Samsung Galaxy S23 Ultra and Galaxy S22, and it worked flawlessly.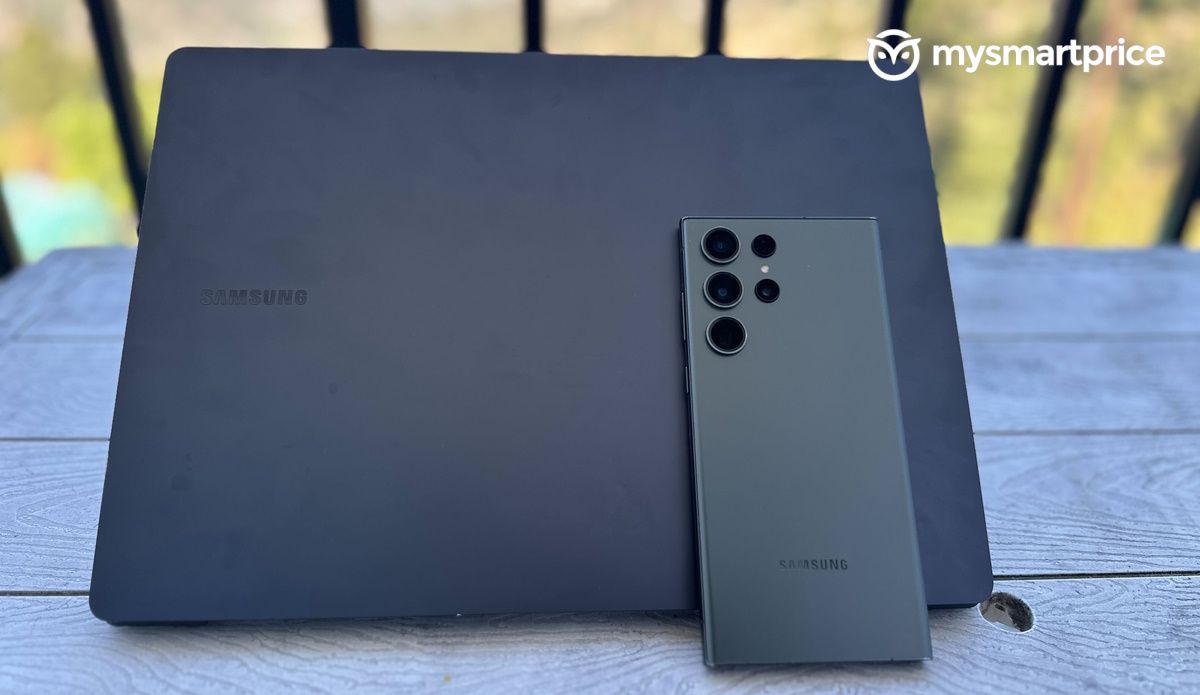 The feature especially comes in handy if you want to drag and drop items between two devices (Galaxy phone and laptop). Then there's the Second Screen which lets users get an instant dual-monitor experience when the laptop and tablet are placed side-by-side. Finally, apps like Quick Share, Phone Link, and Samsung Notes work seamlessly on both devices.
Samsung Galaxy Book 3 Pro Review: Verdict
At a starting price of Rs 131,990, the Galaxy Book 3 Pro is an excellent option for working professionals looking for a solid laptop that can last a few years. It offers many positives, from a new 120Hz AMOLED display with a higher resolution and 16:10 aspect ratio, solid build, massive touchpad and an excellent keyboard, 1080 webcam and decent everyday performance. For those who already own a Samsung phone, the Galaxy Book 3 Pro works seamlessly. But, of course, there are a few things that could have been better, like loudspeakers, touchscreen display, and better-optimised fans.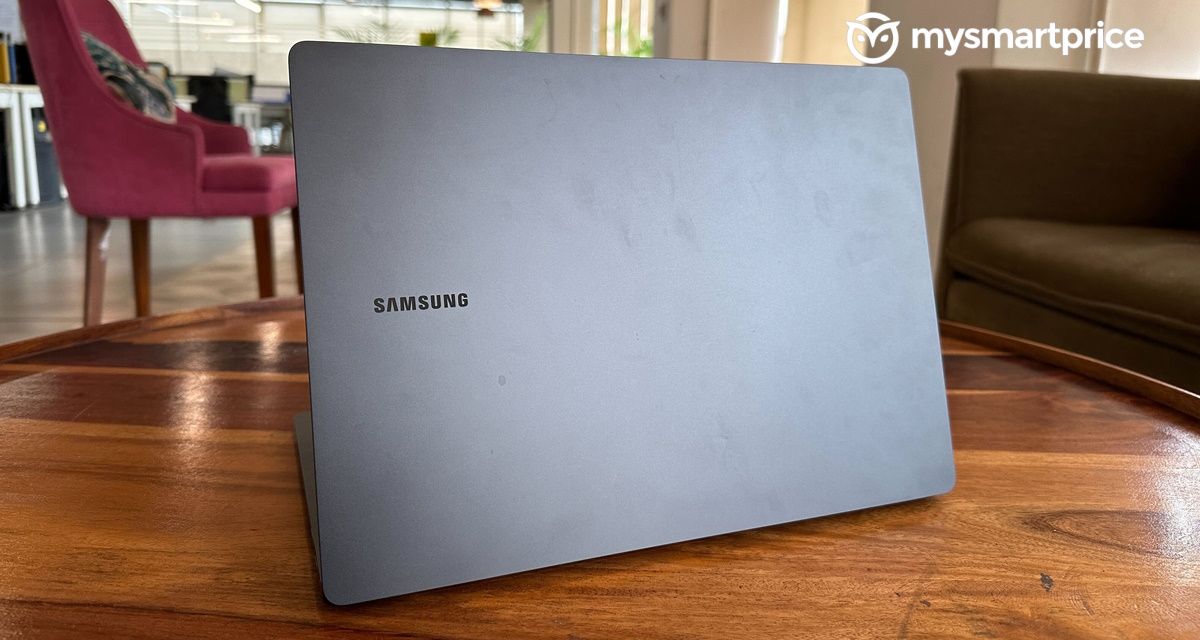 If you're fine with these points, then the Galaxy Book 3 Pro is a brilliant laptop option for your daily productivity needs. To clarify, the unit we got for the review was an i7 model with 1TB storage, priced at Rs 155,990.
Talking about alternatives, there's MacBook Pro M2, MacBook Air M2, and Asus ZenBook S 13 OLED.