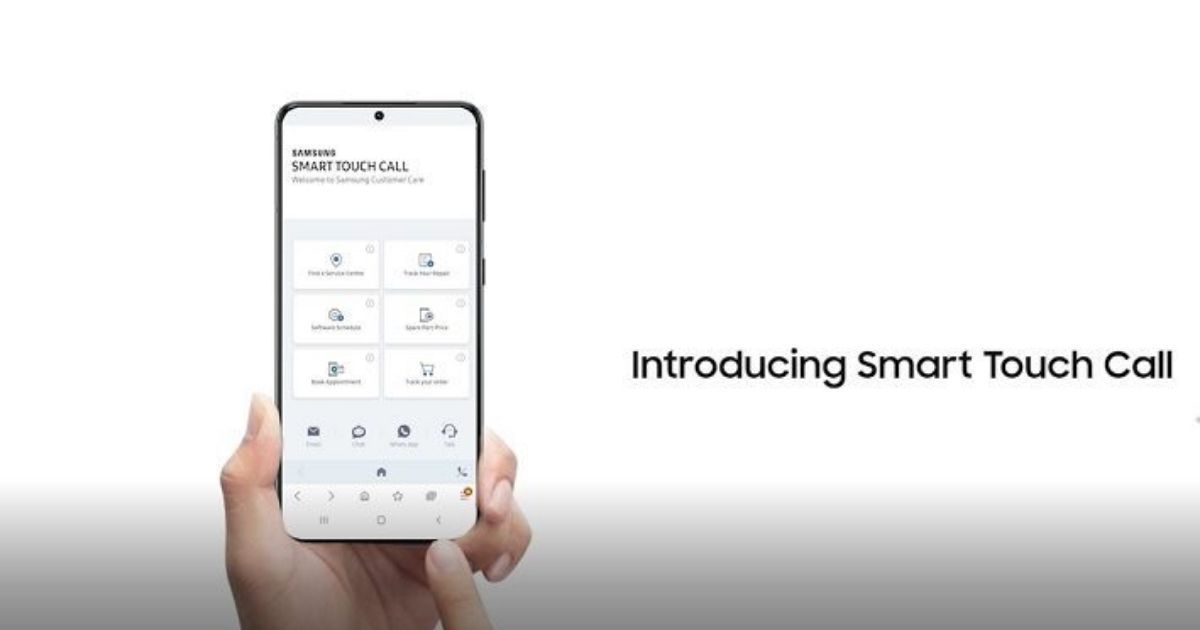 People often call customer care for getting product-related information or to troubleshoot a problem with any product. Sometimes, people call customer care just to find out the nearest service location. In all these cases, the first hiccup is IVRS and listening to commands and dialling them. This can be frustrating to many sometimes. Consumer electronics giant Samsung has launched the new 'Smart Touch Call' service in India to counter this problem. The new service will reduce wait time for customers when they call Samsung's Customer Care to resolve their queries while providing quite a few ways to connect to a service agent or troubleshoot any problem themselves. This service was launched earlier in the Philippines, back in April this year.
From now on, customers calling Samsung's Customer Care will be able to switch to a synchronized voice and screen interface. Samsung is calling it 'Smart Touch Call' and it is an intuitive service experience that will solve the most common queries, like locating the nearest service centre, repair tracking, software updates, spare part pricing, warranty information, in-home service reservation, appointment booking, order status, product registration and more.
Also Read: Samsung Introduces New Colours For The Galaxy Z Fold 3 and Z Flip 3 as Festive Offerings
Commenting on this new method of commutation for Samsung customers, Sunil Cutinha, Vice President, Customer Service, Samsung India, said, "The Smart Touch Call service has been intelligently designed keeping in mind the current needs of our customers, helping them save their time as they juggle between multiple personal and professional roles. At Samsung, we believe in creating innovative customer-centric solutions to meet the changing needs of our users and we are confident that this new service will reduce call wait time and provide customers quick self-service options for their queries."
How to use Smart Touch Call
Any customer in India who dials Samsung's Customer Care (1800-5-7267864) can now opt for Smart Touch Call. The customer opting for Smart Touch Call will get an SMS, and a pop-up menu will appear on the screen during the ongoing call. Customers can select the self-help option or choose their preferred communication mode from the pop-up menu, like email support, WhatsApp support, chat support or voice support. Before getting connected with a customer service agent, customers can fill a form furnishing their details for faster resolution.
Tired of long wait time on customer service calls? Move from the traditional call menu to a visual screen interface with the new Smart Touch Call service when you dial #Samsung customer care and resolve most of your common queries in a jiffyhttps://t.co/wyHVSe44p4 pic.twitter.com/VGEk77xn53

— SamsungNewsroomIN (@SamsungNewsIN) October 20, 2021
Samsung has been working on resolving product-related issues of consumers remotely and in a contactless way. Samsung has recently expanded its contactless service offerings with a pick-up and drop service for smartphone and tablet devices. Samsung customers can now visit Samsung service centres and opt for drop-only service so that once their devices are repaired, they are delivered straight to their homes. This service is available in 46 cities across India customers can use the service by contacting Samsung on WhatsApp (Phone Number: 1800 5 7267864).
Also Read: Samsung Galaxy Unpacked Part 2 Event Scheduled for October 20
Customers can also book appointments at Samsung service centres for smartphone and tablet repair by visiting this dedicated portal or via Samsung MyGalaxy App and the Samsung Members App. For troubleshooting and DIY guides, customers can take help of Samsung's WhatsApp, Remote Support, Live Chat, technical assistance through the call centre or watch do-it-yourself videos on the Samsung Website and YouTube.