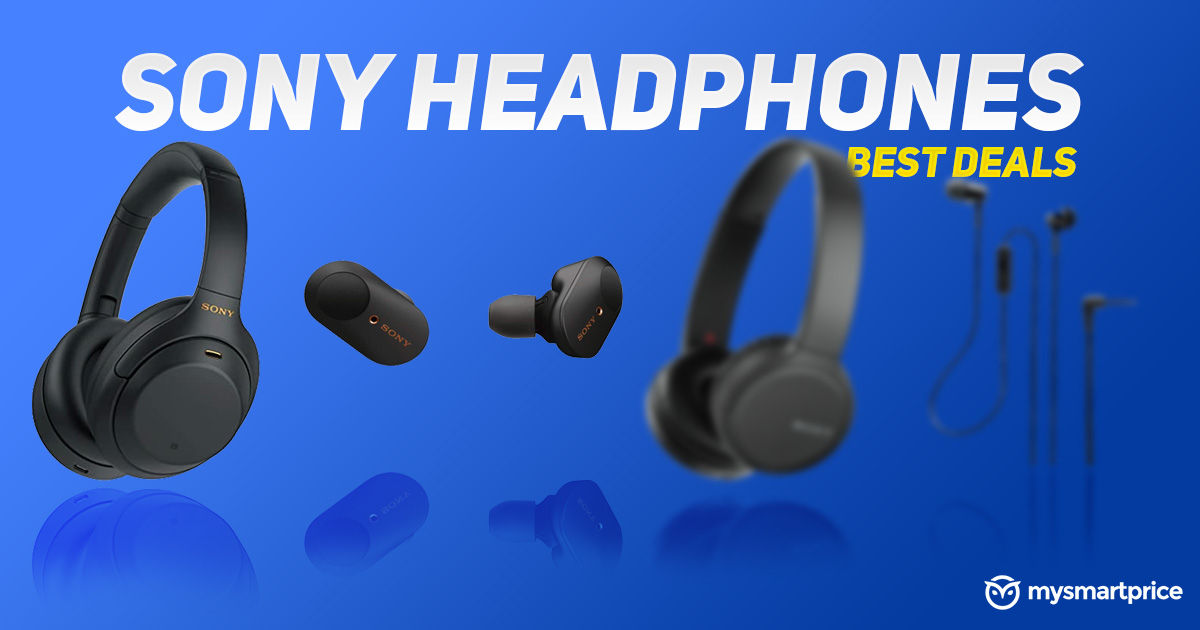 Sony is hosting its "Sony Days Promotion" where some of its audio products are available with deep discounts. Devices like the WH-1000MX4 headphones are available at a discounted price of Rs 24,990 while the truly wireless WF-1000MX3 can be purchased at a discounted price of Rs 14,990. The "Sony Days Promotion" kicked off on December 12 and will last till January 3, 2021. The discounted prices are live on all online and offline channels where Sony products are officially sold, which includes Amazon, Flipkart, Tata Cliq, Reliance Digital and Vijay Sales.
Sony is also offering financing schemes on select BRAVIA range of televisions that includes zero downpayment, EMIs and up to 30 per cent discount on the MRP. There's also a bundled discount for those who opt for a soundbar while buying a TV above 40-inches. Buyers can save up to Rs 5,000, according to the press note shared by the company.
As for the audio products including headphones, earphones and speakers, Sony has temporarily slashed the retail prices, some even as deep as up to Rs 8,000. These are some of the outrageously good deals you can avail —
Sony WH-1000MX4
MRP: Rs 29,990
Discounted price: Rs 24,990
The WH-1000MX4 from Sony is one of the best headphones with active-noise cancellation you can buy today. With around 30 hours of battery life and interesting features like wear detection, quick attention mode and more, the WF-1000MX4 at Rs 24,990 is practically a steal.
Sony WF-1000MX3
MRP: Rs 19,990
Discounted Price: Rs 14,990
The WF-1000MX3 is a TWS earphone that has been critically acclaimed by many reviewers to offer one of the best all-round performance. The earphones support Sony's Digital Noise Cancellation technology and offers up to 6 hours of battery life on each earbuds in a single charge. The bundled charging case can extend the battery life by another 18 hours before you have to plug in.
Sony WH-XB900N
MRP: Rs 19,990
Discounted Price: Rs 16,990
The WH-XB900N wireless headphones are Sony's offering for bassheads. The headphones support wireless noise cancellation and provides touch controls on the earcups itself for easy navigation. Sony claims a 30 hour battery life for the XB900N, and a quick 10 minute charge delivers 60 minutes of playback.
Sony WH-CH510
MRP: Rs 4,990
Discounted price: Rs 2,990
If you are looking for a basic pair of wireless headphones for your work-from-home needs, the Sony WH-CH510 might just do the trick. It's pretty lean on features but covers the basics well enough. There's Bluetooth support for wireless listening. The cups can be folded for easier portability. And the headphones have a claimed battery life of 35 hours with support for quick charge.
Sony MHC-V21D
MRP: Rs 26,990
Discounted Price: Rs 18,990
Moving on from headphones and earphones, the MHC-V21D is a portable party speaker available on a good discount. It supports Bluetooth and NFC and comes with an integrated DVD player with HDMI ARC support. It also comes with Karoke and guitar inputs and there are configurable lights like any party speaker should have.
Sony GTK-PG10
MRP: Rs 21,990
Discounted Price: Rs 13,990
What's a party speakers with no place to hold the beer cups? The GTK-PG10 is one such product, primarily made for outdoor use. The speaker is splash proof and comes with Karoke input, NFC and Bluetooth.
Headphones & Bluetooth Speakers
Model
MRP
Discounted Price
WH-1000XM4
29,990
24,990
WH-XB900N
19,990
16,990
WH-CH710N
14,990
7,990
WF-1000XM3
19,990
14,990
WF-XB700
11,990
7,990
WH-CH510
4,990
2,990
WI-XB400
4,990
2,990
WI-C200
2,990
1,699
SRS-XB23
10,990
7,990
Party Speakers
Model
MRP
Discounted Price
MHC-V21D
26,990
18,990
MHC-PG10
21,990
13,990
MHC-V02
16,990
13,990