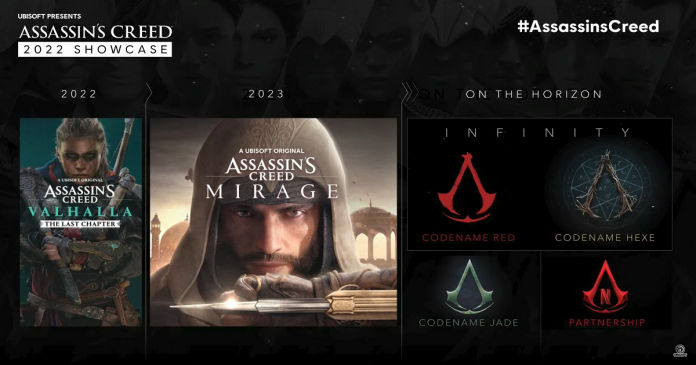 While the leaks certainly helped temper players' expectations for Ubisoft's Assassin's Creed Showcase, perhaps no one could have expected the sheer number of AC projects headed our way in the next few years.
The showcase was kicked off by perhaps the worst-kept secret in gaming, Assassin's Creed Mirage. The publisher finally lifted the proverbial veil and offered a fantastic cinematic trailer for AC Mirage.
Ubisoft also pretty much confirmed that the game will be hearkening back to the roots of the franchise with an added focus on stealth and parkour traversal. The game will star Basim as the protagonist with his journey taking place in Baghdad, 20 years before the events of AC Valhalla.
Speaking of AC Valhalla? Ubisoft also confirmed the game will be getting its final DLC in the form of "The Last Chapter", a free quest arc that ties up all storylines from the game. That was far from all that Ubisoft had in store as there were plenty of new titles revealed, including a flagship AC game set in Japan.
Also Read: Assassin's Creed Mirage: The Forty Thieves Quest Image Leak Gives First Look at Upcoming Game
Assassin's Creed Showcase Reveals Plans for Infinity, Netflix Collab, and AC Mirage
The road ahead for AC fans is supremely exciting as Mirage is set for release in 2023, but fans will also have a mobile experience to play, named Assassin's Creed Codename: Jade. The game will allow players, for the first time in the series, to create and customise their characters from scratch and explore cities in China.
Also coming in the next few years in Assassin's Creed Codename: Red, taking place in the highly-requested location of feudal Japan. The game will be part of Ubisoft's plans for AC Infinity, which is being described as a hub that connects several different Assassin's Creed games, including a mysterious new title called Codename: Hexe.
Along with all of these new games was also the announcement of a new AC live-action series on Netflix that is currently in the early stages of production. Curiously, Ubisoft is also working on a new AC game for Netflix's gaming platform.
Thanks for reading till the end of this article. For more such informative and exclusive tech content, like our Facebook page