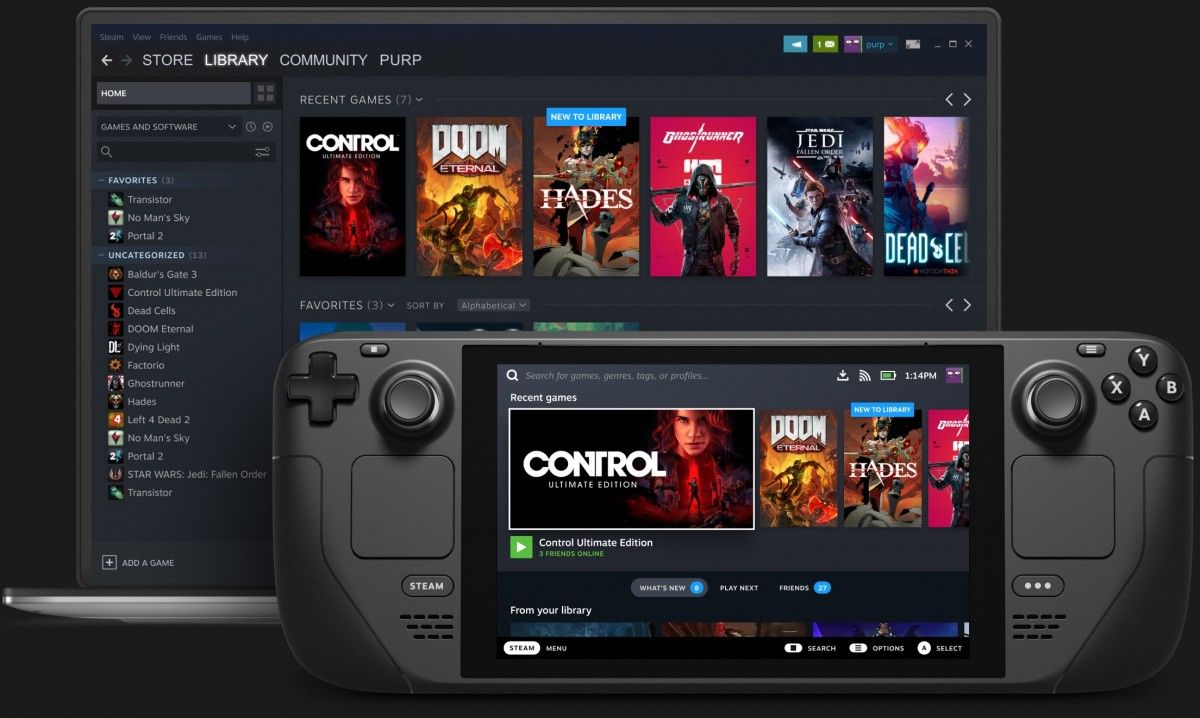 Valve's Steam Deck is reportedly gearing up for its foray into the Indian Gaming market via the grey market after being available in certain markets like Canada, the US, etc. Rishi Alwani, an Indian gaming industry insider, has revealed that Steam Deck will be making its way to Indian gaming local stores soon via the grey market. He also unveiled the potential pricing of Valve's console when it becomes available.
Valve is a video game development firm based in the United States that is best known for its PC game distribution platform, Steam. Its new in-house product Steam deck is an addition to its gaming services, allowing customers to play video games on a small device similar to the Nintendo Switch. Users may play the complete stream catalogue on the Steam deck with no problems, including Windows PC games.
Also Read: Steam Deck India Launch Soon? Valve Support Page States "Expanded Regional Availability Coming Soon
Valve's Steam Deck is Seemingly Coming to India Soon, Potential Pricing Revealed
As per Rishi Alwani, Steam Deck would be available for the below approximate prices when it is available in India:
Steam Deck 64GB – Rs. 62,500
Steam Deck 256GB – Rs. 77,000
Steam Deck 512GB – Rs. 90,000
Steam Deck hitting India via the grey market. Prices (approx):

64gb for Rs. 62,500

256gb for Rs. 77,000

512gb for Rs. 90,000

Check your local store for details.#steamdeck #pcgaming #india

— 0xSkeptic (@RishiAlwani) November 18, 2022
He also furtherly mentioned the pricing would even drop further as Valve would start shipping more units to multiple regions in the future. That leaves more options for Parallel importers as they can import the device at a much lower rate and thus the price for consumers will ultimately be reduced. However, beware of purchasing the Steam Deck from sellers who have advertised the equipment at a price higher than the expected one.
Valve's portable gadget boasts numerous excellent features, including a stunning design and a huge screen. The gadget is available in three storage capacities: 64GB, 256GB, and 512GB. Each variety, however, has a bonus package. Because it is a digital device, the Steam deck has an in-house chipset developed in partnership with AMD. It's a ZEN 2, RDNA 2 powerful chipset designed specifically for processing and playing games on mobile devices while consuming minimal power. Aside from the technical specifications of the portable gadget, the device also has extra gaming features that make the Valve's gadget a formidable competitor to the Nintendo Switch.
The device features 16GB of LPDDR5 RAM and up to 512GB of NVMe SSD storage. A microSD card may be used to extend the capacity of the device. The portable console has Bluetooth 5.0, Wi-Fi, USB-C, USB 3.2, a 3.5mm audio connector, and a DisplayPort 1.4 connection. You may also connect the gadget to an external display to obtain up to 8K at 60Hz or 4K at 120Hz games.
Valve has yet to reveal any specifics about the much-anticipated portable console's arrival in India till date.
Also Read:  Splinter Cell, One of Ubisoft's Best Games Is Now Free to Play Till November 30: How to Acquire