Highlights
The Vivo

V27

Pro

features a UV-sensitive colour-changing back
It is powered by MediaTek Dimensity 8200 SoC
It features the Sony IMX766V sensor, specially made for Vivo
Last year, Vivo launched the V23 Pro, a smartphone with a crazy colour-changing rear panel that made the mid-range segment more interesting. The idea behind this was simple – it was a way to make buyers fall in love with their smartphones again. But, no matter how eye-catching the idea was, the rest of the package appeared slightly underwhelming. It was soon followed by V25 Pro, which refreshed the specifications but offered far less value against the more performance-oriented rivals at the same price.
A couple of weeks ago, Vivo launched the new V27 Pro, and in many ways, it's a new phone made from the ground up. It packs the MediaTek Dimensity 8200 processor, which we previously saw and loved in the iQOO Neo 7. It also comes with the Sony IMX766V primary camera sensor that's customised specifically for better night-time photography.
It has certainly upped the game from its predecessors, but does it justify its starting price of Rs. 37,999? Find out in our review.
Vivo V27 Pro Review: Design and build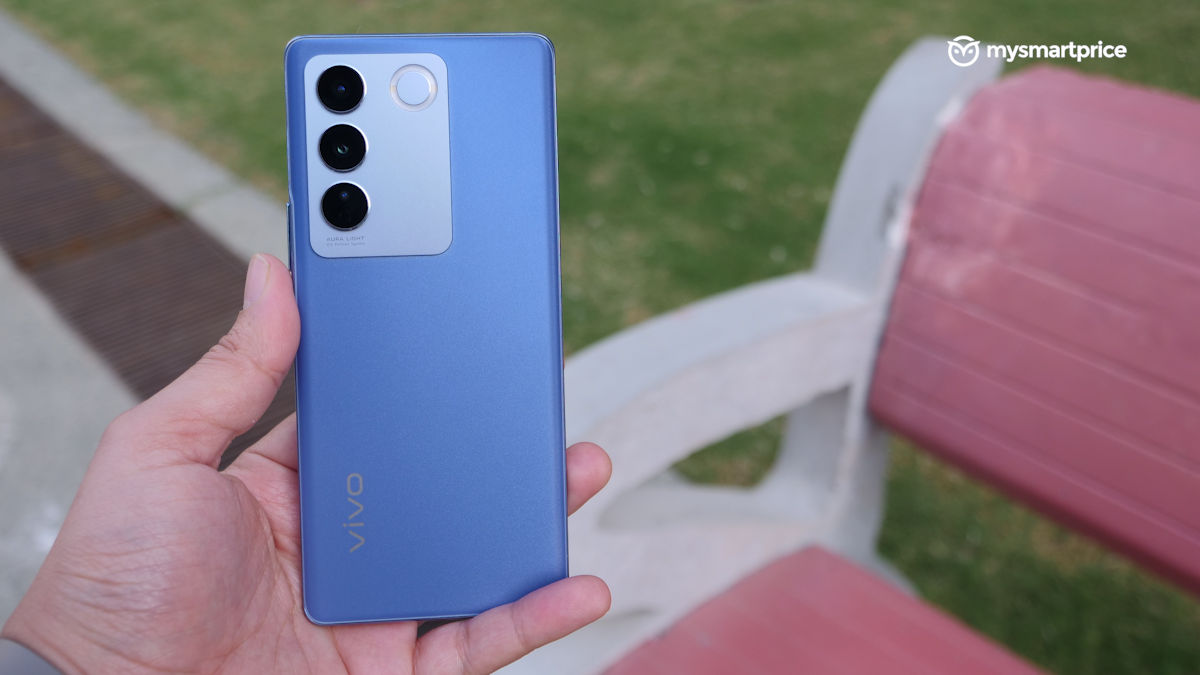 The Vivo V27 Pro follows the V-series DNA of having a slim form factor with a notoriously slippery rear panel. However, it's extremely light to hold compared to other glass sandwiches, and we enjoyed carrying it around in our pockets. The V27 Pro has a curved rear and front, much like its predecessor, but with a slightly different camera island. This time around, it's more elongated to accommodate the ring flash.
The sun-tanning madness still continues here in the Magic Blue variant, in which its light blue colour turns dark on encountering UV rays. Some may find it tacky, some may dig it, but everybody notices it as long as you carry it around without a case. The textured back resists gunk and fingerprints, but here's the thing – because your fingers are opaque, they block UV rays falling on the rear panel, so you now have shadows of your fingerprints! If this isn't your thing, you can choose the more understated Noble Black variant.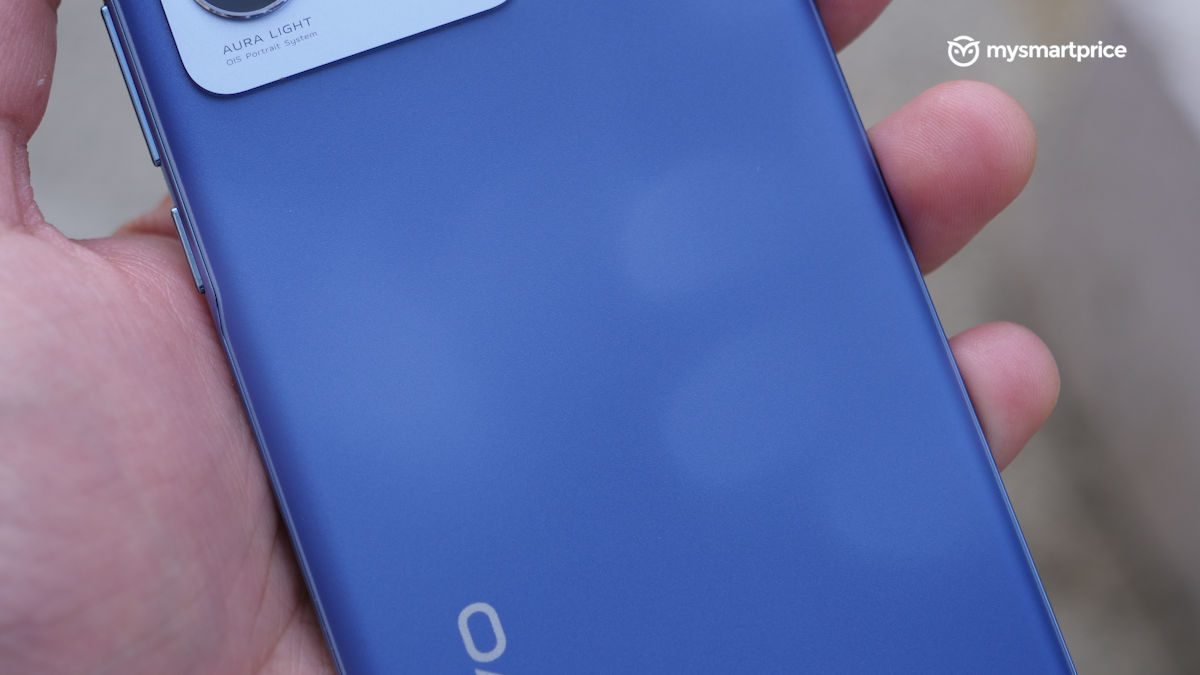 Vivo is aware of the audience it wants to sell this smartphone to – the people who prefer in-hand feel over on-paper specifications and those who don't trust online platforms to buy smartphones. So this has to be one of the more premium-feeling phones for its price.
Vivo hasn't mentioned anything officially about the display protection they are using, nor have they talked about the IP certification of the phone. We took the phone out with us for a walk on a rainy day, and there has been no water ingress so far, but take this anecdote with a grain of salt.
Vivo V27 Pro Review: Display and audio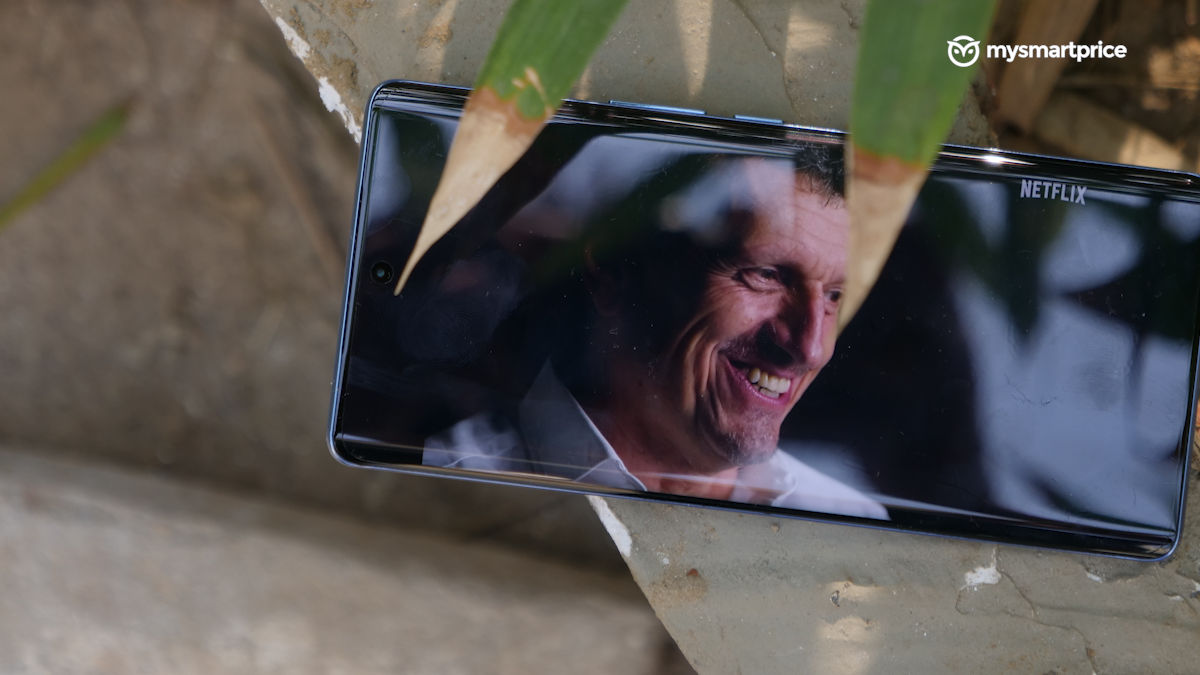 The Vivo V27 Pro comes with a vivid and smooth curved AMOLED 10-bit display spanning 6.78 inches diagonally. Despite the massive size of the panel, second to only the mighty S23 Ultra, it feels surprisingly manageable because of how tall and slim the phone is. It's eager to take inputs, with a refresh rate of 120Hz, and is sufficiently bright outdoors, although Vivo hasn't mentioned anything about the brightness figures. They have also been tight-lipped about HDR or Dolby certifications on the device.
Regarding content watching, Netflix runs in Full HD but without any HDR playback; the same is true with Prime Video. Moreover, while HDR content runs on YouTube, the phone automatically resorts to lower brightness, which cannot be changed even if you turn off auto brightness. This can get frustrating when watching stuff outdoors. Nevertheless, the colours are nice and punchy because it's a typical, Vivo-tuned AMOLED display.
Accompanying that sprawling display is a lonesome mono speaker, which is disappointing at this price. It's loud but can easily be muffled while watching videos or playing games without a secondary speaker helping it out.
Vivo V27 Pro Review: Camera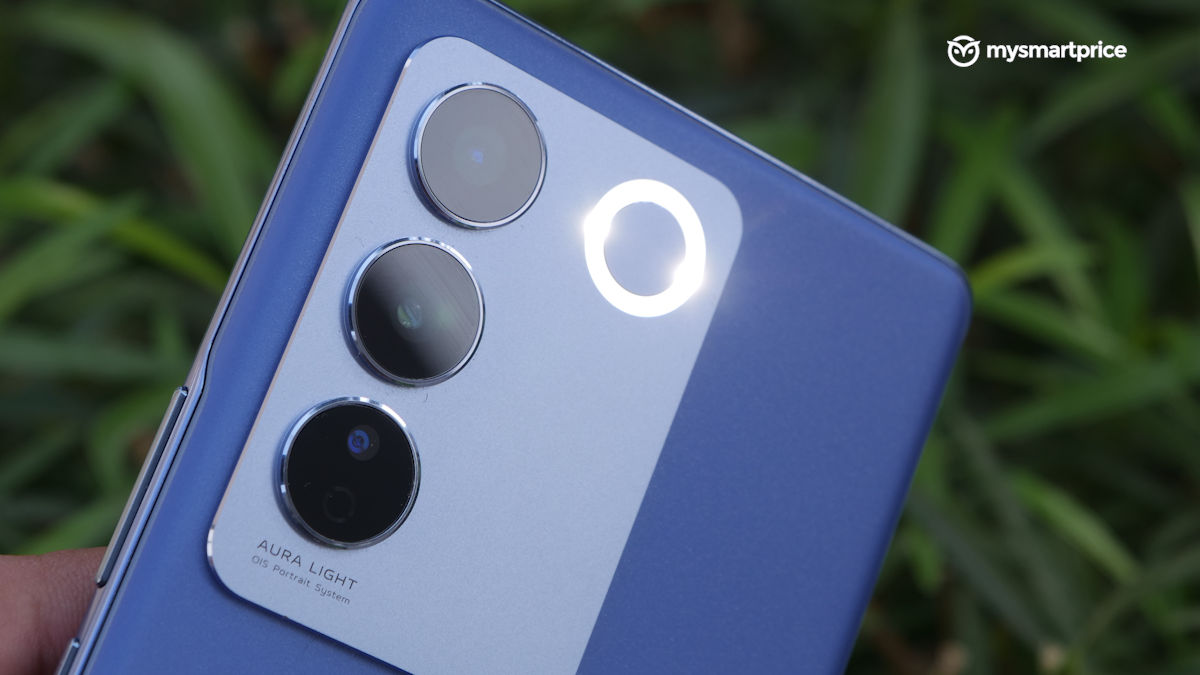 Besides the slim profile and colour-changing design, the V27 Pro's next key selling point is its optically-stabilised triple camera system with a ring flash module called 'Aura Light'.
The Sony IMX766 is a staple primary sensor for most affordable flagships and mid-range smartphones available in the market right now, and there's a good reason why. It offers good night-time performance while providing high-resolution output.
The V27 Pro uses a customised version of this sensor called IMX766V, fine-tuned for night-time photography. Accompanying it are an 8-megapixel ultrawide camera and a 2-megapixel macro.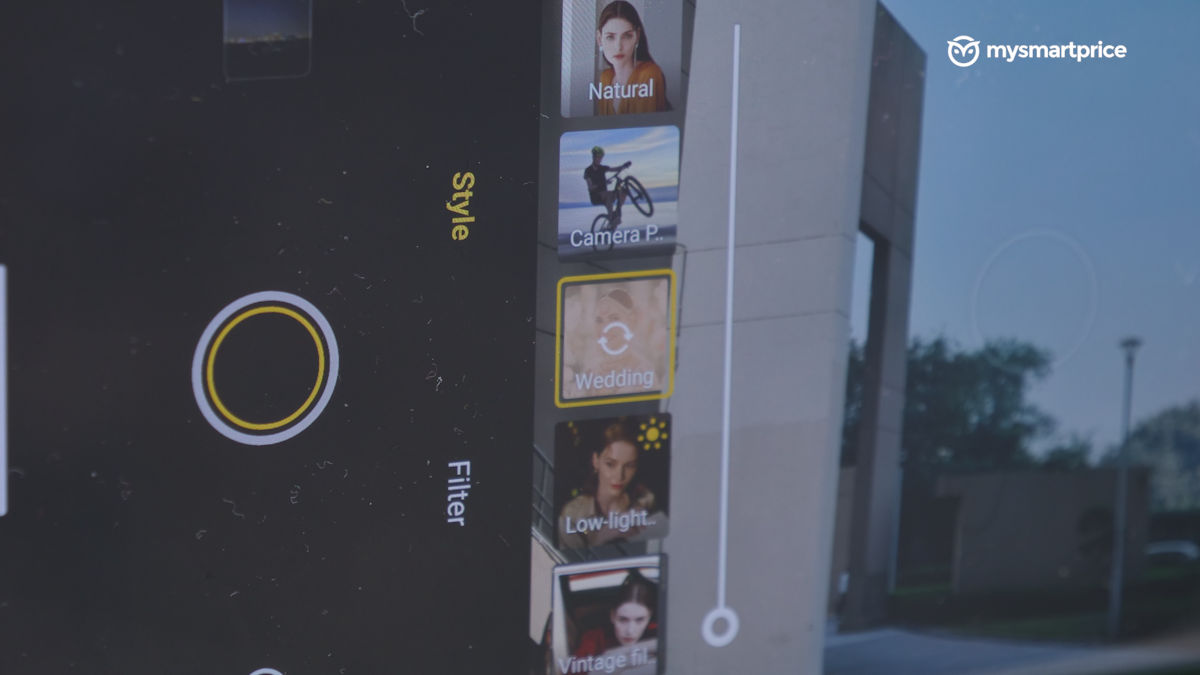 A slew of features here makes photography a bit more fun than other, toned-down smartphones. For instance, there's a wedding photography mode that enhances skin texture and boosts colours that paint the mode of an Indian wedding. To use this, you'll have to dive down into the portrait mode, tap Style and then select 'Wedding' There are three LUTs or look-up tables here that can be cycled through by tapping the Wedding button multiple times. The output may be of interest to wedding photographers who don't want to bust the bank on a dedicated camera or a flagship camera.
There's also a night portrait mode that uses the 'aura light' flash system. The main aim of it is to throw a soft yet intense flash of light on the subject's face. It's also supposed to reduce the occurrence of red eyes. Flash photos are trending, so it's nice to see a phone maker capitalising on it. The output is a mixed bag. In very low light, the flash can sometimes turn out to be too soft and warm, giving the subject's face a yellowish tint.
Other than these special modes, daytime photography was very good. We expected the output to have heightened blues and greens, but nope – it was all very true to real life. The details were also very good.
The ultrawide camera provides a much more predictable experience – it works well in the day, capturing some detailed shots, but it loses steam in low light conditions as it clicks some muddy, noisy shots.
The promise of the customised primary sensor with regards to night-time is also delivered. The sensor actually captures photos with better exposure, and the software does a great job of reducing grain. In fact, this is one of the few camera systems that doesn't attempt to make the night sky appear too bright.
The macro camera is usually written away as an extra in most smartphones, but we found it to be useful. The purple fringing effect was negligible, which is a good thing, but the resolution was still very crunchy.
Vivo V27 Pro Review: Hardware and performance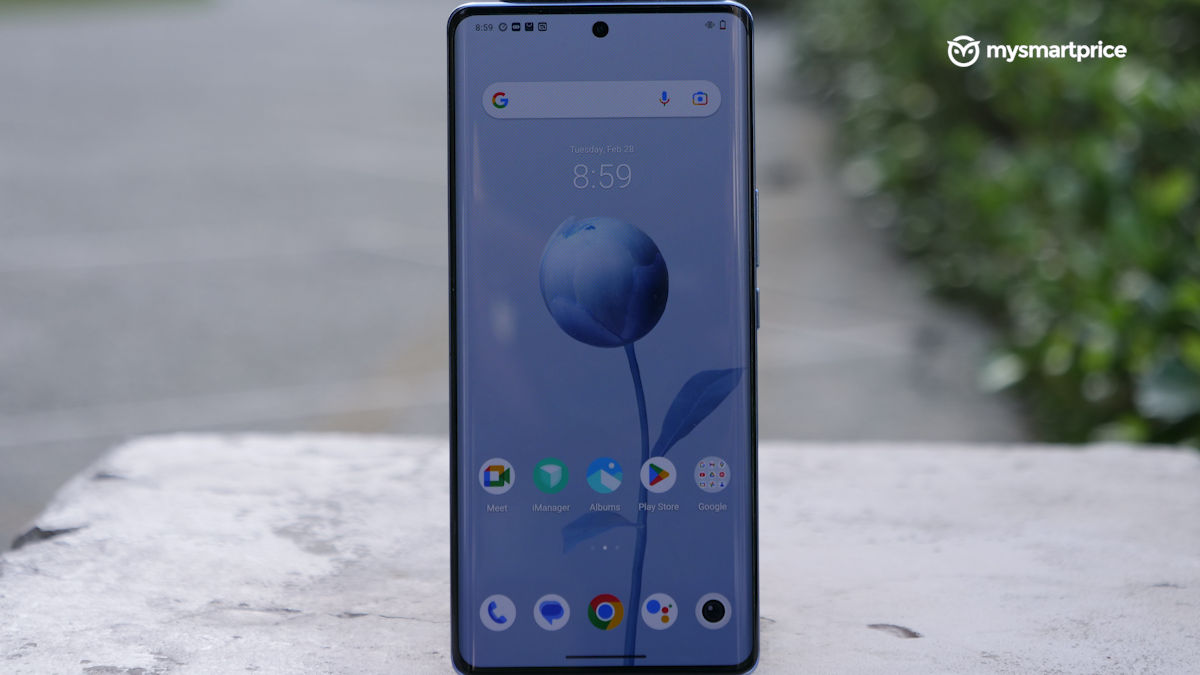 The Vivo V27 Pro is only the second smartphone in India to use MediaTek's Dimensity 8200 processor, the first being the gaming champ iQOO Neo 7. As a result, it shares a lot of traits, such as good thermals and decent power on tap for some intense workloads too. This might be routine for a gaming-focused device like the Neo 7, but in this context, it makes the V27 Pro appear like a pretty little diva that surprises you by powerlifting.
Paired with the processor are three storage variants – 8GB/128GB, 8GB/256GB and 12GB/256GB. Unfortunately, there's no mention of what kind of storage or RAM it uses, but going strictly by the benchmarking apps, it might be UFS 3.1 storage and LPDDR4X RAM.
While we are at it, the Vivo V27 Pro scored 843587 on AnTuTu v9, slightly lower than the Neo 7. However, in Geekbench v5, the phone managed 1009 and 3910 single and multi-core scores, respectively.
Vivo's FunTouch OS 13 is also here, which is based on Android 13. So far, we have received two, which fixed bugs and added the wedding mode in the camera app. The interface is very similar to that of Neo 7, too. Bloatware is on the higher side of the spectrum, along with the goodness of HotApps and HotGames. Much of this can be disabled, but ads are still scattered everywhere around the interface, so you'll have to spend a few hours to get a clean-ish experience without prompts asking for permission to show you ads.
Otherwise, in day-to-day use, the transitions between apps are smooth, we didn't observe major stuttering while running Maps and YouTube in PiP mode. Many customisation options are too neatly organised in a single menu in the Settings app. Android 13's Material You is also here, so you can match font colours to your wallpapers.
Another cool thing they've added is a dynamic wallpaper which features a flower. What's so different about it, you ask? The flower starts to bloom as you reach your daily steps target. Sadly, it was buggy during our testing period and wouldn't track our steps. We also couldn't find a way to give permission to the pedometer.
The fingerprint sensor is placed a little too low under the display to our liking, but it nails authentication nearly every single time.
Vivo V27 Pro Review: Battery life and charging
The vivo V27 Pro comes with a 4,500mAh battery that can be charged with a 66W FlashCharger bundled within the box. Although the battery figures may seem below-average considering most smartphones have 5,000mAh packs these days, the reality is it helps in keeping it slim and lightweight.
There are some pleasant surprises here, though. First, the screen-on time is about seven hours, which is excellent for such a capacity. This translates to roughly an entire day's worth of backup in real-world use. A full charge from zilch takes about 45 to 50 minutes, which isn't too bad. Finally, a 15-minute charge in the evening easily avoided any range anxiety on weekends when we went out partying at night.
Vivo V27 Pro Review: Verdict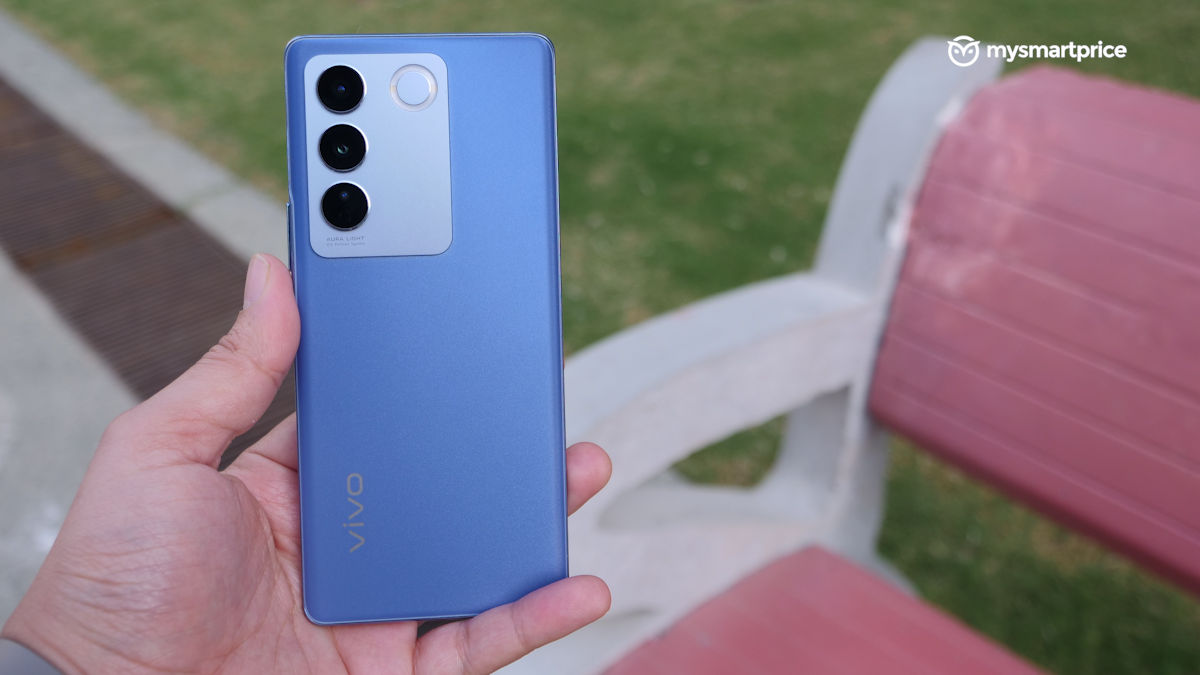 The Vivo V27 Pro brings about a nice splash of colours and trendiness in a hardware-conscious segment. Its slim and light form factor, colour-changing back, and smooth curved display can cheer you up on a gloomy day. Despite the lower-than-usual battery capacity, it gives some decent backup and charges rather quickly too. Moreover, it's got some serious night photography chops, and the new wedding photography mode is also a meaningful addition. Oh, and the new Dimensity 8200 can also handle some serious workloads while not breaking a sweat. These huge green flags are sufficient to justify how much better it is than its predecessor.
But then, when you look at that starting price of Rs 37,999, you start thinking about the seemingly little things it misses out on. For instance, there's no claim of any water or dust resistance or mention of any protective glass. The bloatware at this price raises your eyebrows, as does the lack of a stereo speaker setup and HDR playback in Netflix.
Speaking of alternatives, the iQOO Neo 7 offers better bang for the buck and gives more value for a conventional buyer, with more emphasis on power and speed. If you want to go the other way round in terms of design and want your phone to emit light instead of absorbing it, you can consider the Nothing Phone (1) too.
What Is Good?
Nice, big display
Unique colour-changing rear
Excellent night photography
Small capacity but long battery life
Powerful processor
What Is Bad?
No IP-rating
No stereo speakers
No HDR playback on streaming platforms
Bloatware