Highlights
Several WhatsApp users in India are receiving multiple calls from International numbers.
Most of these calls are from Vietnam, Indonesia, etc.
We strongly advise you not to accept these calls from such numbers.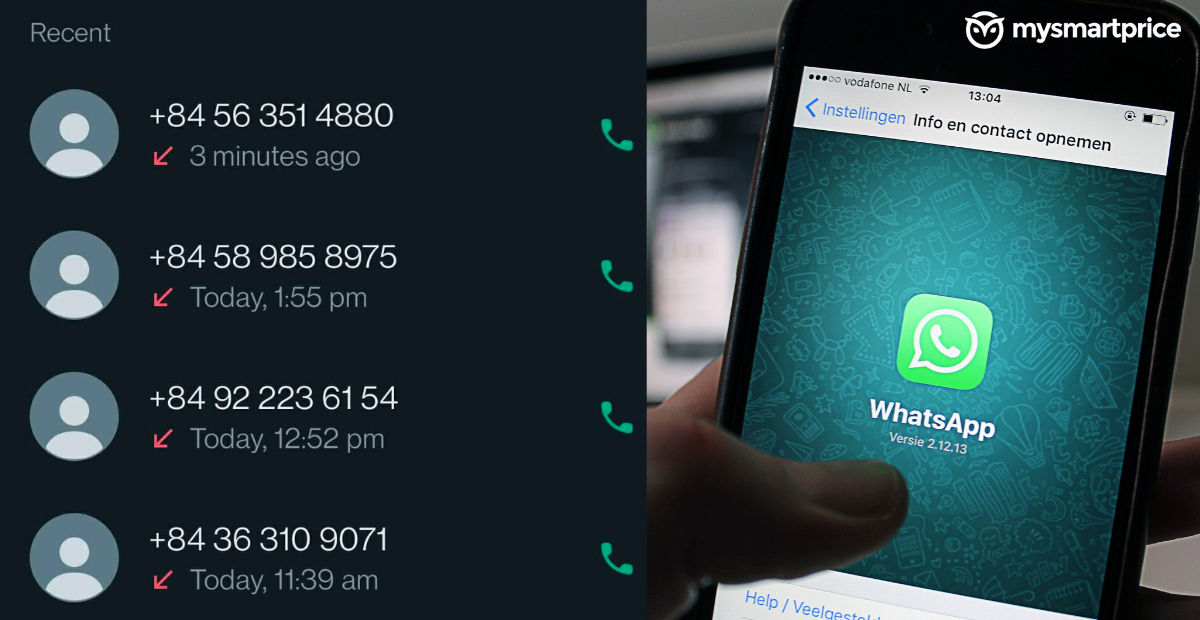 Scam calls have been common in India for a couple of past years. As a result, Telecom operators recently introduced AI Filter spam to reduce the number of spam calls that a user receives in a day. However, scammers have now started targeting users on WhatsApp.
Various WhatsApp users complain that they keep receiving several unwanted WhatsApp videos and voice calls from unknown international numbers. The report comes from Entrackr and multiple users who faced this problem. MySmartPrice also received calls from unknown international numbers on WhatsApp with the country code +84, used for Vietnam. Here's what we know about the WhatsApp International call scam.
Several Users Receiving Unknown WhatsApp Calls
It seems that scammers have found a new way to dupe users. They have been calling users across India from international numbers. These international calls are being received from numbers with these country codes – +84 (code for Vietnam), +62 (country code for Indonesia), and +223 (code for Mali). Most of these international calls seem to be originating from Southeast Asian countries.
Do note that it is not confirmed whether the scammers are actually from these countries or are just using numbers from these countries. The report says scammers buy VoIP (Voice over Internet Protocol) numbers for WhatsApp online to call victims. Ritesh Bhatia, founding director of V4WEB Cybersecurity, says that the process to buy such numbers is easy, and anyone can buy them.
These scammers may also buy a SIM from the respective countries and use them to activate WhatsApp. After that, they can target any user around the globe.
There have been many instances of such fraud. For example, Kul Bhushan from Entrackr says he received three international calls last month, and the frequency kept increasing daily. Similarly, users on Twitter have also pointed out the same issue. Here're some examples.
@WhatsApp I'm receiving spam calls. Please take stringent action. Atleast alert suspected #spam pic.twitter.com/BgxaJ2WKfd

— I Bichewar (@IBichewar) April 11, 2023
@Cyberdost @TRAI these are two missed calls which I got on WhatsApp. Look like scammers.. 35minutes ago is today on 11th April. I blocked them and reported as spam on WhatsApp. Why are we seeing so many missed calls from these criminals. @BlrCityPolice pic.twitter.com/znQ1PL9HHa

— Kuchkaamkaro (@Dheren14873751) April 11, 2023
Getting lots of Whatsapp audio spam calls recently. Anybody else facing the same problem?

+84 38 341 6618 is the recent one.

— Pradeep 🇮🇳 (@nameisvp) April 10, 2023
Along with the above examples, a MySmartPrice team member also received WhatsApp video and voice calls from international numbers. All these calls were reportedly from Vietnam. Below is a screenshot of the same.
We strongly advise our readers not to accept any WhatsApp voice or video calls from international numbers as they are fraud. You might now know who's on the other side of the call and how they can use your face.
"Over the years, we have consistently invested in Artificial Intelligence and other state-of-the-art technology, data scientists and experts, and in processes, in order to keep our users safe on our platform," a WhatsApp spokesperson told Entrackr.
What is WhatsApp International Call Scam?
A user on Twitter who goes by the name Shreyansh Jain revealed that he received a message from a similar international number. The contact from Vietnam introduced herself as HR Priscilla Barret, who offered the user a part-time job. The job description said that the user needs to like a YouTube video, and they will get Rs 50 for each like. They can earn up to Rs 10000 every day.
This is nothing but a scam that we reported months ago. In such cases, the scammers will either ask you to install an app that will be infected with malware or to join a Telegram channel where they will ask you to invest some amount in stocks and cryptos. This can lead to your financial or data loss. We strongly recommend our users not believe in such scams.