Highlights
The ROG Ally comes at Rs 69,990.

It performs exceptionally well in blockbuster games.

Ally managed to secure 7.7 out of 10 in our review.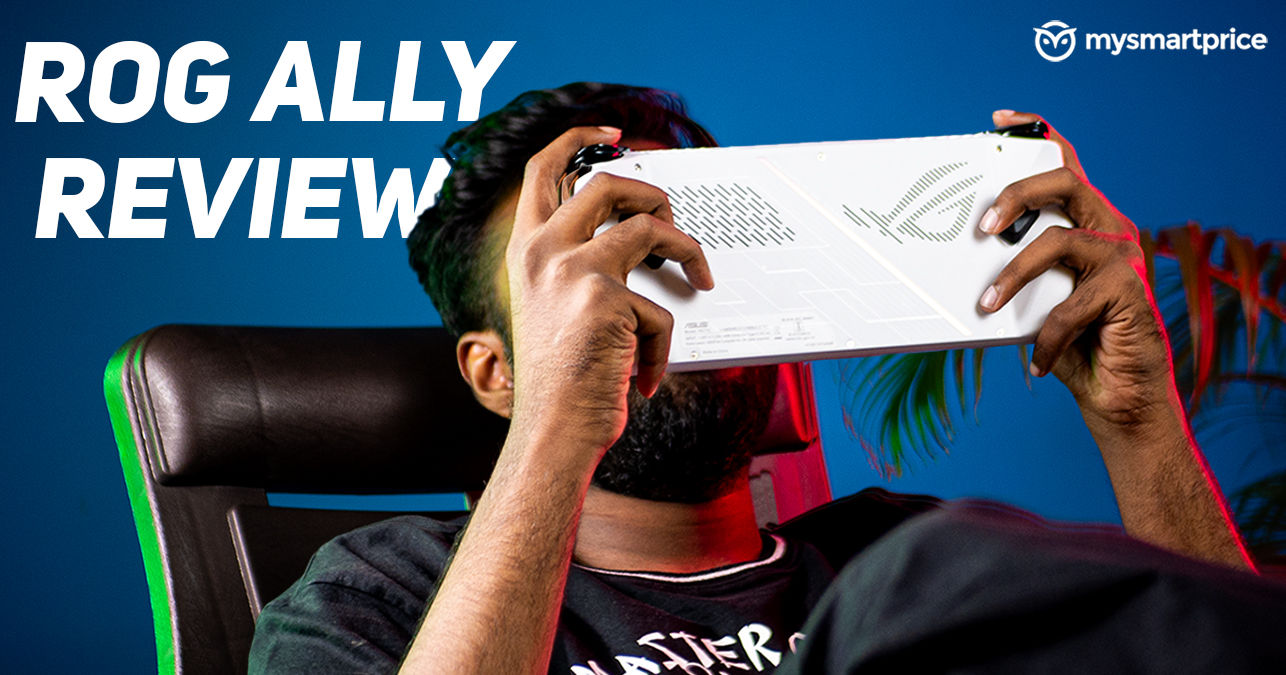 Portable gaming devices are nothing new. In fact, we often reminisce about the PSP (PlayStation Portable) and how we used to rush back from school just to play a few rounds of FIFA 09 before heading off to tuition. To play on that nostalgia, Asus recently launched the ROG Ally. With everything built from the ground up, from hardware to software, the Ally breaks new ground in the Windows gaming landscape. But it places a dilemma – at Rs 69,990, is it an affordable gaming machine or an overpriced toy? Find out in our review.
BUILD and ergonomics
8.0/10
Gaming PERFORMANCE
8.0/10
What Is Good?
Lightweight, Practical, and ergonomic design
Customisable controls, good quality buttons
Powerful set of speakers
Attractive and fast display
Armoury Crate SE inclusion is a lifesaver
Brilliant performance
Massive library of games
What Is Bad?
Poor battery life
Windows experience is flawed
Just the one USB port
Asus ROG Ally Review: Design and Ergonomics
The Ally weighs 608 grams.

You get two customisable buttons at the back.
It's still baffling to us that the Ally has been crammed into a chassis of this size with such firepower. It's available in a single white colourway, which tends to catch dirt, especially at the back. Here's hoping a black variant will make its way soon. That said, its design mixes modern, mature lines with some RGB lights to evoke the kid inside you.
With it being a handheld device, the ergonomics of the device are extremely important. The angled corners and neatly carved slopes help you get a proper grip and sit flush on your palm. Further aiding good grip is a set of front and back textures. The fact that you can play all the triple-A titles while lying on the couch, sitting on the toilet, or lying on the bed is just crazy.
The Ally is made out of hard plastic with zero flex. So, it should withstand some of your rage quits, but we suggest treading lightly. The button placement is immaculate, derived from a traditional Xbox controller with an XYAB layout. You also get a bunch of extra buttons, such as a dedicated Armoury Crate SE and Control Center buttons, which make living with this version of Windows much easier. Additionally, you get two macro buttons at the rear that can be customised as per your liking.
The face buttons have decent travel, and the shoulder buttons, with their textured finish, help immensely with the grip.
We don't usually use the D-Pad on a daily basis for gaming, but it is useful for navigating, and the quality of these buttons is also decent. While there have been multiple reports on Reddit regarding the thumbsticks coming off or not moving in a particular axis, we haven't faced any such trouble in our usage.
The top portion of the Ally is home to two vents, which are brilliantly placed. You can also find a microSD slot, an XG Mobile interface, which also has a USB Type-C port, a volume rocker, a 3.5mm headphone jack, and two LED indicators. To unlock the Ally, you need a simple press on its lock button – we bet you didn't expect that here.
Asus ROG Ally Review: Display and audio
It sports a 7-inch display with Gorilla Glass DXC coating on the panel.

It has two front-facing speakers that can get loud.
The front is graced by a 7-inch display with a resolution of 1920×1080 pixels. The IPS-level panel runs at 120Hz and has a response rate of 7ms. It has a peak brightness of 500 nits, so using the Ally outdoors is not an issue. For protection against accidental drops, the display has a layer of Gorilla Glass Victus.
The panel also has a Gorilla Glass DXC coating to reduce reflections and scratches, but the display tends to collect a lot of fingerprint smudges. This is pretty much inevitable since the display is touch-enabled. Games like God of War and Death Stranding look amazing on display.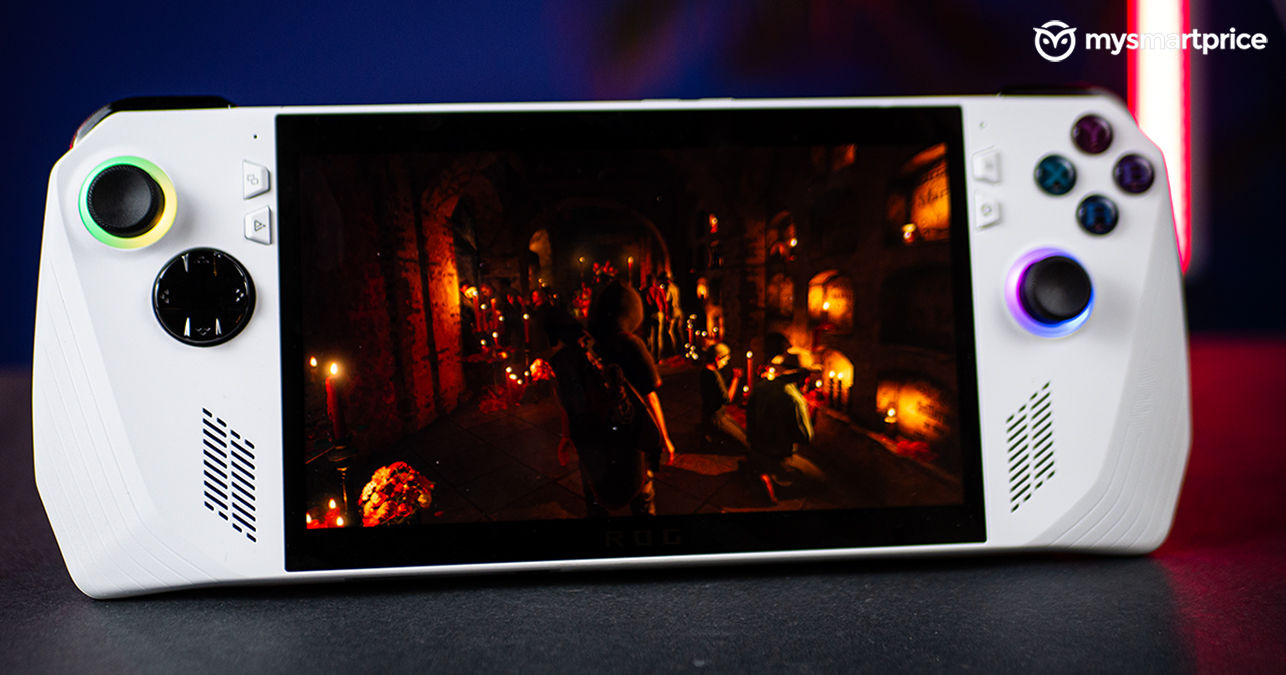 Colours are not overdone with amped-up saturation and vibrance levels but instead have close-to-natural hues. While the blacks are obviously not OLED level, it is fairly dark, so Hellheim in God of War and darker places in Dying Light 2 appear just as eerie.
To accompany the visuals, you have two very capable speakers pointed straight at you with a combined output of 2W. The speakers do the part while looking good, too. We played most of our games at about 85 per cent volume and were more than content.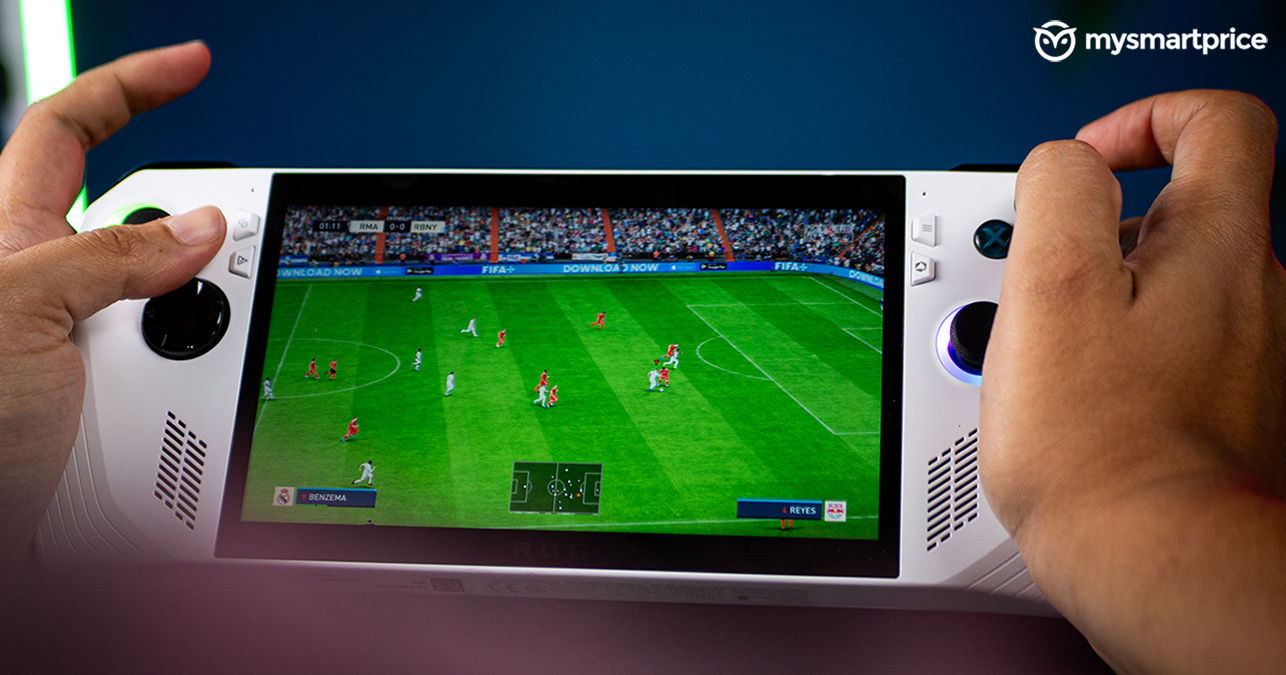 However, there is one downside. While playing games, especially FIFA 23, F1 2020, and God of War, we noticed the sound suddenly crackling for no particular reason. This wasn't very consistent, which makes us think it could be a software issue instead of a hardware issue.
Asus ROG Ally Review: Armoury Crate SE and Windows experience
In-built Armoury Crate SE and Command Center make life easier.

You can switch operating modes.
Given the limitations of Windows, incorporating it in its native form in a device like the ROG Ally can be frustrating. Hence, Asus has applied a creamy layer of Armoury Crate SE to keep things simple and organised. We would go out on a limb and say. This is the sole reason the Ally is slightly less annoying when not gaming. It lets you do a whole ton of things with a couple of button presses and swipes on the left thumbstick. Because it's an itsy-bitsy tiny display with a whole lot going on, getting things done with touching is going to be as difficult as licking your elbows.
So, pressing the Armoury Crate button on the right of the display brings up the custom interface, which allows you to tweak around display colour presets, change the effects of the RGB strips and have some granular control over the two thumbsticks' dead zones. You can also access the Game Library, which includes the installed games from all major gaming platforms, including Epic Games, Steam, EA, Ubisoft Connect and Xbox, to name a few.
To give you access to some quick settings, there's a Command Centre button on the left of the display. Here, you can adjust the operating modes, access the keyboard, switch refresh rates and resolution, and a ton more. Are you wondering how you Alt-F4 a game here? It lets you assign a shortcut for that, too. You can customise what comes under the Command Centre within the ArmoryCrate interface, so go bonkers with it.
The two macro buttons on the rear we talked about previously – well, you can customise them to take screenshots or even assign multi-key shortcuts such as opening the task manager. But these only work in the Desktop mode, so Sombrero Flick on FIFA won't work.
App optimisation is still very rudimentary here for some apps. Steam works beautifully in its Big Picture mode, but Epic Games will give you hell because you'll have to poke your thumbs at it. The on-screen keyboard experience is terrible. When typing passwords, it covers half the screen — at this point, you are just hoping you typed everything correctly. Thankfully, most of the Windows-related troubles are thrown into the trash as soon as you launch a game.
So, bottom line, Asus knows they can't have their cake and eat it, so as long as you are playing and using their proprietary interface, you're gold.
Asus ROG Ally Review: Gaming performance and thermals
The AMD Ryzen Z1 Extreme APU powers the Ally.

You get up to 512GB of in-built storage, which can be expanded via microSD.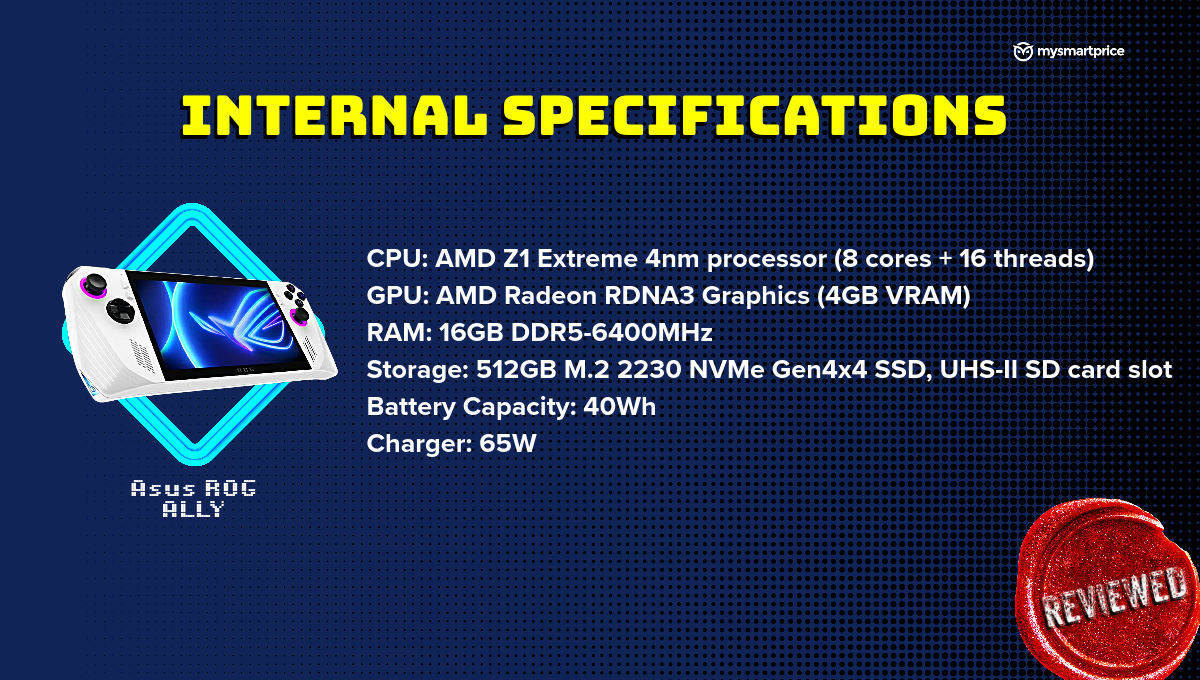 Asus worked closely with AMD to get the Ryzen Z1 Extreme on the ROG Ally, and boy, was it a good decision. It just works amazingly well. To add to this monstrosity, the integrated Radeon graphics has 4GB of VRAM, while the 16GB LPDDR5 RAM runs at 6400MHz. Insane would be an understatement.
Now, the Ally has multiple operating modes: Silent, which runs at 10W—performance, which runs at 15W. And Turbo at 25W. When plugged into a charger, the Ally can output up to 30W of processing power. Thanks to a recent update, you can now use a third-party PD charger to unleash its full power.
We tested the Ally without plugging in the device. All games were run at 1080p resolution with the refresh rate cranked to 120Hz and AMD RSR disabled.
Our library of games includes some blockbuster titles such as God of War, Dying Light 2, Death Stranding, and more. In our experience, these games were easily playable as long as we kept them at Medium graphics. To be fair, on a small screen such as the Ally, it's better to target performance over visual fidelity. Regardless, games such as Apex Legends and Shadow of the Tomb Raider also run decently well at High Graphics.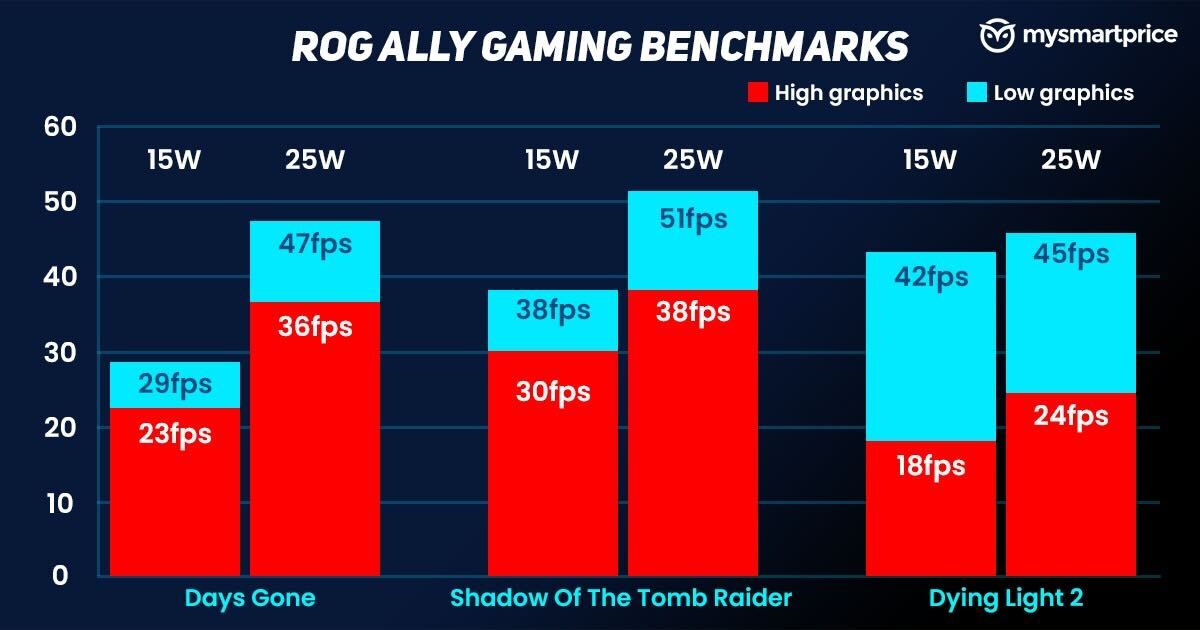 The graphs here should help you understand the performance you can expect from the Ally at 15W and 25W of power. Dying Light 2 was the only game in our arsenal that ran Ally on its toes on High settings, registering inconsistent frame rates during the gameplay. The in-built benchmark also recorded an average of 18fps at High settings.
The frame rate difference from 15W to 25W is easily noticeable, except for Dying Light 2, which saw a marginal improvement of only a couple of frames.
We also noticed that when playing games in the 15W mode, the TDP would increase to 20W or 22W without switching the modes. This affected the battery life (we'll get into that later). The 10W mode is best reserved for games that are not graphically intensive.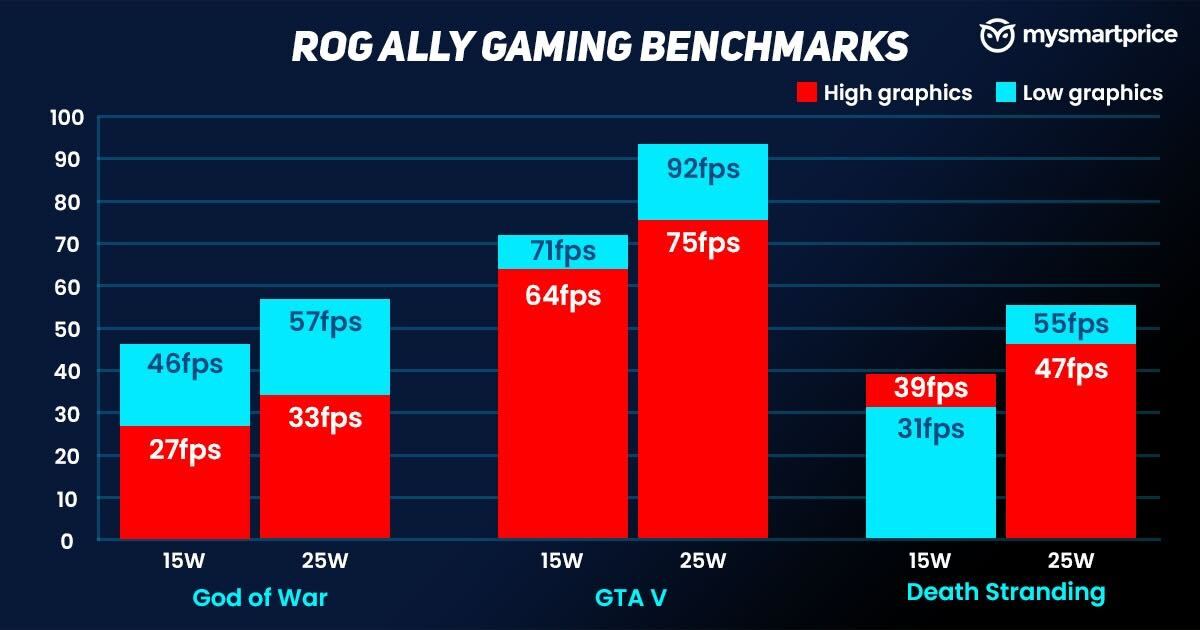 With all of that being said, the gaming performance of the ROG Ally is still way above what we expected. During our gaming sessions, we did not notice any major heating on the device, and the two fans pointed upwards did a great job of efficiently dissipating heat without spreading it to the back panel. The maximum temperature we recorded was 42.3 degrees while playing Dying Light 2. All this, while maintaining pin-drop silence, is a huge achievement for Asus, so kudos to them.
To test it further, we ran a bunch of synthetic benchmarks.
Inside the Ally, you get up to 512GB of M.2 NVMe SSD that uses the 2230 form factor. This is more than enough for most people, but if you want more, the microSD card slot can take up to 2TB of storage but uses different standards. The built-in storage is also pretty fast. Game loading times weren't much, and file transfers also ran smoothly.
Asus ROG Ally Review: Battery and charging
It packs a 40Wh battery.

The Ally takes about an hour and a half to charge fully.
While Asus had a solution for the Windows situation, the overall battery life is where Ally struggles. Given its pocketable form factor, it can only squeeze in a 40Wh battery. You can charge it up using the 65W USB Type-C fast charger.
How long does the battery last? Just an hour and 15 minutes! That's the time gamers take to warm up before playing competitively.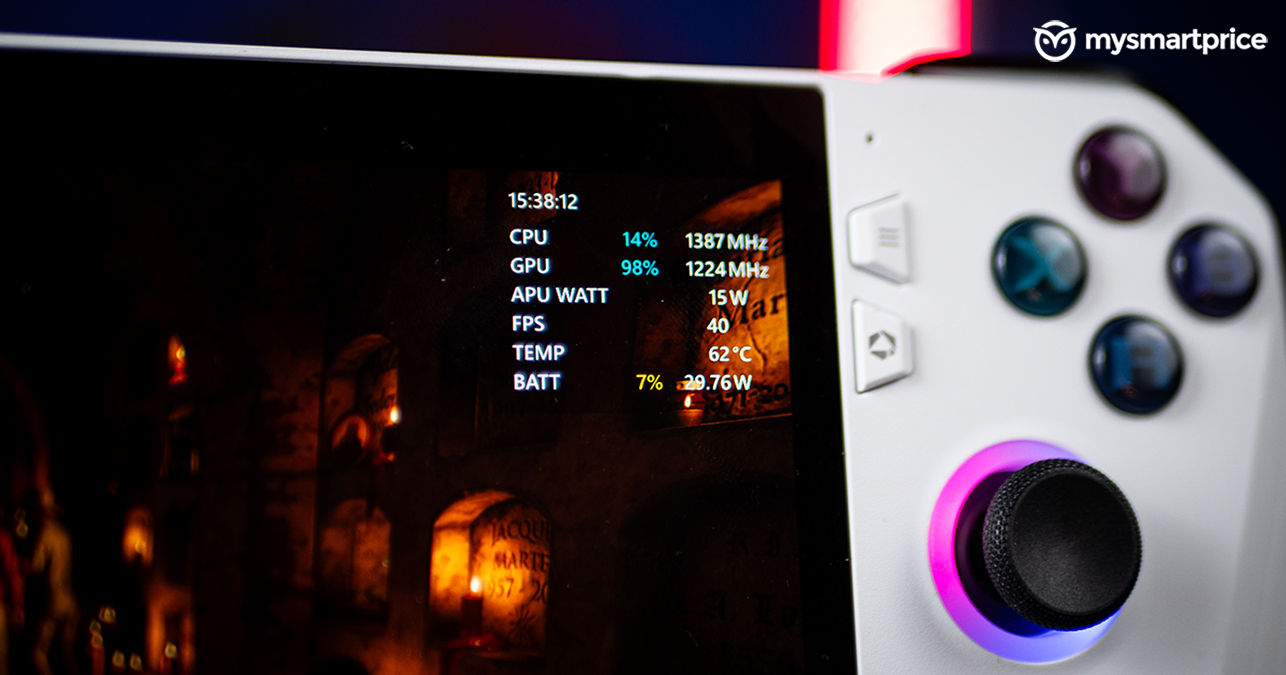 There are a lot of factors to blame here, but the one that really bothers us is Ally's inability to stick to the assigned wattage. Still, this is fine if you're taking a moment to play on a typical flight between two Indian cities, which averages a few hours.
Charging is a saving grace, though, taking about an hour and a half to charge fully. The Ally starts trickling charge after an hour or roughly around the 80 per cent mark to ensure the battery survives its life cycle.
Asus ROG Ally Review: Verdict
Asus' first try at a handheld gaming PC is a hit without any doubts. The ROG Ally is a technological marvel — there are no two ways about it. To think you can play blockbuster titles on a handheld at appropriate frame rates is something straight out of your dreams. While everything seems to be going great for the Ally, the Windows experience and battery life remain their drawbacks.
Here's the thing, though: gaming on it will only scratch the surface of its capabilities. That's because it can also be used for various content creation purposes if you figure out a way to connect a monitor to it along with some wireless peripherals. So, if you perceive it as a laptop with some sticky-up thumb bits, it's a fantastic deal at Rs 69,990!
Nevertheless, if you are an avid gamer who has always wanted to play blockbuster titles on the go (or on the toilet), the Ally should easily suffice. The ROG Ally has a one-year warranty in India and you can get it from Flipkart.