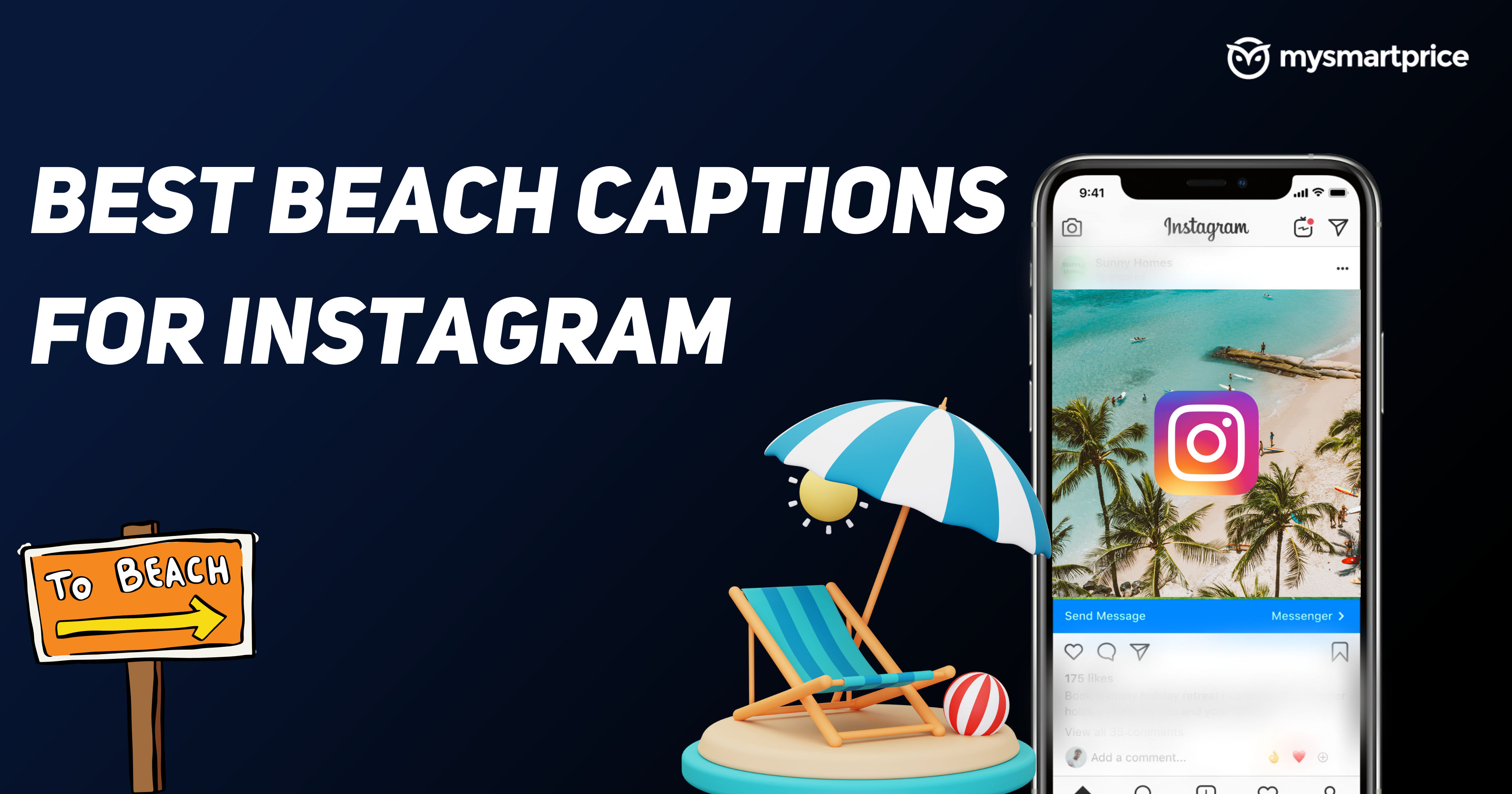 Beaches are one of the most popular vacation spots around the world. With the warm sun, soft sand and cool water, beaches are the perfect place to relax and clear your mind. Whether you're lounging on the shores, swimming in the ocean, or building sand castles, beaches offer everyone something. Beaches are the best places to go for vacation. The sunny weather, the breezing winds, and the lively atmosphere, gives you the proper vacation mode vibes.
In this article, we share some of Instagram's best beach captions. These captions and quotes will be perfect for sharing your photos and videos on social media. We have listed over 200 best cute, funny, inspirational, short, and sassy beach captions on this page, so read on.
Best Beach Captions for Instagram
Every day is a good day when I spend it at the beach.
One day at the beach is better than a thousand elsewhere.
I love my job because I spend all my days at the beautiful beaches!
I'm sittin' on the bay dock, watchin' the tide roll away.
My boss asked when I'll be back from the beach. Bold of them to assume I'm even coming back.
On an island in the sun, we'll be playin' and havin' fun.
Sometimes it seems like everyone in the world is at the beach.
Finally, I got a place with an ocean view! (Ideal for pictures of sandcastles!).
Name one thing better than a sunny day by the ocean.
Catch a wave, and you're sitting on top of the world.
On an island in the sun, we'll be playin' and havin' fun.
Cute Beach Captions
You can find me where the sand meets the water.
Let the sea set you free.
I don't want to be tide down.
Beach hair, don't care.
If there's a will, there's a wave.
You're the piña to my colada.
You're the only fish in the sea for me.
B.E.A.C.H.: Best Escape Anyone Can Have.
If in doubt paddle out.
What's up, buoys and gulls?
Pretty shore this is a beach day for the books
Funny sea-ing you here
I shore love this view
Funny Beach Captions
Getting my daily dose of Vitamin Sea.
I'm so happy. I don't even care that I'll have sand at the bottom of my bag for months.
Born to lie on a beach… or a floatie. That'll work.
Life takes you down many paths, but the best ones lead to the beach.
I googled my symptoms… turned out I just needed to go to the beach.
Beach is cheaper than therapy.
A good beach day keeps the doctor away.
The only BS I need in my life is Beach and Sunshine.
Everything gets hotter when the sun goes down.
I followed my heart, and it led me to the beach.
Beach Quotes for Instagram
I think it's time for a trip to the beach.
I wonder if the beach misses me.
Can anything beat a sun-kissed ocean?
Dreams are made of sand and sunsets.
Happiness is..blue sea & white sand.
I wonder if the beach misses me.
I can leave the sea but the sea never leaves me
Salt water heals all wounds.
I am happy anywhere I can see the ocean.
Even castles made from sand fall into the ocean.
Song Lyrics Captions for Beach
"Drinking on a beach with you all over me" — Taylor Swift, 'End Game'
"That's when I make the wish, to swim away with the fish / Is it supposed to be this hot all summer long?" — Miley Cyrus, 'Malibu'
"Salt air, and the rust on your door / I never needed anything more." — Taylor Swift, 'August'
"On an island in the sun / We'll be playing and having fun / And it makes me feel so fine / I can't control my brain" — Weezer, 'Island In The Sun'
"There is something about the summer that makes me moody." — Best Coast, 'Summer Mood'
"Life is a beach, I'm just playin' in the sand."—Lil Wayne, 'Right Above It'
"I'm on an island, even when you're close." — Dua Lipa, 'We're Good'
Beach Emoji Captions
Feeling beachy 🏖️
Making waves at the beach 🌊
Throwin' shade 😎
Soaking up the ☀️
Waving goodbye 🌊👋
Throwin' shade 😎
Life's a 🏖
Beach hair, don't care 💁‍♀️
Paradise found 🌴🌞
Escape the ordinary, discover the extraordinary 🌴
Current mood: 🏖 🌊☀️👙😎
Girls just want to have ☀️
Inspirational Beach Captions
Time's never really wasted at the beach.
I need the sea because it teaches me.
I want to make memories all over the world.
Get lost on the beach and find yourself.
The saltwater just has a way of cleansing the soul.
In the waves of change, we find our direction.
Dreams are made of sun and sand.
Everyone should believe in something. I believe I'll go to the beach.
Life takes you down many paths but my favourite one leads to the Beach.
May you always have a shell in your pocket, and sand in your toes.
May you never be too busy to stop and breathe under a palm tree.
One-Word Beach Captions
Stunning
Elegant
Gorgeous
Radiant
Sleek
Sunkissed
Sensual
Exotic
Lush
Seaside
Dreamy
Coral
Peaceful
Chic
Groove
Short Beach Captions
Sunshine & tan lines.
Having fun in the sun.
Let the sea set you free.
Life is better at the beach.
The beach is calling and I must go.
Nothing but sunny days ahead.
Lost (and found) in paradise.
Life's better in flip flops.
I'm a toes-in-the-sand kinda girl.
High tides & Good vibes.
Life's a beach!
Beach hair, don't care.
Sassy Beach Captions
Let's go somewhere where the stars kiss the ocean.
Romantic setting at the beach.
If a bathing suit could talk, it would say "Hello, Gorgeous"
Live in the sunshine. Swim in the sea. Drink the wild air.
I love you like the sea loves the shore.
If you've got it, flaunt it.
I'm a mermaid, but I also love to get dirty.
Hot summer day, chilling by the sea, yaaaas!
A perfect way to escape the heat!
Find your peace on the beach.
I dig my toes into the sand.
Fear of missing out on shells.
Cute Beach Captions For Couples
Happiness comes in waves.
The best thing about being together is being together!
There is nothing better than a beach walks with my love on a sunny day.
You are my sunshine. You are my life.
Couples that hang together stay together.
All I need to unwind is you by my side.
It's the most wonderful time of the year—to travel with your honey.
You're the beach bum for me.
Together, we're unstoppable.
No one I'd rather get shipwrecked with.
Sunset Beach Captions
Everything gets hotter when the sun goes down.
My favourite painting is a sunset over a beach.
Even the most beautiful days eventually have their sunsets.
Sun of a beach, that's a nice sunset!
Food in tum. Beach under the bum. Eyes on the sun.
I live for these golden sunsets with you.
This sunset stole a pizza from our hearts.
Sunset beers, beach-side cheers, and dreamy days.
I wanted to see the sunset, but I mist it.
The sunset is life's way of saying a good job; you survived today. Here's something pretty.
Few things in life are as beautiful as a setting sun.
That feeling when it's just you and a beautiful sunset.
Beach Captions for Selfie
Long time no sea.
Everyone should believe in something. I believe I should go to the beach.
Live life in a bikini.
Can't wait for the next wave!
Ride your own wave.
Salt water heals all wounds.
I am happy anywhere I can see the ocean.
Sunshine, blue eyes, tan lines, slow tide rollin.
Seas the day!
Salty air makes for a happy heart!
Sunkissed, xoxo.
Beach Captions for Girls
I'm going to change the world, but today, I'll just be a mermaid.
A water woman who chooses imagination over fear.
The tans will fade, but the memories will last forever.
Go with the Flow.
She is most herself at the beach.
Me and the ocean: Love at first sight.
Time to get nautical.
A woman's heart is a deep ocean of secrets.
Salty hair, don't care.
Nobody makes her feel better than the beach.
Beach Captions for Guys
Eat. Sleep. Beach. Repeat.
Sun of a beach.
Every Monday should be a BEACH day
Dream higher than the sky and Deeper than the ocean
Sun, Sea, the Sand and ME
I miss you! – The Beach
I'm sunscreening my calls.
Stress Free Zone.
May you always have Shell in your pocket and sand in your Shoes.
A day at the beach restores the soul
Romantic Beach Captions
Good thing I brought my personal floatation device to the beach.
Out of office, into you.
Love is in the air and it's the most magical time of year.
We're on our own time zone.
Life is better on the Beach.
Lagoon lovers.
A dreamy day on the beach just got dreamier.
It doesn't matter where you're going; it's who you have beside you.
No matter the view, I want to see it with you.
Collect moments, not things.
Beach Captions for Friends
Girls just wanna have sun.
Vacation mode: activated.
Sandy toes, sunkissed nose.
We mermaid for each other.
Live life in a bikini.
I've never been more shore.
Resting beach face.
The best memories are made in flip-flops.
I'm an aquaholic.
The tans have faded, but the memories last forever.
Summertime, and the livin's beachy!
Summer Beach Captions
Paradise found.
Suns out, hamburger buns out.
No shoes, no worries.
Summer loving had me a blast!
Good times and tan lines.
Less Mondays, more summer.
Sunshine is my medicine of choice.
Tropical state of mind.
Sunshine on my mind.
I could never in a hundred summers get tired of this.
Beach Vacation Captions
Having a whale of a time.
Sand on, stress off.
Dear Beach, I think about you all the time.
Giving in to pier pressure.
Long time, no sea.
Infected with wanderlust.
A cloudy day at the beach is still a day at the beach!
Vacation mode: activated.
This place makes me want to change my address.
Feet are tired, but heart is happy.