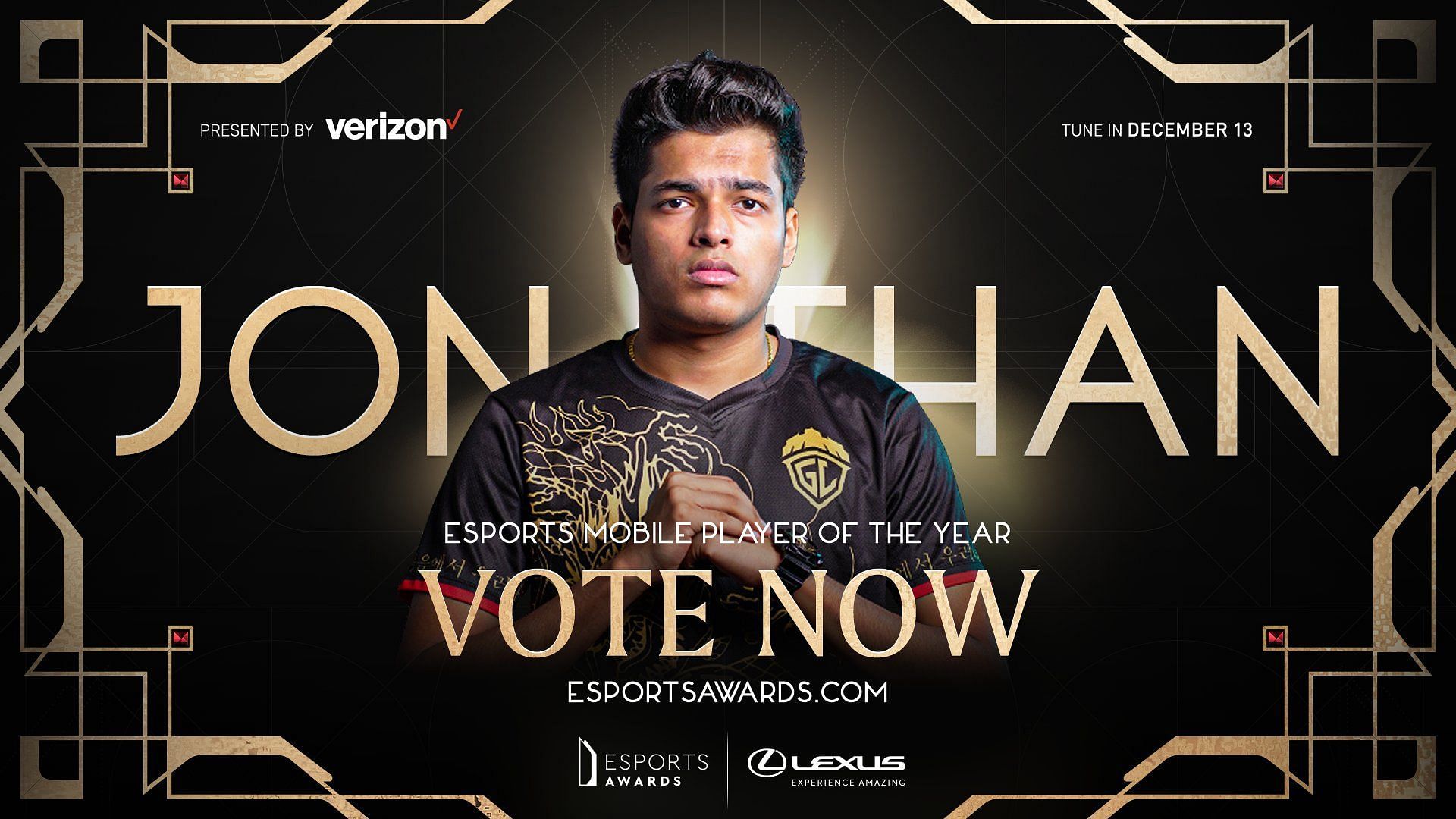 Popular Indian BGMI athlete from Team Godlike, Jonathan Jude Amaral has been nominated for Esports Mobile Player of the Year at Esports Awards 2022. On 18 November, Jonathan from India and GodCruz from Thailand were added as the Wildcard entries for the Esports Mobile Player of the Year nominees.
The Esports Awards are dedicated to highlighting top-tier innovation and performance from the scene's athletes, organizations, media, hardware providers, titles, tournaments, and individuals. This year, there are several categories and nominees enlisted in the official site of The Esports Awards.
On 27 October, there were a total of seven players who have been selected as the nominees for Esports Mobile Player of the Year at the prestigious awards event in 2022. Each category's winners will be announced on 13 December at the Resorts World Theatre in Las Vegas, Nevada. Those who are interested can vote for their favourite player on the official Esports Awards website.
Also Read: Top 10 eSports Players in India: How Much They Earn, Games Played, Social Handles, Streaming Platforms, More
BGMI Star Player Jonathan Gets Nominated For Esports Mobile Player of The Year
As mentioned above, there were seven nominees before the addition of two wildcard entries of Jonathan and Godcruz. Following their addition, below are the total nine nominees for the award:
Ceng "Order" Zehai (PUBG Mobile)
Luan "Lost" Souza (Free Fire)
AN "LONG" Xulong (Wild Rift)
Mohamed "Mohamed Light" Tarek (Clash Royale)
Cauan "Cauan7" De Silva (Free Fire)
Sitetampo (Brawl Stars)
Eman "Emann" Sangco (Mobile Legends: Bang Bang)
Jonathan Amaral (PUBG Mobile/BGMI)
Piyapon "GODCRUZ" Boonchuay (Free Fire)
The panel has selected the last two wildcard entries based on their achievements outside their standard judging period.
The WILDCARDs for the Esports Mobile Player of the Year award presented by @Verizon #GODCRUZ of #EVOEsports@tsment_jonathan of @GodLike_in

The panel has selected these finalists for their achievements outside of our standard judging period.

✅ Vote: https://t.co/Jnjxb5Qpbh pic.twitter.com/DQ7lWQHuoY

— Esports Awards (@esportsawards) November 17, 2022
Jonathan is one such name in the Indian Gaming community that needs no special introduction. He has been performing exceptionally well and representing India for the past four years by being in the BGMI/PUBG Mobile competitive scene. With his impressive gaming skills, he was also widely known by audiences outside India. He currently plays for Godlike Esports, which is one of the popular esports organizations. He is also called as the GOAT or Universal MVP by his fans.
He along with his team including Clutchgod, Zgod, Neyoo and Ghatak has played for other organizations like Entity and TSM entity. They have won several major events and even participated in International events while showcasing a good performance. He is well-known for his impressive gaming skills in BGMI and adored by his nature.
His gaming skills in the 2020 World League East were recognized by fans all around the world, and he has emerged as one of the event's best performers. He is an inspiration to many underdog players since he has constantly performed in the previous three years before BGMI's unexpected ban.
In addition to Jonathan, GodCruz from Evos Esports, who was also added as a wildcard for the Esports Mobile Player of the Year award, has had a successful career in the Free Fire esports scene. His squad has already qualified for the Free Fire World Series 2022 Bangkok Play-Ins. GodCruz was also named the 2021 World Series Singapore MVP.
Also Read: The Game Awards Nominees for 2022 Announced: Check Full List Here