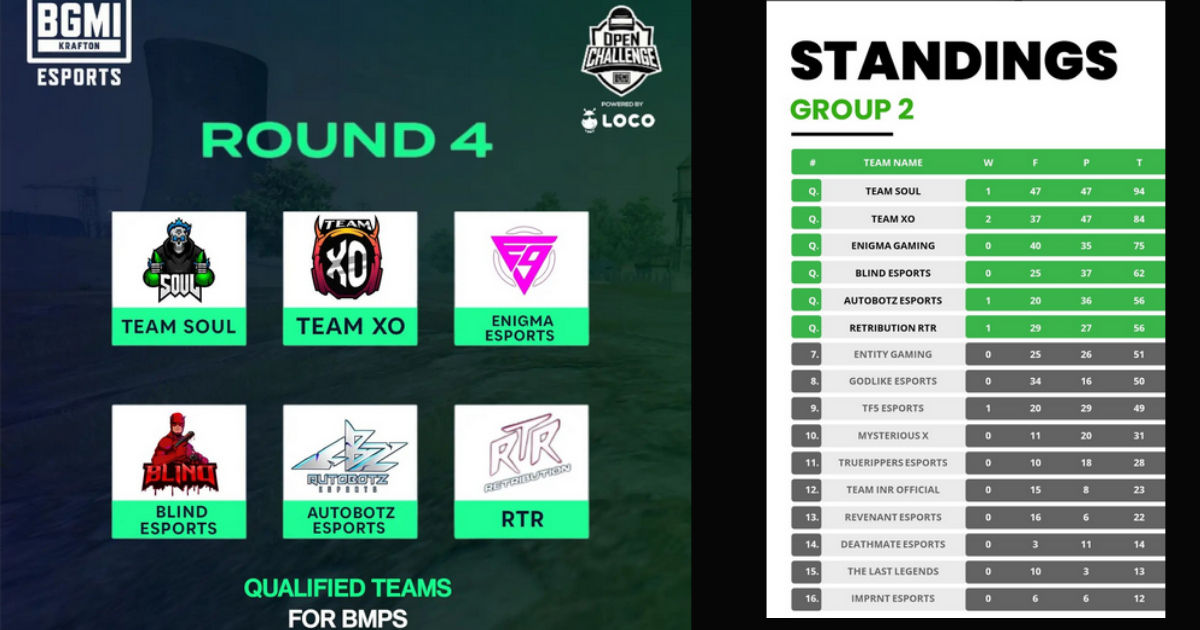 BMOC Round 4 Day 2 has concluded successfully where India's best teams from T1 competed against each other. Group 2 teams were been assigned this day and there were several fan-favorite teams included in the group such as Soul, Godlike, XO, etc. Following the conclusion of 6 matches, team Soul, XO, Enigma Gaming and three other teams have qualified for the Battlegrounds Mobile Pro Series Season 1.
Day 2 was in full swing which made the audience stick to their seats and they had a nail-biting show from the teams' epic action on LIVE. Team Soul had shown aggressive gameplay and secured most number of kills on Day 2 which led them to the top. Team XO had bagged two WWCDs which favored staying in the top 3. Invited Teams like Godlike Esports, Revenant Esports, and Entity Gaming failed to qualify for BMPS S1.
BMOC Round 4 Day 2 Participating Teams (Group 2)
Teams that have competed on the second day of BMOC R4:
Retribution RTR
Autobotz Esports
Mysterious X
Imprnt Esports
The last Legends
Deathmate Esports
TFS Esports
Team INR Official
Blind Esports
Enigma Gaming
Revenant Esports
Entity Gaming
Godlike Esports
Team XO
Team Soul
True Rippers Esports
Also Read: Tencent's Need for Speed Mobile 2022 Gameplay Leaked
BGMI Open challenge (BMOC) Round 4 Day 2 Match winners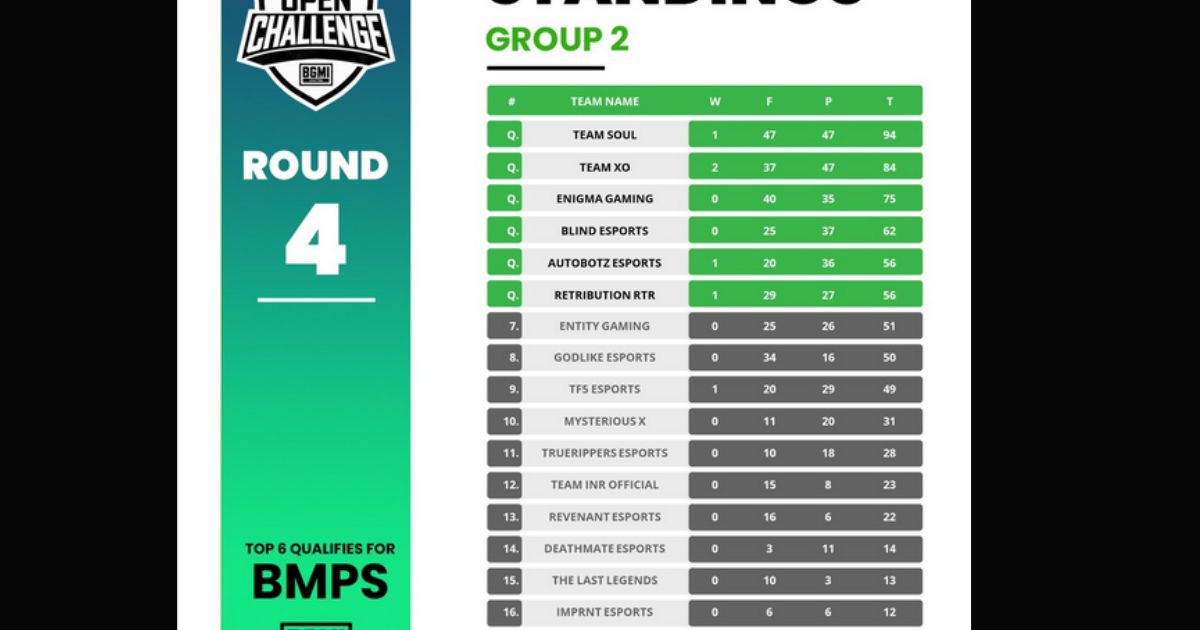 Erangel is the map to host the first match of the day and it was won by the fan-favorite team Soul with a massive total of 15 finishes.
The second match was played on the dessert map i.e., Miramar in which TF5 Esports has rung the winning bells by claiming the WWCD with 8 kills.
Team XO had played a brilliant knock in the third match of the day which was played on Sanhok and they won the game with 9 frags.
It was Team XO again to emerge victorious in the fourth match of the day with 9 finishes, where XO Punk alone had 7 kills.
Team Soul had been aggressive in the fifth match with 16 kills but it was team Retribution RTR who claimed the victory with 12 finishes. This match had become crucial for RTR to get qualified.
The final match of the day was won by Team Autobotz Esports with 9 finishes, and this match turned the fate of Autobotz Esports.
Qualified Teams to BMPS from BMOC R4 Group 2
Team Soul – 94 points
Team XO – 84 points
Enigma Gaming – 75 points
Blind Esports – 62 points
Autobotz Esports – 56 points
Retribution RTR – 56 points
Day 3 of Iqoo BMOC powered by LOCO will take place on May 14, 2022, where Group 3 teams will fight for the Glory and BMPS S1 slots. Group 3 teams were not officially announced and they will be revealed before the stream starts on May 14, 2022. The LIVE stream starts at 4:30 PM IST on the official BGMI and Iqoo Esports YouTube Channel, also on Loco.