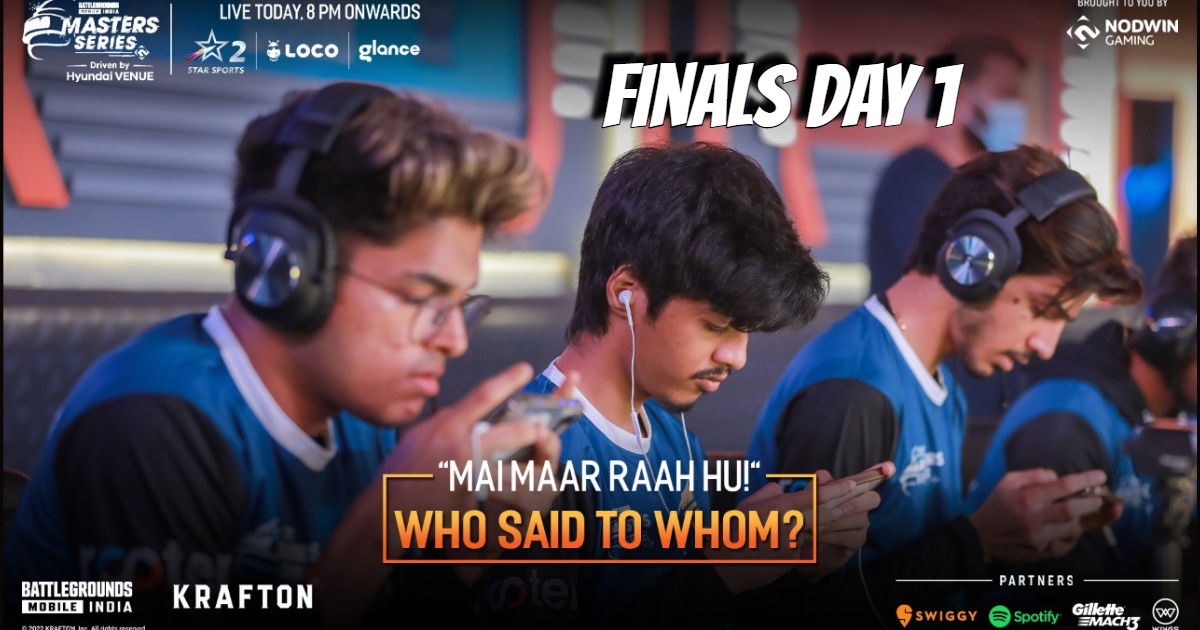 BGMS Grand Finals Day 1 has concluded which witnessed intense and power-packed BGMI action from their favourite teams in the event. The day ended with Godlike becoming the table-toppers on the overall standings as they showcased well-grounded performance. After four matches, they have secured a total of 68 points alongside 30 finishes. Jonathan is the player one in the overall performances of Day 1.
Global Esports managed to clinch that second place after Godl as they secured a win in the final match while defeating Godlike. They have accumulated a total of 57 points with 32 elimination points. Orangutan Gaming dropped down to the third position with 48 points and they won the first match of the Grand Finals.
Team Soul has taken up nice fights in the four matches and conquered most of them. It seemed Goblin has come back with his impeccable performance on the first day of the Finals. As a result, the team secured fourth place with 44 points. Team XO, who has been exceptional at the end of the league stage is now positioned in sixth place while Team Enigma Forever is placed in fifth.
OR Esports ended the day with a bad performance and thus finished in sixteenth place with only 7 points.
BGMS Grand Finals Day 1 Overall Standings – Godlike leads the table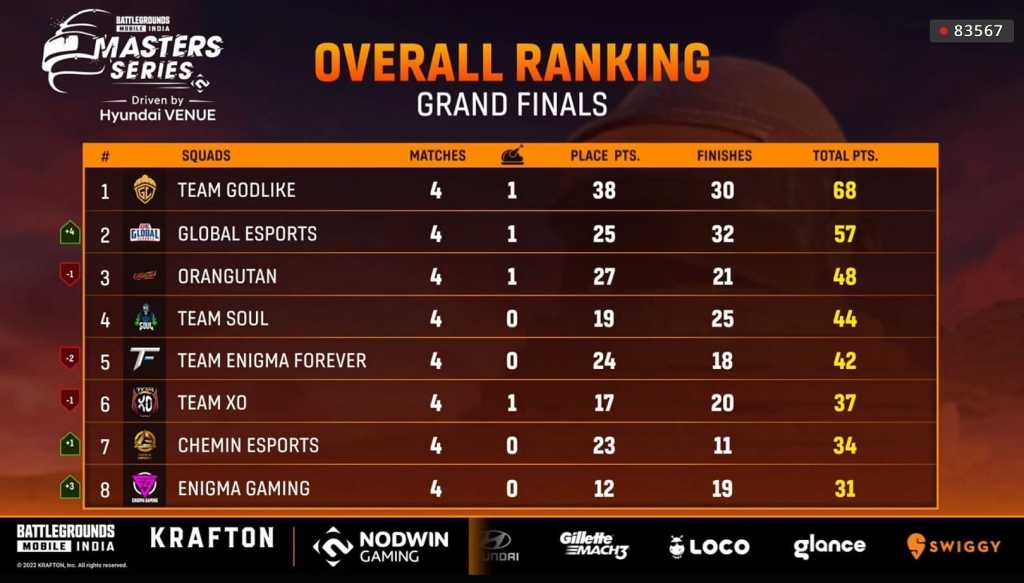 The first match was won by Team Orangutan with 6 finishes. Godlike Esports and Soul had put up a nice show for their fans in this match where Goblin 1v3 godlike and Zgod's 1v3 soul takes all eyes. Godlike gets defeated by Team Soul with 11 finishes and Orangutan makes the good out of the match by beating team Soul with 10 finishes.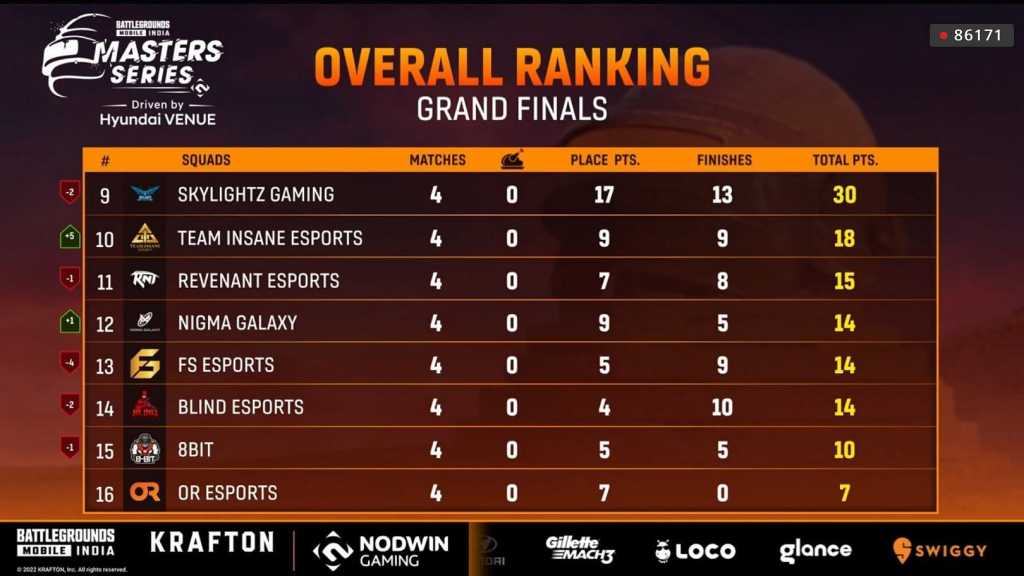 The second match was played on Sanhok and this was won by Team XO with 14 finishes. Skylightz Gaming finished second in this match with 8 finishes while Chemin took the third spot with a single finish in their hands.
Godlike Esports emerged victorious in the third match of the day which was played on the Desert map, Miramar. They have accumulated a total of 12 finishes in this match alongside securing the win. Godlike defeated Team Enigma Forever to secure their 12-kill-CD in this match.
Intense start to Grand Finals with Team Godlike on the first position with 68 points and Global Esports on second position with 57 points.

Watch Grand Finals Day 2 tomorrow 8 PM IST onwards on
Star Sports | Loco | Glance#BGMS2022 #RaiseYourGame #nodwingaming #stars pic.twitter.com/AOKryPklfK

— NODWIN Gaming (@NodwinGaming) July 13, 2022
Global Esports has become the champions of the fourth match of the day with 12 kills under their name. They defeated Godlike at the second position who had three kills. Enigma Gaming took the third position in this match with 8 finishes.
The outperformance of Finals Day 1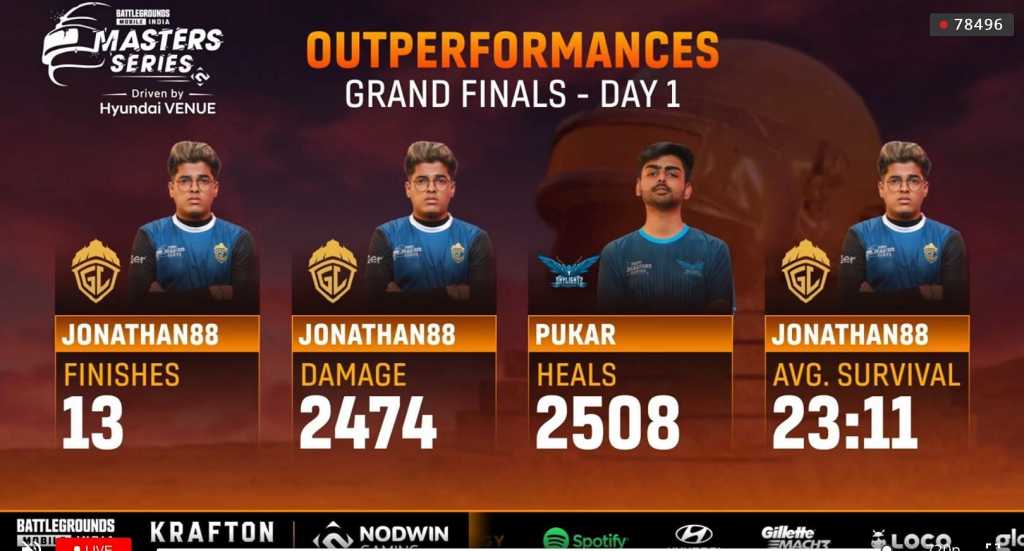 Highest No. of kills – Jonathan (13 finishes)
Highest Damage – Jonathan (2474)
Highest No. of Heals – Pukar (2508)
Highest Avg. Survival – Jonathan (23:11 Min)
The second day takes place today i.e., on 14 July 2022 and fans can catch the Live of the event on Star Sports 2 Tv channel and Nodwin Gamings' Loco and Glance channels. The stream begins at 8:00 PM IST and a total of four matches will be played today.