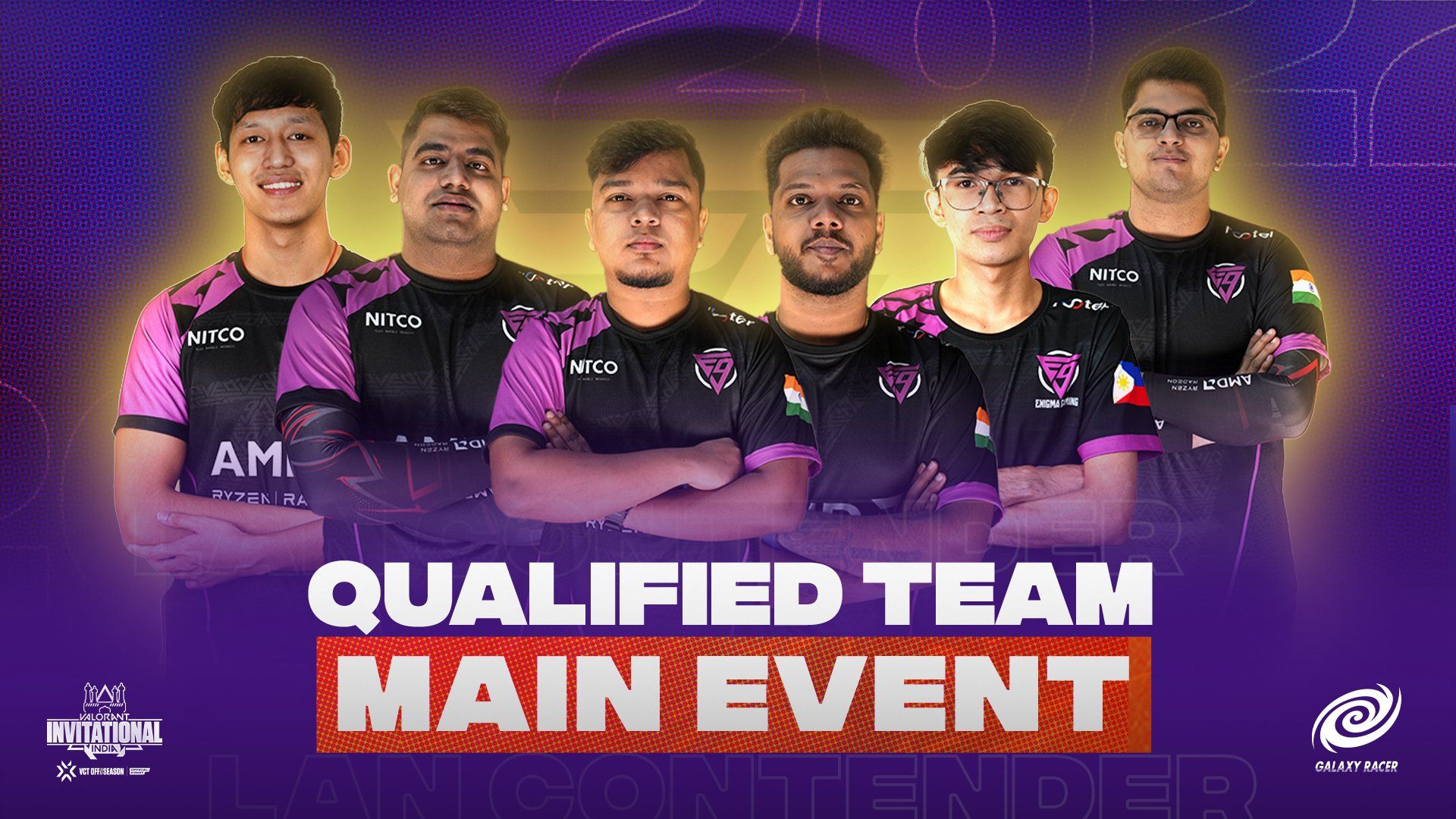 Enigma Gaming has qualified for the Galaxy Racer Valorant India Invitational Main LAN event. Enigma Gaming has defeated Revenant Esports in the Indian Closed Qualifier 1 with a 3-1 scoreline in the finals to clinch their spot at the LAN event. Thus, Enigma became the first team to secure a slot at the Valorant India Pro Invitation event organized by Dubai-based Galaxy Racer.
Galaxy Racer Valorant India Invitational feature 2 Indian qualifiers comprising open and closed ones and a SEA qualifier in which top international teams will participate. Qualifier 1 has concluded with the Open Phase taking place from 11-13 Oct and the Closed phase taking place from 14-16 Oct. The Open Phase has seen a total of 16 teams fighting in the competition out of which a couple of teams, namely Lethal Esports and W Streak Esports advanced to the Closed Phase.
Valorant India Invitational Qualifiers begin from next week! Gear up and Get Loaded🎉🇮🇳

📢India Qualifiers #1 – 11-16 Oct
📢India Qualifiers #2 – 18-23 Oct

🏆Main LAN Event – 18-20 November 📍Hyderabad, India

💲100,000 USD Prize Pool!💲 pic.twitter.com/CiteGDlam1

— galaxyracerindia (@galaxyracerind) October 3, 2022
The Closed Phase has featured a total of 8 teams including Enigma Gaming, Revenant Esports, Reckoning Esports, Gods Reign, Gods Squad, and Velocity Gaming as invited teams and two qualified teams.
Also Read: Global Esports Qualifies for VCT 2023 as Part of Valorant Franchising Asia Pacific
Enigma Gaming Qualifies for Galaxy Racer Valorant Invitational Main Stage LAN Event
Kya Ismart dikhre yaaro tum! Ekdum Kiraak ! Miltei aur Biryani Khaatei ❤️ pic.twitter.com/LQB6MlAyC6

— Enigma Gaming India (@Enigmagamingind) October 16, 2022
Revenant Esports has beaten Lethal Esports and God Squad from Group A in order to get advanced to the Finals of the first Indian Qualifier. On the other hand, Enigma Gaming beat Gods Reign and Velocity Gaming to pit against Revenant Esports in the Finals.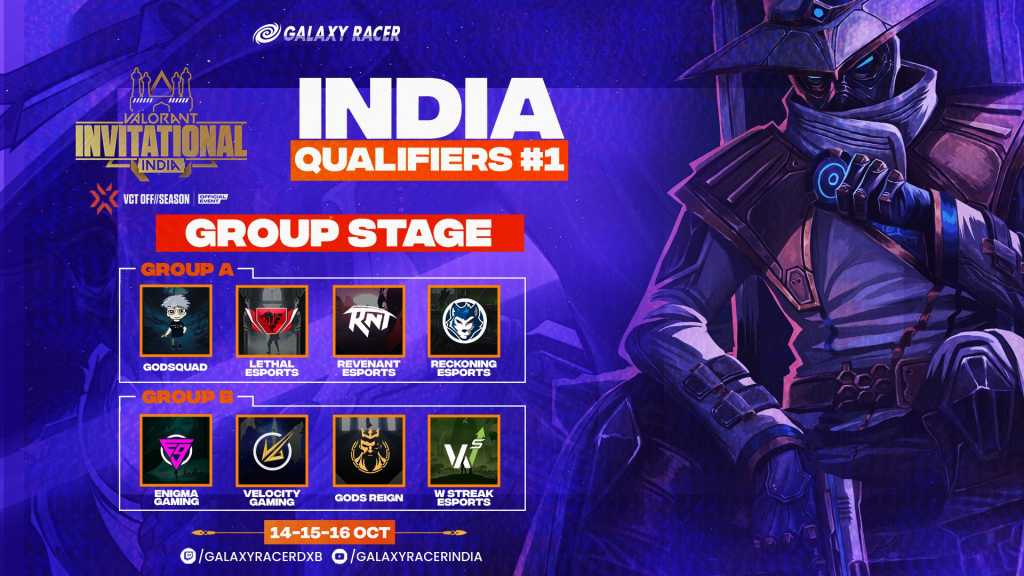 In the Grand Finals, Enigma has taken over Revenant Esports and qualified for the Main Phase of the event. The second Indian qualifier will also have both open and closed phases which takes place from 18-20 Oct with the latter taking place from 21-23 Oct. Galaxy Racer India's Valorant India Invitational will also represent VCT's off-season plans for Pacific, as per Riot's announcement.
Our first Qualifier winner is here! @Enigmagamingind best @RevenantIndia 3-1 in Grand Final of #ValorantIndiaInvitational IN Qualifier! pic.twitter.com/o3jcAIatkV

— galaxyracerindia (@galaxyracerind) October 16, 2022
The Main event will be held as a LAN-line event at an undisclosed location in Hyderabad from 18-20 November. It will have a total of 8 teams out of which 5 teams will be invited and 3 teams will be qualifying from the qualifier phase. Enigma Gaming has already confirmed its slot at the LAN event(one team from the SEA qualifier and one from the second Indian qualifier)
Fans can watch the LIVE event on Galaxy Racer India's YouTube Channel.
Valorant India Invitational Prize Pool
The tournament I was hearing about is official now. @galaxyracerind announces a 100K $ Prize-pool 'LAN' event in India.
It will be the biggest third party event in all of APAC.

Massive dub for the South Asian Valorant scene. pic.twitter.com/X5MnABrI2u

— BLEED Ominous (@_SushantJha) October 6, 2022
Galaxy Racer India has announced a hefty total prize pool of $100K (~ Rs 82,00,000) for the upcoming tournament. The prize distribution is as follows:
1st Place: $50,000 (~ Rs 41,00,000)
2nd Place: $20,000 (~ Rs 16,50,000)
3rd Place: $10,000 (~ Rs 8,20,000)
4th Place: $10,000 (~ Rs 8,20,000)
5th-8th Place: $2,500 (~ Rs 2,05,000)
Also Read: Esports Proposed as Official Medal Sport at Asian Indoor and Martial Arts Games (AIMAG) 2025