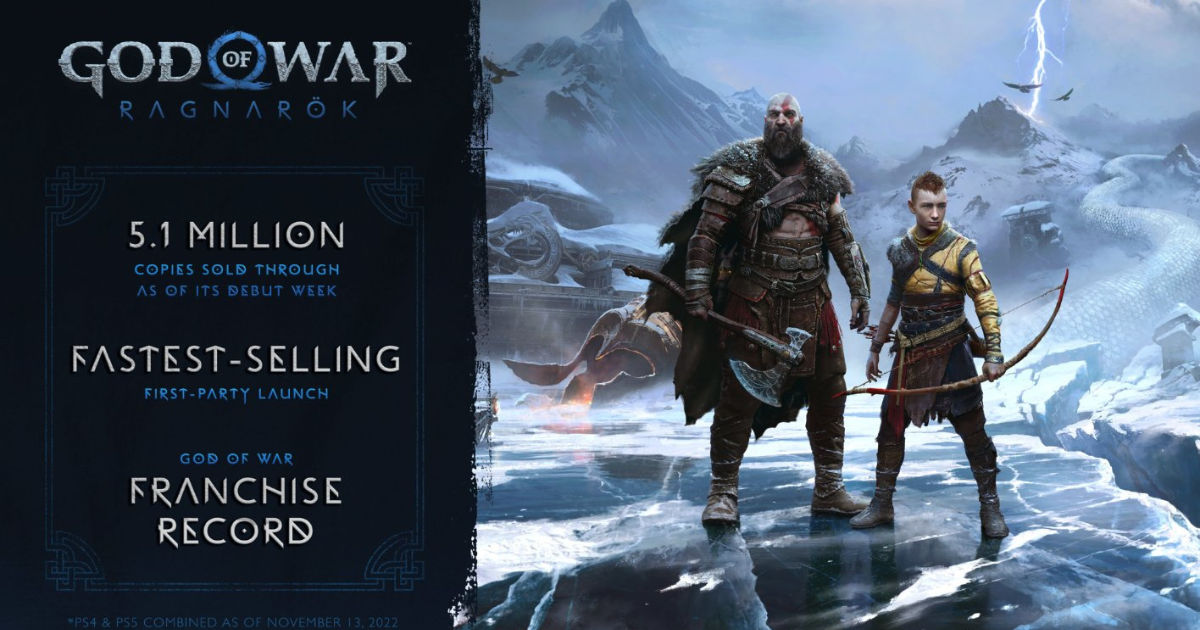 Sony has just confirmed that God of War Ragnarok has become the fastest-selling first-party launch game in PlayStation history. This is a pretty historic and significant landmark for PlayStation, Santa Monica Studios, and the God of War franchise. The game has now sold-through over 5.1 million copies as of its debut week.
This is absolutely a monstrous debut and there is a good chance that its success will continue to snowball until eventually when God of War Ragnarok becomes the best-selling game on the PlayStation. This is a franchise record for Santa Monica Studio, who have to be really pleased with the game they've put out this year.
In our review of God of War Ragnarok, we elaborated on how the game deepens each idea introduced in the 2018 game and delivers a much more well-rounded game and one of the best sequels in gaming history. The game has been received extremely well and is a strong contender for Game of the Year alongside FromSoftware juggernaut Elden Ring.
Also Read: God of War Ragnarok Review: A True Masterpiece Worthy of Being the Final Chapter
God of War Ragnarok Has Sold 5/1 Million Copies As of its Debut Week
Congratulations to @SonySantaMonica for making God of War Ragnarök the fastest-selling first party launch game in PlayStation history! 🪓 pic.twitter.com/NPgN6YHRnQ

— PlayStation (@PlayStation) November 23, 2022
God of War Ragnarok was always going to be a massive affair, but numbers like these only go to show the appeal of massive PlayStation Studios' titles. The decision to not bring Sony first-party titles to PlayStation Plus was initially met with a lot of resistance from fans, but SIE CEO Jim Ryan's explanation was that it would devalue the games. This now seems to ring true as there is no possible way GOW: Ragnarok could have achieved these numbers if it were also available on day one on PlayStation Plus.
The 5.1 million units sold since launch puts the game above the likes of The Last of Us Part II, which was the last giant PlayStation Studios hit. The game is well on its way to becoming one of the most successful ones on the PlayStation platform. It will still be extremely hard to beat the likes of Minecraft and GTA V, but it will still find itself somewhere in the upper echelons.
God of War Ragnarok came out on November 9 and has since enjoyed rave reviews across the board and is in running for Game of the Year. The game was nominated for several categories, including GOTY, at this year's The Game Awards, and it is speculated that the final showdown will come down to Elden Ring and Ragnarok.
Both games have showcased an immense amount of dedication and polish from the studios and have achieved their goal of pushing the medium forward. While Ragnarok is a tightly-designed yet expansive single-player experience, Elden Ring is a monster of a game, practically expanding by leaps and bounds every hour, all the while keeping the core loop satisfying and fun.