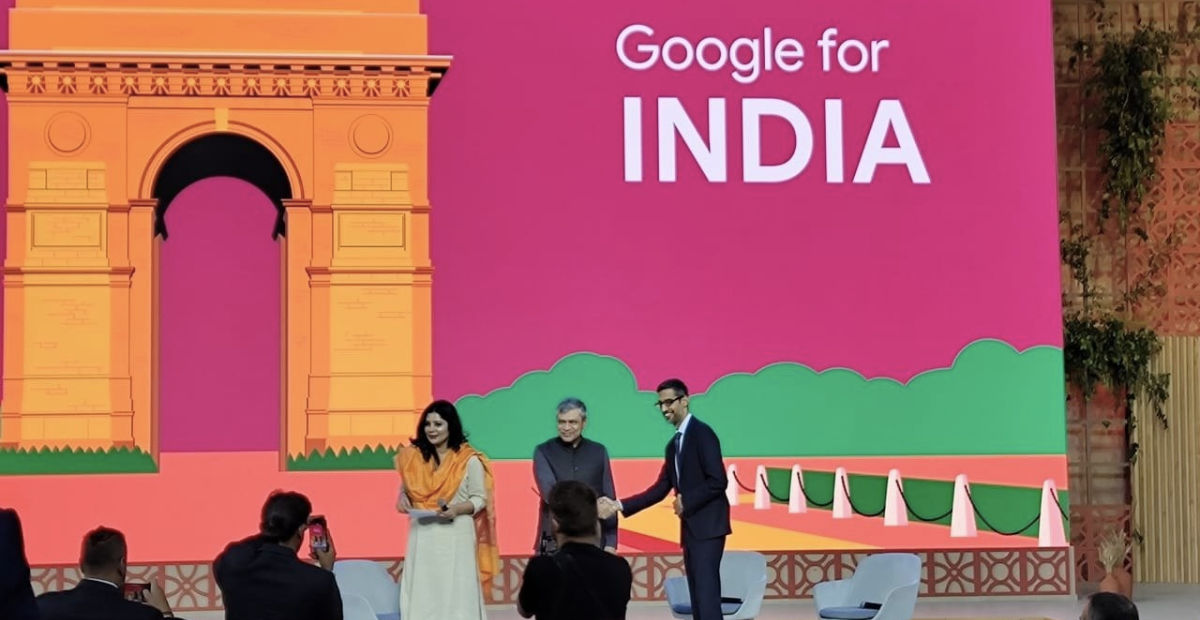 Google held an event in India today called Google for India. The event was joined by prominent Google employees and the CEO himself, Sundar Pichai. The event saw a bunch of new features, technologies, and projects specifically for India. Alphabet CEO Sundar Pichai sat with Union IT Minister of India, Ashwini Vaishnaw to discuss India's role in technology and Artificial Intelligence development further. Several upcoming features of Google Pay, YouTube, Google Search, and more have been announced at the event today. Here're the major announcements that Google made at its Google for India event today in New Delhi. 
Improvement in Google Search
Google announced a bunch of new features that are coming to search for users. The company has announced Multisearch which will allow people to find any information in any given image by just typing it. It will allow text and images search simultaneously. It will be available in India starting next year and will first be rolled out in the Hindi language. 
Google announces Multisearch which lets you take pictures or screenshots and add text to your question.#Google pic.twitter.com/3qutWnjkmE

— mysmartprice (@mysmartprice) December 19, 2022
Google also announced the Search in Video feature that now allows you to search specifically for anything like a monument, object, or cloth, in the video. All you have to do is just search for it on YouTube within the video and Google will show you that part directly.  
Also Read: Chrome Flags: How To Enable Flags on Google Chrome Browser to Try New Features
Bilingual and Hinglish Search
India is a multilingual country with over 21 languages which is why someone may understand different languages only. Google has announced that it will start showing users search results in multiple languages on the same page. So, a user doesn't have to search for that result specifically in Hindi. The feature will be first rolled out for Hindi users and will have other Indian languages like Tamil, Telugu, Marathi, and Bengali, in the coming year.
Google adds Hinglish queries to improve voice search. #GoogleForIndia pic.twitter.com/rFkT45hw8y

— mysmartprice (@mysmartprice) December 19, 2022
For someone who can't speak Hindi or English together, the company has introduced a feature called Hinglish search which basically means that you can ask Google any query with a mix of Hindi and English. The app will recognise the speech and show you the results. 
For those who can't speak properly, Google has announced Project Relate for them. It can understand the speech even if the user is unable to speak properly. This will be available for Hindi users from next year.
Digilocker on Android
Android collaborates with Digilocker to keep your documents secure in the Files app.#GoogleForIndia pic.twitter.com/7hfy8BGYQK

— mysmartprice (@mysmartprice) December 19, 2022
Google has announced a partnership with Digilocker to allow people to access their government or any other documents, directly from the Files app. It means that Digilocker will now be embedded in Google Files app on each Android phone. The company says that it won't be sharing your personal information with any third party client. Each user will have to prove their identity to access the documents. It will also remove all the duplicate files from the app to keep the phone storage clean. 
Also Read: Google Year in Search 2022: Indians Searched the Most About IPL 2022, Brahmastra, FIFA World Cup
Fraud Detection and Transaction History in Google Pay
Google Pay completes five years in India and the company has announced new features coming to the app in order to save its users from any fraud. It will now use advanced methods to find fraud and will alert you whenever it detects anything suspicious about the receiver. It will allow you to think for three seconds so that you cannot take any action immediately.
Google Pay gets transaction search with voice support. #GoogleForIndia pic.twitter.com/iYm712mCOY

— mysmartprice (@mysmartprice) December 19, 2022
Moreover, Google Pay will have a Transaction History tab which will be divided into categories and has voice search support. Let's say if you type groceries, it will show you all the transactions related to it only. 
YouTube Courses
In 2021, YouTube supported full-time jobs equivalent to 7,50,000 and contributed Rs 10,000 crore to India's GDP, claims Google. It is now partnering with major hospitals like Narayana Health, Manipal Hospitals, Medanta, and Shalby Multi-Specialty Hospitals to make sure that each health video that goes on YouTube is reliable and factual.
YouTube introduces Courses to provide structured learning experiences. It will be available soon and provide monetisation option to creators. #GoogleForIndia pic.twitter.com/oAxFgFmmY8

— mysmartprice (@mysmartprice) December 19, 2022
YouTube has announced Courses that will be available for testing in the coming months. This will be for those educators who wish to make a living from it. YouTube will allow educational channels to offer free or paid courses to its viewers. The creators will be able to attach their notes to the videos. The popular video streaming app has selected a few creators to test the feature.
AI Supported Projects
Google will be able to read medical prescriptions given by Doctors.#GoogleForIndia pic.twitter.com/yluXaS5YDu

— mysmartprice (@mysmartprice) December 19, 2022
At Google for India, the company announced several features and projects that are powered by AI (Artificial Intelligence). Starting with Project Vaani which is an initiative to understand speech data from across all of India's 773 districts and transcribe them. It will be capable of understanding over 100 Indian languages in speech and text.
The company has granted a $1M grant to Wadhwani AI to improve AI technologies in the field of agriculture. 
Google Lens will now be able to understand the doctor's medical prescription; something which that will be beneficial for many people in India.