Having recently reviewed an 11th Gen Intel Core i9 laptop, experiencing what the bleeding-edge of consumer-grade mobile computing from Team Blue feels like, I got my hands on the Core i7 11800H powered MSI GE66 Raider, thanks to our friends over at Intel, and it has been a good few days living my life out of this suave, slick gaming laptop.
The H45 Intel processors this year are no slouch and stand their ground firmly against the AMD's Zen3 onslaught, but the MSI GE66 Raider is more than just the raw performance. It's finesse achieved over years of engineering, and it's an easy recommendation for a high-powered gaming laptop capable of running games at 2K resolution, under Rs 2 lakhs. Here's why —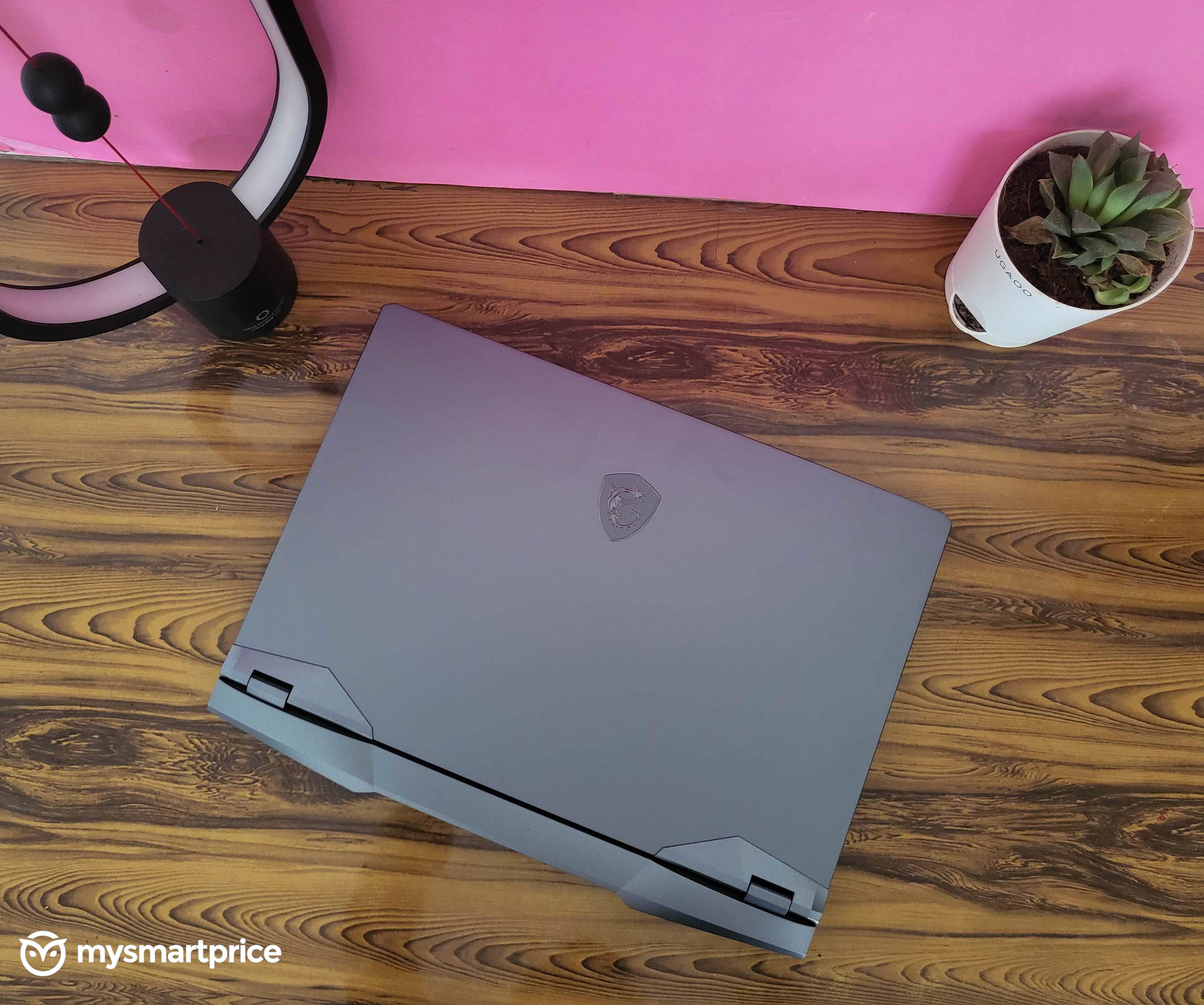 MSI GE66 Raider: Specifications
The MSI GE66 Raider is actually available in multiple variants, one with even a 4K OLED display, but only two 15.6-inch variants made their way to India. Both run on the Intel Core i7 11800H but has a choice between the RTX 3080 and the 3070. The rest of the specifications are the same across the two variants.
It's a 2K display with a 165Hz refresh rate and 100% DCI-P3 support. There are two 8GB DDR4 3200MHz sticks soldered to the board, but can be upgraded to up to 64GB in two SO-DIMM slots. The laptop also makes full use of 11th Gen's PCI Express 4.0 support, offering one PCIe 4.0 M.2 slot, and another PCIe 3.0 slot. You get 1TB PCIe 4.0 storage by default in both variants.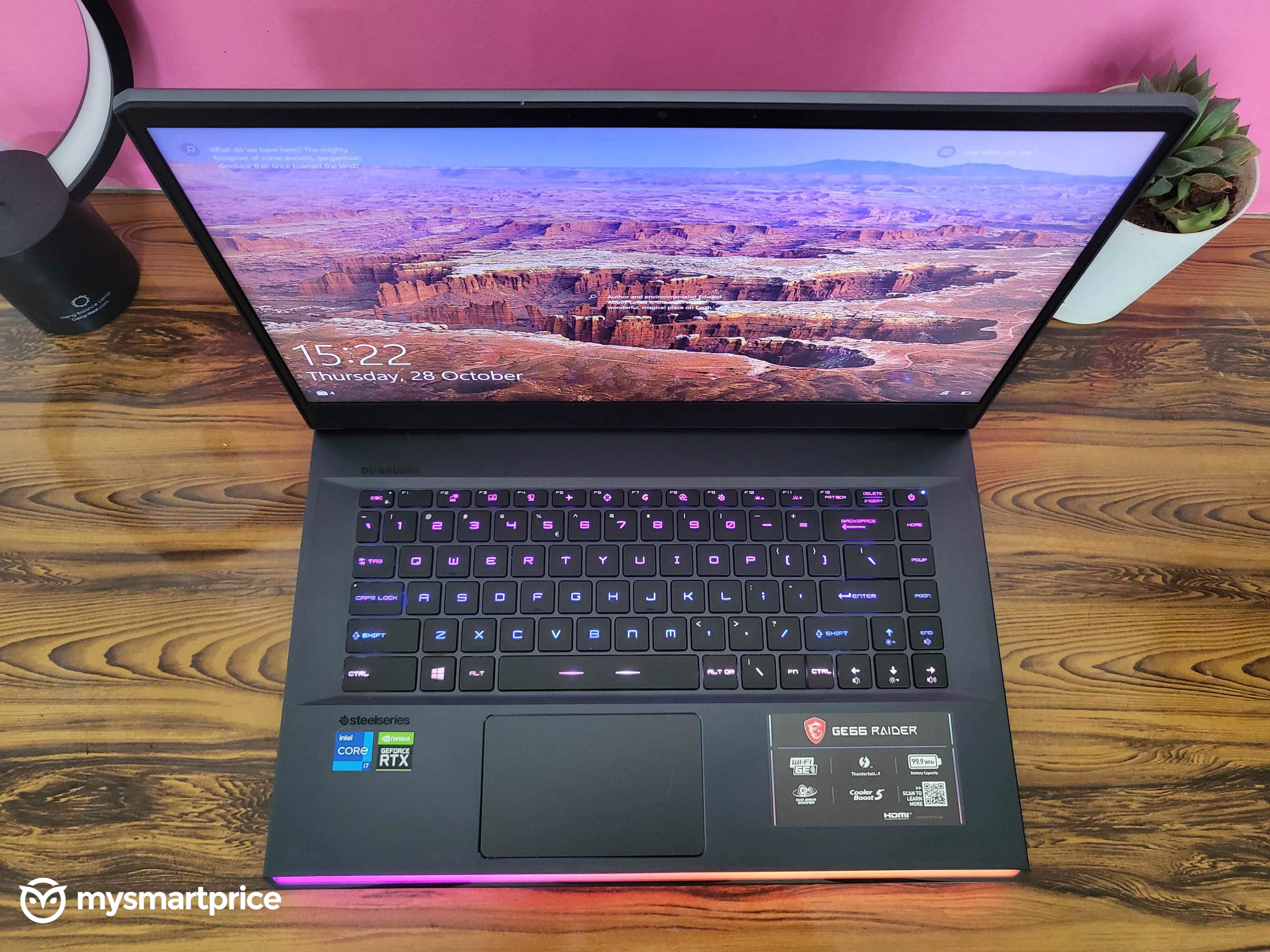 Of course, there's Wi-Fi 6E support along with one of the largest selections of ports I've seen in a gaming laptop lately. While this is aimed squarely at gamers with its SteelSeries Keyboard, and high refresh rate display, the MSI GE66 Raider works just as well for creative workloads. Only, I'd rather game on this, than get any work done.
MSI GE66 Raider: Performance and Gaming
Let's dive straight in. On paper, the Core i7 is complemented by a high-wattage RTX 3070, DDR4 3200MHz memory, and PCIe Gen 4 storage, creating the perfect environment for performance to thrive. And thrive, it does, especially thanks to the cooling solution MSI provides under the hood.
Benchmark Analysis
As has been the case throughout the year, benchmark scores indicate the Core i7 is well behind its rival from AMD, except for single-core performance. But here too, the gap is extremely close between the two, unlike what we've seen with the Core i5 and the Core i9 processors. On their own, however, the scores indicate powerful performance in the MSI GE66 Raider.
What's interesting, however, is that despite the RTX 3070 taking advantage of the PCIe 4.0 lanes, the 3DMark test scores are well behind the Lenovo Legion 5 Pro with the Ryzen 7 and RTX 3070 on PCIe 3.0. I haven't figured out a reason for this misnomer, and I did repeat each test in 3DMark a few times just to be sure. But the good news is, I forgot all about it the moment I booted up Valorant.
Gaming Performance
Stellar scores on benchmarks aside, the GE66's performance translates beautifully in rendering immersive visuals at 2K resolution, delivering above 60 FPS in all games but one. The only downside is you have to keep this plugged into a 16A socket to get the required power. But once it's docked, you won't feel like budging from this warm corner.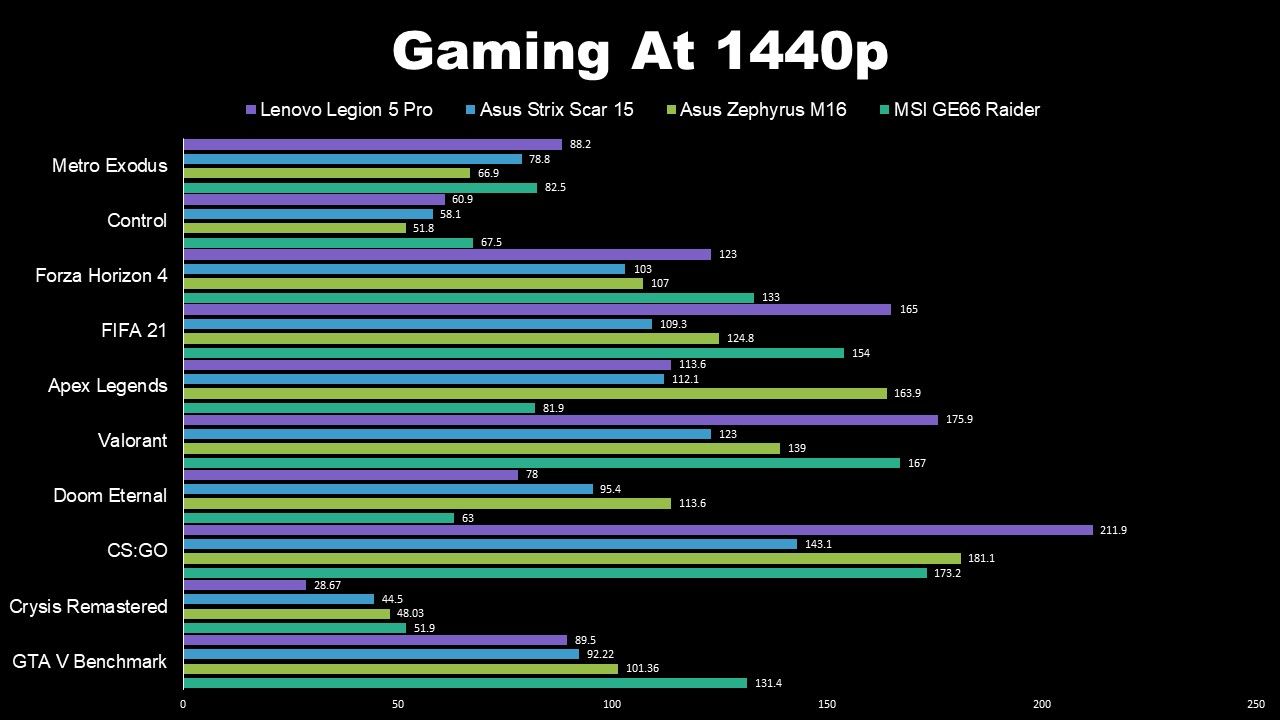 GTA Online ran at a high 131.4 FPS, beating the previous record held by the Zephyrus M16, while ray-tracing enabled games like Metro Exodus and Control smooth at above 60 FPS with everything maxed out. I could play Forza Horizon 4 at 133FPS, higher than all other 3070 laptops I've tested so far, but Doom Eternal only managed a decent 64 FPS at Ultra Nightmare mode with ray tracing enabled.
But the real fun is in playing eSports titles. All the major FPS eSports titles like CS:GO and Valorant ran at 100 FPS+, while Apex Legends hit 82 FPS, all on glorious 2K. So you can actually take full advantage of the 165Hz refresh rate while playing. Not a lot of players have that privilege.
But running these games at such frame rates at a high 2K resolution does put stress on the hardware. The CPU regularly hit its max 100 degrees TjMax value, while the RTX 3070's hotspot hovered around 105 degrees, after an hour of gaming. But, unlike the Zephyrus M16 which struggled to dissipate heat efficiently, the GE66 Raider had no such issue. It remains surprisingly cool no matter how long I gamed on it, never going beyond 40 degrees.
I'm grateful for the twin fans with copper coils wrapped around them that kept my fingers from getting scalded. The fans have four outlets to vent out hot air, and half the bottom chassis has perforations to draw in cold air. The system works perfectly in keeping things cool while the action gets hot on screen.
MSI GE66 Raider: Display and Audio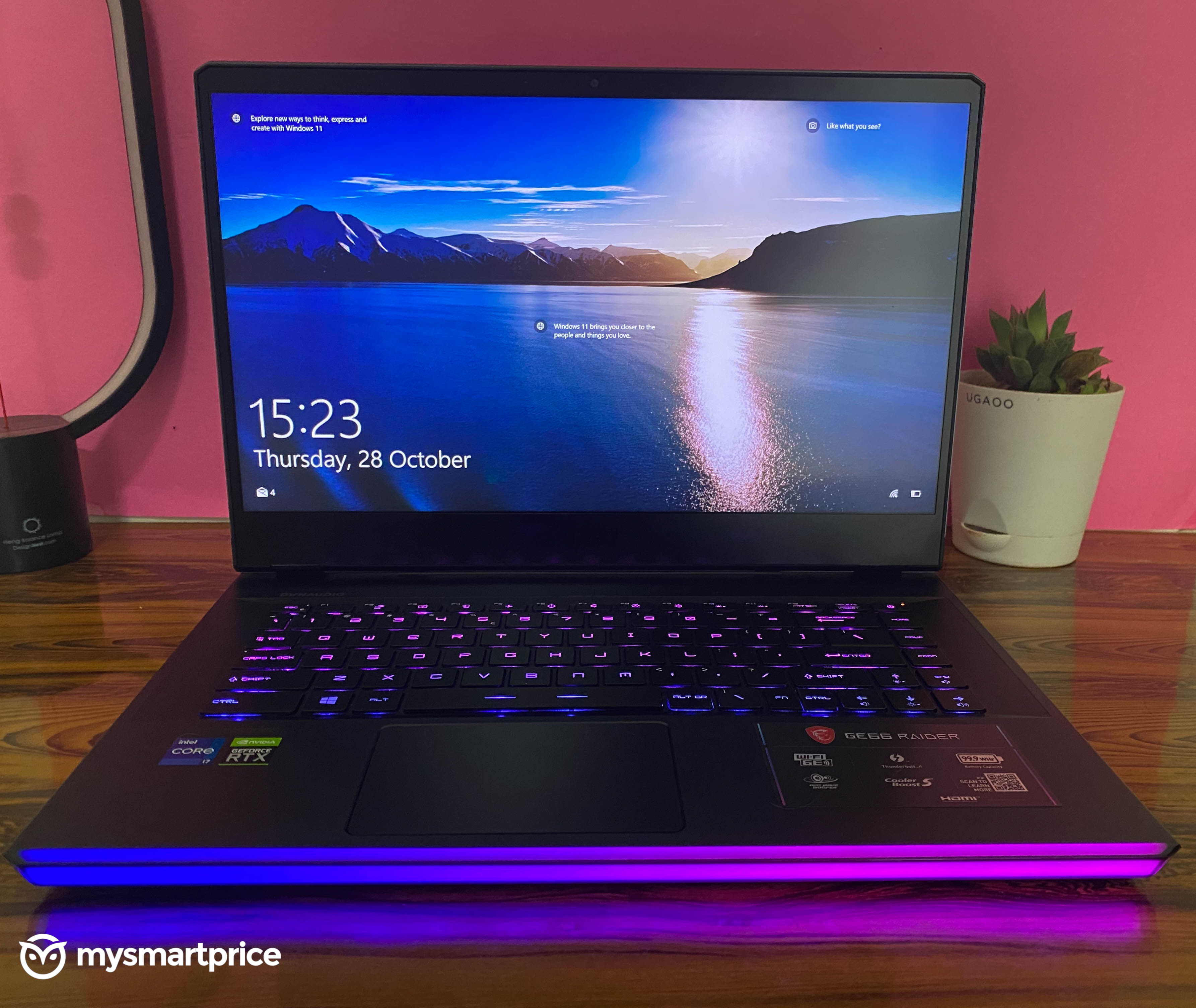 Along with the required horsepower, the display has a lot resting on its shoulders when it comes to gaming laptops. After all, you can all the performance in the world, but it's no use if it's not realised most gloriously, and here the 15.6-inch QHD just nails it. I wouldn't call it the most colour accurate display, but brings out the best in games.
Visually stunning titles like Control look exquisite on this panel. There weren't any signs of ghosting, or backlight bleeding, and the viewing angles are wide enough to enjoy the visuals from a sharp angle. There's also very little distortion when the brightness is dialed down, and the 165Hz refresh rate ensures everything is butter smooth. If you aren't working on creative workloads like editing photos and videos, the screen will give you no complaints.
When held against the 13-inch MacBook Pro, however, there are some noticeable differences, with the MacBook Pro appearing more vibrant and slightly less saturated. More than a drawback, I'd call it artistic liberty in defense of MSI, as the slightly enhanced saturation, brings out the best in games.
MSI does offer you a bunch of display presets for gaming, movies, and the likes. But it stops just short of offering full control over colour fidelity.
The audio, on the other hand, has nothing to complain about. It sounds great, especially with the Nahimic surround sound support, which plays out even better in headphones. It's also loud enough to listen to in-game dialogues, and in a quiet room, even the sound of footsteps replete with the direction they're coming from. Gaming laptops usually cheap out on the audio quality, but MSI goes a step further and adds Hi-Res 24-bit audio support via the 3.5mm headphone jack.
MSI GE66 Raider: Keyboard and Trackpad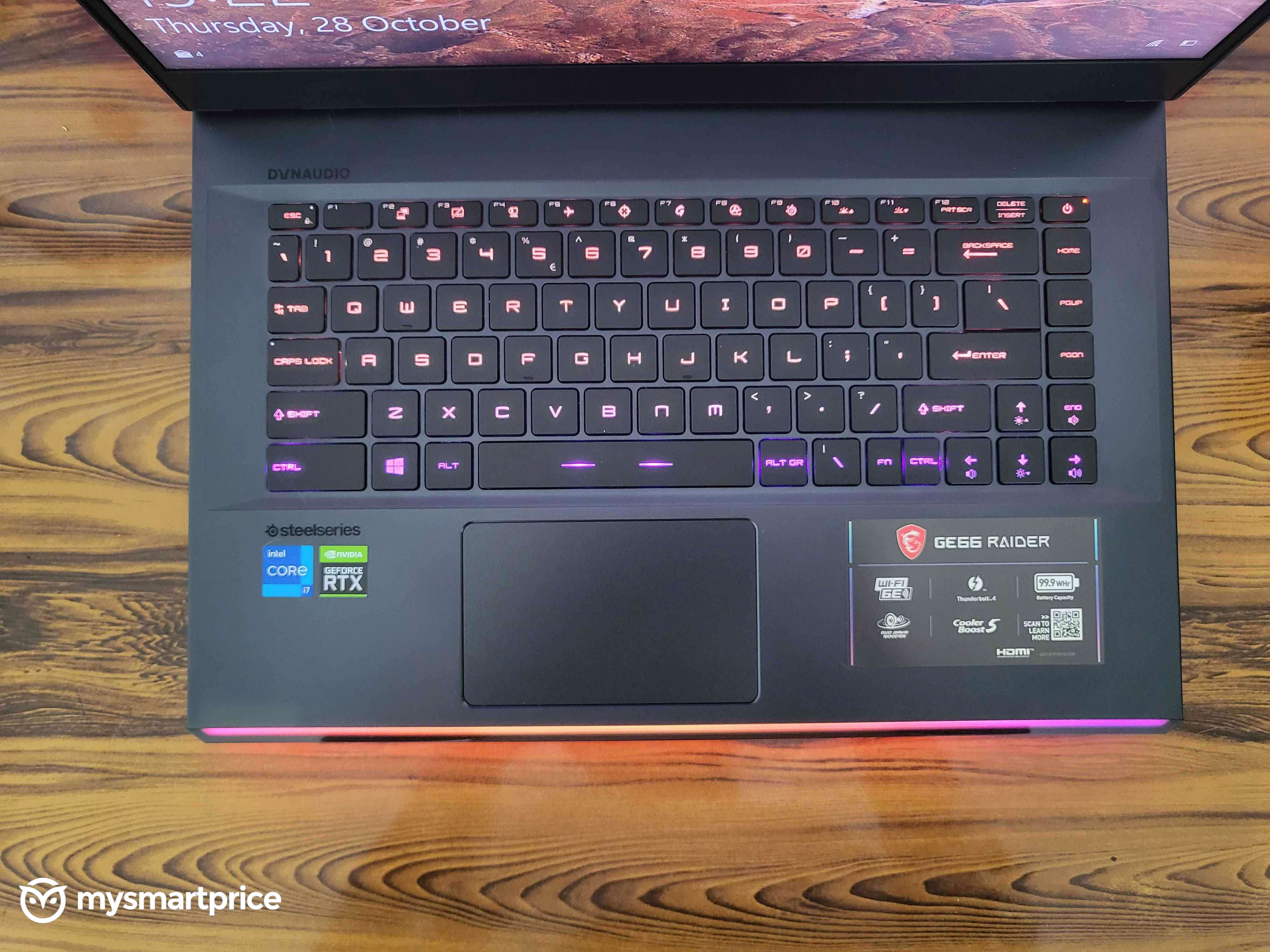 The GE66 features a full-sized SteelSeries keyboard that's super tactile and precise. There's absolutely no flex on the keyboard and typing on it feels extremely smooth and intuitive. It has per-key RGB, and you can use the SteelSeries app to configure each individual key with its own backlight. If that doesn't tickle your gamer fancies, the keys themselves feel super precise, with each key press feeling uniform and instant.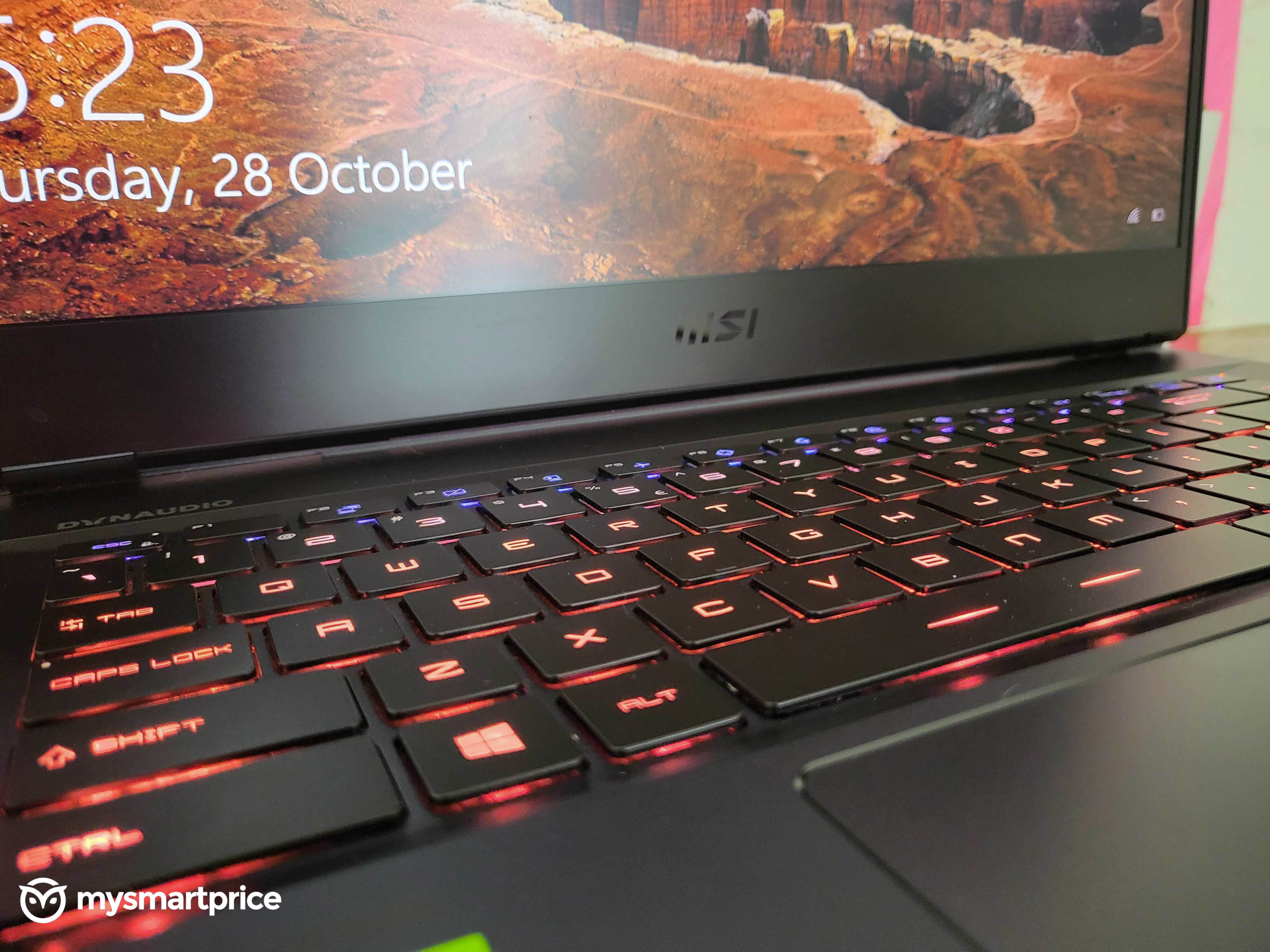 But the keys are really shallow and don't travel as much as I'd wanted. The faster actuation actually helps mitigate that, but what frustrated me was the density around the arrow keys. The Fn and Ctrl keys breathe down on the neck of the arrow keys. They're smaller than what my fingers remembered and took me a long time to get used to the layout. Considering how much space there is on either side of the keyboard, this congestion could have easily been avoided, and the GE66 Raider would have been the best keyboard on a laptop this year.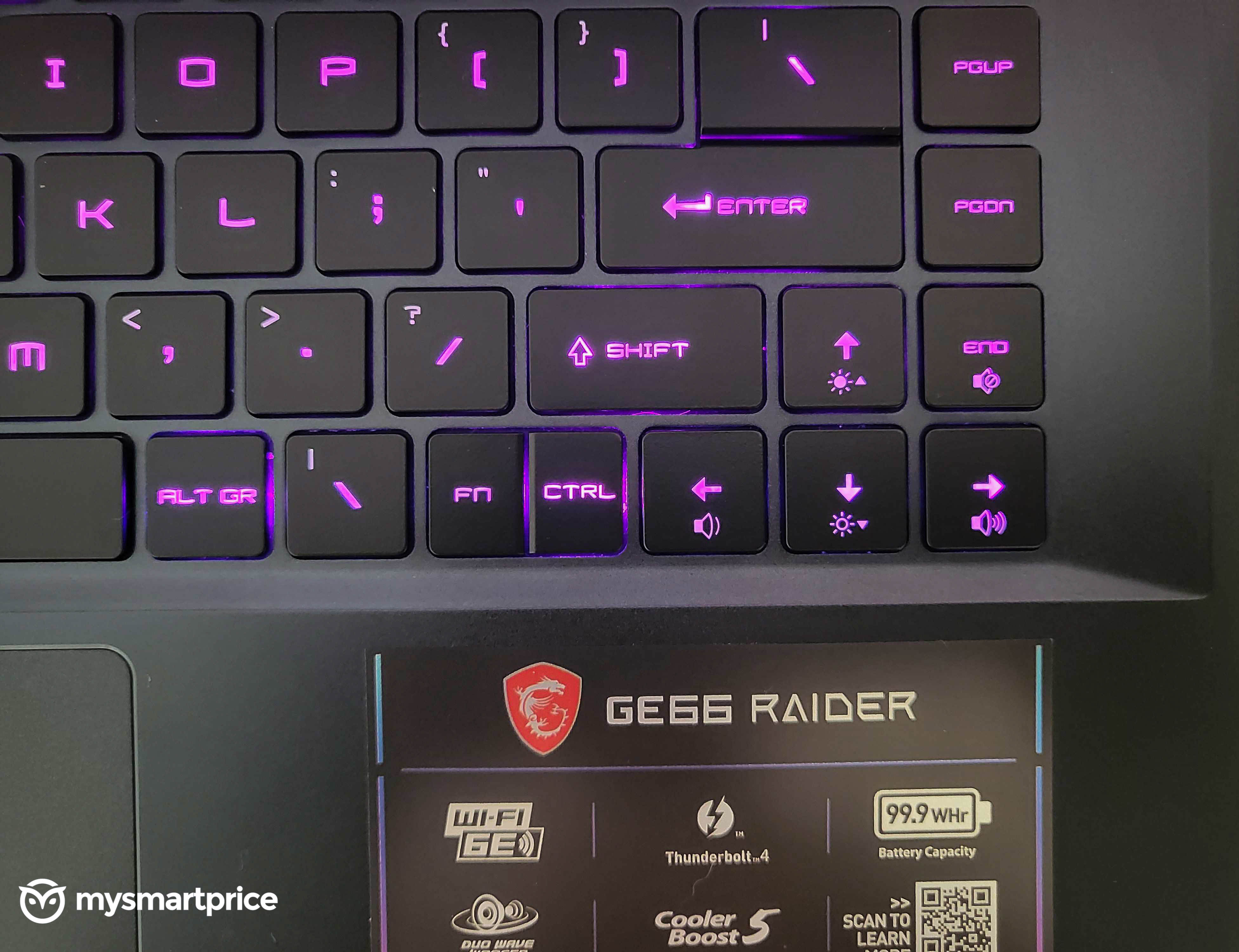 The trackpad is smaller than what you get on most 15-inch laptops. It's made of glass and is probably why it feels so stiff. I'm used to pressing down on the trackpad to click, but this is primarily meant for light taps to click. Either way, it's quite sensitive and doesn't come in the way of gaming or typing.
MSI GE66 Raider: Design and Build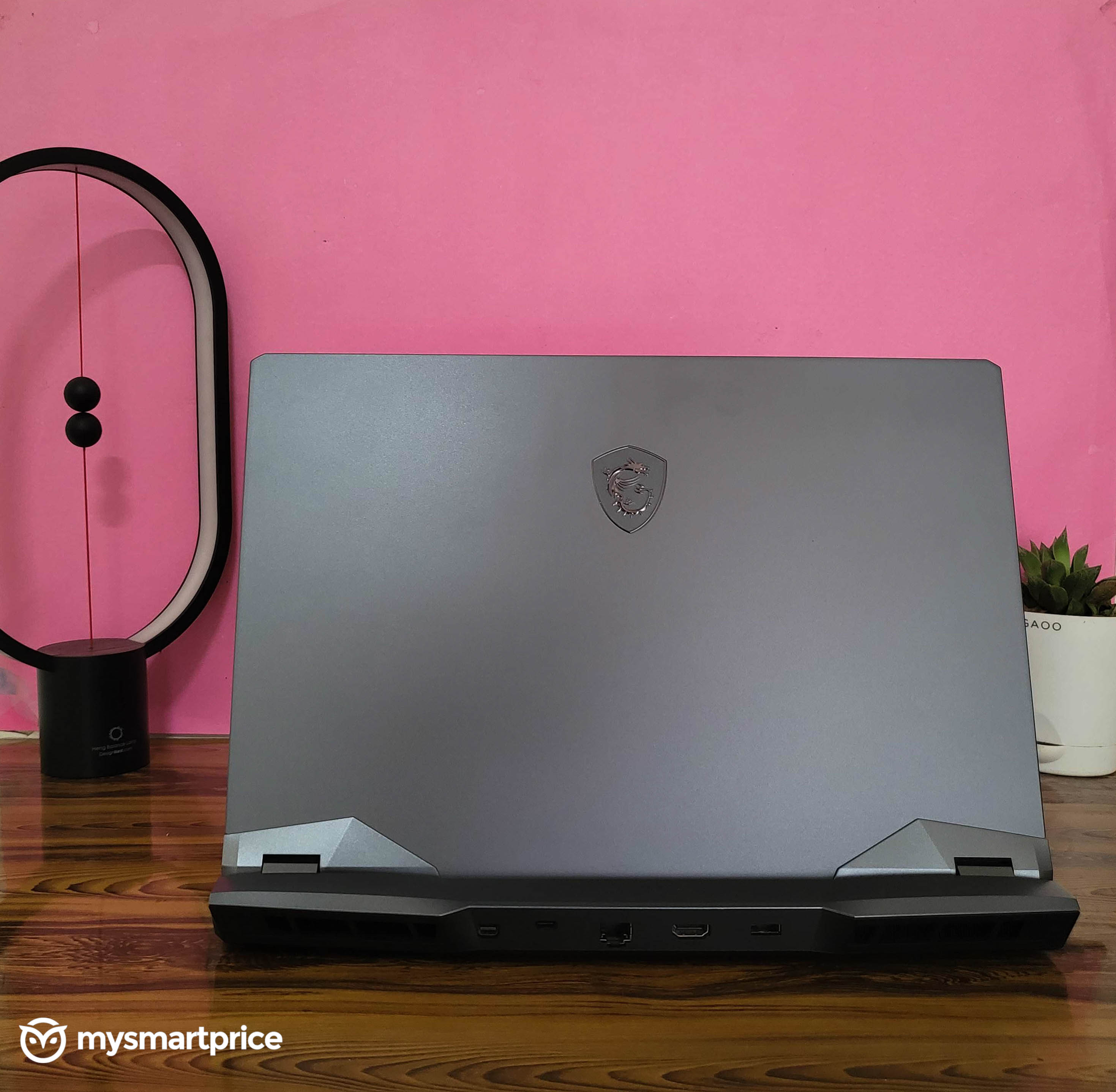 The MSI GE66 takes after last year's GE65 Raider and features a more subdued gamer aesthetic. It's a dual-tone design with a dark silver lid and a matte black chassis, and frankly, it looks a little out of place. I'd have preferred it in all black, or all silver. It's still easy to recognise this as a gaming laptop owing to the bulked-up corners and a pretty big light bar at the front edge. The RGB lightbar runs across the entire width of the chassis and can be configured with different light effects combining the whole spectrum of RGB colours.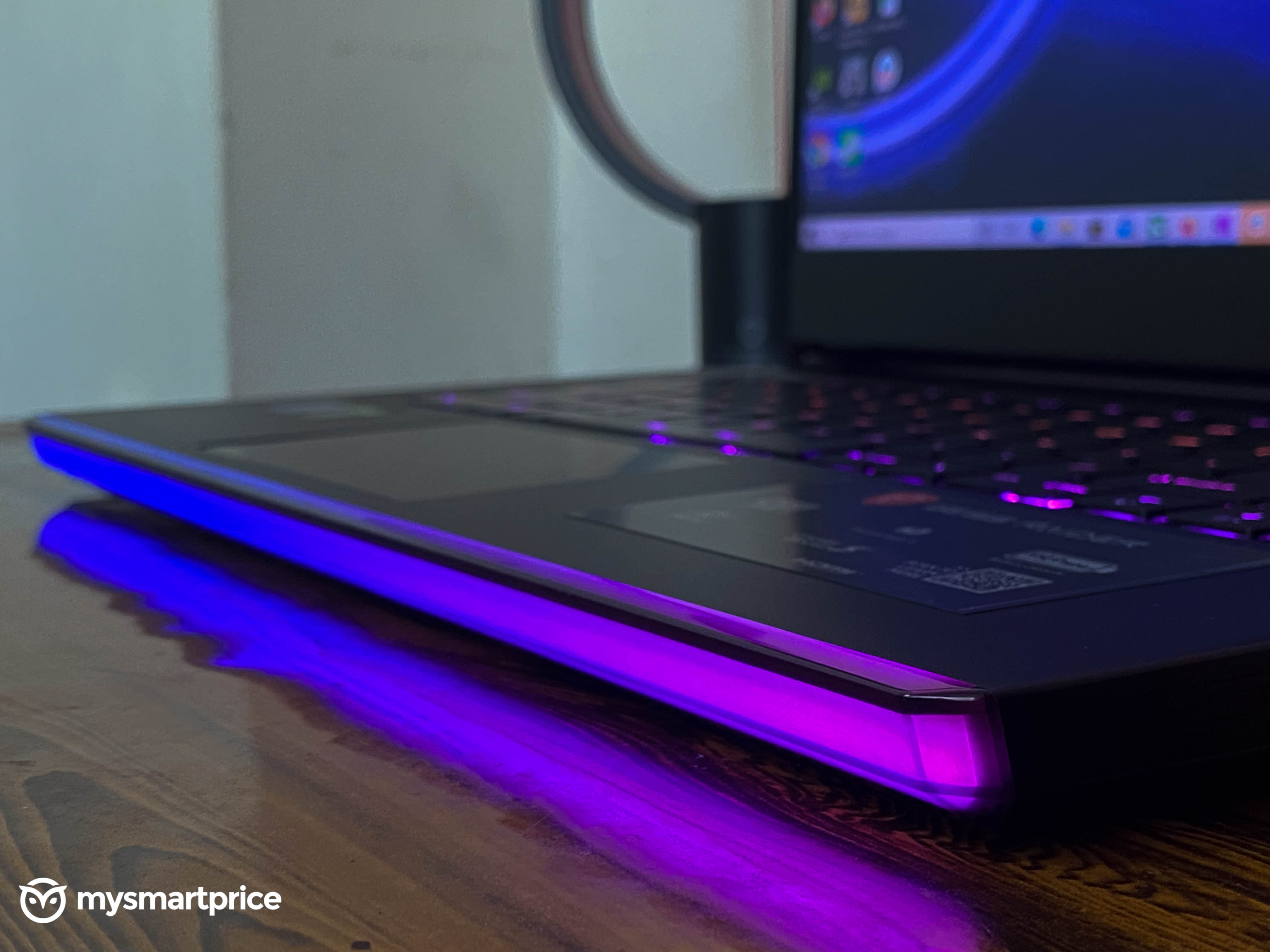 As far as ergonomics go, the GE66 Raider weighs 2.38Kgs, which is on par with other high-end gaming laptops. You can open the lid with one hand despite a tight hinge and there's very little flex on the lid.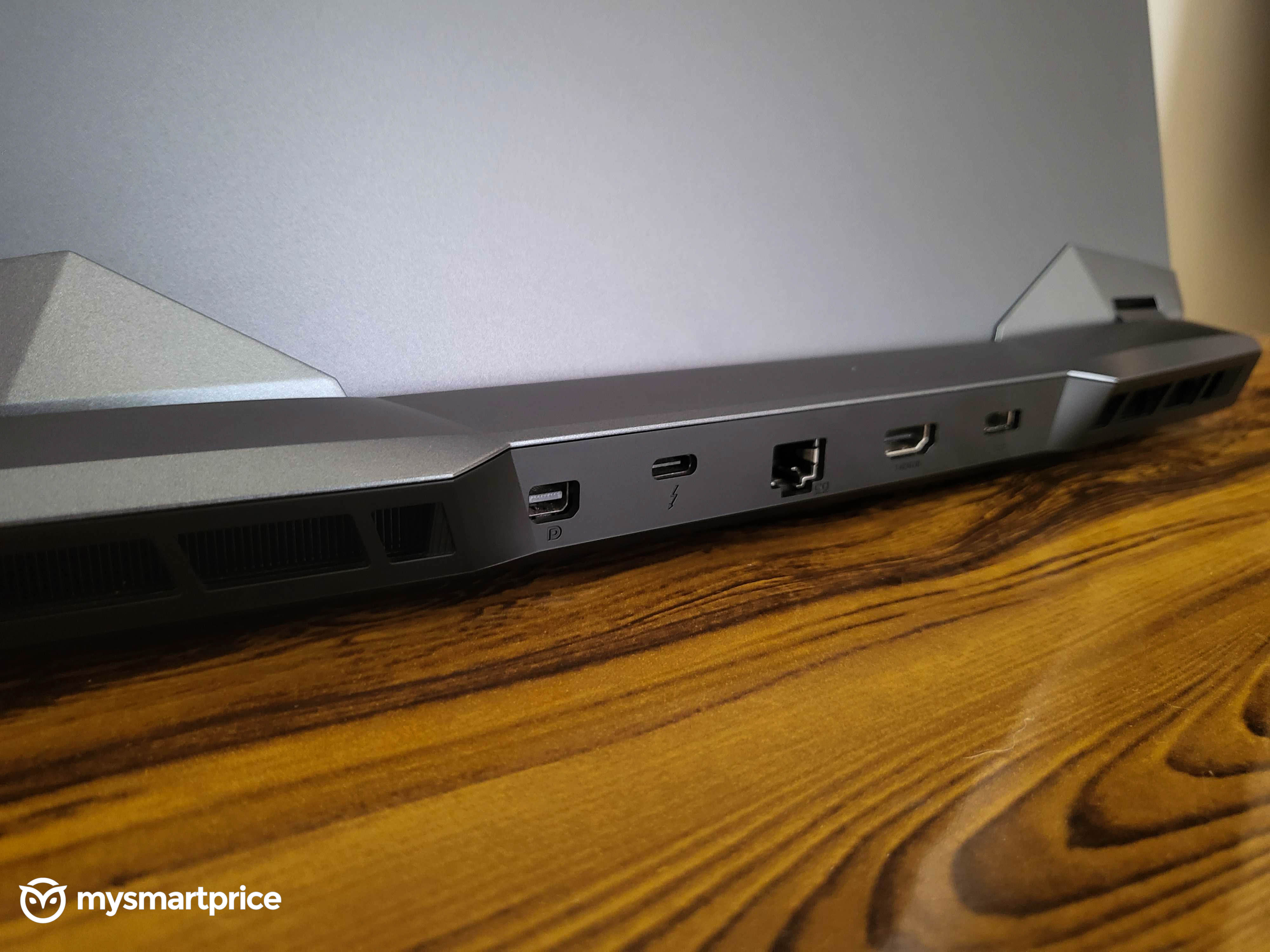 The laptop also offers one of the largest selections of I/O ports on a gaming machine. There are two USB-A ports on the left, and one on the right, along with another USB Type-C port and an SDXC card reader. The power cable, HDMI, ethernet, and Display Port are at the back, helping you keep clear of clutter. There are cooling vents on the sides and the back, and they work well to dissipate the heat generated inside.
MSI GE66 Raider: Battery Life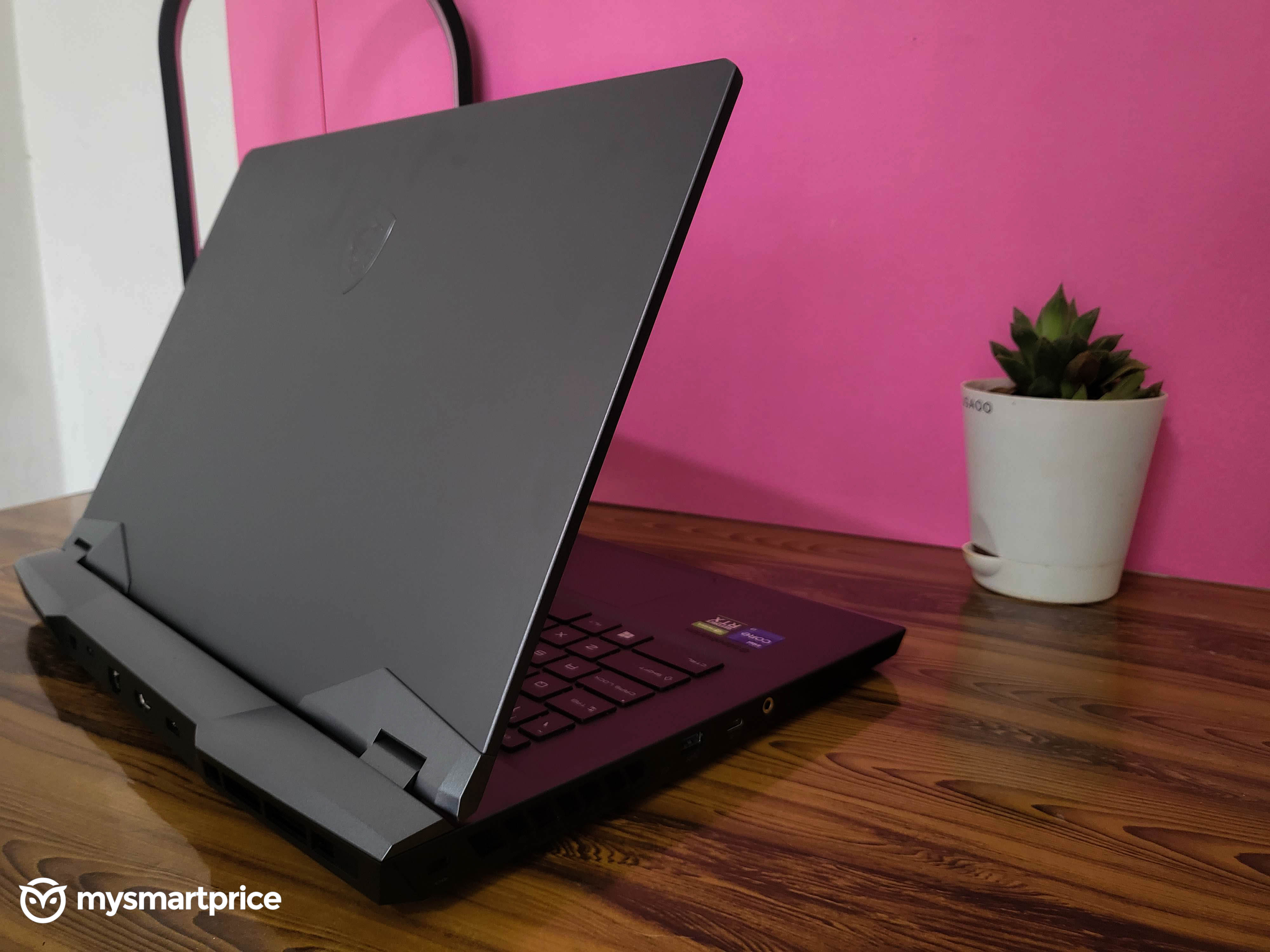 Gaming laptops and long battery life don't usually mix. The GE66 Raider is no exception, especially if you play a few rounds on battery. I wouldn't recommend doing that. Valorant on battery gave just 30 FPS. But for regular usage like surfing the web or watching videos, the laptop delivers a good 5 hours of battery life from the 99Whr battery inside.
However, these laptops are primarily meant to be docked in one place and kept on power to enjoy the highest frame rates in games. But you'll need to find a 16A socket to charge the laptop and that's going to be a big drawback, especially in traditional Indian households.
Should You Buy the MSI GE66 Raider?
Leaving aside the charging conundrum, the MSI GE66 Raider is actually a fantastic laptop for gaming. It's built from the ground up to deliver top-end gaming performance under Rs 2 lakhs. The Core i7 combined with the RTX 3070 is good enough to run the latest AAA titles at above 60FPS in 2K resolution. But more than the raw performance, it's the cooling system and the awesome keyboard and display that scored high on our tests. If you're on the lookout for a good 15-inch gaming laptop, this one's an easy recommendation.
MSI GE66 Raider
Rs 1,99,990
Keyboard and Trackpad
7.2/10
Gaming Performance
6.9/10
What Is Good?
Excecllent 2K gaming performance
No surface heating
Tactile keyboard
Large I/O port selection
What Is Bad?
Requires 15A socket for charging
Stiff trackpad
Cluttered Arrow keys cluster
Saturated display