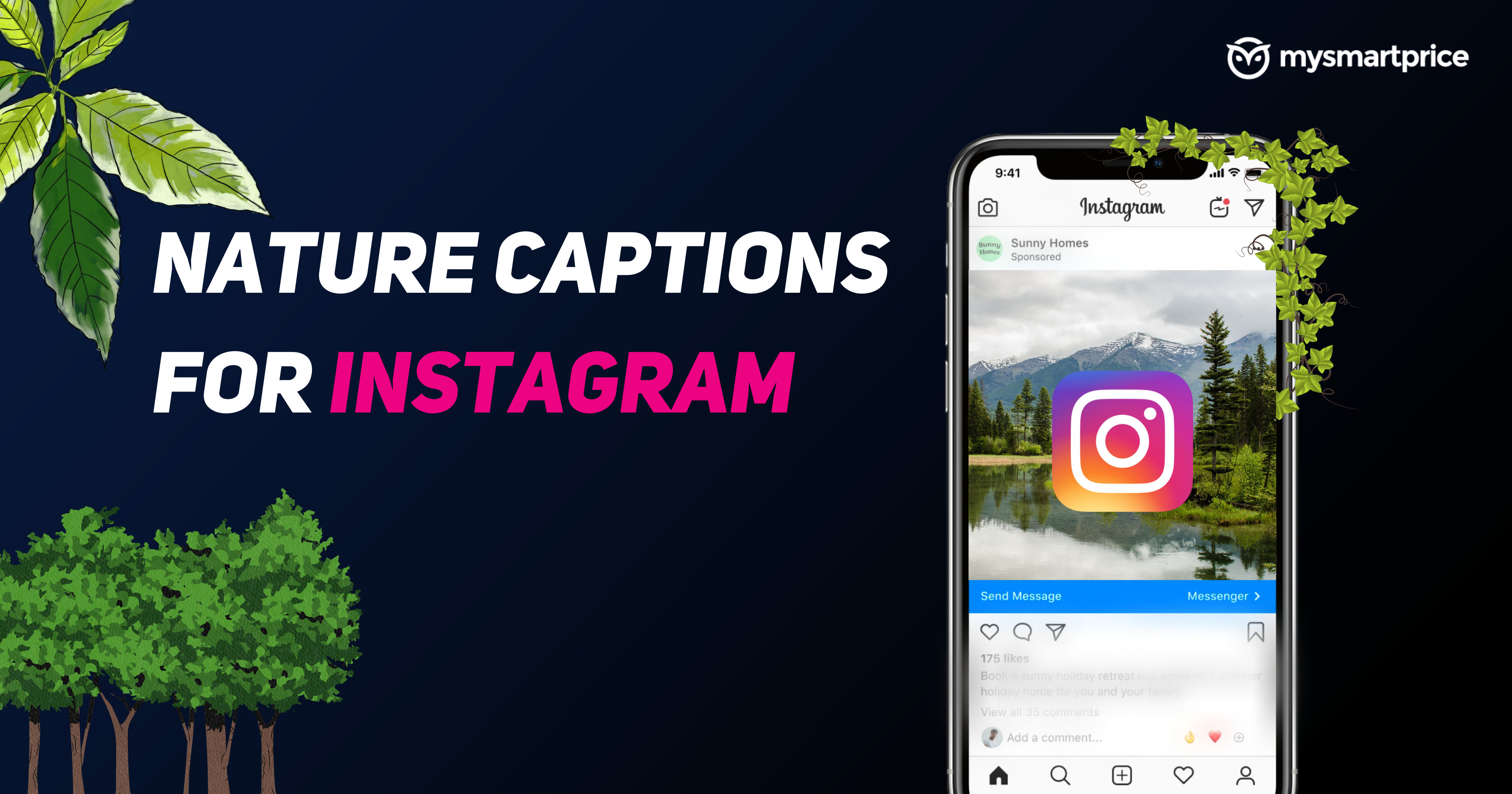 Concrete jungles and man-made structures are no match for the serene ambience of nature. To have an adventure, you must venture into nature. Instagram is the place to post the epic photos you took from your recent trip to nature, but every picture on Instagram needs a great caption to go with it. This page lists the around 300+ best nature captions for Instagram, including the best short ones, one-word nature captions, nature love quotes, and more.
Best Nature Captions For Instagram
Immersing yourself in nature is enough to make anybody believe in the divine.
Nature's the best teacher.
Stop. Look. Listen. Breathe.
Nature beckons, and I must listen.
Fashion is temporary, but nature never goes out of style.
The best view comes after the most challenging climb.
To be at one with nature is to be content with life.
Nature is the closest place to Heaven on Earth.
Listen and delight in the soulful sounds of nature.
They say all you need is love, but I need the lake.
Nature is not a place to visit. It is at home.
Adventure awaits at the end of your comfort zone.
All I need is a mountain breeze and tall trees.
Life is short. Go to the mountains and never look back.
Over the hills and through the woods.
Short Nature Captions For Instagram
Nature transcends all.
Call of the wild!
If you need me, I'll be outside.
Over the moon!
Wild thing.
Getting back to my roots.
Hike more. Worry less.
Find joy in the journey.
Beauty in abundance.
Coffee, Mountains, Adventure.
Made for the mountains.
Go wild, for a while.
Fresh air, don't care.
Young, wild and free
Child of nature.
Feeling good-natured.
One Word Nature Captions
Explore
Wild
Wildlife
Natural
Green
Outdoors
Roam
Wild
Lost
Silence
Paradise
Majestic
Wander
Serene
Splendid
Refreshed
Stunning
Wanderlust
Serendipity
Tranquility
Blissful
Nature Captions For Instagram For Girl
Felt cute, might sit in front of the ocean for a little while.
Trees will drop their leaves soon, and we'll all be left wondering. Where did summer go?!
If you think you've peaked, find a new mountain.
Autumn is a second spring when every leaf is a flower.
The mountains are calling, and I must go.
Planting myself here for a while.
Watch more Sunsets than Netflix.
There's a whole world out there, right outside your window. You'd be a fool to miss it.
Come forth into the light things; let nature be your teacher.
The bird is powered by its own life and by its motivation.
Don't be afraid of your fears. Be afraid of what your fear takes away from you.
Want to tell an interesting story? Spend time in nature.
In nature, nothing is perfect, and everything is perfect. Trees can be contorted and bent in weird ways and still be beautiful.
Explore your wanderlust, no matter where it takes you.
In nature, nothing is perfect, and everything is perfect. Trees can be contorted, and bent in weird ways, but they are still beautiful.
Also Read: Instagram Captions: 250+ Best, Cool & Short Captions For Your Instagram Post and Selfies
Nature Captions For Instagram For Boy
Be one with nature and get wild.
Taking pictures is savouring life intensely; every hundredth of a second.
The earth has music for those who listen.
Nature doesn't ask for your attention. It commands it.
Sunset is still my favourite colour, and rainbow is second.
Deep in their roots, all flowers keep the light.
The times I spend in nature are some of the moments I feel most alive.
Autumn is the second spring when every leaf is a flower.
Difficult roads often lead to beautiful destinations.
It isn't nurture or nature. It's nurtured by nature.
There's no time to be bored in a world as beautiful as this.
The best view comes after the hardest climb.
It always rains the hardest on people who deserve the sun.
Peace is seeing the sunrise or a sunset and knowing who to thank.
Nature does not hurry, yet everything is accomplished.
Captions For Nature Photos On Instagram
Nature doesn't care about perfection; Nature only cares about being Nature, which is why Nature is the perfect thing in this world.
Nature has the power to change everything. Nature is stronger than anything else in this entire world because Nature can give you hope when you feel like there's no hope left inside of your heart and soul.
Rainbows and sunsets are the most loved painting painted by Nature.
We feel connected to nature, yet we can hardly explain why nature impresses us or why we seek to spend time in nature. The truth is that we are part of nature as anything else. When we disconnect from nature, we forget who we are.
Nature is the light in my life that guides me through dark times, and for that, I will always be grateful.
To live a happy and healthy life, people need to feel at peace with their environment and to be able to enjoy the beauty around them. Nature gives us all the things we need to be happy, and we can become explorers who find meaning and beauty in nature's diversity.
Nature is the one thing that I can always count on to make me feel happy and at peace, no matter what's going on in my life.
I go to nature to be soothed and healed and to have my senses put in order.
Mother Nature doesn't set out to be beautiful. She just is.
Nature is a symbol of hope for me, and I know that if I ever lose hope, Nature will always be there to remind me that there is still light in this dark world.
Nature has its style for every season, which keeps reviving with time.
Everything in nature invites us constantly to be what we are.
Nature makes you realise what it means to live.
Spring is nature's way of saying, 'Let's party!'.
Never too busy for friends & nature.
When life gives you mountains, put on your boots and hike
Instagram Nature Love Quotes
Nature does not hurry, yet everything is accomplished.
Nature is not a place to visit. It is home.
The earth has music for those who listen.
Nature is an endless source of inspiration and wonder.
The beauty of nature knows no bounds.
Nature always wears the colours of the spirit.
Escape the chaos of the city and find peace in nature.
Take a break from the world's chaos and find solace in the beauty of nature. It's a love affair worth having.
Nature is my sanctuary.
While I climb the mountains, the wind dries my sweat for me.
Keep your love of nature, which is the true way to understand art more and more.
Love is the energy of life.
Nature is where I find my peace and happiness.
Nature is the ultimate healer. Take a deep breath and soak up the beauty around you.
There's no better way to connect with the world than by immersing yourself in nature.
Also Read: Attitude Captions for Instagram 2023: 200+ Best, Cool and Short Attitude Quotes and Captions Ideas For Boys and Girls
Best Forest Quotes For Instagram
The trees in a forest all grow differently, but they all share the same roots. That's what makes a forest strong and beautiful.
A forest is a place of wonder, a place of awe, a place of beauty. It is where we go to find inspiration and to find ourselves.
If life is a journey, the forest is my destination.
No two leaves are alike in a forest of a hundred thousand trees. And no two journeys along the same path are alike.
A forest is a quiet place if only the best birds sing.
The forest is calling, and I must go.
The beauty of the forest is unmatched by any other natural wonder.
The forest talks, but a good hunter only hears it by learning its language.
The sounds of the forest are music to my ears, and the smells are a symphony of nature.
The forest is my happy place, where I feel most alive and connected to the world.
And into the forest, I lose my mind and find my soul.
A nation that destroys its soils destroys itself. Forests are the lungs of our land, purifying the air and giving fresh strength to our people.
The forest is where I find my balance and clarity.
The forest is my escape from the chaos of the world.
Getting lost in the forest is the best way to find yourself.
Also Read: Instagram Brother Captions 2023: 200+ Best Funny, Love and Inspiring Brother Quotes/Captions for Instagram
Instagram Captions For Exploring Nature
At the end of the day, your feet should be dirty, your hair messy, and your eyes sparkling.
Never stop exploring.
Explore the world around you.
Escape the ordinary.
It's a big world out there. Explore.
Living to explore nature.
Explore the unseen.
Embrace your inner explorer and go on a journey through nature.
The world is yours; explore it!
I wish the world was twice as big and half of it was still unexplored.
The world is ours to explore.
Nature is my happy place, and I am never happier than exploring it.
You can always explore new in every walk with nature.
The world is beautiful, and there's no better way to discover it than through nature.
The best adventures are the ones that take you off the beaten path.
Instagram Captions For The Beauty Of Nature
Heaven on Earth.
My soul is at peace when I see trees and mountains like these on my way home after work or school.  I'm grateful that this world has beautiful places like this where we can go and be recharged by beauty every day!
Purple mountain majesty🏔
Take a break from your phone and enjoy the beauty of nature.
What a glorious greeting the sun gives the mountains.
Just look at the beauty around you.
Adopt the peace of nature; her secret is patience.
There are far better things ahead than the ones we leave behind.
If you truly love nature, you will find beauty everywhere.
Beauty in abundance
There is no exquisite beauty without some strangeness in the proportion.
The sky above, Earth below.
Taking a moment to appreciate the beauty of nature can soothe your soul and lift your spirit.
Give thanks for all the beauty that nature provides us every day. It's truly a gift!
Beauty is everywhere if we care enough to look for it.
Capturing natural beauty is one of my favourite things to do!
I'm so grateful for nature's beauty!
Nature's beauty is endless.
I'm always blown away by nature's beauty. Nature is my favourite art!
The world is so big and beautiful; it's impossible not to be in awe of it all!
Deep Nature Quotes For Instagram
Look deep into nature, and you will understand everything better.
The truth is: the natural world is changing. And we are dependent on that world. It provides our food, water, and air. It is the most precious thing we have, and we must defend it.
The silence of nature is very real. It surrounds you. You can feel it.
I love places that make you realise how tiny you and your problems are.
Live in each season as it passes; breathes the air, drinks the drink, tastes the fruit, and resign yourself to the influence of the earth.
How can you travel to the ends of the world and not enjoy the views?
Memories made in the mountains stay in our hearts forever.
Everything in nature invites us constantly to be what we are.
If the sight of the blue skies fills you with joy, rejoice, for your soul is alive.
Don't forget; you're always just one nature walk away from a better mood.
I love to think of nature as an unlimited broadcasting station through which god speaks to us every hour if we only tune in.
In the still silence of nature, one will find true bliss.
If nature has taught us anything, the impossible is probable.
Without mountains, we might find ourselves relieved that we can avoid the pain of the ascent, but we will forever miss the thrill of the summit. And in such a scandalous trade-off, the absence of pain becomes the thief of life.
Life is either a daring adventure or nothing at all.
Funny Captions For Nature Photos
The world is mud-luscious and puddle-wonderful.
Trails before ales, pines before wines.
If you believe ninjas hang out in the trees, you've probably never seen a raccoon.
The only thing I know about nature is that it's wild.
We all need a squirrel friend in our life.
No filter is needed.
The only thing better than a sunset hike is the conversation with your hiking buddy on the way back down.
A bird does not sing because it has an answer, and it sings because it has a song.
Hiking hair, I don't care.
I pine for you.
Who needs paradise when you live on earth?
Seek to sea more.
Get outside. Take every chance you get to hop in a car, bus, boat, or whatever it takes to be someplace new.
Let your roots go deep into the earth. Let your branches reach for the sky.
Take a peak around.
I'm not an intelligent man, but I know what love is.
Inspirational Nature Quotes
Adopt the pace of Nature; her secret is patience.
I believe the world is incomprehensibly beautiful — an endless prospect of magic and wonder.
If winter comes, can spring be far behind?
Aim for the moon; if you miss, you may hit a star.
In all things of nature, there is something marvellous.
Another day, another grand adventure.
Wilderness is not a luxury but a necessity of the human spirit.
As free as the ocean.
Heaven is under our feet as well as over our heads.
Everything in nature is lyrical in its ideal essence, tragic in its fate, and comic in its existence.
Look at a tree, a flower, a plant. Let your awareness rest upon it. How still they are, how deeply rooted in being.
He is the richest who is content with the least, for content is the wealth of nature.
The goal of life is to make your heartbeat match the beat of the universe, to match your nature with Nature.
Study nature, love nature, and stay close to nature. It will never fail you.
Men argue. Nature acts.
The sun does not shine for a few trees and flowers but for the wide world's joy.
Adopt the pace of nature. Her secret is patience.