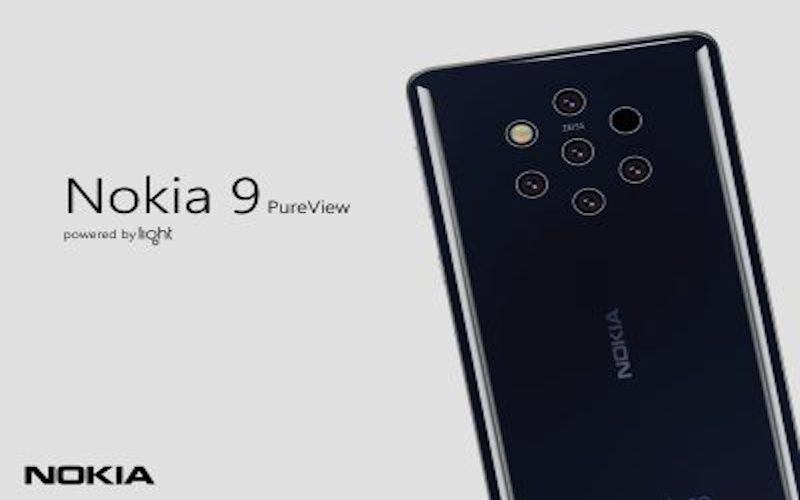 The Nokia 9 PureView is a very refreshing smartphone from HMD Global. This device was rumored to be released in 2018, but we are not sure if that will happen given the circumstances that there haven't been a lot of rumors or reports about this phone. We have seen a few leaks that showed the 5-camera setup at the back, but apart from that, there hasn't been any other major leak.
This is Nokia's first PureView smartphone in the last 5 years. The last Nokia smartphone with a great camera was the Lumia 1020, which was based on Windows Phone OS. We have come a long way from those days, with Nokia focusing more on the mid-range market now.
Nokia 9 PureView with Android 9 Pie Spotted
Early last month, the official Nokia Malaysia Facebook page had teased the Nokia 9 PureView. The teaser showed the back of the phone with a penta-camera setup. It also revealed that the cameras would use technology by Light. Now, a new leak has surfaced online, which reveals a Nokia 9 device running Android 9.0 Pie.
The phone was spotted on the FIH update server and digging into the metadata revealed a few more details about the Nokia 9 PureView. As per the data, the device is internally called 'Olympic'. This could point at the 5 camera setup at the back, as the Olympic symbol has five rings as well.
The FIH update server data also showed that the phone is running on a test version of Android 9.0 Pie. The build number is 00CN_4_030 and it comes with the latest November Android security patch. That's everything the data revealed. This means that the Nokia 9 PureView will also run on stock Android, which is great, albeit unsurprising. Nokia has been sticking to stock Android with most of its latest smartphone releases. Some of these phones are also part of the Android One program and hence, receive lightning quick updates.
#Nokia9 will take phenomenal photos. #NewEraofPureview

— Nokia anew (@nokiamobileru) October 30, 2018
Nokia 9 PureView: Official Tweet Hints at more PureView Mobiles
According to a tweet by Nokia anew, the company has hinted that new Nokia 9 could start a new era of PureView phones. While this cannot be taken as an official statement as such, Nokia nevertheless has created a hashtag to that effect. The PureView brand is a proven indicator of quality smartphone cameras and Nokia, as such, can benefit from the halo effect such technologies have on the entire brand.
Whether the New Era of PureView is just a marketing gimmick, or a genuine declaration of an upcoming line-up of phones with more top-of-the-line PureView camera hardware is something only time will tell. Meanwhile, you can keep checking back for our continued coverage of PureView phones.
Currently, Nokia phones from HMD Global don't really have great cameras. This is partly because most Nokia phones have been outfitted with strictly average camera hardware, even after considering the fact that the lenses are supplied by Carl Zeiss. All that could change with the Nokia 9 PureView, as this phone is said to revolutionize the smartphone camera.
Nokia 9 PureView: Looking back at the Legacy of PureView
The last PureView smartphone, the Nokia 808, sported a camera that was exceptionally good for its time. We can, therefore, expect similar but better camera performance from the Nokia 9. The penta-camera setup is said to feature different sensors that can perform many functions. Some reports have stated that the primary camera sensor could boast of resolution in excess of 50-megapixel.
The phone will use a technology similar to the one used by Light (a smartphone and digital imaging company funded by Leica and Softbank), which combines images captured by all the sensors, to provide one higher resolution photo. Light is known for its L16 camera, which has 16 sensors and uses software to produce a 52MP photo that captures all the details possible. We could see a similar approach with the Nokia 9 PureView.
Apart from turning out to be the camera champion, we expect the Nokia 9 to come with the latest hardware. The phone will most likely use the Snapdragon 845 chipset, which could be coupled with up to 8GB of RAM and 128GB of internal storage. According to another recent leak, Nokia could also include Wireless charging on the smartphone. It is also expected to feature an in-display fingerprint sensor, as the leaked images did not show a scanner at the back.
Once again, we do not know when Nokia/HMD Global plans on releasing this phone. Keep checking this space for more information on this phone.