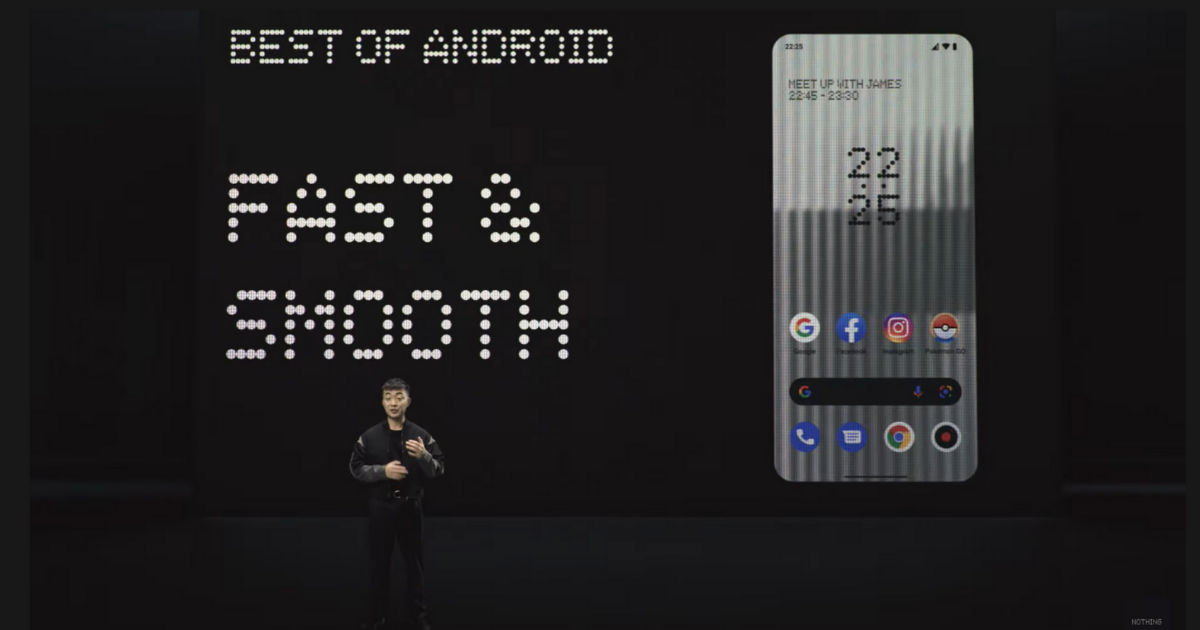 The Nothing Phone (1) was unveiled last night at a virtual event by the company co-founder Carl Pei. The Phone (1) is the company's first smartphone and it is one of the much-hyped as well as anticipated smartphones of the year. The phone starts at Rs 32,999 in India and goes all the way up to Rs 38,999 and the open sale for the device is scheduled to take place on July 21st via Flipkart.
There are a few key highlights and stand-out features of the phone 一 one is of course the Phone (1)'s design and the second one is the Nothing OS, which is the company's proprietary UI for the Phone (1). Back in April, the company released the Nothing Launcher Beta which received a mixed reaction from the Android crowd. The launcher gave us an early look at the software skin. But, now that the Nothing Phone (1) has been launched with Nothing OS, we know a lot more about the software, and it is time to check out the top features of the OS.
What is Nothing OS?
Nothing OS is Nothing's user interface for Nothing Phone (1), which is based on Android 12. This is similar to what other companies like OnePlus, Xiaomi, and Realme offer on their phones like OxygenOS, MIUI, and Realme UI respectively. Nothing OS is the company's custom skin based on Android.
Nothing OS is built to offer a top-tier Android experience without much bloatware (pre-installed apps). The company says it focuses more on performance and smoothness. The phone offers close to Google's stock Android experience. The OS comes with a unique set of animations, icons, wallpaper, widgets, fonts and more.
How is it Different From Other OS Available?
As said, Nothing OS is a UI skin which is based on the Android operating system. One of the key highlights here is the near-stock Android look including the notification panel and the number of pre-installed apps. In addition to these, Nothing OS comes with multiple hardware and software-related features that users can play with including the special Glyph interface (LED lights), widgets, fonts, audio, and wallpapers.
Moreover, you can regulate third-party items from Quick Settings, keeping you protected from any possible dangers.
Also Read: Nothing Phone (1) vs OnePlus Nord 2T vs iQOO Neo 6: Price in India, Specifications and Features Compared
Top Features of Nothing OS
Now that you have learnt about Nothing OS, let's take a look at some of the key features of the software in detail.
Stock Android
There are multiple smartphone brands around the globe and one of the best ways that these brands can differentiate themselves is through the software experience. Most brands add a whole host of software features and customization options to start with and over the past few years we have seen the list of features grow in the process, brands also add a bunch of unwanted apps and a few apps which can't be uninstalled.
Nothing OS takes a different route here. The Phone (1) comes with a near-stock Android experience. Most importantly, the OS does not pack in any third-party apps or service apiary from Google and first-part apps. In this aspect, we can say Nothing OS is similar to Moto, OnePlus, and Asus.
Glyph interface
Glyph interface is the core of Phone (1)'s design and this is what makes the phone stand out from the crowd. On the back of the phone, there is a series of LEDs that are synced to flash in unique patterns to every custom sound. The whole thing can be customized in the settings. Once set, you will know who's calling, notifications, charging status and more 一 all these without even touching your phone.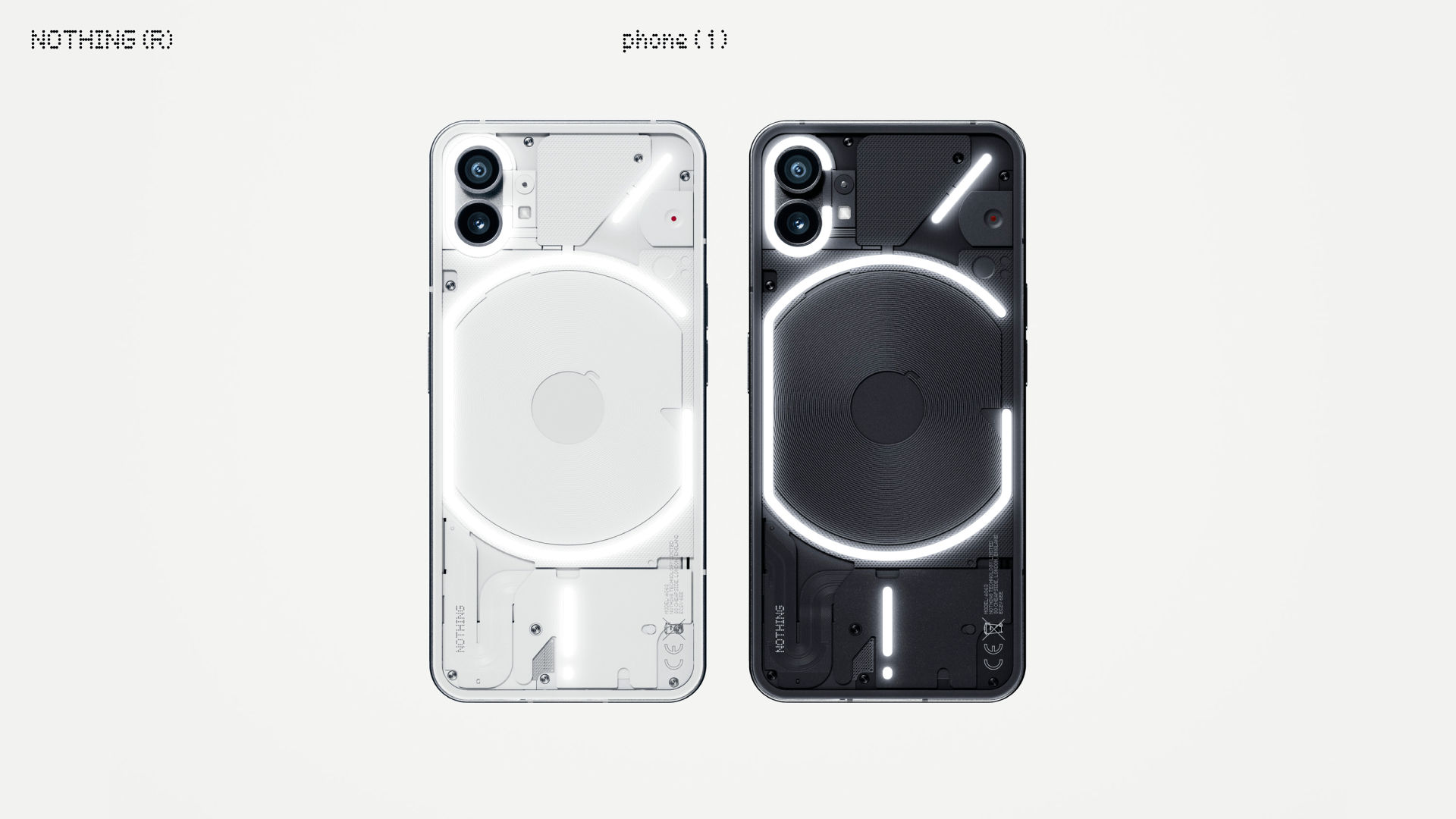 The Glyph interface settings allow you to set individual contacts to ringtones, each with a unique Glyph pattern. The phone comes with 10 pre-installed ringtones as well as 10 notification alerts. In addition, you can also add a custom sound or ringtone. There is also an option where users can enable flip trigger silent mode with lights-only notifications. The company says more features and customizations will be added later. As of now, the Glyph interface is locked to first-party apps and services only and hopefully, with future updates, Nothing will enable them to more apps offering more customization options.
Nothing Launcher
The main area where a user would interact with a phone is the launcher. The Nothing OS launcher is quite simple and yet offers a good set of customization options. For starters, you get support for icon packs, which allows you to install any third-party icon packs right from the launcher settings. You get a bunch of wallpapers, which match the Phone (1)'s design philosophy. The company is using its signature dot matrix font.
Further, you get the Google News feed on the left-most screen. However, it looks like there is no way to add a lock screen shortcut on the phone yet. You can turn on multiple gestures and customize them including double-tapping to turn on the camera. You can add home screen widgets by long pressing on the home screen and then scrolling through the list of apps and widgets. If the apps are updated to Android 12, you can also get some cool Material You-designed widgets like Google Photos and Maps apps.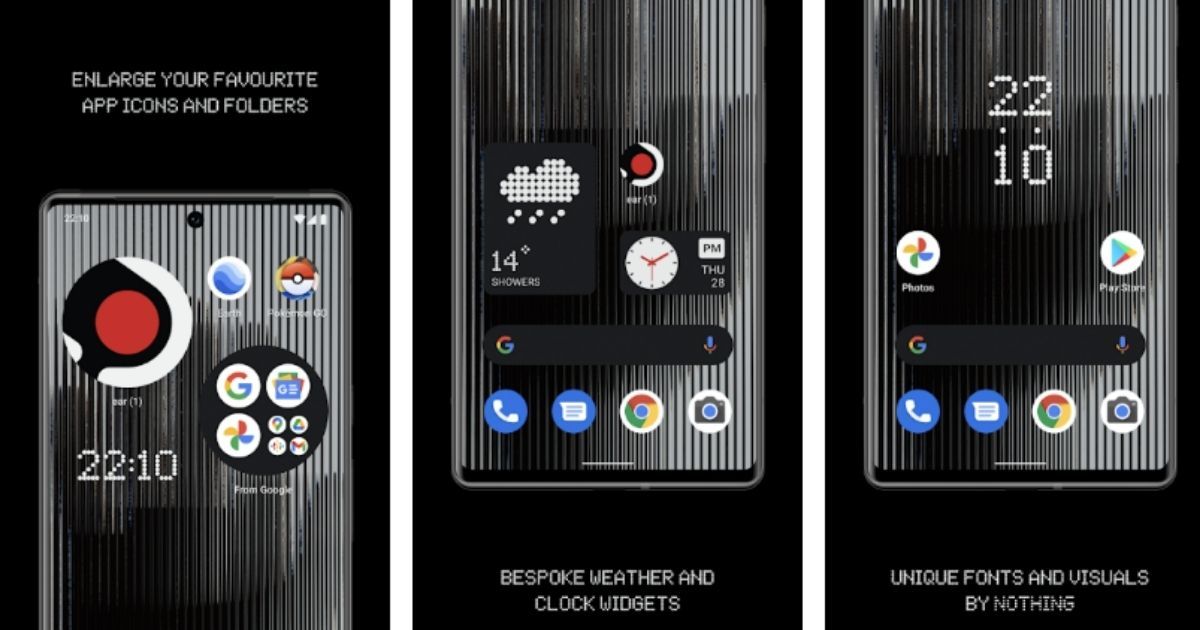 There are also Max Icons and Max Folders, which are new experience apps on Android. You can hold and press an individual app or a folder to enlarge. This allows you to arrange the things you use the most and are more visible on the home screen. Once you've enlarged the folder, you can tap on the app directly to open the app, which saves you an additional tap.
As for the first-party widgets, you get Bespoke Clock and Weather widgets. These widgets use the same dot matrix font as Nothing's logo.
3-year update and 4 security Updates
One thing where Android phones have improved is in terms of Android updates and the number of Android updates. Over the past few months, we have seen many companies promise up to four years of Android updates on some flagship phones and two or three years on mid-range phones. As for the launch, Nothing has promised to offer three years of Android updates and four years of security updates for the Phone (1). The security patch will be sent out every two months. Considering the current situation and given this is a mid-range phone, what the company has promised is good. However, let's hope that the company can keep its promise.
Nothing OS: Everything else
Apart from the aforementioned major features, there are some small enhancements and options available on the Nothing Phone (1) running on Nothing OS.
Material You-based interface and notification pane

Native NFT Gallery widget with price tracking

Support for Dark mode

Face unlock support
Gestures and Motions
Notification drawer customization
Dot-matrix typeface in menu headers and widgets
Option to show six quick toggles in the notification shade
Tesla card control quick toggle
More third-party apps integration coming soon
As you can see from the above feature list, the Nothing OS is one of the purest forms of Android you can experience right now with minimal bloat and a handful set of customization options. Having said that, the company is expected to add more features and functions going ahead.