Highlights
NU debuts in India.
It launched Smart TVs, ACs, and washing machines.
All products will be manufactured in India.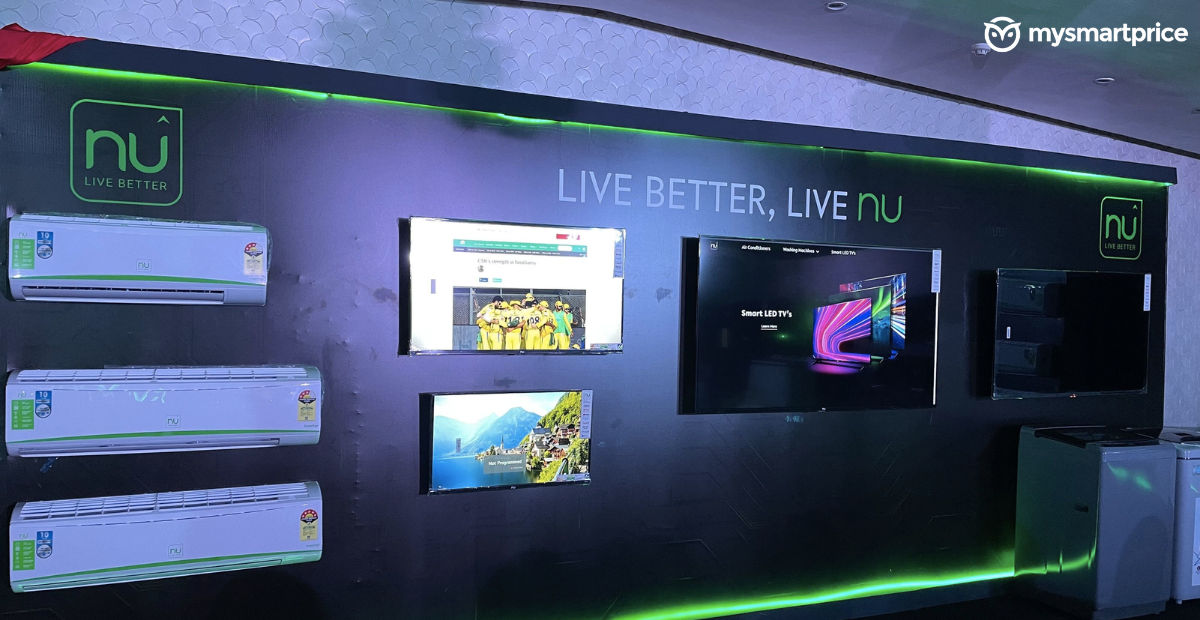 NU is the newest brand to enter the home appliances market in India. The brand comes from the house of Arzoo. It debuted in the country with the launch of three new electronics products in India – Smart TVs, air conditioners and washing machines.
NU's CEO, Khushnud Khan told in an event that these products are being manufactured in India from third party OEMs such as Dixon and Amber. The latter makes 65% of ACs for Voltas. He announced that Nu has partnered with GoCare for the after sales services. Let's check out the products that Nu launched in India today.
NU Smart TVs
Price in India
Nu has launched a variety of smart TVs in India. These TVs come in four different sizes – 32, 43, 55 and 65-inches. The 32-inch TV costs Rs 11,990 while the 43-inch variant is priced at Rs 19,990. The top of the line products such as 55-inch and 65-inch TVs are priced at Rs 31,990 and Rs 51,990 respectively. The products will be available via Amazon, Flipkart and offline retailers.
Specifications and Features
All the four Nu Smart TV models have the same features except the size and resolution. The 32-inch TV has an HD resolution of 1366 x 768 pixels whereas the 43-inch version is available in both FHD and 4K resolution. Last, both 55-inch and 65-inch TVs support 4K resolution of 3840 x 2160 pixels. All models support HDR10 content.
All four models are powered by an ARM quad core processor and run on WebOS for TV. They have two speakers at the bottom of 10W each along with Dolby audio support.
For connectivity, all of them have 3 HDMI and 2 USB ports along with Dual-band Wi-Fi, Bluetooth and Apple Airplay support.
NU Air Conditioners
Price in India
The NU's Air Conditioners come in three variants – 1-ton 3-star variant priced at Rs 27,990, the 1.5-ton 3-star variant priced at Rs 30,990 and the 1.5-ton 5-star variant priced at Rs 34,990. The new range of ACs from NU will be available via Amazon, Flipkart and offline retailers.
Specifications
NU has launched its 4-in-1 convertible inverter split ACs in India. These ACs feature ambient cooling, instant turbo cool blue fin technology and R32 eco-friendly refrigerant. It can cool the room even when the temperature is 55 degrees. It can operate in a silent mode with as low noise as 40 decibels. NU is offering a 1-year comprehensive and 10-years compressor warranty.
Also Read: AC Buying Guide: Types of ACs, Capacities, Features, Maintenance and More
Beside these products, NU has also launched a range of washing machines in two categories. The fully automatic top load washing machine is priced between Rs 12,999 to Rs 16,999 respectively. On the other hand, the semi-automatic top load washing machines are priced between Rs 8,499 to Rs 10,999 respectively.