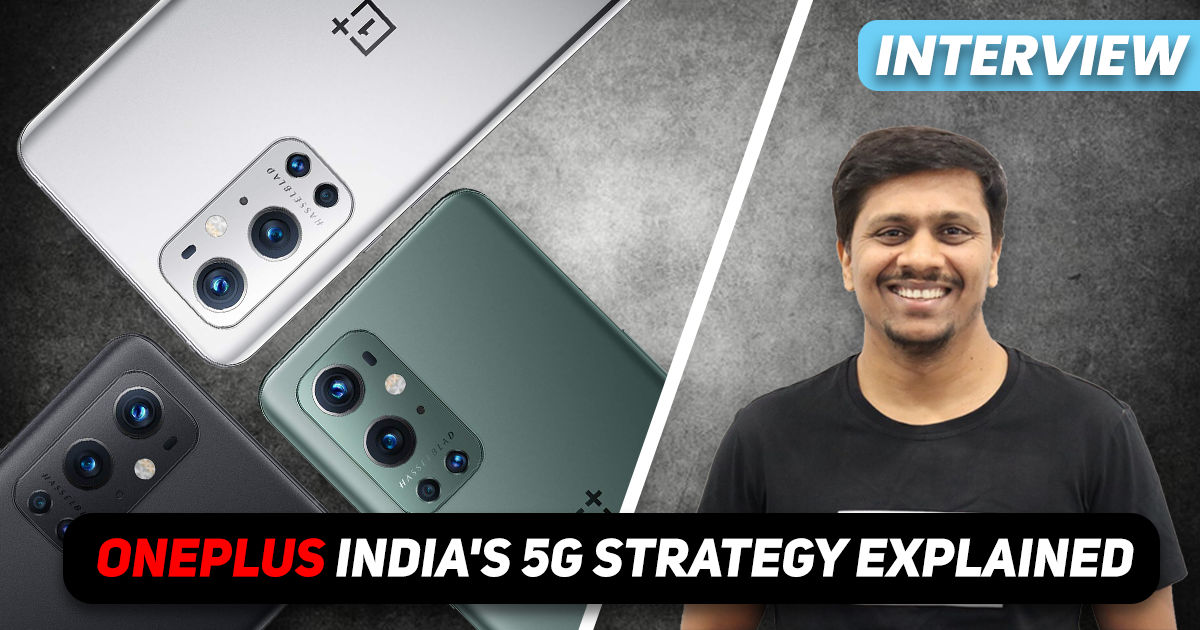 Even without active 5G networks, there's raging debate on how smartphone companies are only going to employ a handful of 5G bands in the country, and leave global support of all bands out of the window. OEMs prefer to include only the mid-bands like n41, n77 and n78 in the India variants. We recently published an in-depth report on how it's impossible to add network bands via software updates to a device after it has been shipped, because each band requires dedicated hardware inside. 
But is there a reason for brands to stick to these 5G bands in India? Do they know what bands India will use to deploy 5G? Long story short, there is a general consensus among the telecom providers, OEMs and the government that the first phase of 5G will be deloyed using mid-range bands
(n41,
n77, n78) that includes the ones already preset in 5G smartphones being sold today in India. 
Mysmartprice held an email interaction with Ramagopala Reddy, Vice President, R&D, OnePlus India to understand how OnePlus, which was one of the first brands to bring 5G smartphones early in 2020, is approaching the India market as far as 5G support is concerned. We have reproduced the interview in full below, with slight edits for clarity. 
OnePlus justifies adding 5G support to its smartphones stating the improved longevity. At the same time, the phones don't come with support for all the bands. If India chooses to operate outside the two 5G bands supported bands on the OnePlus phones, can they be updated with a future OTA update to include more bands? 
OnePlus' choice of 5G bands for its devices has materialized from having worked closely with local carriers as well as forecasting short-term 5G needs based on current developments. 
In India, the two bands will be most suited to handle 5G connectivity once it is rolled out by any telecom company. While future OTA updates cannot include newer bands, the mid-range offered by the N78 and N41 bands will be a widely adopted frequency in India and globally, offering the right balance of speed, and  coverage.
If they can't be updated later, what was the rationale behind including only two 5G bands in the OnePlus 9 series? How did OnePlus zero down on the N41 and N78 bands for India? What is the advantage of having the N41 and N78 bands?
In terms of popularity, the n78 will be one of the most commonly adopted bands and OnePlus users will enjoy uninterrupted 5G access across the world. OnePlus' choice of bands has been a result of working in tandem with local carriers. In India, seeing as 5G is not yet ready and we don't have guidelines from carriers on products, OnePlus has more flexibility on the choice of 5G bands.
Moreover, research  shows that the majority of commercial 5G networks will rely on the mid-band – 3.3-3.8GHz range, which typically tends to offer a balance of coverage and speed. On the other hand, we see that most lower cellular spectrum bands are already widely in use by 3G and 4G networks. As the most commonly available and adopted band that utilizes pre-existing 4G infrastructure, most commercial networks are majorly relying on this range to implement 5G.
With the first wave of 5G expected to be rolled out this year, OnePlus has chosen to have the N41 and N78 bands in place, with all our devices, starting from the OnePlus 8 Series onwards. Our goal was to offer a solid level of 5G coverage based on current developments to ultimately provide consumers a seamless transition to 5G.
Is there licensing fees involved in adding 5G bands on smartphones? If yes, who is the licensing fees paid to?
No, there are no licensing fees required to add 5G bands. 
Is additional R&D and testing required for each individual 5G band added to a smartphone? If yes, how is OnePlus testing these bands in India?
At OnePlus, 5G is a top priority in our product strategy. We identified the need for it early on and have continued to remain a 5G-first brand, especially from an R&D perspective. We have invested $30 million to scale up 5G research and remain committed to this effort. In India specifically, 5G applications have already started rolling out and we are actively engaged with various stakeholders to take 5G to the next level. 
Working closely with world class network operators across Europe, Middle East and Southeast Asia for enabling 5G network capabilities, the India R&D team is also trying to
carry out detailed studies and field testing to ensure seamless performance.
As a premium smartphone brand with a global footprint, we understand the needs and wants of our customers. Having been one of the fastest in the industry to bring 5G devices to our users, we continue to work towards anticipating consumer needs so as to provide them with cutting-edge technology and innovation.
Is it safe to assume that a wide range of 5G bands was not included in the Indian variants as a cost saving measure? 
Extensive research has shown us that with a range greater than the high band and speed faster than low band, the mid-band is the most user-friendly with the best combination of speed and coverage, which is why it has been deployed most commonly across countries. We have seen that most commercial networks are majorly relying on the 3.3-3.8 GHz range, with most devices that are 5G ready, being designed for the same.
One of the key focuses of the India R&D centre is on 5G developments and performance testing efforts. Our choice of bands has therefore been based on test results and the demand of local carriers. With 5G yet to be rolled out and guidelines yet to be set by carriers on products, OnePlus has more flexibility on the choice of 5G bands so as to be prepared for offering users the 5G experience from the day it launches in the country.
On the whole, Indian users can still have 5G experience in most countries. With different regions, the demand of carriers varies accordingly and OnePlus continues to work closely with local carriers through several stages of development to ensure a seamless 5G experience for its users worldwide.
Considering OnePlus phones come with support for only two 5G bands, does the company not believe in DSS-based 5G solutioning in India? 
While DSS can certainly hasten the move to 5G by allowing sharing of frequency spectrums, it has not been mandated as an essential technology in the progression to 5G. 
With most 5G devices already being designed relying on 3.2GHz and 3.6GHz spectrums, both of which have coverage and capacity for suitable 5G connectivity, our devices are very much 5G ready and equipped for its rollout. 
As India's 5G journey progresses, we will keep working closely with Indian carriers to monitor regional developments and continue improving our product and offerings so that OnePlus users can enjoy a fast and smooth 5G experience.
Will the upcoming OnePlus Nord CE 5G also support the same two 5G bands in India
While we can neither confirm nor deny the same currently, the OnePlus Nord CE 5G will have all core aspects of the Nord experience, for the community to enjoy a best-in-class experience.