Highlights
The POCO F5 is the first smartphone in India to feature a Qualcomm Snapdragon 7+ Gen 2 SoC
It features a 12-bit AMOLED display at the front along with a 3.5mm jack
The POCO F5 is priced at Rs 29,999 and secured an overall score of 8.3/10 in our review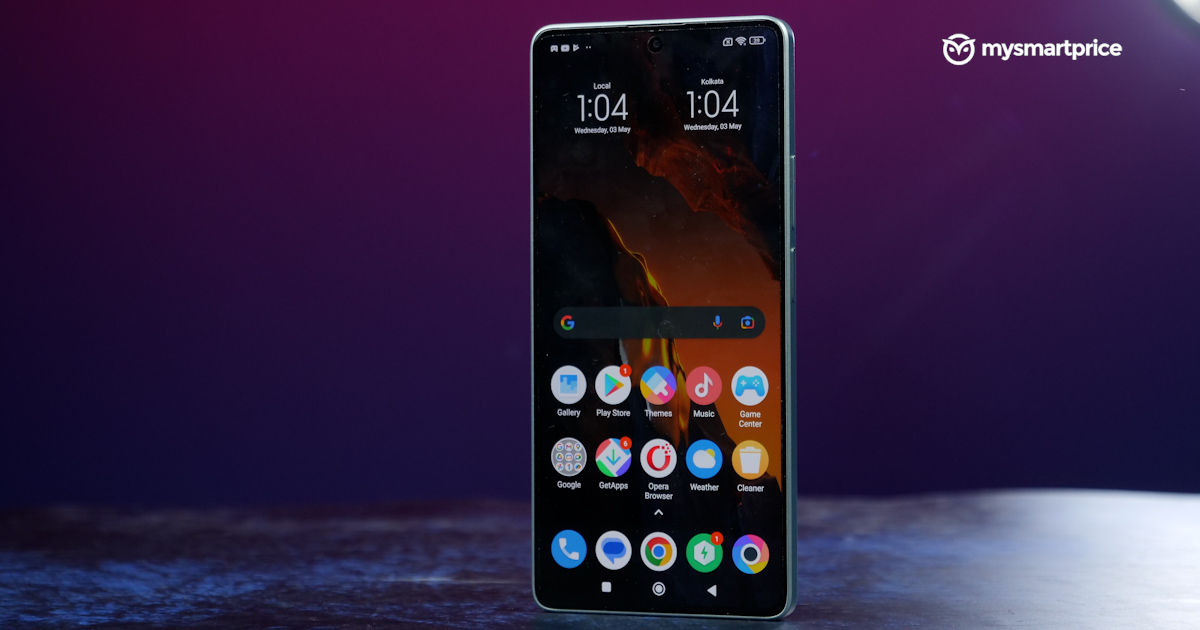 When we reviewed the POCO F4 5G last year, we couldn't help but admire its performance for the price it was selling, along with its classy rear texture. It and the iQOO Neo 6 proved that to pack serious credentials, smartphones didn't have to cost a bomb. But after nearly a year, it's time for a new top-of-the-line POCO smartphone in the form of the POCO F5.
Starting at Rs. 29,999, it is set to give the iQOO Neo 7 a big, throbbing headache, as it's the debut of Qualcomm's sub-flagship Snapdragon 7+ Gen 2 SoC. It also brings about a 12-bit AMOLED display, a first for the segment and reintroduces the beloved 3.5mm jack. And the strangest bit? Its base variant starts with 256GB of UFS 3.1 storage, which we have only seen in the top-tier flagships.
So, with a shining resumé like that, can the POCO F5 be the daily driver of performance-focused youngsters? Find out in our full review.
POCO F5 Review: Design and durability
POCO has messed around with the design quite a bit this year, which was inevitable, as most Redmi smartphones now feature the 'shocked robot face' camera deco. In addition, the rear panel is now made of plastic, not glass, but the frame is made of aluminium. As a result, the smartphone is about 10 grams lighter than the Neo 7, tipping the scales at 182 grams.
POCO has also ditched the good-old screen bracket to make the F5's display flush with the frames of the phone, yielding it a much sleeker appearance and in-hand feel compared to the Neo 7.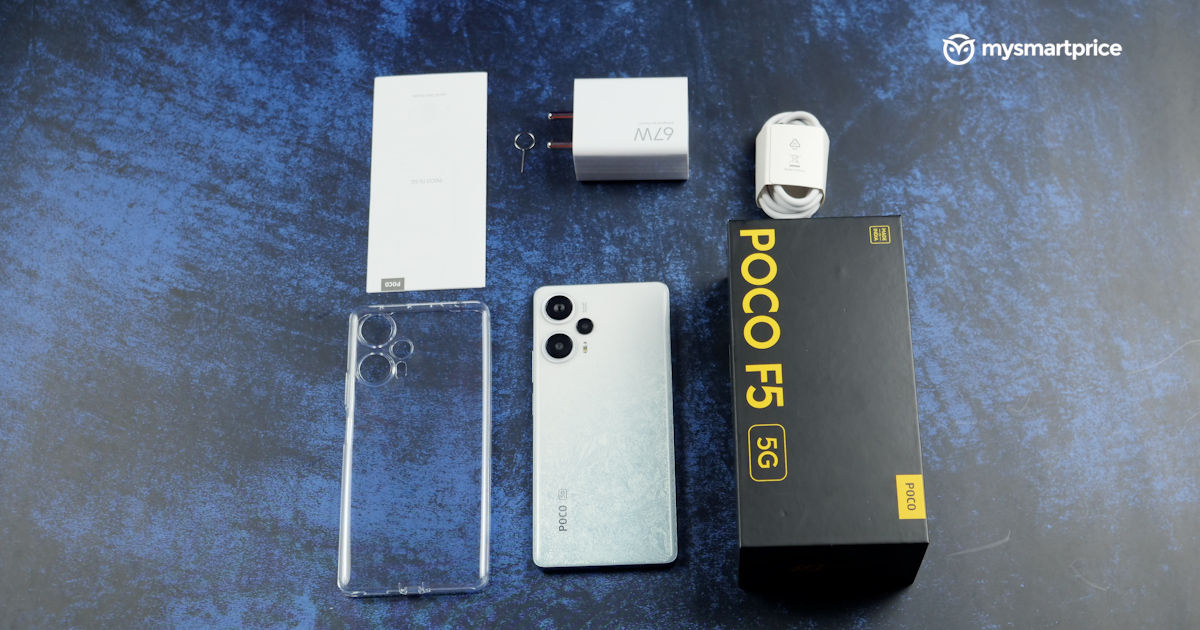 We received the new Snowstorm White colourway, which was polarising among our colleagues. Some termed it the 'White Walker Edition', as it harks back the winter memories of Game of Thrones. Others thought it was a bit childish to sport in a corporate setting, almost like carrying a tiffin box with Frozen's Elsa printed on it. If you want something a bit more understated, you can try out the Carbon Black variant, but for your rambunctious side, there's also the Electric Blue variant.
In an ideal world, we would have liked the POCO F4's velvety texture here, even if it was emulated on a plastic surface.
Despite having a glossy finish, the F5's hindquarters didn't catch any major scratches during our review. In terms of durability, it offers a bare minimum IP53-rating for dust and water resistance but has Corning Gorilla Glass 5 to protect its display.
The port situation is going to make a lot of people happy – there's a 3.5mm jack on the top of the phone, along with a dedicated secondary speaker grille. This is something that the iQOO Neo 7 skipped. The volume rocker and lock button on the right have near-identical placements to that on the Neo 7, and so do the USB Type-C port, mic and primary speaker grille on the bottom. The left side is entirely clean.
POCO F5 Review: Display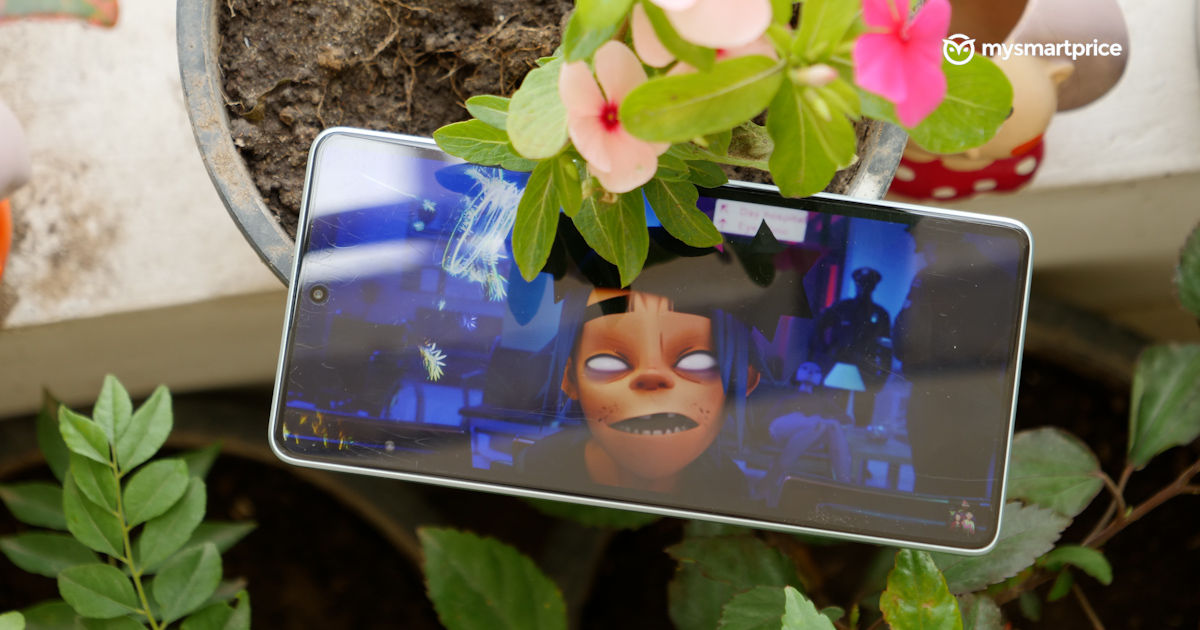 Sporting probably the best display in terms of on-paper specs we have seen in this budget. The POCO F5 also delivers in real life. It has a 6.67-inch Full HD+ AMOLED display refreshing at 120Hz. In addition, POCO claims it can go up to 1000 nits of peak brightness, and our lux metre registered a maximum reading of 904 nits.
But what makes it the 'best' is that it is a 12-bit panel, so it can produce as many as 68 billion colours. This is a rare feat, and we can count other phones capable of this on the fingers of a single hand.
The harsh Delhi sun is no problem for it, and when viewed alongside the Neo 7, it could produce far richer pinks and violets, two tricky colours for displays. This, of course, depends on the kind of content you're consuming. However, the difference between the two phones in non-HDR content wasn't as pronounced. The responsiveness of the display was about the same as the Neo 7, but the better colour depth of the POCO F5 made our gaming experience marginally better.
POCO F5 Review: Hardware and performance
The POCO F5 is the debut of the Snapdragon 7+ Gen 2, which is instead based heavily on the 8+ Gen 1, except with far better thermals and the ability to not crack even under sustained loads. Paired with this banger of a chipset is 256GB of UFS 3.1 storage, on top of which you can choose between 8GB and 12GB of LPDDR5 RAM. In addition, POCO has included graphite and vapour cooling tech to keep things tame.
The result is buttery smooth, confident power on the tap whenever you need it – gaming or heavy workloads. In synthetic benchmarks, the phone churned out 932855 in AnTuTu v9, which is about as good as it gets for this segment. The previous benchmark champ of this price was the iQOO Neo 7, scoring 855358.
The target audience of the F5 is adrenaline-soaked gamers between the ages of 18 to 25. To do justice to them, we tried out PUBG New State in all of its 90 fps glory, along with BGMI and Call of Duty: Mobile. One thing we want to point out before elaborating on our gaming experience is the fact that POCO no longer provides a framerate monitoring system for games. Previously, it could be accessed via the Game Booster utility or within the Developer settings, but now it's gone. This is a huge deal for gamers, so we really hope POCO does something to include this in the future.
Anyway, with KF Mark, we were able to keep track of how well the games performed. Call of Duty: Mobile ran smoothly in a battle royale and first-person modes. PUBG New State ran at a steady 90 fps, except for some frame drops when parachuting down.
The POCO F5 runs Android 13 with POCO Launcher based on MIUI 13. Unfortunately, it is a few slices short of a sandwich, riddled with bloatware from the get-go. We spotted pre-installed games along with the usual pre-loaded apps and app store, so you will have to prepare yourself and spend some time disabling these mentally. Otherwise, it's the usual MIUI affair with tons of customisation options, from making your notification resemble that of iOS to entirely changing the look and feel of your launcher. There's also the GameBooster utility which allows you to tailor touch inputs according to your playing style.
POCO F5 Review: Camera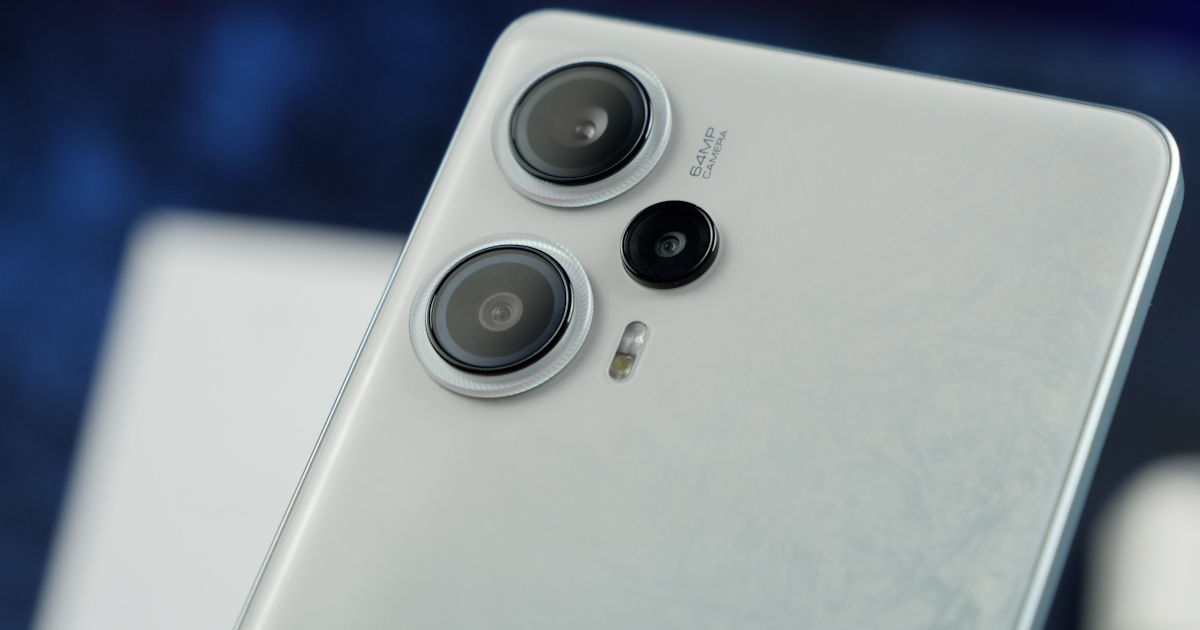 Another area where the F5 tries to one-up the Neo 7 is the camera. Instead of bringing something new to the table, it carries forward the same hardware from last year but doesn't omit anything important. So, the same triple camera combo with a 64-megapixel primary, 8-megapixel ultrawide and 2-megapixel macro is found in the POCO F5 – far more practical than the Neo 7, even though not perfect. Also, note that only the primary camera is optically stabilised.
The photos it clicked were nearly identical to those of POCO F4, but with a few software tweaks to make the dynamic range better in backlit situations. We also tried the new film mode with endless filters, but we got bored with these after a few minutes. At night, the primary camera clicks some flat photos without overdoing the saturation, which is something we liked, but the output still requires a bit of tuning.
The ultrawide camera, though lacking resolution, is a lifesaver. It clicked slightly muddy photos, with slightly worse results at night, but it got the job done!
In terms of video output, you can click up to 4K in 30 fps and 1080p in 60 fps.
POCO F5 Review: Battery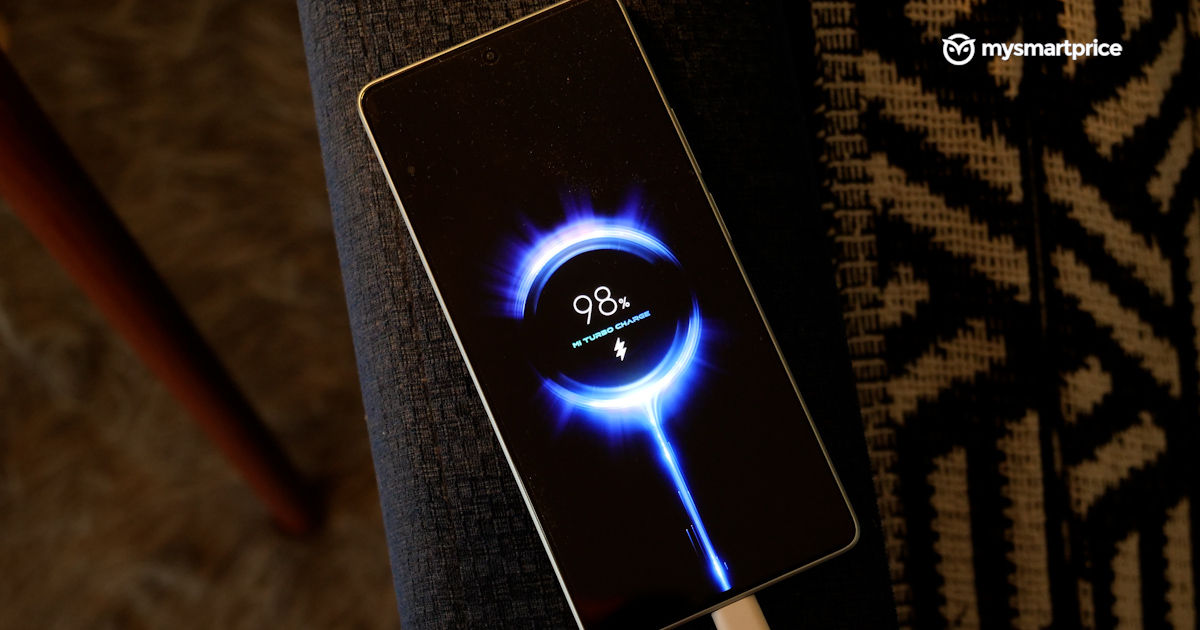 The POCO F5 packs a 5,000mAh battery that can be charged via the bundled 67W Turbo Charger. Going by POCO's claims, the charger should take it from 0-100% in about 45 minutes, and the phone should last a day easily.
Unfortunately, as per our testing, only the latter of these claims were true.
We were able to squeeze out seven hours of screen-on time easily over a period of a week. This included heavy gaming along with some moderate workloads such as emailing, texting, adding lists to Basecamp and content viewing. Starting the day at 9 am with 100% battery easily took us to the next morning with about 10% remaining, so not bad at all.
But, despite the 67W charger, the POCO F5 charged rather slowly for us, that too consistently. It would take north of an hour for a full charge, which is twice as much as what the iQOO Neo 7 takes.
POCO F5 Review: Verdict
The POCO F5 has five things going right for it – performance, display, battery life, overall camera package and, of course, the headphone jack. To an extent, these are primarily what an average gaming enthusiast looks at. Its price of Rs 29,999 is just a cherry on top.
What's interesting is somehow, it manages to bury its issues without anybody drawing too much attention. It comes with a ton of bloat, has a childish design, bare-minimum IP rating and slow-ish charging. But if we, the nitpickers of the highest order, didn't mind all this, the consumer wouldn't either – all because of its price. It takes an incredible sense of understanding the psyche of the market to come up with a product like this.
It's always been difficult to pick between a POCO and an iQOO device, but let us break it down for you. While the F5's superiority in performance is apparent on paper, it's not that big of a leap in real-world use, so the iQOO Neo 7 is still an exceptional performer for the price. The 12-bit panel also makes a difference if you're consuming high-quality content.
The in-hand feel of the POCO F5 is much better due to the lack of a screen bracket and lower weight, but if you're looking for a more sophisticated design, the iQOO Neo 7 may be suitable for you.
If you can't live without a headphone jack, you should lean towards the POCO F5, but if you want your phone to be charged entirely by the time you're in and out of the shower, the Neo 7 should be your pick.
Eventually, it will all boil down to the camera because the Neo 7 offers a world of sacrifices without even attempting to give an ultrawide. In contrast, the POCO F5 offers a bare minimum ultrawide.
POCO F5
What Is Good?
Flagship performance
12-bit display
3.5mm jack
Great speakers
Practical camera configuration
Effective thermals
What Is Bad?
It lacks a serious design
Tons of bloatware