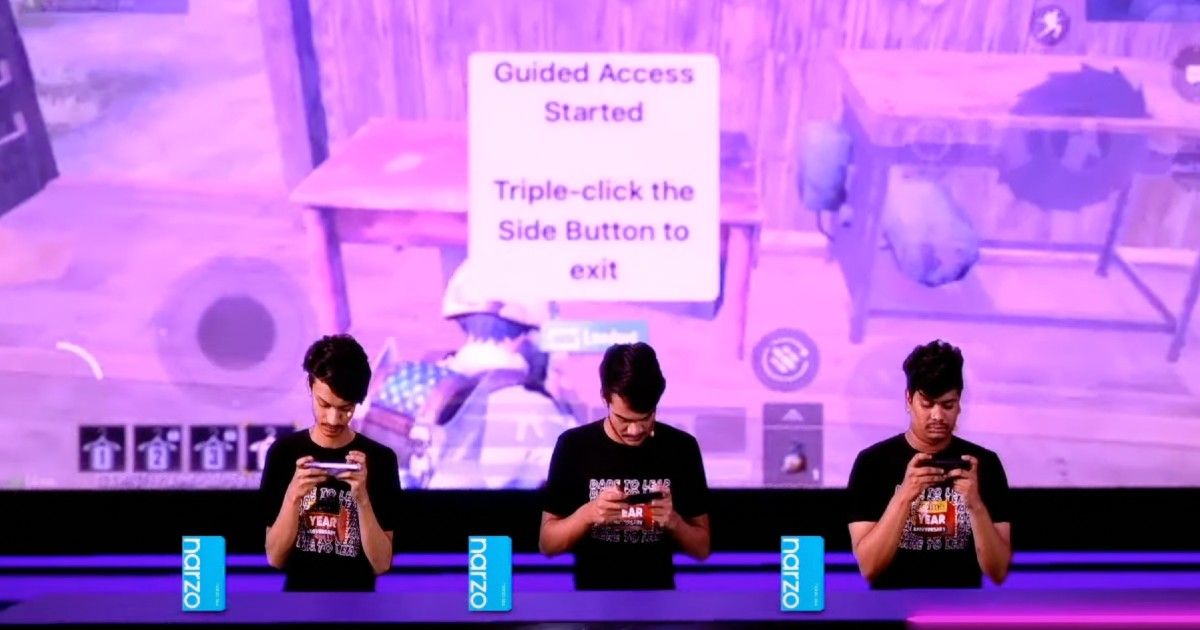 Update: Soon after the article went live, Realme reached out with the following statement: "Respecting and abiding by the local pandemic control policy, the narzo 30A launch video was planned to be recorded in advance. Additionally, the launch video involved a narzo 30A hands-on gaming video. To ensure a better quality video output, the gaming part was recorded by our partner A1 Esports team and sent to the producer, post-recording. Although the A1 team did use the narzo 30A smartphone for the recording of the gaming part, a wrong file was accidentally sent to the producer, which led to the appearance of a non-realme smartphone in the video. In response to this issue, we have immediately contacted our A1 team partner to rectify the accident. We shall republish the video after the re-production is complete. We sincerely apologize for any unanticipated impacts the incident may have caused. Your kind support to the brand is very much appreciated. Please stay tuned with realme for future updates."
Original Story follows…
Chinese smartphone maker, Realme, may have gotten itself into a bit of an embarrassing situation. While Android smartphone makers have for long been trying to reach the performance levels of iPhones in the gaming space, Realme perhaps decided to simulate that experience instead of actually achieving it. During the launch event for the new Realme Narzo 30A in Bangladesh, the company had game streamers streaming through what was said to be a Narzo 30A. However, the company seems to have used an iPhone instead of the Narzo 30A.
Guided Access on Realme Narzo 30A?
You'll notice this if you've played PUBG Mobile on iPhones before. Scroll forward to the 18:03 mark in the video above and you will see a "Guided Access" screen pop up on the screen. This screen is known to be a feature that's available exclusively on iPhones, meaning the gamers on the screen couldn't have been using the Narzo 30A during the stream. The message 'Guided Access Started, Triple Click the Side Button to Exit' is something that's exclusive to iOS which pretty much proves that the company was misleading fans during the launch event. Well…that's a pickle for Realme now, isn't it?
It's difficult to fathom why Realme would even try to emulate an iPhone with the Narzo 30A though. The Narzo 30A, though a decent smartphone, is priced at a mere Rs. 8,999, which means that people buying it would not be expecting iPhone-level gaming. Furthermore, critics, reviewers and testers have often documented the fact that Android phones cannot achieve iPhone-level gaming performance, simply because of the fragmentation in the industry. So, Realme could have safely said all this, instead of trying to mislead viewers and users.
Realme Narzo 30A specs and features
As mentioned above, the Realme Narzo 30A is priced at Rs. 8,999 in India and runs on the MediaTek Helio G85 gaming chipset. It has two cameras on the back, with an 18MP primary shooter, and is powered by a 6000 mAh battery. It also has a 6.5 inch display.
As far as tall claims go, the company's product listing for this device on the Realme Store also claims that the 6000 mAh battery delivers 46 days of standby time. While phones have achieved that in the past, you have to wonder how believable Realme's claims really can be after this incident.