Since Apple launched AirPods in 2016, the market has been filled up with hundreds of truly wireless earbuds, but none of them have attained the popularity or sales that are even close to Apple's product. And that's not just because of Apple's popularity as a brand but also due to the simplicity and connection stability of AirPods. Even now, it's hard to find earphones under Rs 15,000 which have a total battery life of up to 24 hours and have a solid wireless connection as well as call quality. However, that doesn't mean they're perfect. The AirPod's audio quality leaves a lot to be desired, and that's where other solutions in the market come into the picture.
The RHA TrueConnect is the Scottish audio brand's first set of truly wireless earphones and they are priced in the same ballpark (under Rs 15,000) as the AirPods and they even use a similar design with a stem where the microphone is situated. They feature a Bluetooth 5.0 chip for connectivity, a charging case that has 20 hours of additional battery life, a noise isolating and sweat-resistant design, and a three-year warranty. Are they worth their price tag and would you be satisfied with them? Let's find out in our review of the RHA TrueConnect.
[P_REVIEW post_id=161749 visual='full']
RHA TrueConnect Design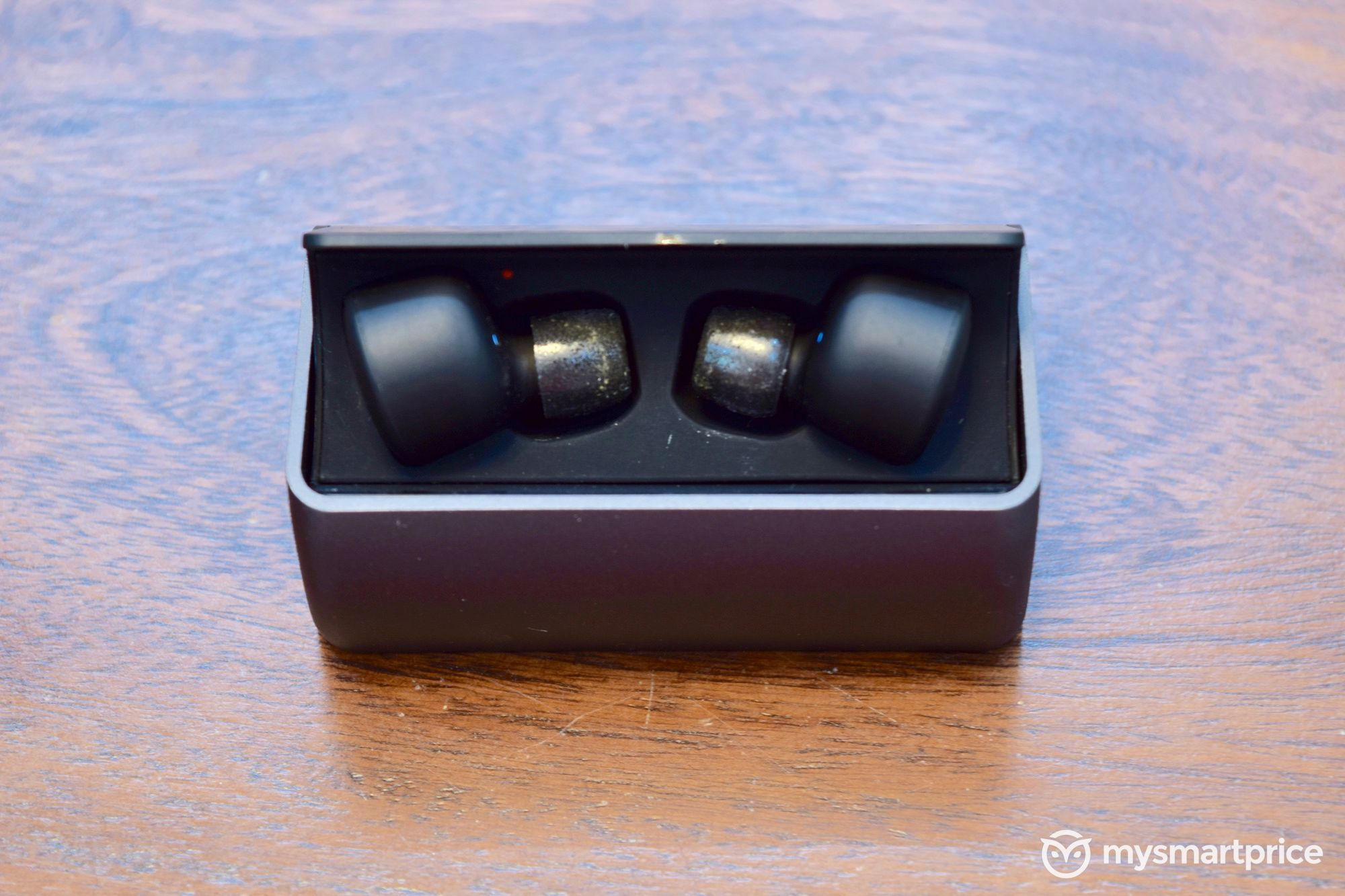 The RHA TrueConnect has a rugged design with a matte black finish for both the earbuds and the charging case. However, the case attracts some smudge and grease. Still, I would give them a thumbs up for the rugged and durable design, and if you are someone who has an active lifestyle, the RHA TrueConnect would suit you very well. The earbuds even feature splash, sweat and water resistance, so if you want to hit the gym or go out on a run, you don't have to worry about the RHA TrueConnect getting damaged. The case has a four-LED battery indicator and a USB Type-C port on the outside. Inside, there's room to fit two earbuds which slot themselves in perfectly, thanks to the magnetic mechanism.
The earbuds have a stem jutting out from the bottom where microphones are situated, similar to AirPods, but they also feature a noise isolating in-ear canal design. This means that you can get yourself immersed in the music without getting distracted by outside noise. The company bundles nine pairs of ear tips, and three pairs use memory foam from Comply. Comply tips offer the best noise isolation but some might notice a warm and uncomfortable feeling inside ear canals. Earbuds fit very well and everyone can find an ear tip that suits their ear canal size. The earbuds have physical buttons on the outside, which lets a user adjust volume, control music playback, start or end calls, and summon digital voice assistants. Controls might be confusing at first, but you can get habituated to them in a few days.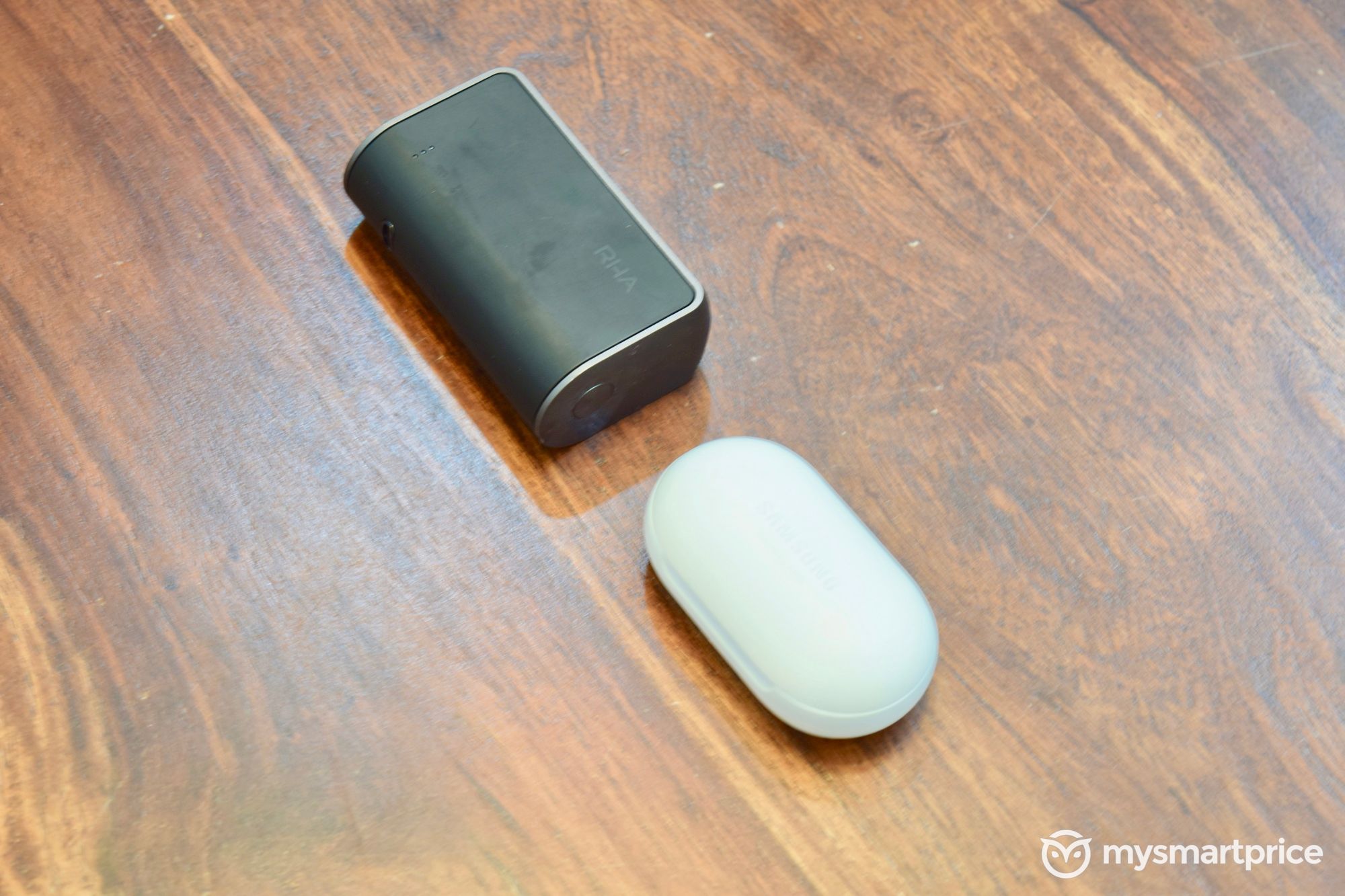 Overall, I was pretty satisfied with the design of the RHA TrueConnect, but the case could've been more compact so as to easily carry them in a pant pocket.
RHA TrueConnect Audio Quality & Wireless Connection Stability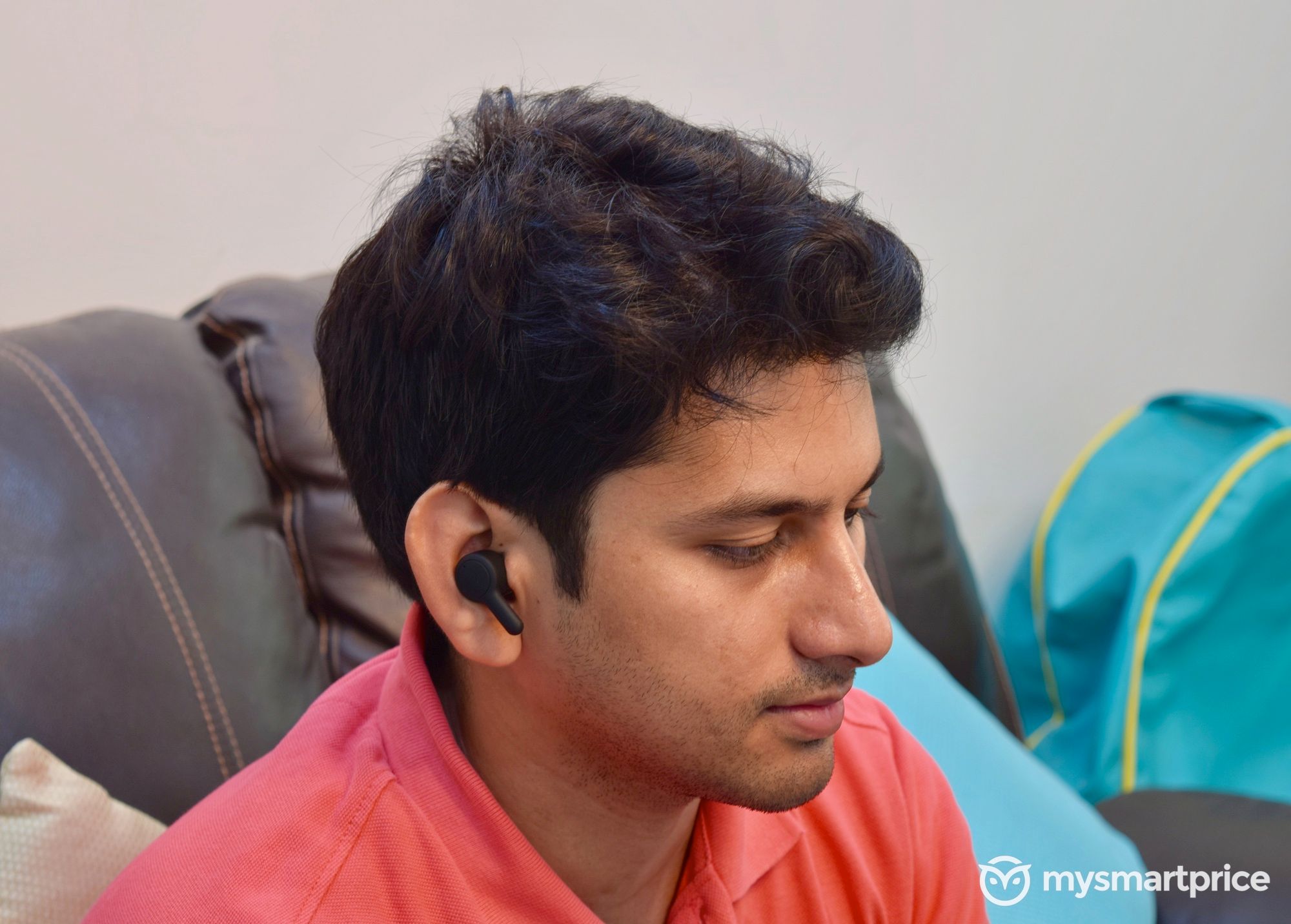 Starting off with the wireless connection stability, the RHA TrueConnect use a good quality Bluetooth 5.0 chip and the earbuds never failed to connect to my phone. There was not a single instance of one earbud pairing with the phone but not the other (something that I noticed happening a few times with my Galaxy Buds). The signal strength was great, too, until the earbuds were in the line of sight. Sometimes when I left the room with earbuds in your ears and phone inside the room, I could notice stutters. However, I've seen worse truly wireless earphones and even conventional Bluetooth earphones.
There's no AAC or aptX but RHA mentions that it uses a higher bitrate Bluetooth 5.0 codec. I used these earphones with both the iPhone XS and the OnePlus 7 Pro. I noticed a slight difference in audio quality when compared to earphones which have aptX or AAC. There was slight graininess in the audio which could've been absent had there been a higher Bluetooth audio codec in use. Other than that, the audio signature was relatively neutral but not completely flat. Bass was punchy but sometimes also felt raw. Vocals were clear and higher frequencies sounded slightly harsher than how I would've liked them to be. While the audio wasn't as neutral as RHA's wired products, it is still better than many Bluetooth earphones. The inclusion of AAC or aptX would've helped a lot.
While watching videos, I expected these earbuds to have significant lip sync issues due to the lack of aptX LL, but I was surprised to see them performing really well. The audio delay was there but it was completely within acceptable limits. Calls sounded clear and natural, thanks to dual microphones and the stem design which brings the microphone closer to the mouth. It also helps that you can use any one of the earphones for voice calls. RHA doesn't have any companion app to customize controls or audio tuning.
RHA TrueConnect Battery Life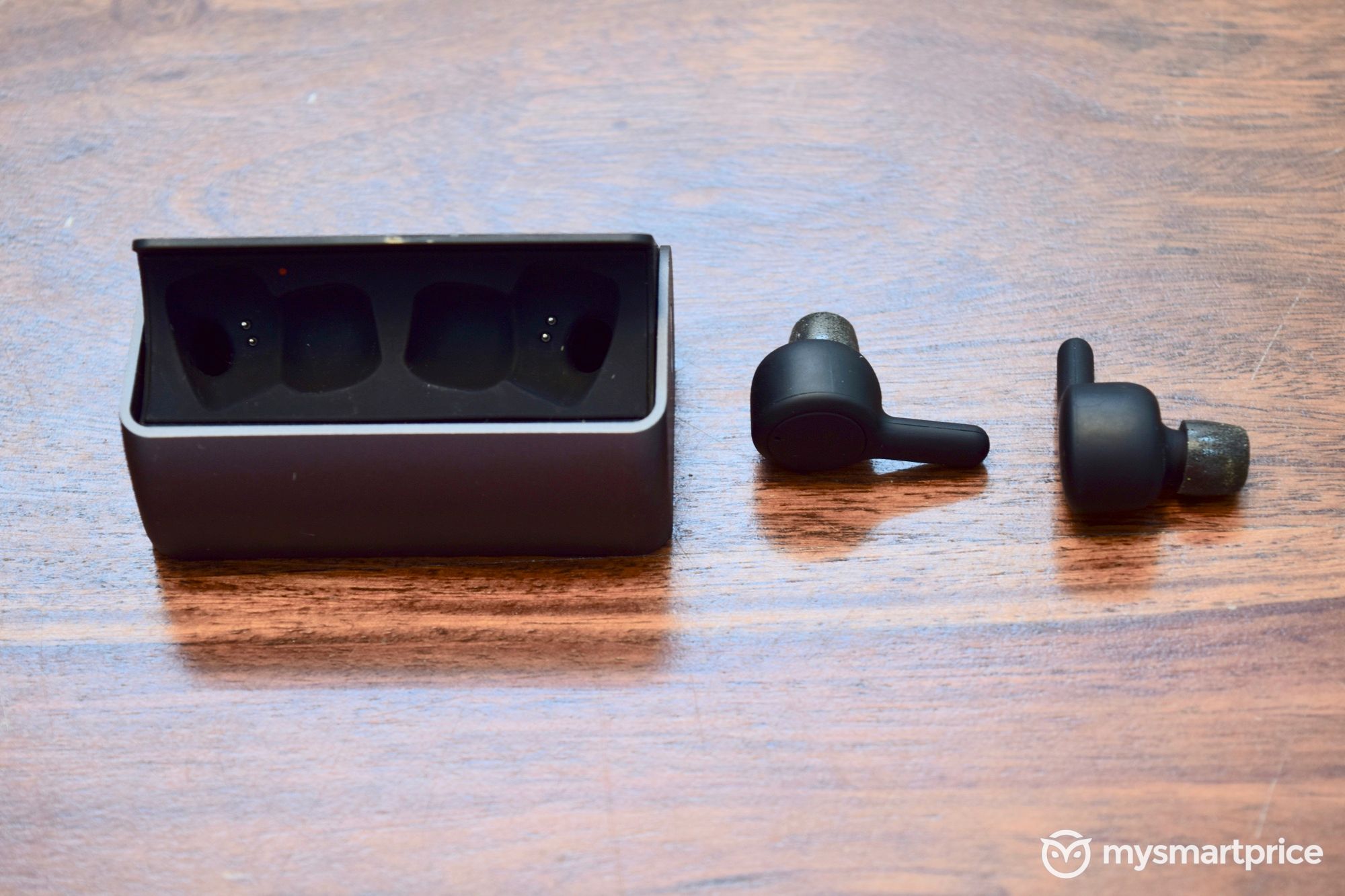 I was pretty impressed with the battery life of RHA TrueConnect. Similar to all other truly wireless earbuds, the RHA TrueConnect comes with a charging case as well. However, this case features a USB Type-C port and fast charging, something very few other earbuds have. The earbuds themselves hold up to five hours worth of battery life, at least that's what RHA claims. The charging case can charge TrueConnect earbuds by up to an additional five times.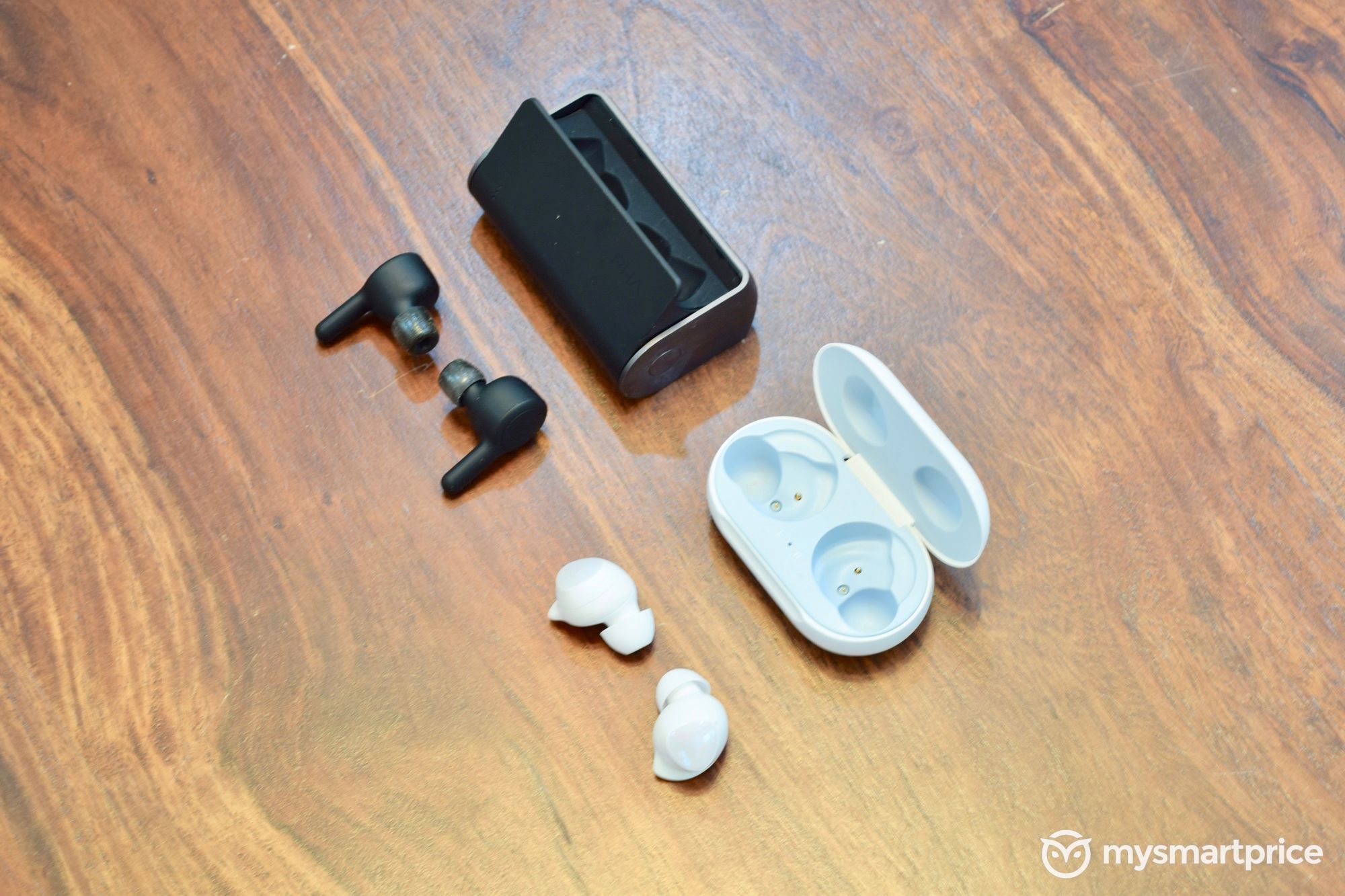 With my usage, the earbuds last four hours or slightly longer at 80 percent volume. With the earbuds and charging case fully charged, I was able to listen to music for almost a week. Apart from TrueConnect, AirPods, a few earbuds from JLabs, and 1More Truly Wireless Earphones, very few products offer such impressive battery life.
Who Should Buy RHA TrueConnect?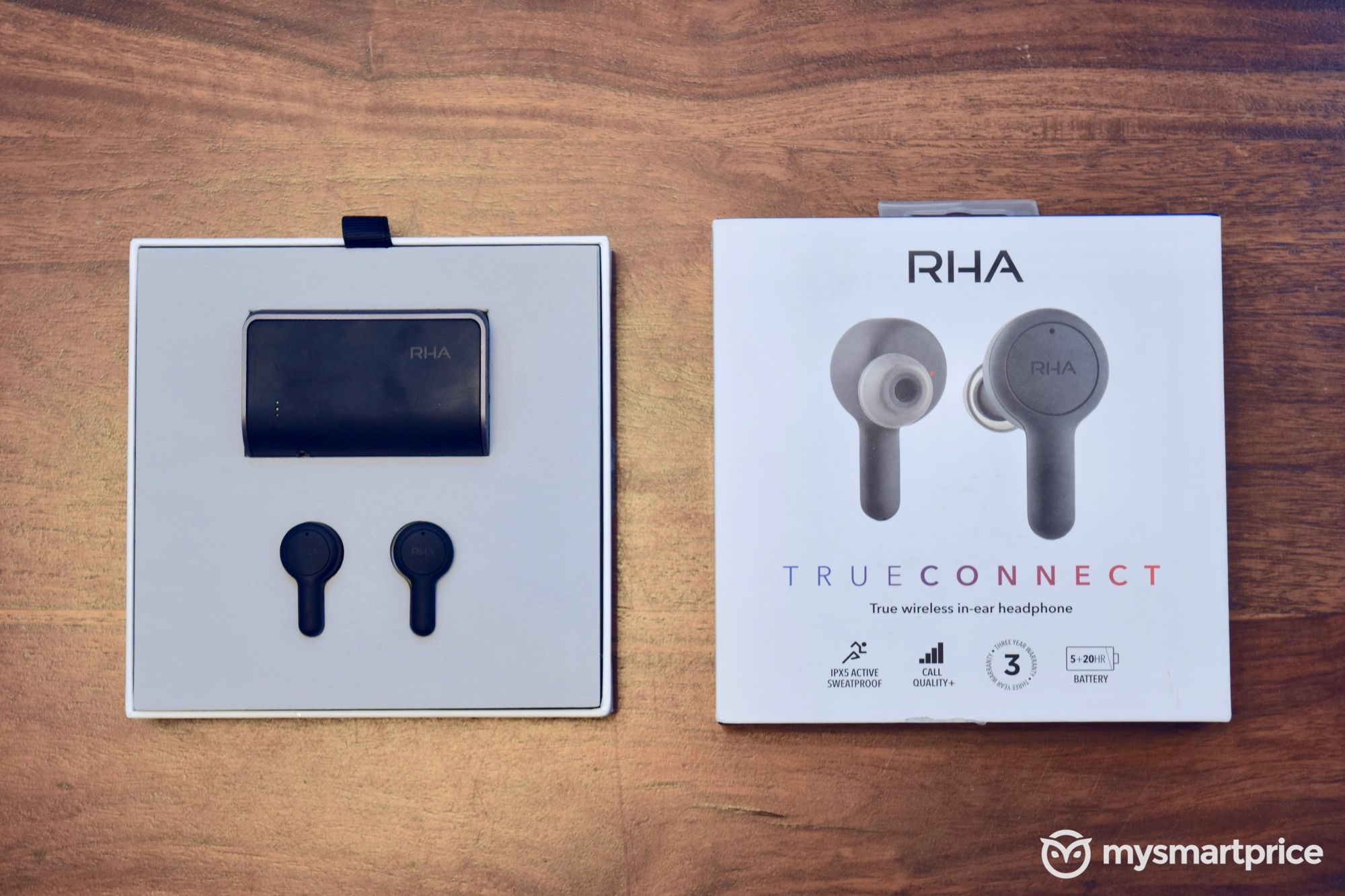 The RHA TrueConnect fits well, has decent audio quality, excellent battery life, and really good wireless connection stability. The case is rugged and it has fast charging as well as a USB Type-C port. However, the inclusion of aptX or AAC would've helped a lot in achieving even better audio quality. Also, the case feels a little raw and too big to carry in the pocket. If you value ruggedness, sweat resistance, and battery life over higher quality Bluetooth codecs, the RHA TrueConnect can be a very good choice.
Alternatives within the same price range include Apple AirPods, Plantronics BackBeat FIT 300, and Samsung Galaxy Buds, but none of them have a sweat-resistant design except the BackBeat FIT 300 and even the BackBeat FIT 300 don't last as long as the RHA TrueConnect on a single charge (earbuds+case). If you can spend a little higher, the Jabra Elite Active 65T would be a better option since they have slightly better audio quality and a companion app.
What Is Good?
Comfortable fit.
Decent audio quality and minimal lip sync delay in videos.
Stable wireless connection quality.
Excellent battery life, fast charging.
USB Type-C port.
What Is Bad?
No AAC or aptX, only SBC.
Raw-feeling case design.
No companion app and confusing controls.