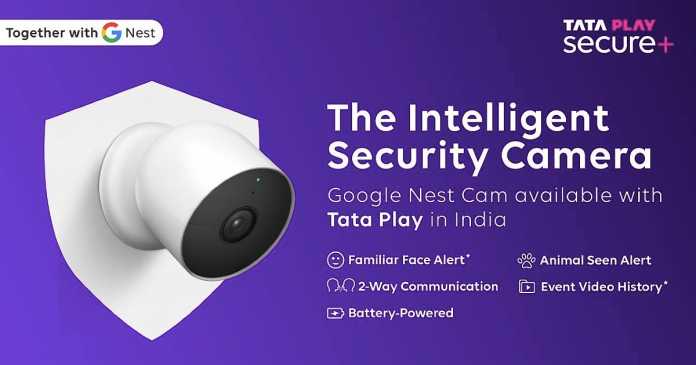 Tata Play has announced the launch of home security service plans under its umbrella, called Tata Play Secure Plus. Under the plan, Tata Play will offer users a connected home security camera, a smart speaker and a service plan that covers video recording durations and more. The plans also officially bring the Google Nest Cam security camera to the Indian market, and users can now subscribe to Google's Nest Aware security subscription plans through Tata's offerings in India.
What Does Tata Play Secure Offer?
Buyers choosing the Tata Play Secure Plus plan will get a battery-powered Google Nest Cam security camera at Rs 11,999, a Google Nest Mini (2nd gen) smart speaker bundled in the plan for free, and access to Nest Aware security subscription plans. The latter is available in two tiers – Basic and Plus, and the Tata Play Secure Plus support page says that users can get access to either, depending on what they require.
The Nest Aware Basic plan comes with 30 days of video recording history, familiar face recognition, alerts for people or animals, and doorbell alerts with two-way door communication as well. Users can also upgrade their plan to Nest Aware Plus, which would give access to 10 days of continuous 24×7 video recording, up to 60 days of recording history, and recording of low-light areas.
However, at present, the Tata Play Secure Plus plan shows a pricing only for the Nest Aware Basic plan in India, and does not offer a customisation option to choose the 'Plus' tier plan – even though it says that the latter is supported. Google already claims on-device processing of data and compliance with global data protection regulations on the safety and privacy front, for the footage being recorded by the Nest Cam.
Tata Play said that the standard Secure Plus plan with Nest Aware Basic will cost users Rs 3,000 per year, while upgrading to Nest Aware Plus will cost users Rs 5,000 per year. The plan is being rolled out to 10 areas right now, which include Mumbai and Navi Mumbai, Thane, Pune, Hyderabad, Chennai, Bangalore, Kolkata, Delhi NCR, Lucknow, and Jaipur. Tata will also offer customer care and after-sales services, and the plans can be bought starting today.
Thanks for reading till the end of this article. For more such informative and exclusive tech content, like our Facebook page