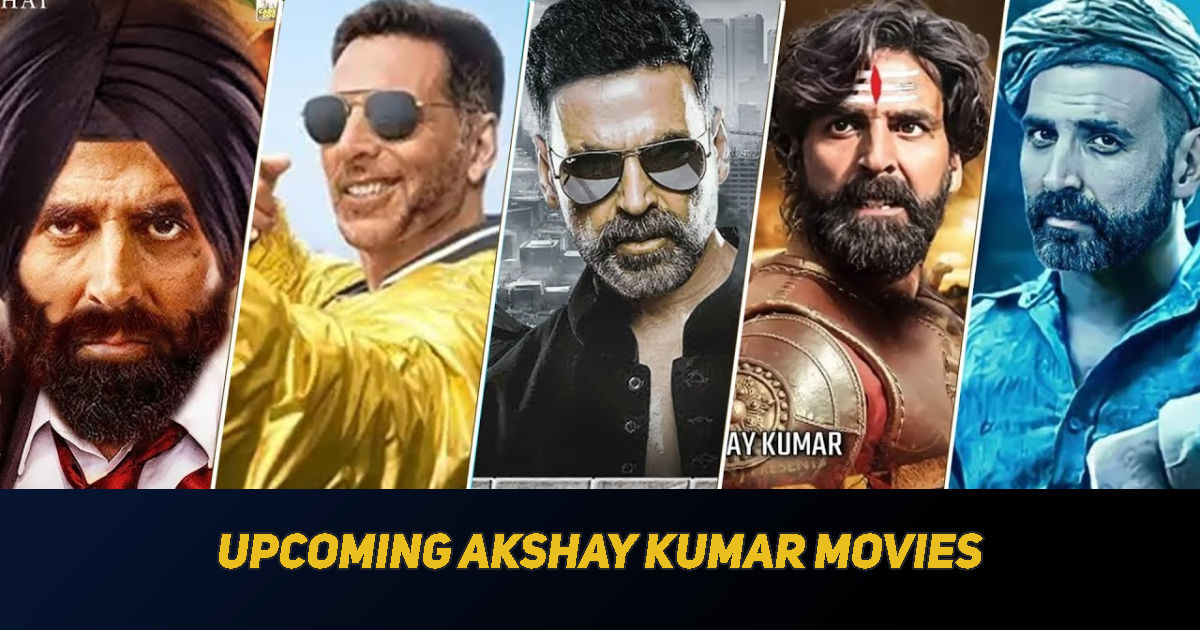 Akshay Kumar has a bunch of exciting releases lined up. His recent release "Oh my god 2" managed to win the hearts of the audiences with its incredible unique storyline that was brimming with the right amount of comedy and drama. To start with his upcoming projects, it is to be anticipated that they will be a mixture of different genres and will be featuring a bunch of other famous Bollywood stars.
Further in the article, we will be giving a short description of the upcoming Shah Rukh Khan movies.
List of all Upcoming Akshay Kumar Movies
| | | |
| --- | --- | --- |
| Movie Name | Release Date | Director |
| Vedat Marathe Veer Daudle Saat | November 2023 | Mahesh Manjrekar |
| Bade Miyan Chote Miyan | 10 April 2024 | Ali Abbas Zafar |
| Housefull 5 | Diwali 2024 | Tarun Mansukhani |
| Welcome to the Jungle | 20 December 2024 | Ahmed Khan |
| S Sankaran Biopic | 2024 | Karan Singh Tyagi |
Also Read: Upcoming Bollywood Movies on OTT with Release Dates
Vedat Marathe Veer Daudle Saat
BIG NEWS: AKSHAY KUMAR to play CHHATRAPATI SHIVAJI MAHARAJ in the Pan India Marathi Film, VEER DAUDALE SAAT – The #MaheshManjrekar directorial, produced by Qureshi Productions is set for a Diwali 2023 release. #AkshayKumar #VeerDauleSaat

— Himesh (@HimeshMankad) November 2, 2022
Akshay will be seen in one of the lead roles and as per the online released news it is believed that the film will be a perfect blend of action and period drama. It will put emphasis on the historical events that are rooted deep in the muddy ground of India's Maratha Culture and how the past warriors managed to fight through all the hardships of life. The plot will try and tell a tale of the narrative of seven renowned Maratha Empire warriors fighting for independence (swaraj) in 1674.
Cast: Pravin Tarde, Akshay Kumar, Vishal Nikam, Jai Dudhane, Utkarsha Shinde, Hardeek Joshi, and Satya Manjrekar
Release Date: 9 November 2023
Genre: Period Drama
Director: Mahesh Manjrekar
Producer: Vaseem Qureshi and Mahesh Manjrekar

Bade Miyan Chote Miyan
Bade Miyan Chote Miyan remake is all set to hit the theatres during the early months of 2024. As per its plot, the movie is set to witness the raunchy adventures of Bade Miyan and Chote Miyan, Despite their differing personalities and unconventional approaches, the duo must set aside their dissimilarities and must join hands to deliver the wrongdoers to justice and save the day. Akshay Kumar and Tiger Shroff are rumored to be playing the lead roles and the movie will also have a touch of romance to it. Janhavi Kapoor will be playing the female lead character and the movie is expected to be a hit.
Cast: Akshay Kumar, Janhvi Kapoor, Tiger Shroff
Release Date: 10 April 2024
Duration: 140 minutes
Genre: Action, Comedy, and Thriller
Director: Ali Abbas Zafar
Producer: Vashu Bhagnani, Jackky Bhagnani, Honey Bhagnani, Pooja Entertainment, Ali Abbas Zafar
Housefull 5
Housefull 5, which happens to be the fifth instalment in the Houseful Film series is coming back to impress the audiences with its iconic comical plot and a bunch of actors are gearing up to come together for the film. The plot as usual will concentrate on the humorous tales of the central characters and will be taking the audiences through a rollercoaster of hilarity. As per the success of the previously released parts, fans are keeping high hopes for this sequel as well and it is believed to have a top-notch quality of jokes and funny adventures.
Cast: Akshay Kumar, Riteish Deshmukh
Release Date: Diwali 2024
Genre: Comedy and Drama
Director: Tarun Mansukhani
Producer: Sajid Nadiadwala
Welcome to the Jungle
The plot of the upcoming comedy-drama "Welcome to the jungle" revolves around two police officers named Jay Bakshi and Sandhya, who are appointed on a mission to get hold of a notorious fellow named Raj Solanki but something unexpected happens when Jay But it gets surprising when Jay realizes that Raj holds a deep connection to his personal life and this gets between his job and makes the task even more personal and intense. Akshay Kumar and Sanjay Dutt are rumored to play the central characters.
Cast: Akshay Kumar, Sanjay Dutt, Disha Patani
Release Date: 20 December 2024
Genre: Comedy and Drama
Director: Tarun Mansukhani
Producer: Firoz Nadiadwala
Also Read: New Bollywood Movies on OTT with Release Dates
S Sankaran Biopic
As per the online buzz, it is reported that R Madhavan has joined the cast of this upcoming period Drama. The production of the film has already started and no proper release date has been disclosed yet by the makers but it will be released in the year 2024 and will feature a wide ton of action sequences. The narrative of the film will concentrate upon the events of the tragic Jallianwala Bagh massacre. Akshay Kumar will play the titular figure, who will be portrayed as a bold individual who stood up to British control in order to discover what truly transpired during this horrible tragedy.
Cast: Akshay Kumar, Ananya Pandey, R Madhavan
Release Date: 2024
Genre: Period Drama
Director: Karan Singh Tyagi
Producer: Dharma Production
Above, we have mentioned a list of the upcoming Akshay Kumar's movies.