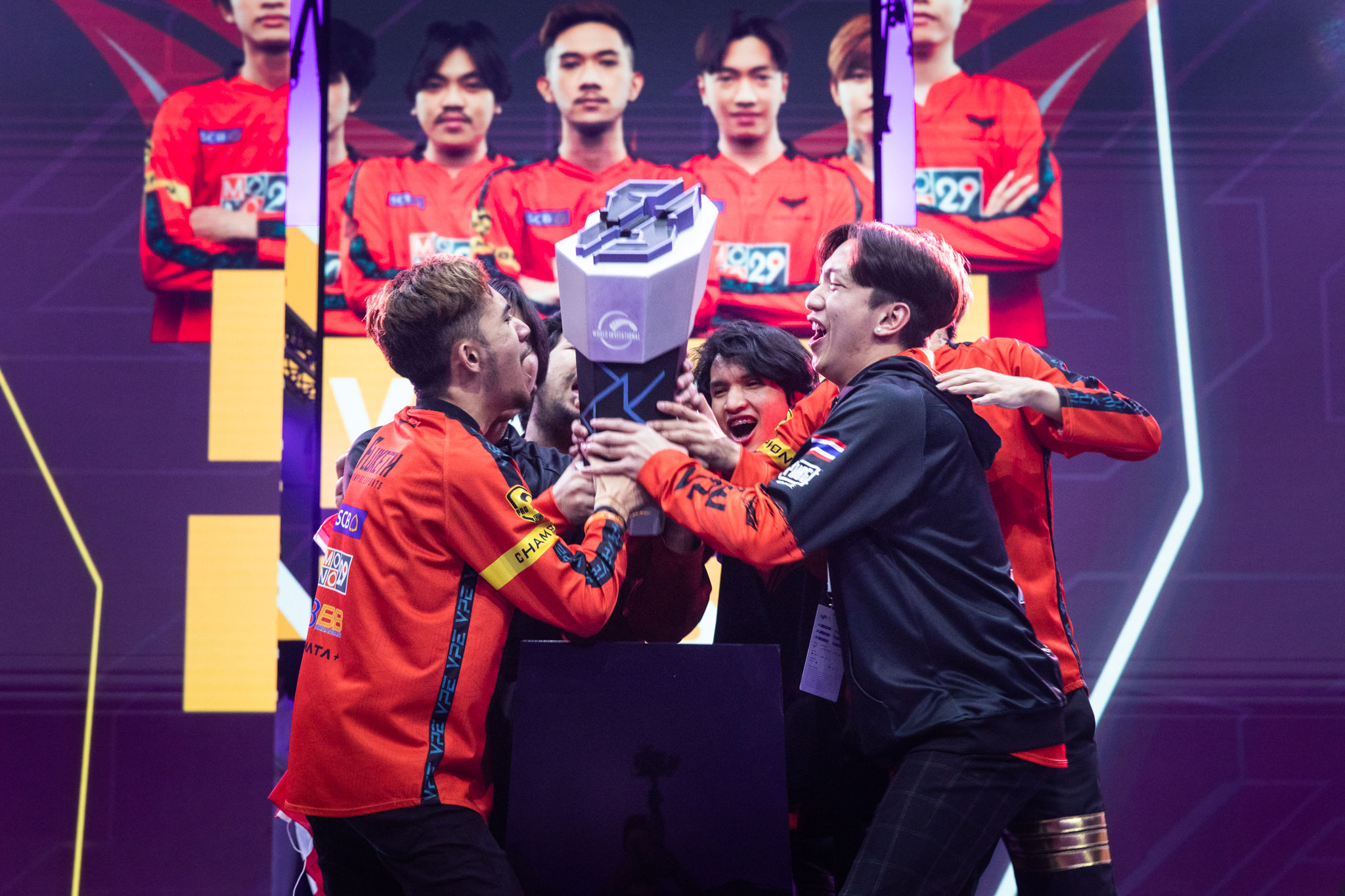 The three-day-long PMWI Afterparty Showdown finally came to an end with Vampire Esports emerging as the reigning champions. Vampire Esports from Thailand secured both the titles of PMWI i.e., Main Event and Afterparty Showdown. The team won prize money of $167,000 and took home the championship trophy.
Vampire Esports accumulated a total of 180 points in 18 points with the help of six chicken dinners. Alpha 7 Esports from Brazil who looked strong in the first position until the final match, slipped down to the second place with 174 points. Team Falcons Esports secured third place while Starwalt and Bigetron took fifth and sixth place respectively.
Indian team, 7Sea Esports claimed a chicken dinner in the fifth match of the final day. They bagged ninth place with 79 points. Scout received the fan favourite player award while Alpha7 Revo77K became the MVP of the event.
Vampire Esports Emerged as the Champions of PMWI Afterparty Showdown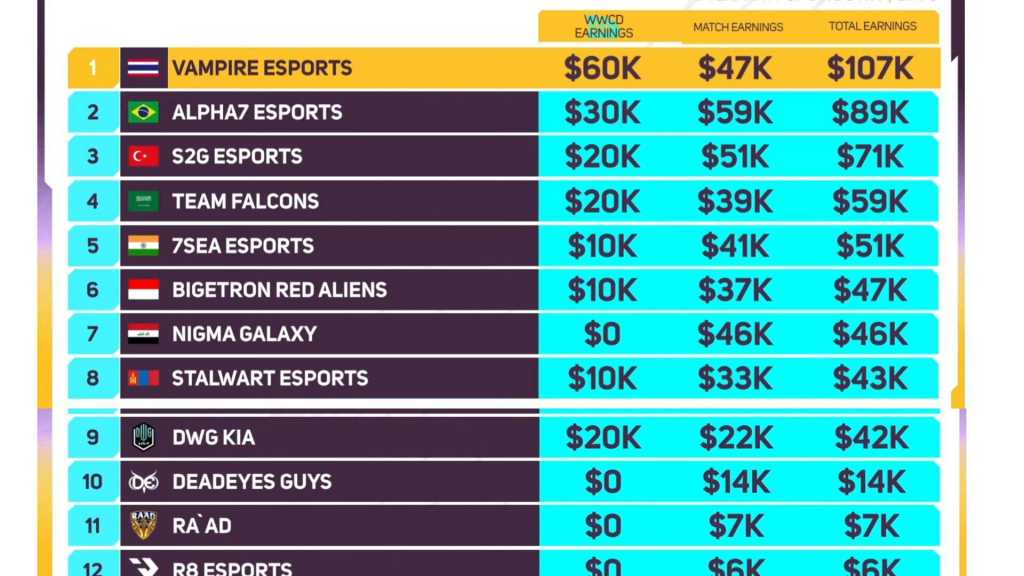 The second week of PMWI is featured with a prize pool of $1 Million, from which the winning team Vampire Esports took home $167K. Alpha 7 Esports bagged a total of $144K while Falcons took home $108K in prize money. Following is the prize pool distribution of the event:
1st place: $60K – Vampire Esports
2nd place: $55K – Alpha7 Esports
3rd place: $50K – Team Falcons
4th place: $45K – S2G Esports
5th place: $40K – Stalwart Esports
6th place: $35K – Bigetron RA
7th place: $30K – Damwon Gaming
8th place: $25K – Nigma Galaxy
9th place: $20K – 7 Sea Esports
10th place: $18K – R8 Esports
11th place: $15K – Deadeyes Guys
12th place: $13K – RA'AD
Control on all sides brings @7SeaEsports a Chicken Dinner on Sanhok! 🍗#Gamers8 #2022PMWI pic.twitter.com/xBFxVdJ9M8

— Gamers8 Esports (@Gamers8GG) August 20, 2022
Tencent also introduced per-match rewards for the first time in PUBG Mobile Esports history. Following is the prize money received by each team based on their performance in the matches:
Here are each team's shares of $1,000,000 #2022PMWI by #Gamers8 Afterparty Showdown prize pool 💰💰 pic.twitter.com/S52x735D4s

— Gamers8 Esports (@Gamers8GG) August 20, 2022
1st place: $60K – Vampire Esports
2nd place: $55K – Alpha7 Esports
3rd place: $50K – Team Falcons
4th place: $45K – S2G Esports
5th place: $40K – Stalwart Esports
6th place: $35K – Bigetron RA
7th place: $30K – Damwon Gaming
8th place: $25K – Nigma Galaxy
9th place: $20K – 7 Sea Esports
10th place: $18K – R8 Esports
11th place: $15K – Deadeyes Guys
12th place: $13K – RA'AD
Additional Rewards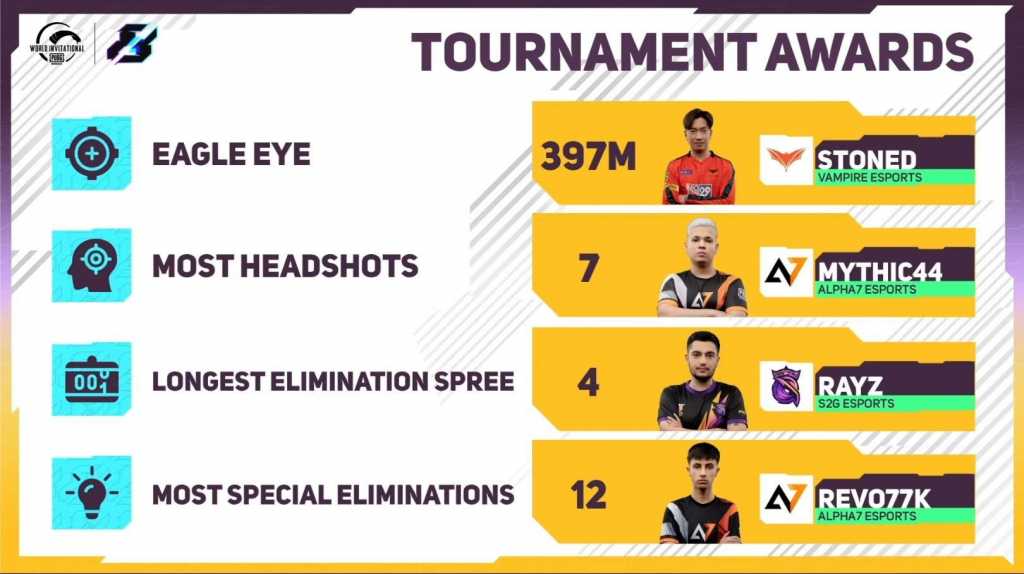 Fan-favourite Player: $10K – 7Sea Esports Scout
The player with the longest distance elimination will get the Eagle Eye award: $5K- Vampire Stoned – 397 Meter
The player with the most headshots wins this award: $5K – Alpha7 Mythic – 7 headshots
The player with the highest number of eliminations in 60 seconds wins this award: $5K – S2G Rayz – 4 eliminations
The player with the most special eliminations (kill by vehicle or grenade and no Molotov): $5K – Alpha 7 Esports Revo77K – 12 eliminations