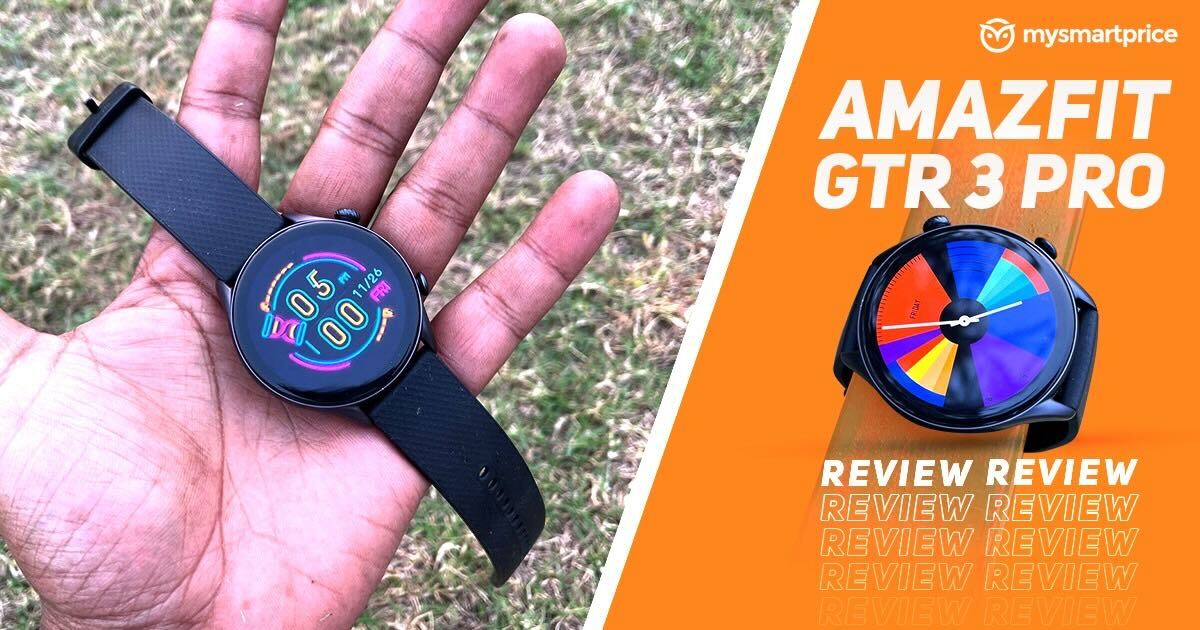 There's no doubt that Amazfit smart watches offers a lot of value for not much of your money. Having entered the wearables category early in India, it had enjoyed that first mover's advantage, but Indian brands like Noise Fit, Boat and the likes are catching up, competing both on price and features. So with the GTR 3 Pro, Amazfit simply doubled down on what it does best, and sprinkled some new additions making it quite desirable for an amateur fitness enthusiast. But if you're looking for an independent smartwatch, this isn't going to impress you too much.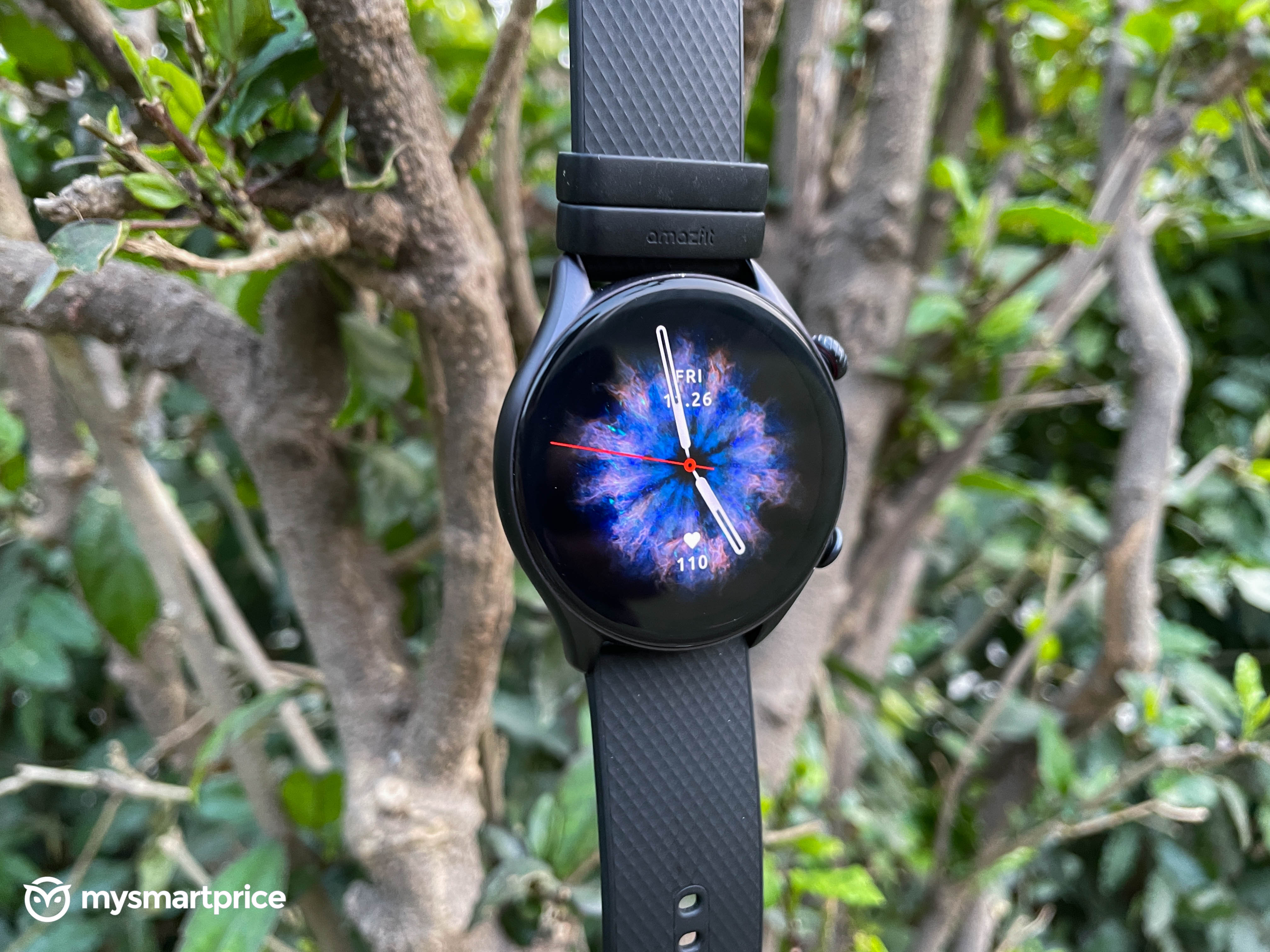 What's so Pro about the GT3 Pro? It supports Bluetooth calling, for one, but there are tonnes of quality-of-life improvements that makes the GTR 3 Pro just a more refined version of its predecessor. That means, if you already own the GTR 2 and use it to track activities, you don't need to look at this. But if your smartwatch has aged a bit, the GTR 3 Pro can be a nifty upgrade. Here's our review —
Design and Build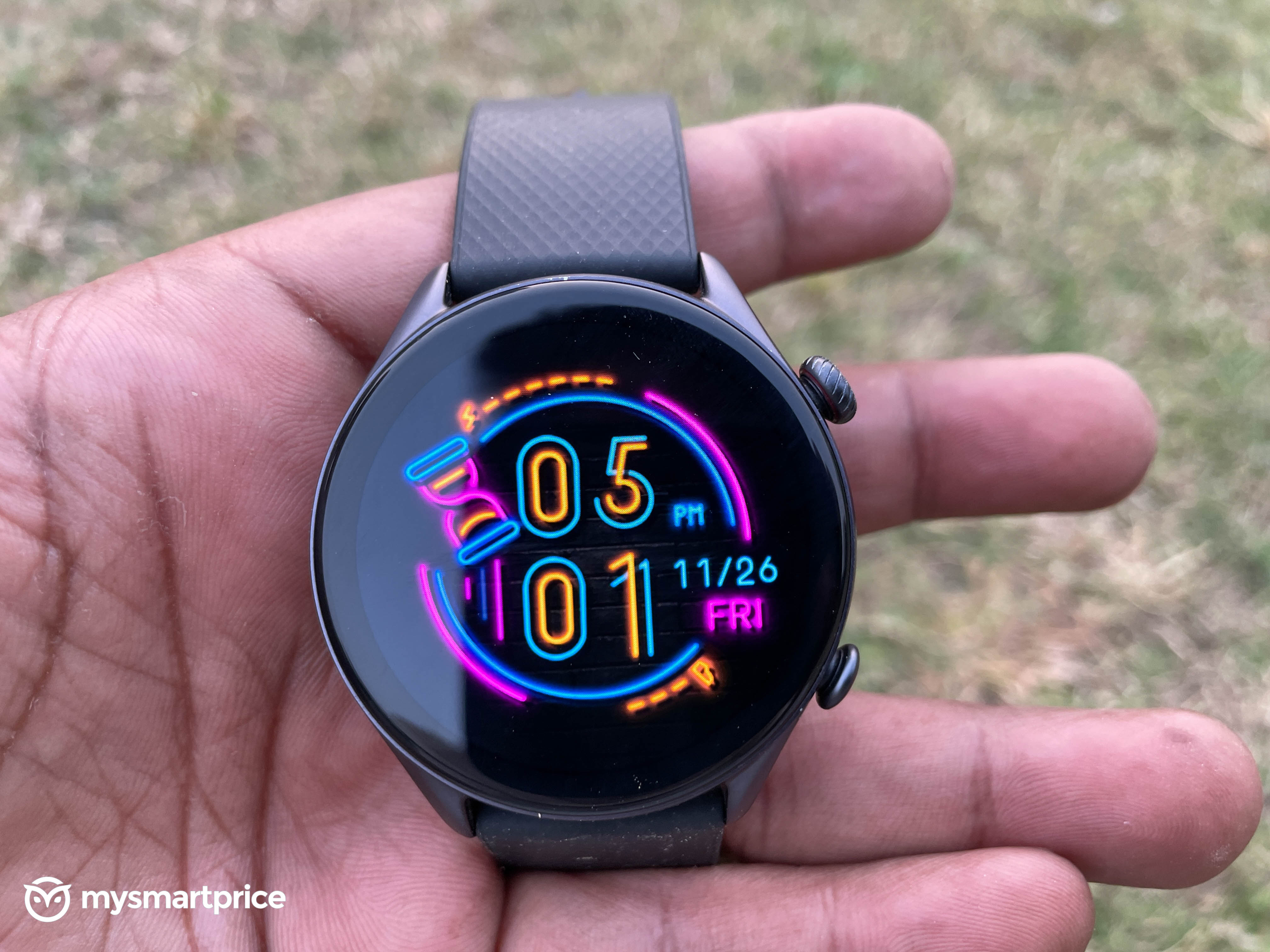 The Amazfit GTR 3 Pro continues with the circular, bezel-less curved glass design, where the display blends into the aluminum frame. The frame is seamless save for two crown buttons on the left. The bottom houses the PPG sensor. The display is now a little bigger, packs more pixels and shines brighter than before. As a result, the watch itself now feels almost as big as the Samsung Galaxy Watch 4. But more than that, the GTR 3 Pro has upped the refresh rate from a standard 30Hz to 50Hz, which makes operating the smartwatch a lot smoother. It's also water resistant up to 5 ATM and can be used to track your swimming laps. You get two strap options — brown leather and infinite black.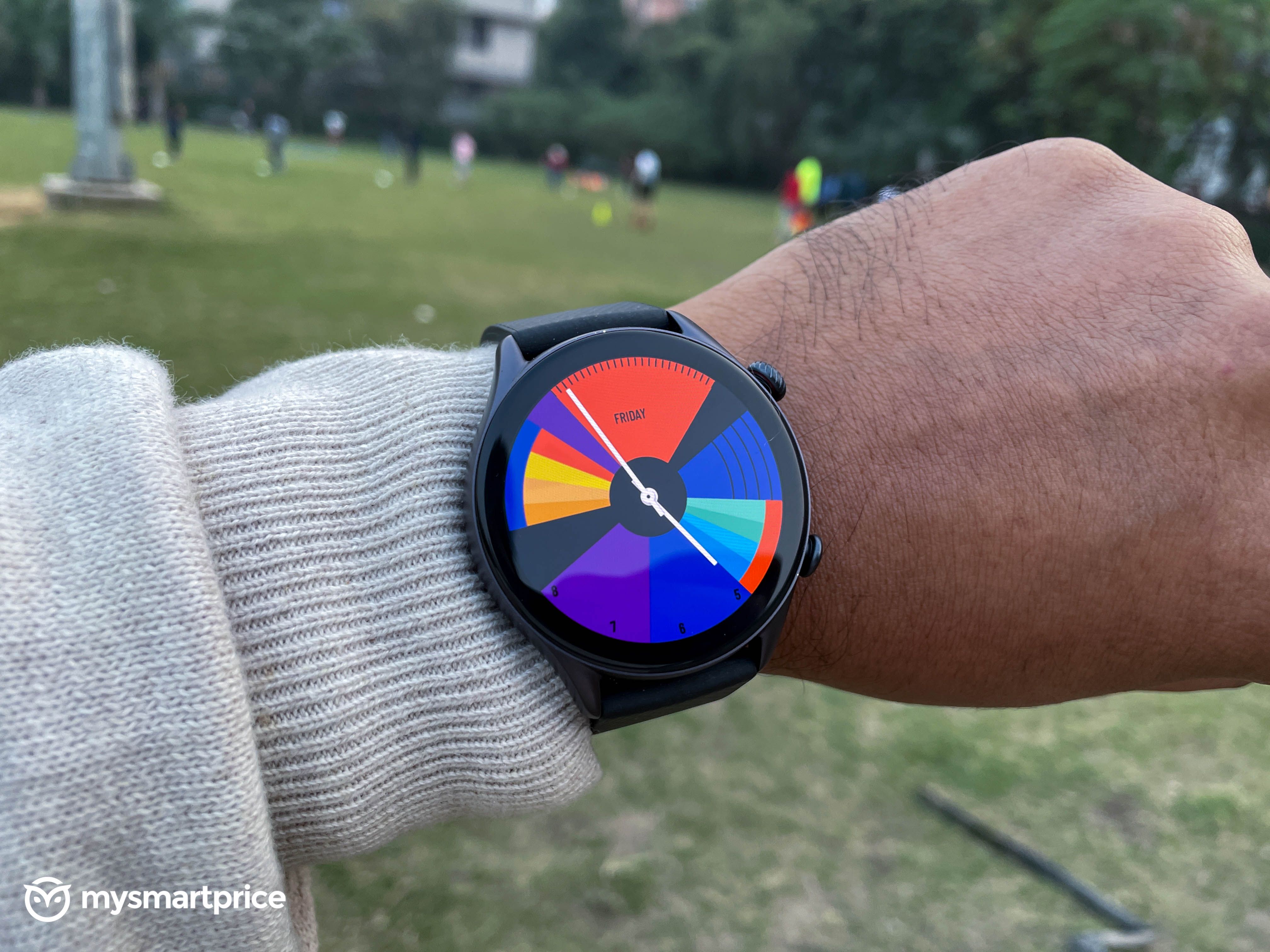 The silicone strap could have been made more breathable. The watch anyway isn't the lightest and smallest, and keeping it on your wrist round the day left marks on my wrist and made it sweaty. It doesn't help that the watch asks you to wear it tightly for the sensors to work with precision. But it's still uses a 22mm strap pin, and can be easily replaced by a custom strap in your local watch repairing store.
Display and UI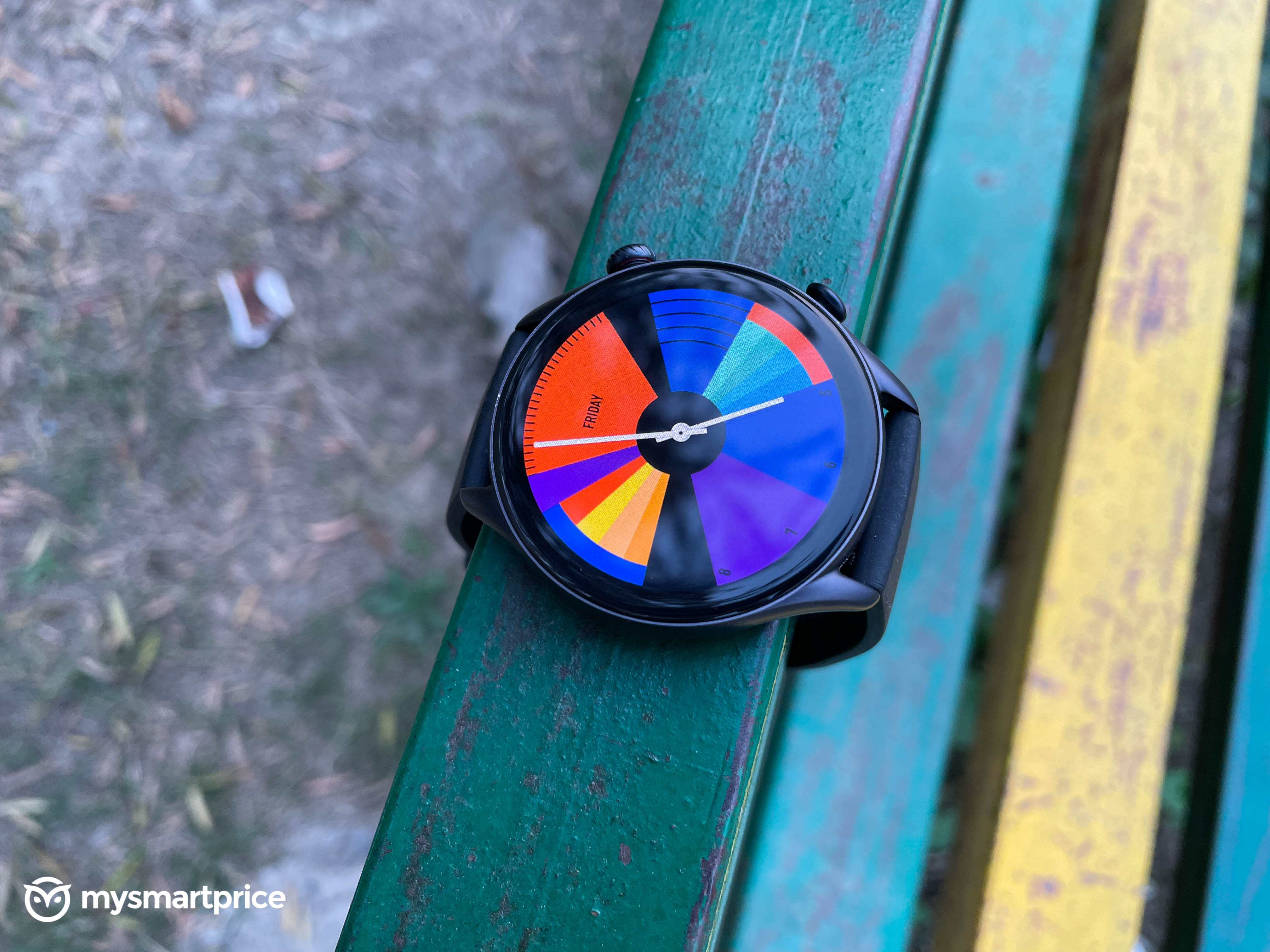 The GTR 3 Pro sports a large 1.45-inch OLED display with 480×480 resolution and up to 1000 nits peak brightness. But it's not entirely bezel-less as the marketing images suggest. There's still a distinct black border around the circular display that separates it from the frame, which effectively brings down the screen to body ratio.
The panel is easy to scroll through for its higher refresh-rate. There's also an anti-fingerprint coating that does a good job keeping away smudges, and it does get bright enough to be legible under direct sunlight.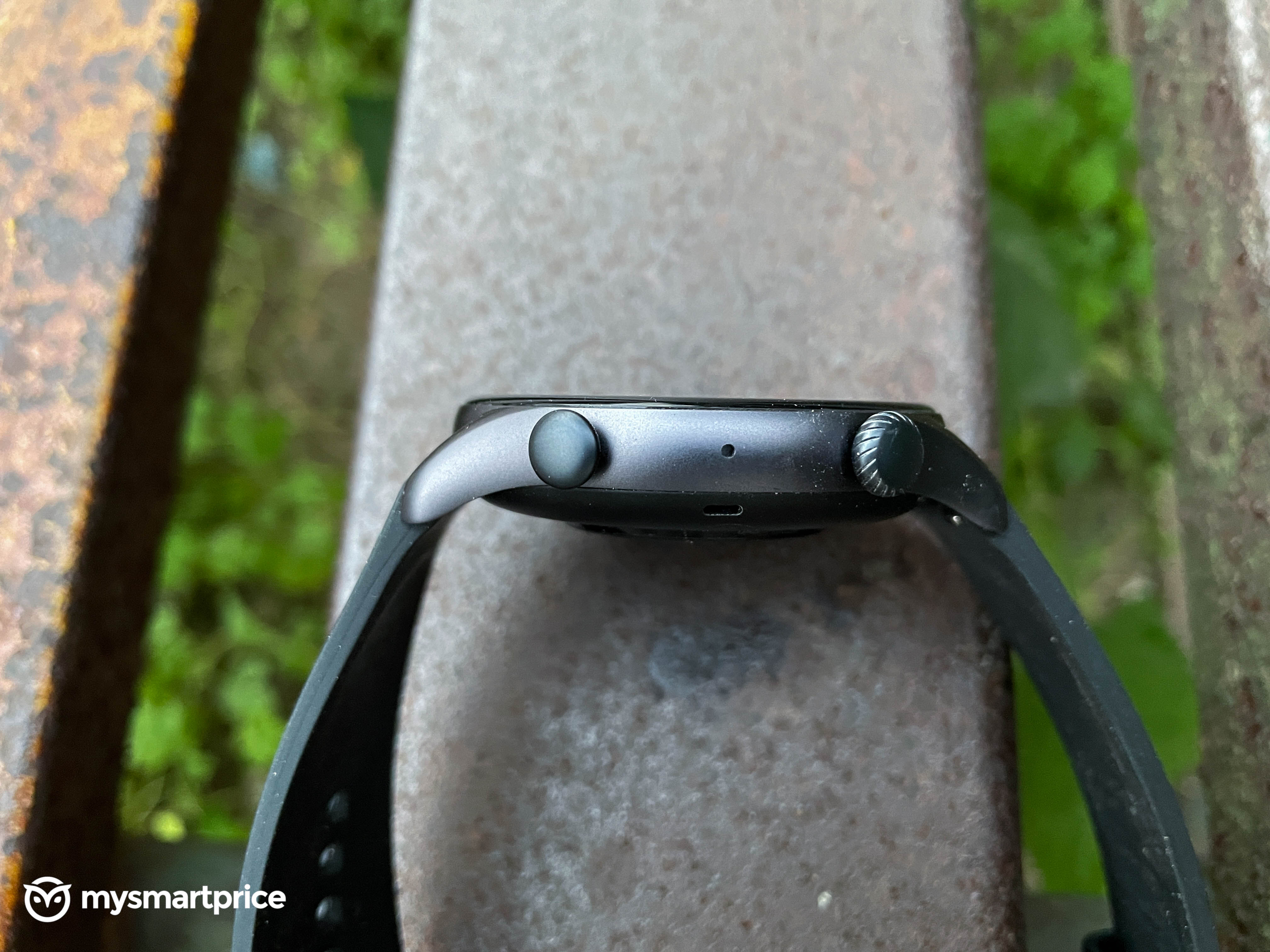 UI navigation happens either through swipes on the screen or by using the two crowns. You can use simple left-right-up-down swipes to navigate everywhere. Pressing on the top crown takes you to an app carousel while the bottom crown takes you straight to workout selection.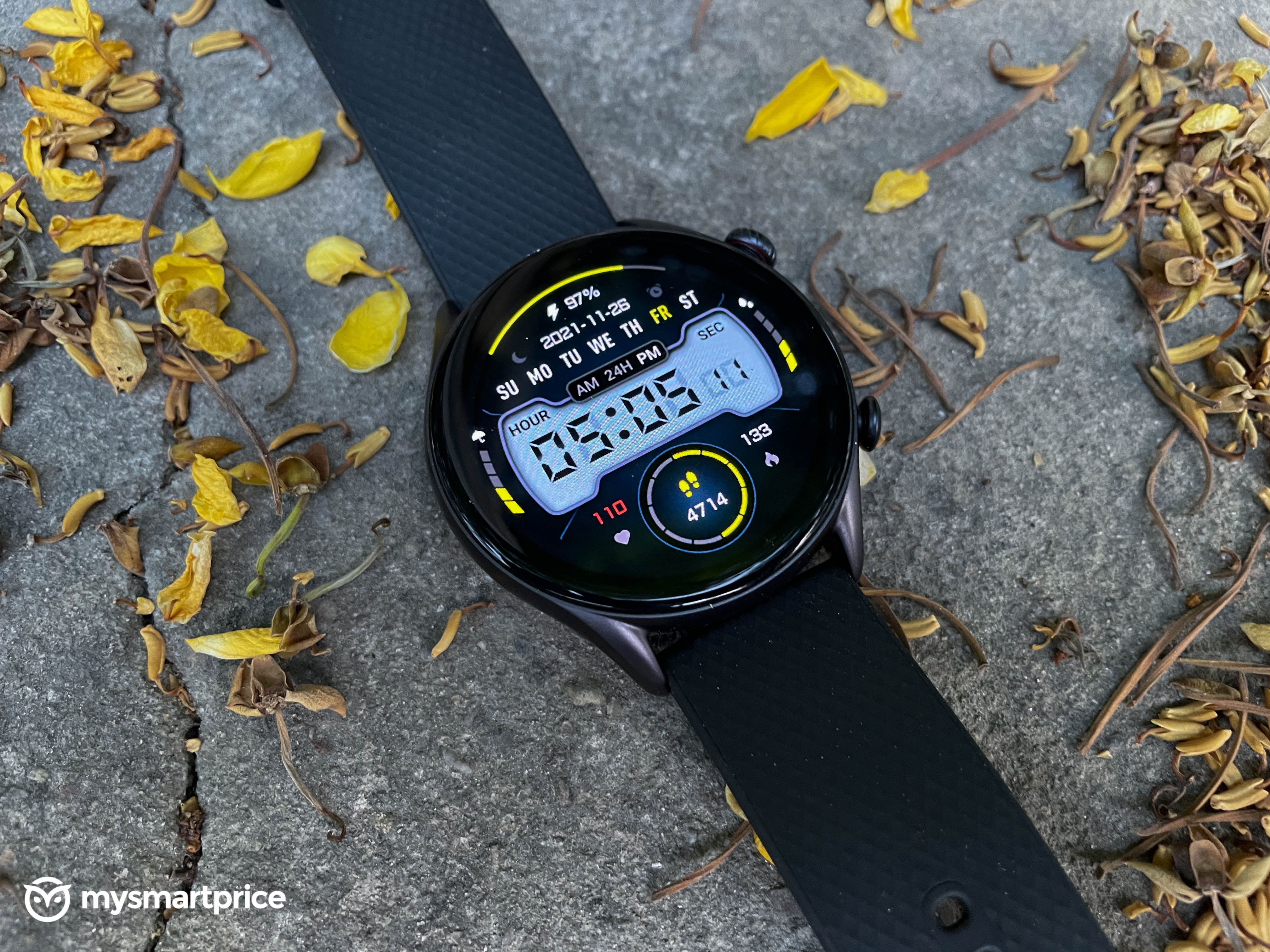 Using the GTR 3 Pro is simple enough. It doesn't have the added complications of a full-fledged OS like wear OS or watchOS. But that also means you miss out on a lot of features that makes your watch behave almost like a smartphone.
Features and Fitness Tracking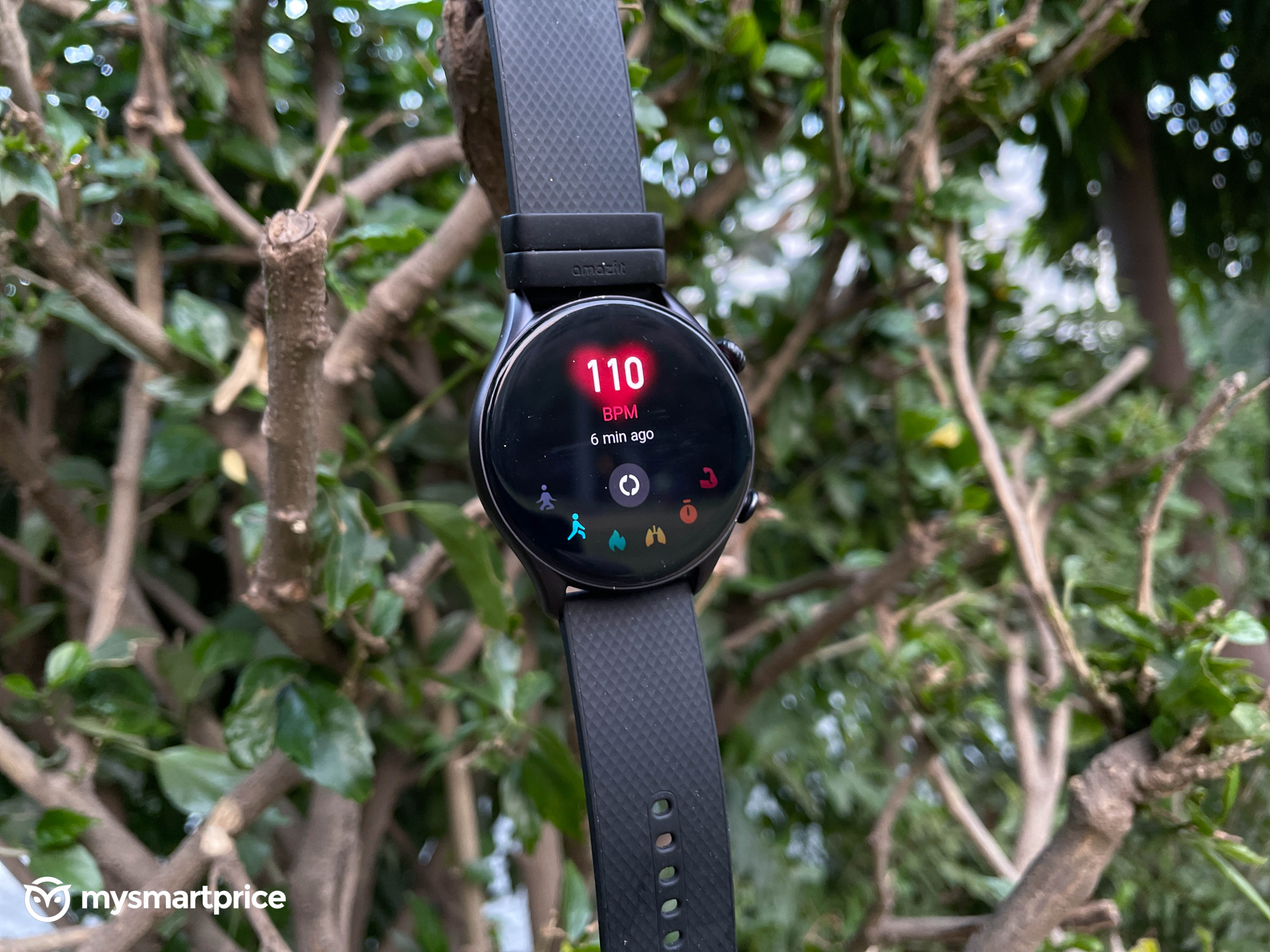 Owing to its Pro moniker, the Amazfit GTR 3 Pro's feature set includes some that's not usually found in the budget fitness trackers. Apart from the usual step counts, activity tracking and the likes, the GTR 3 Pro can calculate VO2 Max, training load and recovery time, all three of which are crucial for anyone striving to become a pro in any sport.
Furthermore, it packs elusive sensors like a thermometer and barometer, to tell you the local temperatures and air pressure respectively. The latter should come handy when hiking or trekking, which combined with the GPS will chart out the exact route you took for your hike.
The GTR 3 Pro can track more than 150 activities, but curiously missing were popular sports like badminton, football, cricket, etc. It does have a dedicated tracker for eSports, though, which tracks your heart rate and stress levels while you're gaming. Speaking of stress, the GTR 3 Pro keeps a 24/7 watch on your stress-levels and can also track menstruation cycles for women.
The fitness tracking bit works quite well. I've recently taken to cycling outdoors and the GTR 3 Pro gave me a detailed lowdown of how the activity went. Datapoints like laps, speed, heart rate, route, elevation, etc. were all captured and visualised in the app. Only eight activities are auto-detected, which includes cycling, swimming, running, walking, etc. The rest has to be manually triggered.
I quite liked the One-Tap measurement features which calculates the heart rate, blood oxygen levels and stress in one go for that particular moment. A good way to keep a track of your vitals before and after exercising.
Outside of fitness features, the GTR 3 Pro can receive and answer calls, play music and sync your notifications in real-time. Music can be saved directly in the watch, while the other two features require an active Bluetooth connection with your phone. You can also keep an eye on the weather, set alarms and countdowns, check the calendar and more.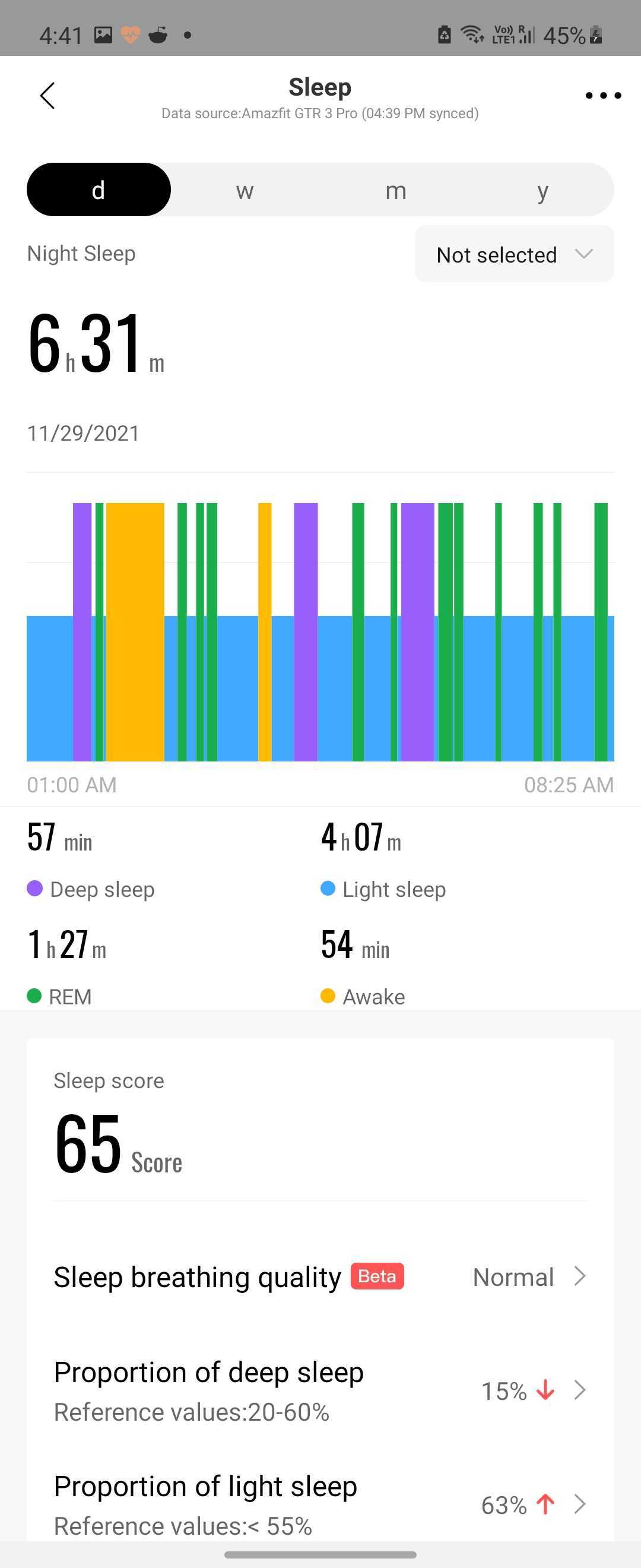 Sleep-tracking on the GTR 3 Pro is rich and detailed. Not as much as Fitbit or Apple, but good enough to have a basic idea of how you slept. You get detailed sleep analysis including light and deep sleep, period of REM sleep, the time you fell asleep as well as the number of times you woke up during sleep. All this is combined into a sleep score, and you can get an idea of how your sleep quality is, relative to other Amazfit users in a chart.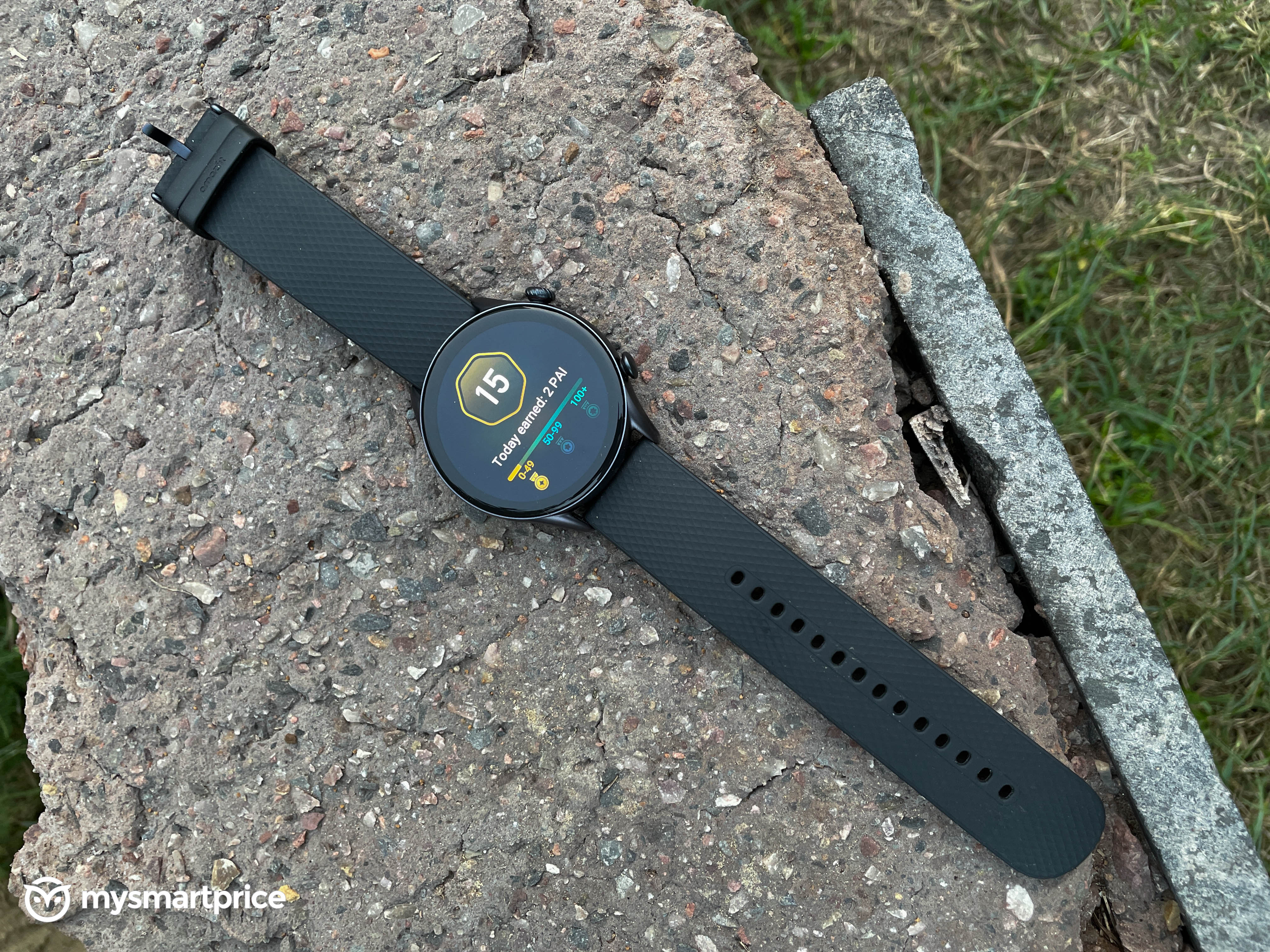 Almost all smartwatches and ftiness trackers have gamified being fit. Amazfit does it with its PAI scoring system. The score is calculated basis the company's proprietary algorithm, and the watch pushes you to meet the fitness goals and hit more milestones in PAI scores.
Battery Life
The downside of using something as rich as Wear OS or WatchOS is poor battery life. That's where the Amazfit and other budget smartwatches fit in. The lightweight operating system, despite keeping all sensors fired up at all times, lasts much longer than the full-fledged smartwatches, and the GTR 3 Pro is no different. It's astounding how despite having so many sensors on at all times, the watch can last well over a week of constant usage. You can surely extend the battery life even more by disabling real-time heart rate and stress tracking, but that'd only be counterproductive. Charging once a week isn't all that bad, is it?
Speaking of charging, the GTR 3 Pro relies on a plasticky magnetic charger to top up. It takes around two hours to reach 100%, which is decent enough for a smartwatch.
Verdict
The Amazfit GTR 3 Pro with all its bells and whistles is an excellent fitness tracker, and an average smartwatch. It's not going to dethrone the likes of Samsung, Fossil or Apple as far as smart features are concerned. There's no third-party app support, neither can you type out replies to messages. But it takes care of the basics quite well. Because there's no SIM card support, this essentially works as a companion device to your smartphone, and isn't fully independent. So don't buy it if a smartwatch is what you're looking for. But if a stylish fitness tracker is what you're after, there are many reasons to go for the GTR 3 Pro.
Photos by Amit Mishra
What Is Good?
High refresh rate AMOLED display
Bluetooth calling support with dialer
Rarely found sensors like thermometer, barometer, etc.
What Is Bad?
No third party app support
Can't reply to messages
Popular Indian sports tracking missing