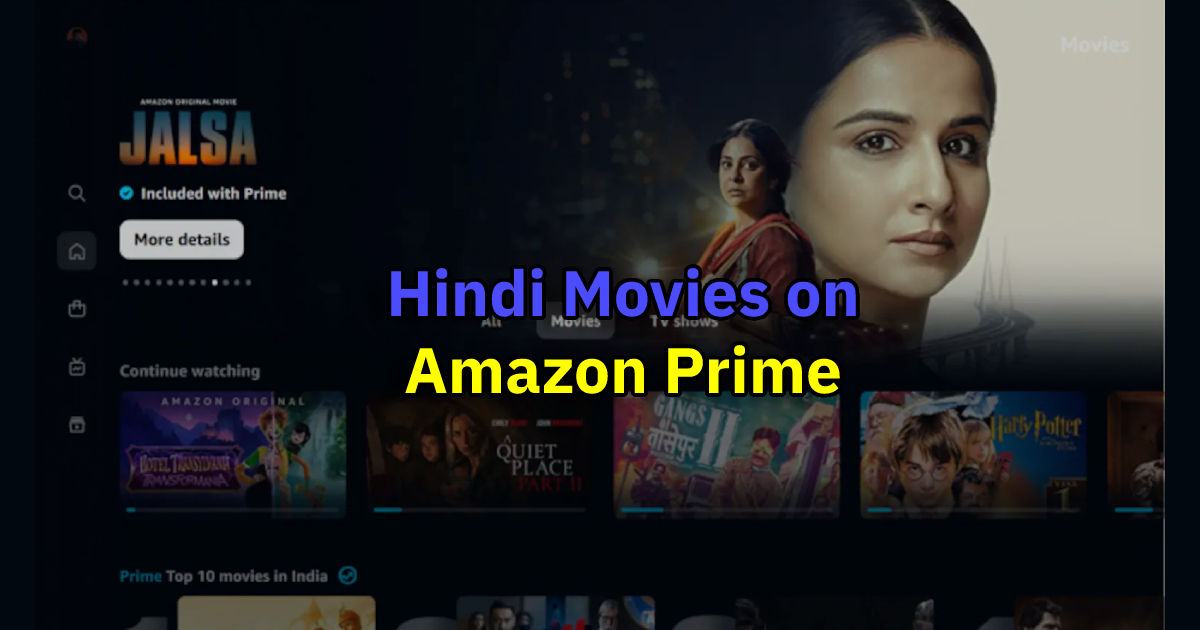 Bollywood movies have always been popular for their dramatic flair, captivating audiences for decades. Thanks to online platforms, people can now access some of the best Bollywood films of all time. Amazon Prime Videos boasts an extensive collection of Bollywood movies, ranging from romance, drama, comedy, action, thriller, fantasy, horror, and more. Filmmakers are now opting to release movies on OTT platforms like Amazon Prime, making it easier for people to access both new and classic films. In this article, we will discuss some of the top-rated Bollywood movies available to stream on Amazon Prime. We will provide details on the plot, cast, release date, genre, director, producer, and more. Check out our list of the top 20 Bollywood films on Amazon Prime.
Also Read: 10 Best OTT Platforms in India for Binge-Watching
List of Best Hindi Movies on Amazon Prime
| | | |
| --- | --- | --- |
| Movie Name | IMDB rating | OTT platform |
| Tummbad | 8.2 | Amazon Prime |
| Sholay | 8.1 | Amazon Prime |
| Udaan | 8.1 | Amazon Prime |
| Maqbool | 8 | Amazon Prime |
| Jab We Met | 7.9 | Amazon Prime |
| Gully Boy | 7.9 | Amazon Prime |
| The Lunchbox | 7.8 | Amazon Prime |
| Raazi | 7.7 | Amazon Prime |
| Karwaan | 7.6 | Amazon Prime |
| Newton | 7.6 | Amazon Prime |
| Parmanu: The Story of Pokhran | 7.6 | Amazon Prime |
| Dilwale Dulhaniya le Jaenge | 7.5 | Amazon Prime |
| Hichki | 7.5 | Amazon Prime |
| Ghazi | 7.5 | Amazon Prime |
| Sonu Ke Titu Ki Sweety | 7.1 | Amazon Prime |
| Thappad | 7 | Amazon Prime |
| Tumhari Sulu | 7 | Amazon Prime |
| Jalsa | 6.6 | Amazon Prime |
| Shankuntalam Devi | 6.1 | Amazon Prime |
| Shikara | 5.1 | Amazon Prime |
Also Read: Upcoming Web Series on OTT
Tumbbad (2018)
The 2018 horror-fantasy released film titled Tumbbad tells the fearsome tale of a family who decides to build up a shrine for Hastar in the hopes of acquiring his cursed wealth, but little did this family know that their actions will come with grave consequences and that they should have never worshipped this monster. This movie managed to set the grounds of a true horrific display of events and keeps the viewers glued to their screens from the very start.
Also Read: Best Web Series on Netflix
Cast: Sohum Shah
Release Date: 12 October 2018
Duration: 104 minutes
Genre: Horror and Fantasy
Director: Rahi Anil Barve
Producer: Sohum Shah, Aanand L. Rai, Anand Gandhi, Mukesh Shah, and Amita Shah.
Also Read: Best Romantic Movies on Netflix
Sholay (1975)
Sholay happens to be one of the classic 1975 action-adventure films of Hindi Cinema. When Gabbar Singh, who happens to be a notorious dacoit spreads his terror across a village in Ramgarh, one retired police officer named Thakur Baldev Singh hires two incredibly skilled ex-convicts to take out the dacoit but the fight with Gabbar was not as easy as it sounded for the duo as well. Things take a drastic turn towards the end when one of them becomes subjected to the villainous plans of Gabbar.
Also Read: Best Web Series on Netflix
Cast: Dharmendra, Sanjeev Kumar, Hema Malini, Amitabh Bachchan, Jaya Bhaduri, and Amad Khan.
Release Date: 15 August 1975
Duration: 204 minutes
Genre: action and adventure
Director: Ramesh Sippy
Producer: G. P. Sippy
Udaan (2010)
Udaan is the story of a young man and his ambitious dreams. Maara belonging to a remote village had sky-high dreams of launching his own airlines, but dreams are only easy to be dreamt about in reality Maara had to go through several obstacles and challenges to become successful in his attempts of launching his very own airlines. This action-drama movie is a perfect blend of fun and entertainment which keeps the audience engrossed in the story.
Cast: Rajat Barmecha, Ronit Roy, Aayan Boradia, Ram Kapoor, Manjot Singh, and Anand Tiwari.
Also Read: 20 Best Hindi Movies on Netflix Right Now
Release Date: 16 July 2010
Duration: 138 minutes
Genre: Action and drama
Director: Vikramaditya Motwane
Producer: Anurag Kashyap, Sanjay Singh, and Ronnie Screwvala.
Maqbool (2004)
Maqbool is an Indian crime drama film adapted from the incredibly famous play Macbeth. It is about the illicit love affair between a don's henchman and his mistress. As things get more intense between the two the story takes a tragic turn when the don's mistress suggests the henchman to kill him and take over his throne.
Cast: Irrfan Khan, Tabu, Murli Sharma, Pankaj Kapur, Om Puri, and Naseeruddin Shah.
Release Date: 30 January 2004
Duration: 132 minutes
Genre: Crime and Drama
Director: Vishal Bhardwaj
Producer: Bobby Bedi
Jab We Met (2007)
When a heartbroken business tycoon meets Geet during their train journey it marks the start of the possibility of romance between the two. Soon the duo starts their friendship based on a skirmish of words and as the night proceeds they get caught up in more drama, but Aditya eventually manages to drop Geet at her home. Little did he know that Geet had other plans and she decides to elope with her lover but ends up being all alone. The story takes a tragic turn when the star-crossed lovers finally meet again after years.
Cast: Shahid Kapoor, Kareena Kapoor, Tarun Arora, Saumya Tandon, and Dara Singh.
Release Date: 25 October 2007
Duration: 142 minutes
Genre: Romance-comedy
Director: Imtiaz Ali
Producer: Dhilin Mehta
Gully Boy (2019)
Gully Boy is a 2019 Hindi musical drama that was a superb hit at the box office. It is the story of an underdog named Murad, who aimlessly struggled when it came to expressing his views on some serious social matters and his life in Dharavi but eventually, he managed to bring some light on everything through his rapping and joined forces with a local rapper named MC Sher. Fans enjoyed the energetic performances of Alia Bhatt and Ranveer Singh in this musical drama that highlighted the struggles of the various local artists trying to establish their names in the rap world.
Cast: Ranveer Singh, Alia Bhatt, and Siddhant Chaturvedi.
Release Date: 14 February 2019
Duration: 153 minutes
Genre: Musical drama
Director: Zoya Akhtar
Producer: Farhan Akhtar, Zoya Akhtar, and Ritesh Sidhwani.
The Lunchbox (2013)
The Lunchbox is the tale of a blooming friendship that results from a mere coincidence and misunderstanding. The movie is a beautiful piece of art that tells the tale of an unlikely mistake of a tiffin carrier service that delivers Ila's tiffin to Saajan Fernandes this marks the start of an unlikely friendship developed between the two. Fans enjoyed the performances of the main lead actors as they beautifully managed to do justice to their characters and added a touch of originality to their roles.
Cast: Irrfan Khan, Nimrat Kaur, Bharti Achrekar, Nakul Vaid, and Nawazuddin Siddiqui.
Release Date: 20 September 2013
Duration: 105 minutes
Genre: Drama film
Director: Ritesh Batra
Producer: Anurag Kashyap, Guneet Monga, and Arun Rangachari.
Raazi (2018)
Raazi is a 2018 released Spy action thriller featuring the famous Bollywood celebrity Alia Bhatt in the leading role. It is the story of Sehmat Khan, who happens to be an undercover RAW agent being married into a Pakistani household by her father. Her marriage is solely dependent on her attempts to gather some useful intel about the enemy. The movie was a great hit and managed to win the hearts of the audience with its twisted and thrilling plot.
Cast: Alia Bhatt, Vicky Kaushal, Jaideep Ahlawat, Rajit Kapur, Shishir Sharma, Soni Razdan, Amruta Khanvilkar, and Arif Zakaria.
Release Date: 11 May 2018
Duration: 140 minutes
Genre: Spy action-thriller
Director: Meghna Gulzar
Producer: Vineet Jain, Karan Johar, Hiroo Yash Johar, and Apoorva Mehta.
Karwaan (2018)
Karwaan is the perfect drama-road comedy film featuring one of the biggest Bollywood actors Late Irrfan Khan. The movie as the title suggests tells the adventure of Avinash and Shaukat followed by the story of a teenager who joins them on their trip to Kochi, but it is not just an ordinary trip but turns into a truly comical adventure with the trio carrying a dead body in their van. Fans enjoyed the movie and loved it for the perfect blend of comedy and drama that it displays.
Cast: Dulquer Salmaan, Irrfan Khan, and Mithila Palkar.
Release Date: 3 August 2018
Duration: 114 minutes
Genre: Comedy-Drama
Director: Akarsh Khurana
Producer: Ronnie Screwvala and Priti Rathi Gupta
Newton (2017)
Newton is a 2017 black comedy-drama that tells the story of a government servant who as a part of his duty gets sent to a politically sensitive area in central India to conduct the elections, but things does not go as planned for him when he comes face to face with some serious troubles during his visit. He tries his best to conduct fair and free elections. The movie is a delightful experience that takes the viewers through a whirlwind of laughter and contemplation.
Cast: Rajkummar Rao, Pankaj Tripathi, Anjali Patil, and Raghubir Yadav.
Release Date: 22 September 2017
Duration: 106 minutes
Genre: Black comedy and drama
Director: Amit V. Masurkar
Producer: Manish Mundra
Parmanu: The Story of Pokhran (2018)
Parmanu: The Story of Pokhran is the 2018 released action and drama film that is centered around one of India's biggest achievements in the history. When one of the IAS officer, Ashwat is asked to lead forward a highly secretive operation regarding the testing of nuclear weapons, but he must make sure that the American intelligence authorities do not get to know about the ongoing testing in India. The movie is a piece of art with every move designed with utmost accuracy and perfection.
Cast: John Abraham, Diana Penty, and Boman Irani.
Release Date: 25 May 2018
Duration: 129 minutes
Genre: Historical Action-Drama
Director: Abhishek Sharma
Producer: John Abraham, Zee Studios, and KYTA Productions.
Dilwale Dulhaniya le jaenge (1995)
The tragic yet magical love story of Raj and Simran, two complete strangers who fall head over heels in love with each other during their trip to Europe. Raj having no idea that Simran will be taken away to India for her marriage, going against all odds the two lovers eventually end up uniting their undying love.
Cast: Shah Rukh Khan and Kajol.
Release Date: 20 October 1995
Duration: 189 minutes
Genre: Romance Drama
Director: Aditya Chopra
Producer: Yash Chopra
Hichki (2018)
2018 released Drama-comedy Hichki is about a teacher who suffers from Tourette syndrome, but she eventually finds a good teaching job at an elite school. Having difficulties of her own, this determined teacher turns the table for herself and changes her weakness into one of her biggest strengths. The movie received several positive reviews from the audience and is one of the best comical drama films of the year 2018.
Cast: Rani Mukherji, Supriya Pilgaonkar, and Harsh Mayar.
Release Date: 23 March 2018
Duration: 116 minutes
Genre: Comedy and Drama
Director: Siddharth P. Malhotra
Producer: Aditya Chopra and Manish Sharma.
Ghazi (2017)
Ghazi is a 2017 released war originally made in Telugu language but also available in dubbed Hindi version. The movie features the crucial moments of the two forced armies of India and Pakistan who are on the verge of declaring war and getting involved in a deadly battle. In the middle of this chaotic condition, a Pakistani Stealth submarine gets on a deadly and serious mission that puts the life of many at stake.
Cast: Rana Daggubati, Atul Kulkarni, Kay Kay Menon, Taapsee Pannu, Rahul Singh, and Satya Dev.
Release Date: 17 February 2017
Duration: 123 minutes
Genre: War drama
Director: Sankalp Reddy
Producer: Anvesh Reddy, Venkataramana Reddy, Prasad V Potluri, NM Pasha, and Jagan Mohan Vancha.
Sonu Ke Titu Ki Sweety (2018)
Sonu Ke Titu Ki Sweety is a romance-drama that explores the theme of friendship. When the friendship of two childhood friends stands at stake when one of the friends decides to marry a girl who is not just after his money but is also determined to spoil his friendship with his best friend. The duo faces a tough time when their friendship suffers a serious blow after a girl.
Cast: Kartik Aaryan, Nushrat Bharucha, and Sunny Singh.
Release Date: 23 February 2018
Duration: 138 minutes
Genre: Romance and Drama
Director: Luv Ranjan
Producer: Bhushan Kumar, Krishan Kumar, Luv Ranjan, and Ankur Garg.
Thappad (2020)
Thappad is a 2020 released Hindi language drama film featuring the tale of a content couple living a happy married life but things take a drastic turn for them when Vikram slaps Amrita at an office party which sets the fuel in fire for Amrita filing for a divorce. The movie explores the real-life issues concerning married couples and the basic violence theme. The movie managed to win the hearts of millions with its incredibly refined and well-formulated plot which also resonated well with the public.
Cast: Taapsee Pannu
Release Date: 28 February 2020
Duration: 142 minutes
Genre: Drama
Director: Anubhav Sinha
Producer: Bhushan Kumar, Krishan Kumar, and Anubhav Sinha.
Tumhari Sulu (2017)
Tumhari Sulu is the dramatic-comical tale of a perfect stay-at-home spouse who lives a dutiful life with her husband and son, but things take a drastic change for her when she wins a contest and sets out to audition for a late-night radio show no doubt that it will entirely change her life. The film is a perfect delight to watch and keeps the audience entertained with fun and drama from the very start. Vidya Balan has done an incredible job with her brilliant acting skills and won the hearts of millions.
Cast: Vidya Balan, Neha Dhupia, Manav Kaul, and Abhishek Sharma.
Release Date: 17 November 2017
Duration: 140 minutes
Genre: Comedy-drama
Director: Suresh Triveni
Producers: Bhushan Kumar, Tanuj Garg, Krishan Kumar, Atul Kasbekar, and Shanti Sivaram Maini.
Jalsa (2022)
Jalsa is a 2022 released Hindi language thriller featuring Vidya Balan and Shefali Shah in the lead roles. The movie is centered around a particular incident that takes the lives of a journalist named Maya and her house help Ruksana. After a hit and run incident, the duo faces some grave problems in their perfectly simple life. It is a gripping story that also focuses on the themes of inner conflict and motherhood. The movie is perfect binge-watch-worthy content that keeps the audience attentive and at the end of their seats.
Cast: Vidya Balan and Shefali Shah
Release Date: 18 March 2022
Duration: 126 minutes
Genre: Thriller
Director: Suresh Triveni
Producer: Bhushan Kumar, Krishan Kumar, Vikram Malhotra, and Shikhaa Sharma.
Shakuntalam Devi (2020)
Shankuntalam Devi is a 2020 released Hindi biographical drama film that tells the story of an unhinged and truly incredible mathematician Shakuntala Devi who travels the world and becomes famous for her talent and excellency in mathematics but soon people start to dub her as a human computer. This is an incredibly comical and lighthearted tale that surely keeps the audience entertained from the very beginning.
Cast: Vidya Balan, Jisshu Sengupta, Sanya Malhotra, and Amit Sadh.
Release Date: 31 July 2020
Duration: 127 minutes
Genre: biographical drama
Director: Anu Menon
Producer: Sony Pictures Releasing, Sony Pictures Networks India, and Vikram Malhotra.
Shikara
Shikara is a 2020 released romantic-drama film featuring a Kashmiri couple who was forced out of their home along with the other Kashmiri pandits due to the communal riots in the state. Having no place to live, the couple sets out to navigate their way through challenging times in search of clarity and stability. The movie explores the difficulties of these wanderers touched up with the perfect element of love and trust.
Cast: Aadil Khan and Sadia Khateeb
Release Date: 7 February 2020
Duration: 120 minutes
Genre: Romantic drama
Director: Vidhu Vinod Chopra
Producer: Vidhu Vinod Chopra
These are some of the brilliant and top-viewed movies available on Amazon Prime Videos that the viewers can easily watch. All these films can surely be categorized into different blends of genre categories including action, thriller, horror, drama, romance, and many others. These are the top-rated options available, and a viewer can Spend his/her weekend watching them with their friends and family, and we hope that these suggestions help you and you have a wonderful time watching them!