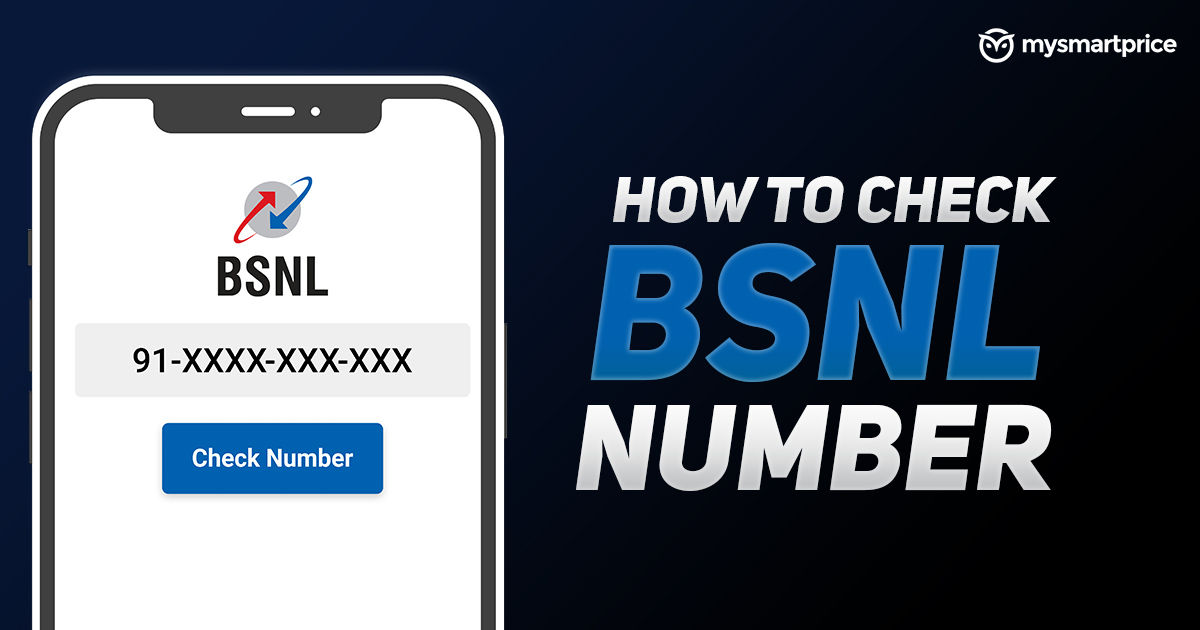 BSNL is one of the largest telecom operators in India. The company has a strong presence in almost every part of the country whether be it metro cities or remote villages. Furthermore, it is also one of the few operators that offer a wide range of recharge plans for its customers across different circles. Interestingly, there are times when you tend to forget your BSNL number or it just skips your mind. This happens especially if you are a new customer or have just bought a new BSNL SIM card. However, you need not worry as BSNL offers a slew of ways through which you can easily know your mobile number without much hassle. In this article, we are going to discuss how to check BSNL number using USSD codes or through other ways. So, let's begin.
Also Read: BSNL Recharge Plans 2022: Best BSNL Prepaid Plan List with Data, SMS, Unlimited Calling, SIM Validity Benefits
How to Check BSNL Mobile Number Using USSD Code
BSNL offers different USSD codes through which you can instantly know your mobile number. The USSD codes are also helpful for knowing other details like remaining balance, data, validity, and more. All you need it a right combination of USSD code to know the information. So, if you have forgotten your BSNL number, you can follow these steps:
Open your phone application and go to the Dialer option.
Dial *1# from your registered BSNL number. This is the USSD code for checking BSNL number.
You will get a flash message that will show you the BSNL mobile number.
Alternatively, there are other USSD codes for knowing the mobile number. Here's a list for the same:
*555#
*555*2#
*888#
*888*1#
*888*2#
Also Read: BSNL Balance Check: How to Check BSNL Data, SMS, Talktime, Prepaid Plan Validity?
How to Check BSNL Mobile Number using BSNL App
The state-owned telecom operator also makes it easier to find your BSNL number using the application. All you need to do is follow these steps. However, we suggest you follow the above-mentioned steps for the first time to know the mobile number and note it for the following steps:
Open Google Play Store app and search for BSNL app.
Click on Download app and install it on your smartphone.
Open the application and log in by entering your BSNL number using the above method.
You will then get an OTP on your registered mobile number. Enter it to log in.
Also Read: BSNL Validity Extension Plans 2022: List of All BSNL Recharge Plans to Extend Validity – Benefits and Price
When you enter the application, your BSNL number will be displayed on the home screen. You can use the application to know your mobile number at any given point in time. Furthermore, you can also do recharges, avail app-exclusive offers, and get other information with ease.
How to Check Bsnl Number By Calling Customer Care
You can also check your BSNL number by calling BSNL customer care. BSNL customer care can be used for any help regarding your BSNL connection, and the help of it can be used to find your own phone number and more.
Here's how to do it:
Call the toll-free helpline of BSNL mobile by dialling either:

1800-180-1503

1503

Select the balance check option.

It will recite the balance on your account along with your mobile number.

You can also connect to the customer support executive to ask for your phone number.
How to Check Bsnl Number By Calling Or Messaging Friends/Family
The easiest way to check any phone number is by calling the numbers of people you know. Just call them and ask which number they received this call from.
If you have another number with you, call that number from your BSNL number to find your phone number.