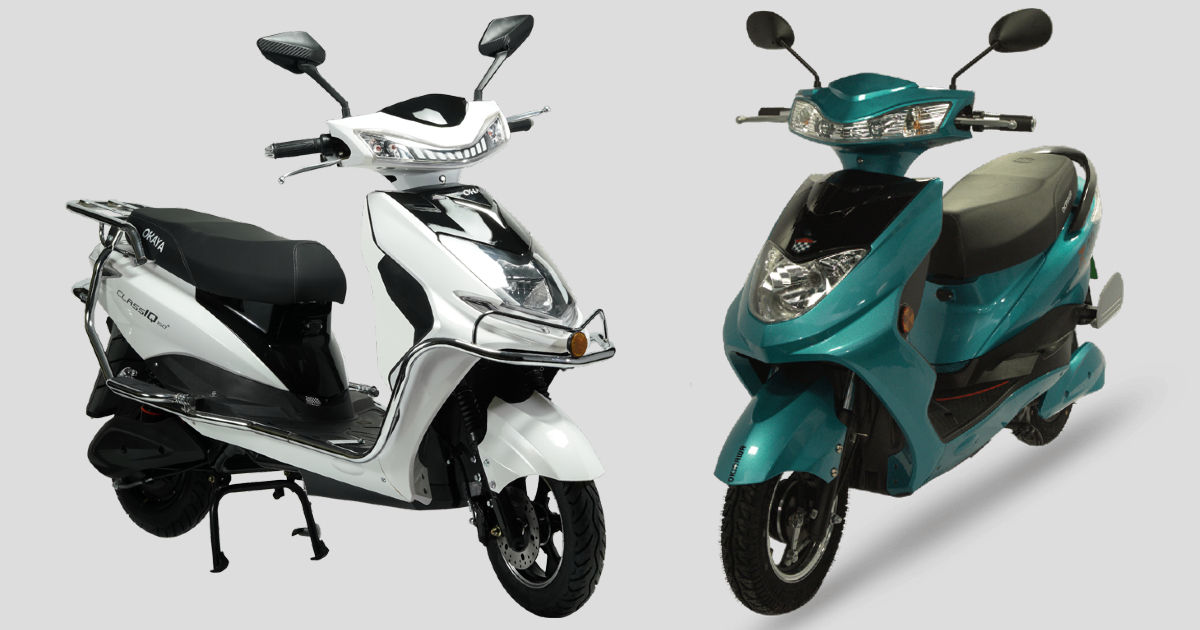 The Indian government has long held a position of being the leader in the electric vehicle industry. Because of this, India has become the largest market for electric vehicles in recent years. In this growth, one particular segment stands out, that of electric two-wheelers, largely propelled by the rising demand of electric scooter in the country. This boost in demand has also nurtured a fast-evolving electric two-wheeler presence in the Indian automotive industry. We can witness this with the plethora of options available for electric scooter buyers in India today. Of course, not all of them are same and it might get confusing for a buyer to choose the best fit among these.
We came up with a buying guide earlier, that helps you select the best electric scooter for your needs based on a number of aspects. But there are some buyers for whom the only deciding factor is affordability. For those, here we list some of the cheapest electric scooters available today in India. The list comprises electric scooters from the houses of Okinawa, Here Electric, Okaya, Kymco and others. All these e-scooters belong to the lowest price bracket in the Indian market, so you can easily choose among these to own an electric two-wheeler at the lowest affordable prices.
Note that these are the ex-showroom prices of these electric scooters and vary from one region to another. The associated pros and cons are sourced from the customer feedback as posted on online platforms.
List of Cheapest Electric Scooters in India
Hero Electric Flash LX (VRLA)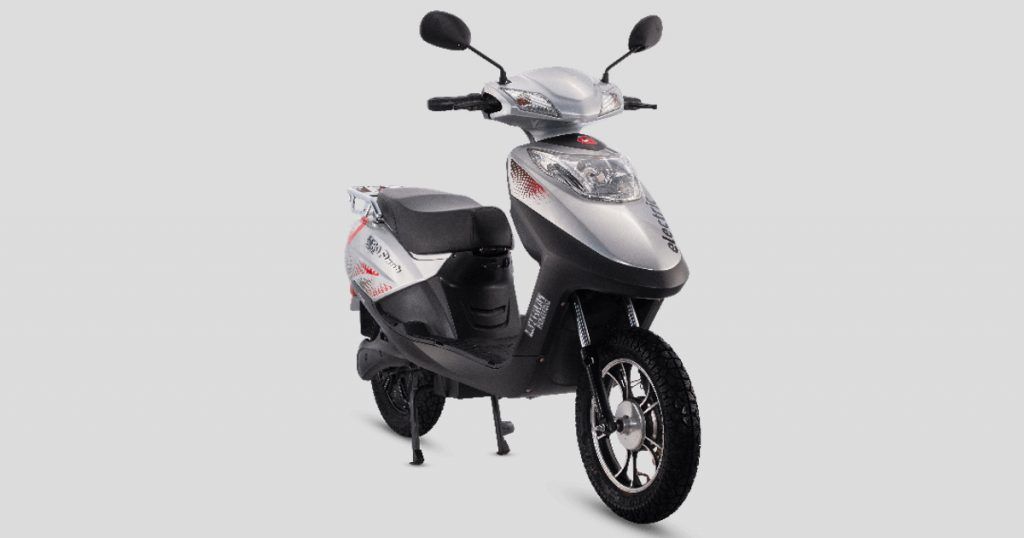 A basic electric scooter offering from the house of Hero Electric, the Hero Electric Flash LX comes with a surprising number of new-age features for its price. To list some, the Flash LX features a digital instrument cluster at the dash and an LED headlamp. It also comes with alloy wheels and telescopic suspension.
The e-scooter is backed by a VRLA battery or Valve Regulated Lead Acid, and hence is much more affordable than another of its variant that comes with Lithium-ion batteries. The battery is portable, which means you can easily swap it when it is discharged. It also means that you can carry the battery with you to your office or home in order to charge it. With a capacity of just over 50kW, that battery promises a range of 85 km per charge.
Price in India
The Hero Electric Flash LX price in India starts at Rs 46,640.
Pros and Cons
| | |
| --- | --- |
| Pros | Cons |
| Smooth ride | |
| Feature loaded | Sub-standard build quality |
| Value for money | |
Also Read: New Electric Cars in India: Kia EV6, Tata Nexon EV Max, MG ZS EV Facelift, and More
Okaya ClassIQ+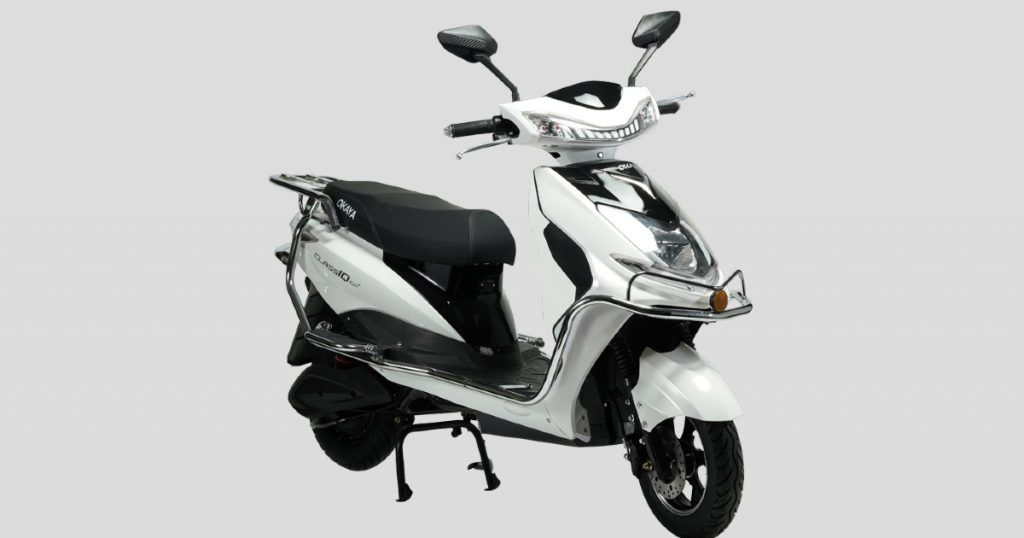 Okaya's entry-level electric scooter also features many capabilities for its price. While the design is quite mainstream, even as compared to petrol scooters, there are all the essentials we associate with electric scooters today. There are LED headlights at the front, daytime running lights or DRLs, disc brakes on both the ends as well as regenerative braking to help you charge the battery a little every time you brake.
Specifics of the Okaya electric scooter show a limited capability though. There is a top speed of 25 kmph and a corresponding range of 50 to 60 km per charge through a 48V VRLA battery. Okaya says that the battery on the ClassIQ+ takes about 8 to 9 hours for charging, and subsequently powers a 250 watt BLDC motor placed at its hub.
Okaya ClassIQ+ comes with a 1 year warranty and can be booked through the company's official website just for Rs 499.
Price in India
The Okaya ClassIQ+ comes with a price tag of Rs 58,450.
Pros and Cons
| | |
| --- | --- |
| Pros | Cons |
| LED headlights | Low top speed |
| DRLs | Regular design |
| Disc brakes on both wheels | Slow charging |
Okinawa R30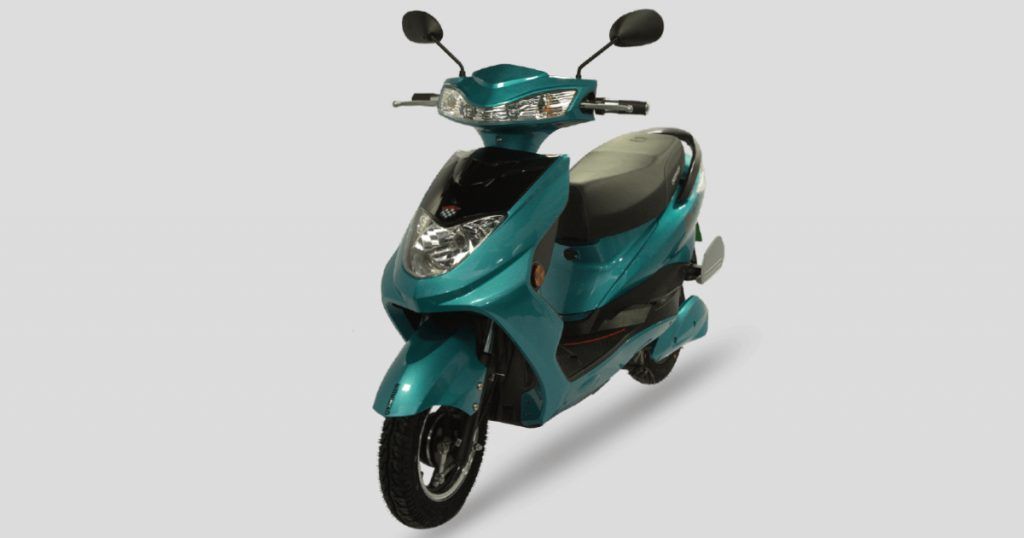 Called the "Eco Companion," the R30 electric scooter by Okinawa comes as a budget offering by the company and hence the affordable price. The price tag is also a hint at its specifications, which promise a limited ride on the e-scooter. Some of the highlights include E-ABS or Electronic- Assisted Braking System, regenerative braking and hydraulic telescopic suspension at the front. The R30 sticks to drum brakes at its price.
The scooter packs a 1.34 kWh lithium-ion battery which can be detached and carried for charging. The battery charges in 4 to 5 hours as claimed by the company and it powers a 250W BLDC motor. Okinawa says that in a full charge, the R30 can run up to 60 km, though you can expect a little bit less in real-world use.
Okinawa is offering a 3-year warranty on both the electric scooter as well as its battery. Motor warranty is also for 3 years or 30,000 km, whichever comes first.
Price in India
The Okinawa R30 is available in India at a price tag of Rs 58,992.
Pros and Cons
| | |
| --- | --- |
| Pros | Cons |
| E-ABS | Drum brakes |
| 3-year warranty | |
| Portable battery | |
Bounce Infinity E1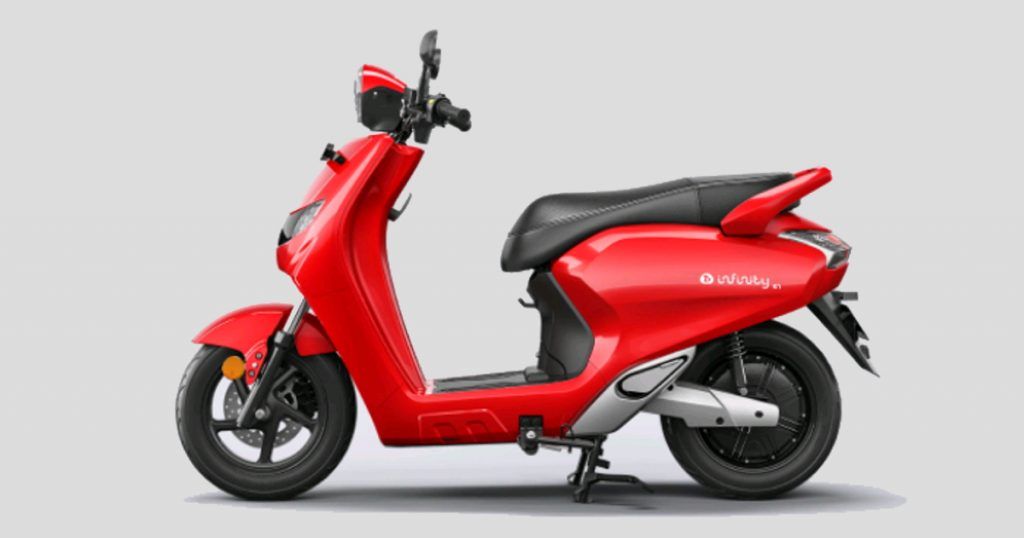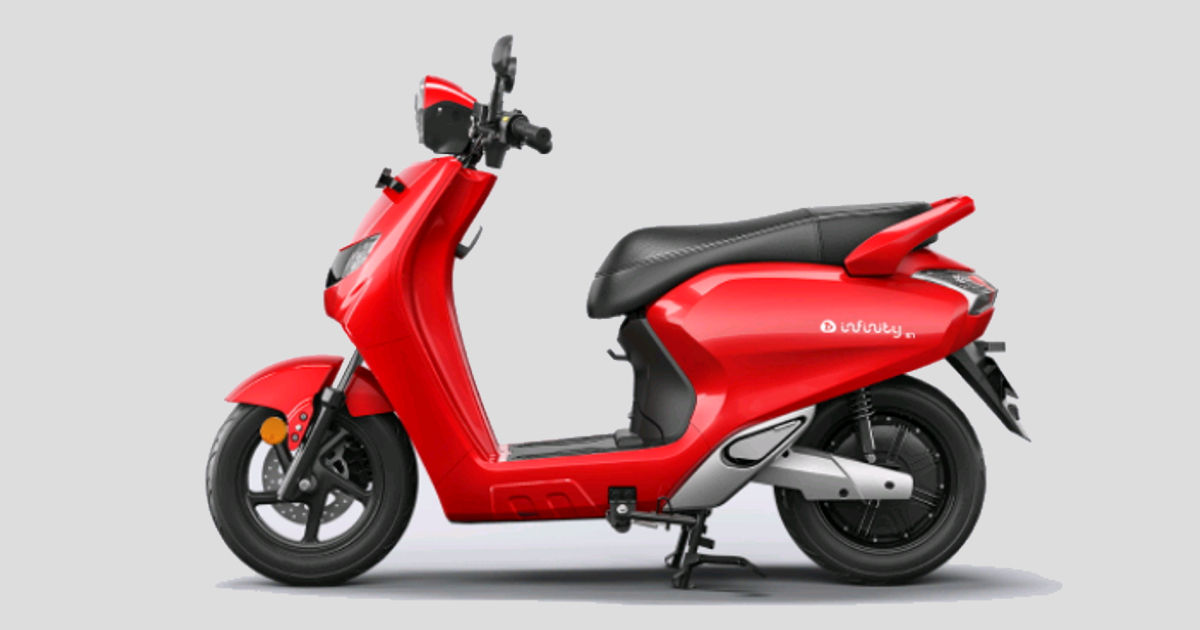 Bounce Infinity E1Bounce has an interesting plan for those looking to have an electric scooter but pay the least upfront amount possible. The Infinity E1 can be bought for just Rs 36,099 but there is a clause. At this price, the buyers will only get the scooter without a battery. The battery can then be bought on a per-use basis from Bounce's network for as low as Rs 35 per swap, though there might be a monthly subscription involved too, based on your plan. In case you want both the e-scooter and the battery and the accompanying charger, you will have to shell out over Rs 59,999.
As for what it offers, the Infinity E1 comes with a 1500W BLDC motor and that offers a top speed of 65 kmph. There is regenerative braking system onboard powered by disc brakes on both the front and the rear. Bounce claims that the Infinity E1's 1.9KWhr battery is waterproof and delivers a range of 85 km per charge. The charging time has been mentioned to be 4 hours for 0 to 100 per cent charge.
Other highlights include a customisable skin, alloy wheels, drag mode and reverse mode as well as regenerative braking. The Infinity E1 comes in five colour options.
Price in India
The Bounce Infinity E1 electric scooter comes with a price tag of Rs 36,099.
Pros and Cons
| | |
| --- | --- |
| Pros | Cons |
| Great entry-price | |
| Disc brakes | |
| | |
batt:Re LoEV
Rs 68,900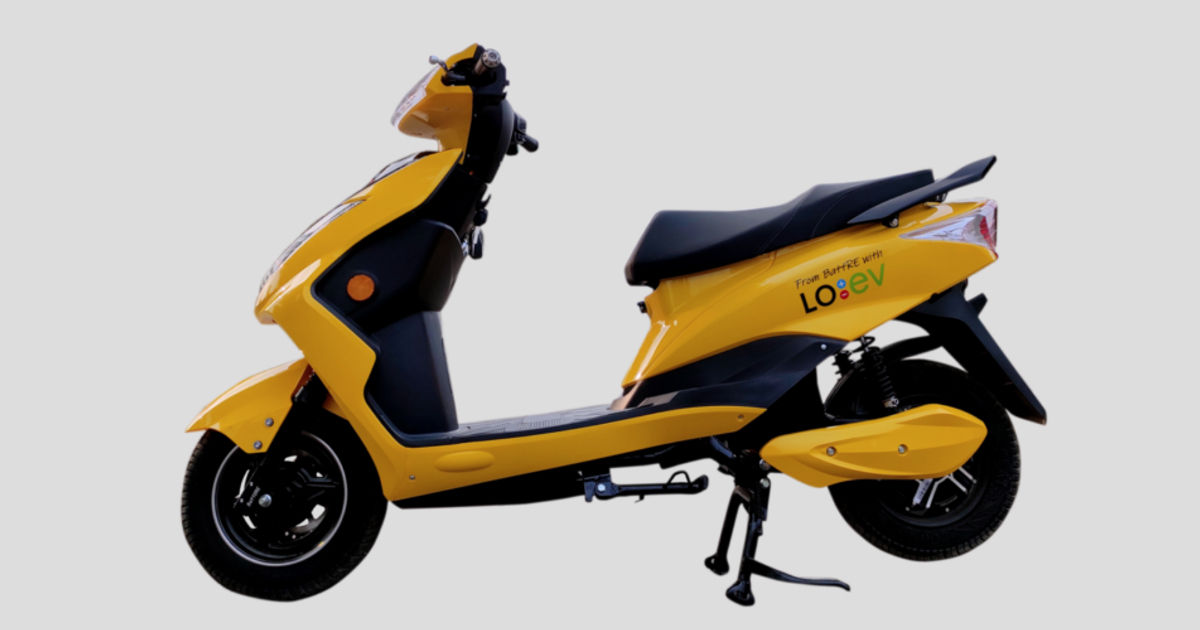 From the house of batt:Re, LoEV comes at a reasonable price with highlights like 3 riding modes including reverse, remote key and anti theft alarm, and a USB charger onboard.
There is a 48V Lithium Ferro Phosphate (LFP) battery pack inside the scooter that promises a decent range of 60 km on a complete charge. batt:Re says that this takes just around 2.5 hours to charge through its 54.6V accompanying charger.
The e-scooter is powered by a BLDC motor mounted at its hub, that enables a top speed of 25 kmph. There are disc brakes on both the fronts of the e-scooter, and hydraulic fork suspension at the front, while the rear makes do with an adjustable hydraulic coilover. The batt:Re LoEV comes with LED headlamps and regular bulbs at tail and side lamps.
batt:Re LoEV is available in six colour options and those interested in buying this electric scooter can do so through the official company website here.
Price in India
The batt:Re LoEV electric scooter comes with a price tag of Rs 68,900.
Pros and Cons
| | |
| --- | --- |
| Pros | Cons |
| Anti theft alarm | Service troubles |
| LED headlamps | Limited range |
| Fast charging time | |