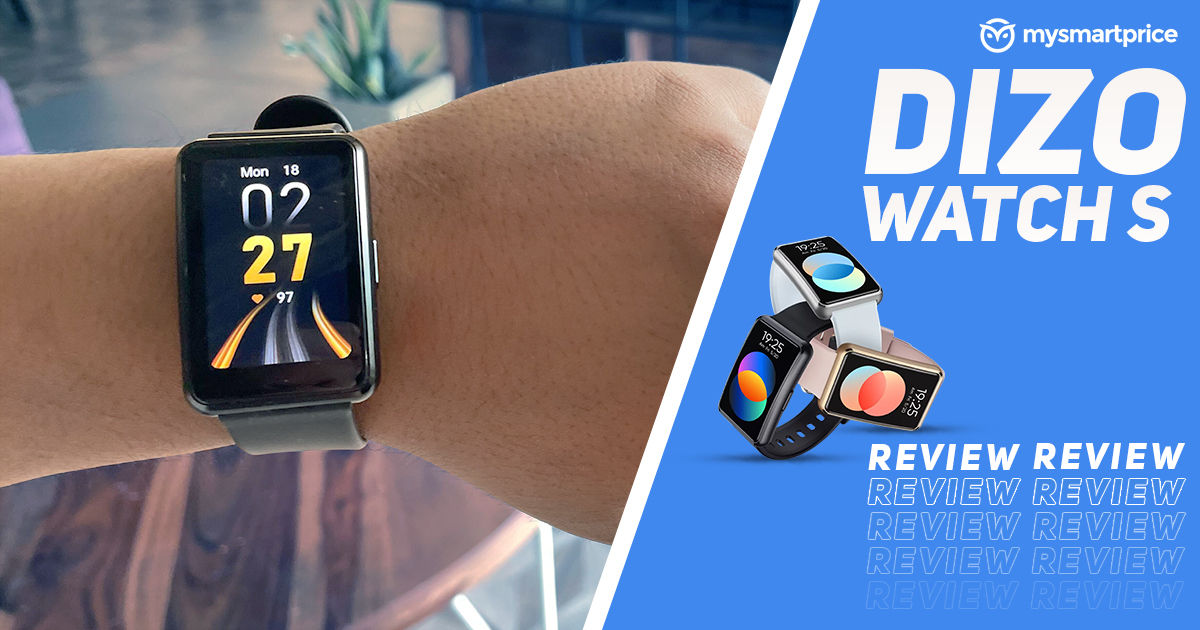 A common complaint about fitness bands is their tiny screen size. Text and icons appear  congested due to the lack of real estate and our touch gestures go wrong. A few brands such as Honor and Xiaomi have launched their fitness band with a big screen but those are available at a price point of over Rs 3,000. Dizo, a sub-brand of Realme, has introduced the Dizo Watch S that features a large 1.5-inch rectangular screen. Other notable highlights include an IP68 rating, multiple health based features and 110+ workout modes, to name a few. 
Making things interesting is a price tag of Rs 2,299, and if you manage to get your hands on it during its first sale, you can have it for an introductory price of Rs. 1,999.  
So, is bigger better? We have been using the Dizo Watch S for almost a week now to answer this, so keep reading its review to find out.  
Design, Fit and Build Quality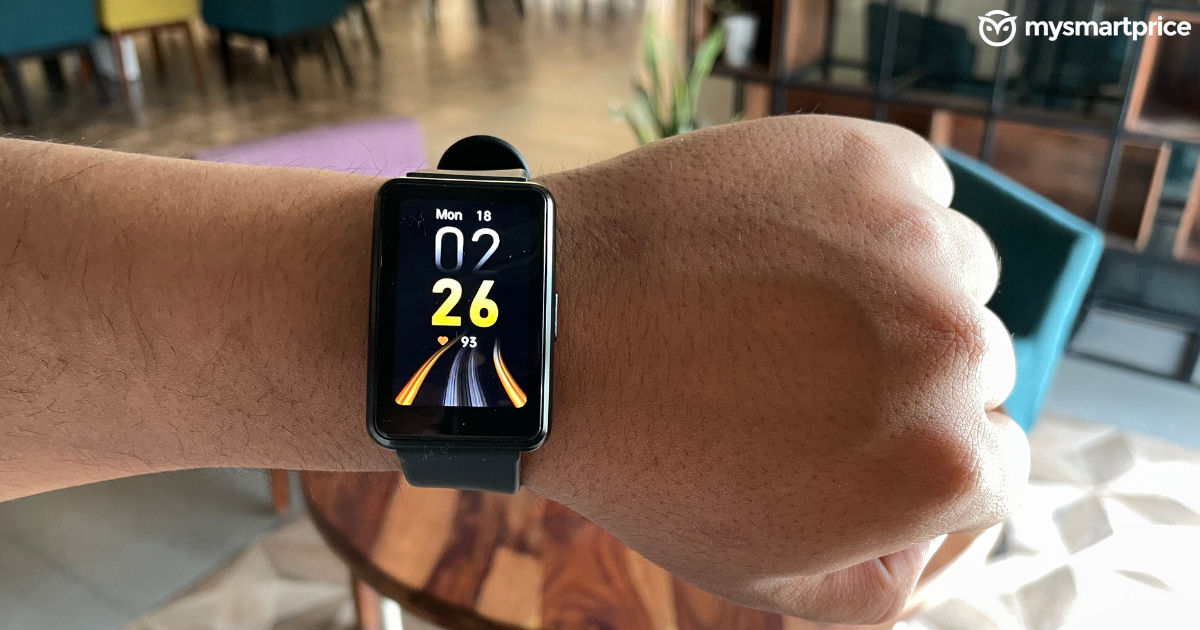 The Dizo Watch S features a big rectangular frame, the sides of which are made of metal. It's a slightly curved body that is attached with two 20mm silicone straps that are detachable. The build quality of the watch feels solid, thanks to the metal frame, while the straps seem pretty average. There is a physical main button on the right which helps in navigating across the UI. The Dizo Watch S houses a PPG heart rate sensor, blood oxygen level sensors, and magnetic charging pins on the back.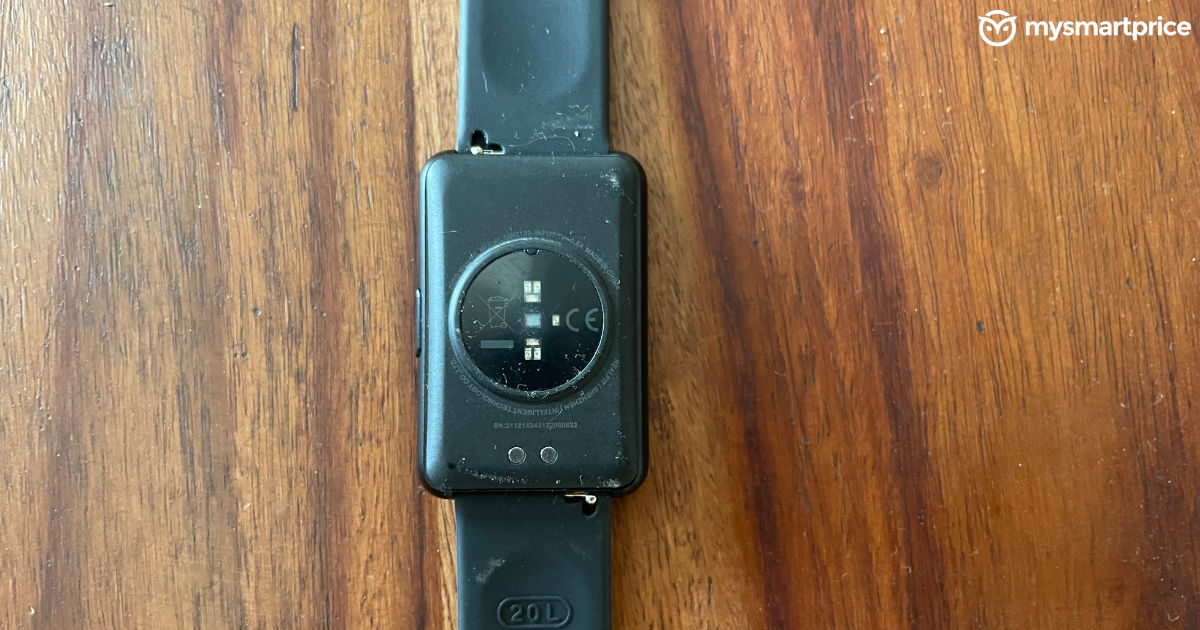 The black colour of the watch is not so attractive and feels too dark as the colour of the frame gets mixed with straps and bezels, we would recommend you to pick either the silver blue or golden pink colour. The Dizo Watch S has an IP68 water resistance rating which means that it will protect against dust and sweat. Theoretically, you can also take it underwater up to 1.5 meters for half an hour but that doesn't mean you should try it out.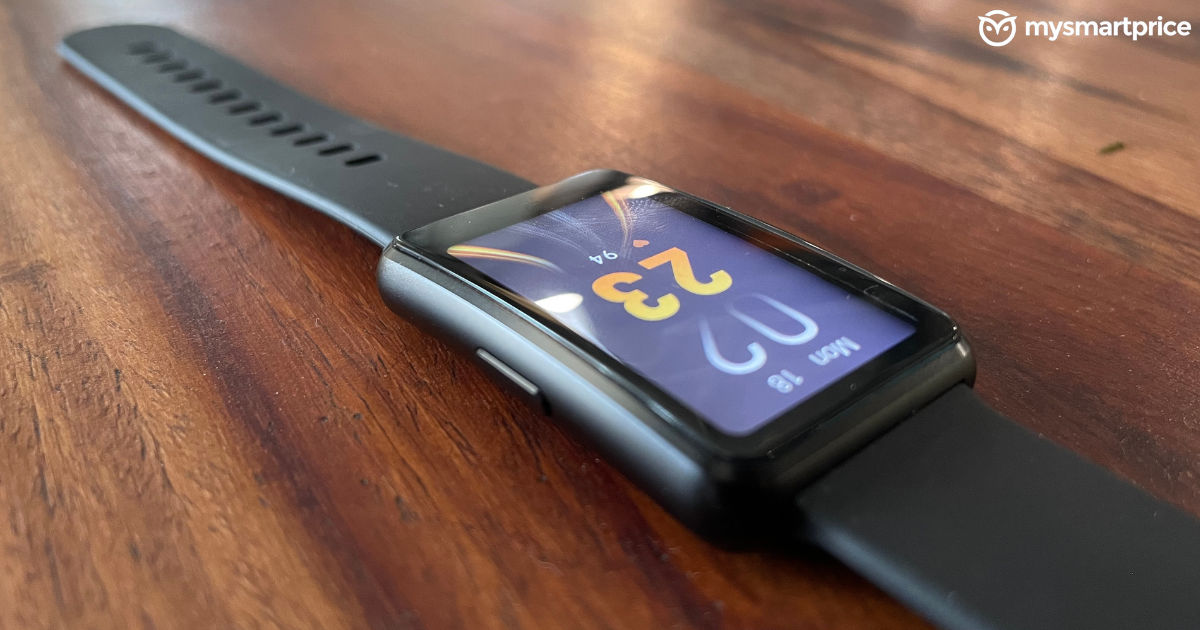 The smartwatch weighs 52.5 grams which feels slightly heavy on the wrist and sometimes makes it uncomfortable to wear all day. The bezels around the rectangular display are thick on the sides and thicker on the chin. 
Display and Watch Faces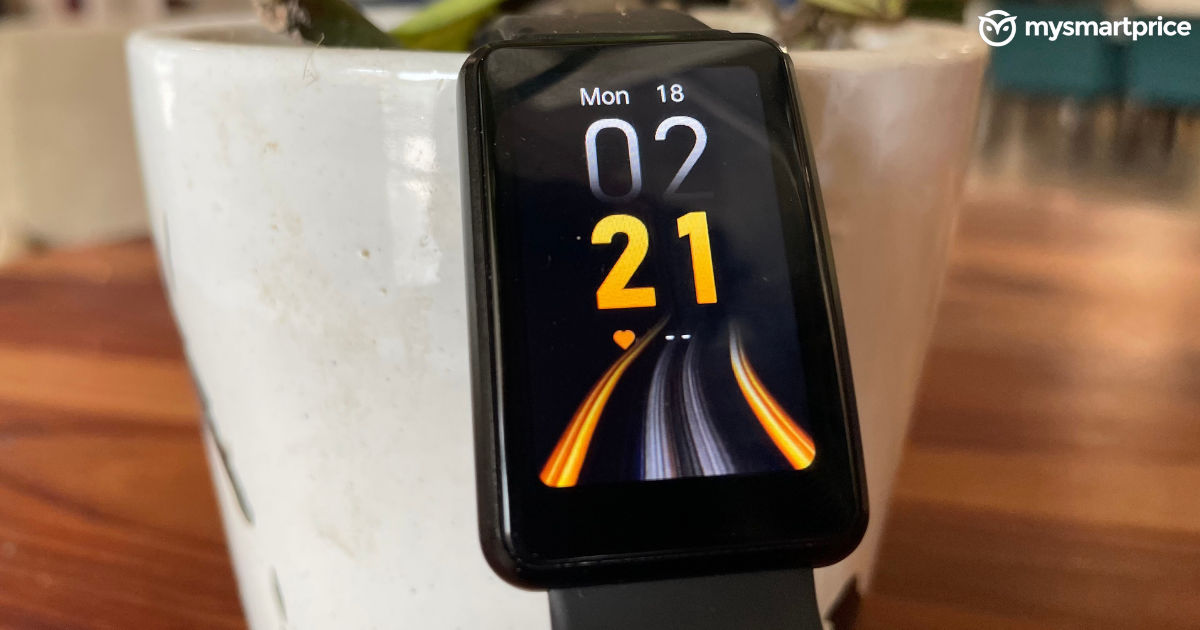 The Dizo Watch S features a large 1.57-inch rectangular display, even bigger than the Redmi Smart Band Pro (Review). I found it big enough to use it confidently with my fingers and the spacing between fonts and icons was decent, and so was their visibility. texts. However, the TFT display is a major letdown on the Dizo Watch S because of which the colours come out to be faded. The Xiaomi Band 5, which is priced Rs 300 more, comes with an AMOLED display that offers much better contrast. Interestingly, the company claims that the watch can go as bright as 550 nits but we had to struggle to see the watch display in direct sunlight. There are five levels of brightness – 20%, 40%, 60%, 80%, and 100%.
The Dizo Watch S has a screen resolution of 200×320 pixels and the display is sharp and clear. The touch screen is responsive. The raise to work feature works smoothly.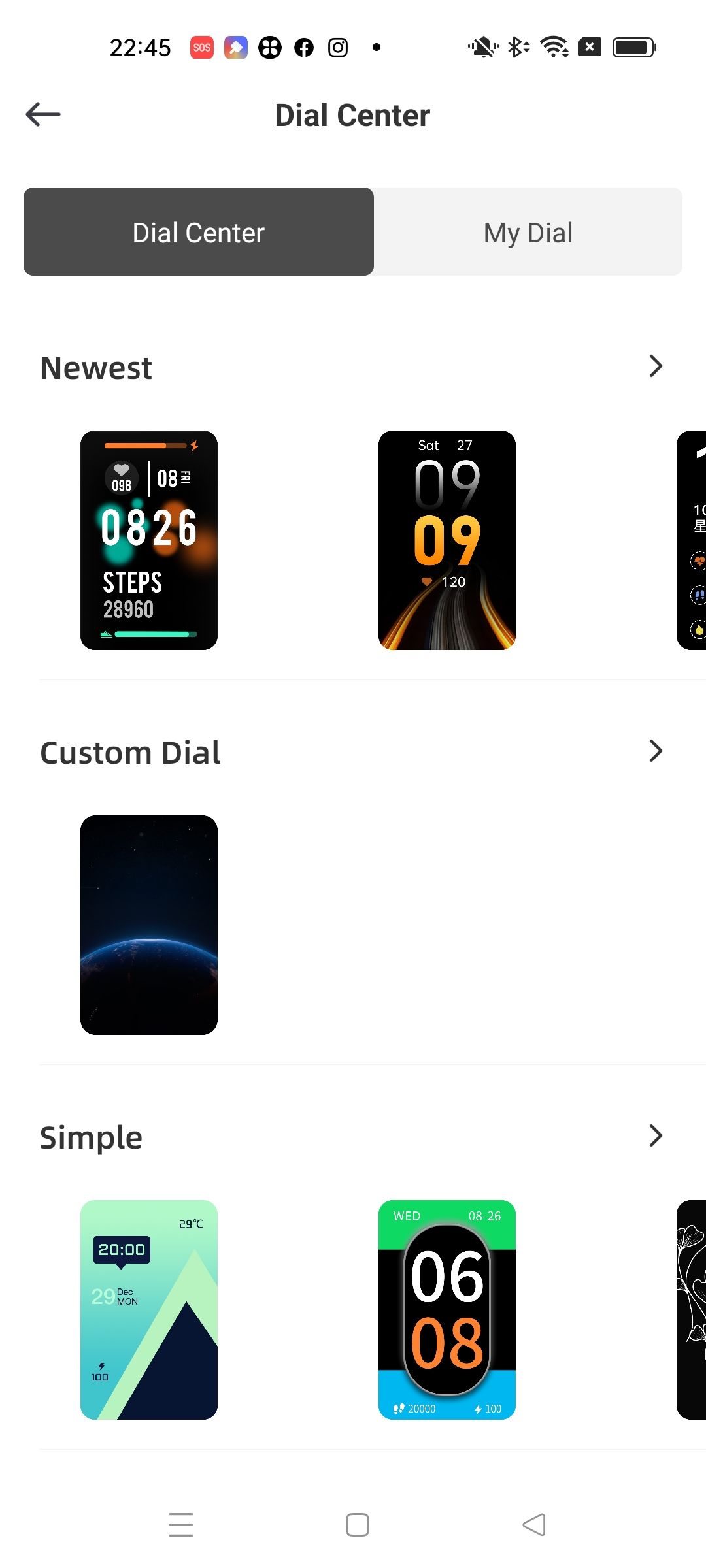 Dizo claims that the Dizo Watch S supports over 150 watch faces, four of which are present in the watch itself while others can be downloaded from the Dizo app. You can also set your custom wallpaper and customise it.
Battery and Charging
Dizo claims that the Dizo Watch S can last up to 10 days in regular use and 20 days in standby mode. However, during our usage, the watch drained 50% of battery in four days. Therefore, we speculate that the watch will last up to 8-9 days on regular usage which is fine. We had set the brightness to 80%, heart rate sensor for every 10 minutes, and notifications on. If you turn off or lower these settings, then you might get extra days of battery life.
The 200mAh battery of the Dizo Watch S gets juiced up in 1.5 hours by a magnetic pin charger which is bundled with the box. I didn't face any heating issues while charging the watch.
UI and App Support
The Dizo Watch S feels good while using. The UI is smooth and we haven't noticed any stutter on the watch. A swipe upwards will take you to the main app drawer that will show you options like body temperature, workout, activity, heart rate, SpO2, sleep, information, sleep, breath training, cycles, weather, music, alarm, stopwatch, camera, find my phone, flashlight, and settings. 
Swiping down will show you all the notifications whereas a left swipe will take you to the basic control settings. A right swipe takes you through all the shortcut apps but to return to the home screen you will have to press the button on the right side or else swipe left again through all the apps to return home. The UI of the Dizo Watch S is pretty similar to Realme smartwatches.
The watch is loaded with pre-installed icons for popular apps such as WhatsApp, Instagram, Gmail, etc. It shows you a preview of the message along with the app name and its icons. Sadly, you cannot reply to it directly from the watch. If it's a long message, then you will have to go back to your phone to check the full message. For calls, you can either mute or reject them, however, we feel that an option to cut the call with an SMS would have been better.
The Dizo Watch S connects to the phone via the Dizo App which is available for both Google Play Store and Apple App Store. The app interface looks good and the design feels minimal. The colour theme of the app is white and yellow which feels pleasing to the eye. That said, there're not many options to check from. On the homepage, there are some shortcuts like a steps counter, heart rate monitor, dial center, sleep duration, and SpO2 checker. There is another section called 'Record' that lets you check your past workouts. Finally, there is the 'Me' option which is your profile from where you can customise your watch and change its settings. Dizo has also added drinking water and sedentary reminders, which I think is a good feature in this segment.
We had no syncing or connectivity issues while pairing the app with the watch. While the app looks good and works perfectly, but has limited features.
Health Based Features and Workout Modes
The Dizo Watch S comes with a plethora of features, like other fitness bands, it features a heart rate monitor, blood oxygen level tracker, breath training, calories burnt, sleep count, etc. In our comparison against the Redmi Smart band Pro and the Realme Watch S100, we found that the Dizo Watch S gives out close (but not accurate) results in heart rate monitoring and SpO2. While the Redmi Smart Band Pro and Realme Watch S100 were showing heart rate as 69 and 68 respectively, the Dizo Watch S showed 78. Similarly, there was a difference of 2-3% in SpO2 monitoring. We would advise you not to use it for medical purposes.
The sleep tracking of the watch is accurate and shows you exact details of your sleep. It seems that the watch cannot recognise the daytime naps. Apart from that, other features such as breathing, steps count, calories burnt are working fine.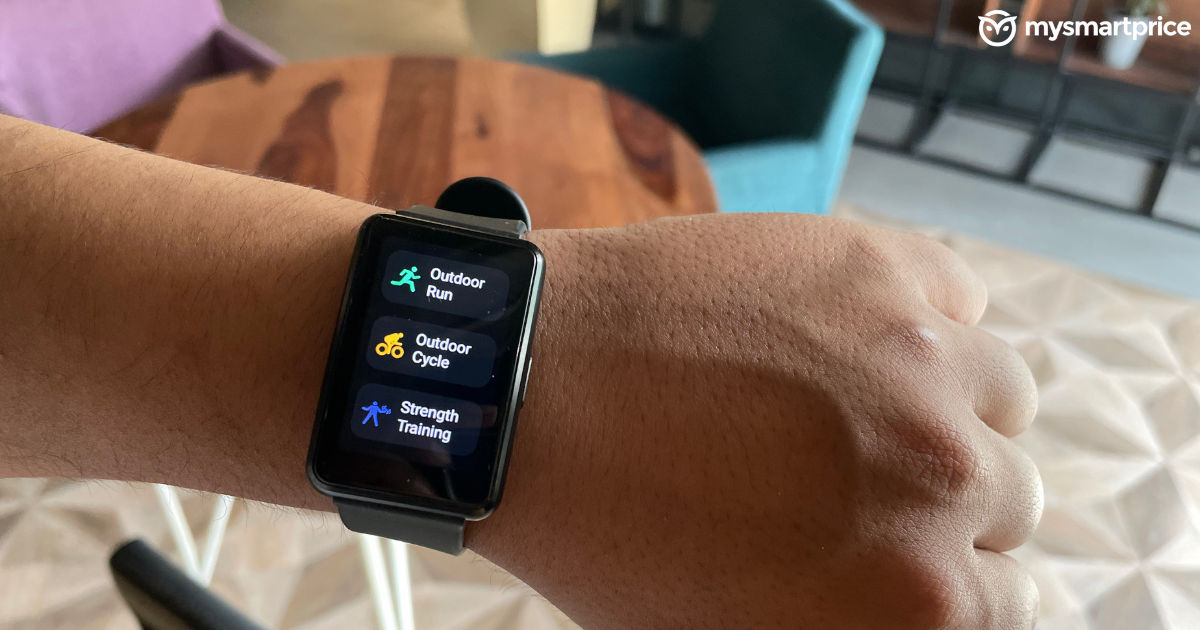 The Dizo Watch S comes with 110+ sports modes out of which 15 are currently available on the watch at the time of writing this review. The company will be adding more modes through OTA updates. Some of the workout modes available are outdoor running, walking, cycling, yoga, basketball, swimming, badminton, etc. I tried the outdoor walking mode and walked for 1.06km. The watch tracked my duration, heart rate, calories, steps count, and pace. Both, the app and the watch, will show you exact data of your workout history. Dizo has announced that it will roll out the in-app GPS mode soon for the Dizo app through which users will be able to check their activity route and share it with their friends. This feature is not available as of now and hence you cannot check your activity route on the app. The steps counter seems to be accurate, we cross checked our steps to what the watch was showing and it matched. 
Should You Buy the Dizo Watch S for Rs 2,299?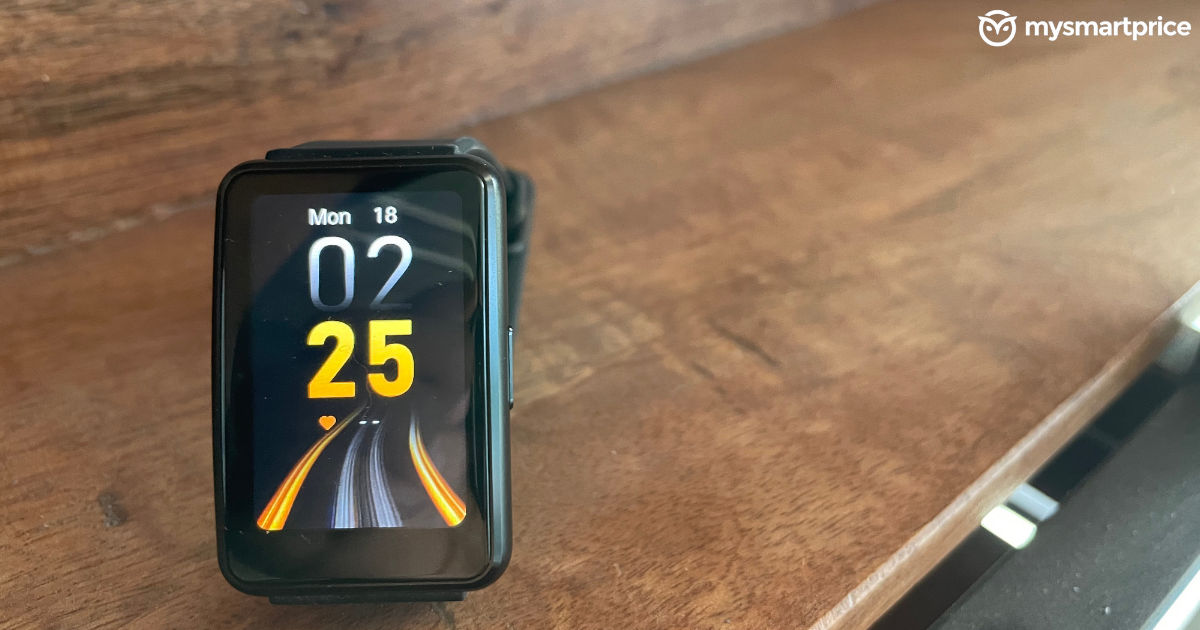 There's no doubt that the main selling point of the Dizo Watch S is its 1.5-inch large rectangular screen which provides a sufficient amount of spacing between the icons and texts. However, the TFT display at this price point is a disappointment which takes a lot of joy away from you as things look faded. The watch is full of health based features and workout modes and the battery can last up to eight days. The app interface is good but has very few options available as of now. Also, there is no confirmation on when the Dizo Watch S will receive the update for in-app GPS mode. Most of the tracking seems to be accurate except for the heart tracking.
The Dizo Watch S is priced at Rs 2,299 in India and it seems fair at this price point but the competition offers more under the Rs 2,500 segment. The Xiaomi Band 5 that comes with an AMOLED display and offers better battery life is still a value for money product for Rs 2,499. Or, if you are looking for a smartwatch at this price point, then you can pick the Realme Watch S100 (Review).