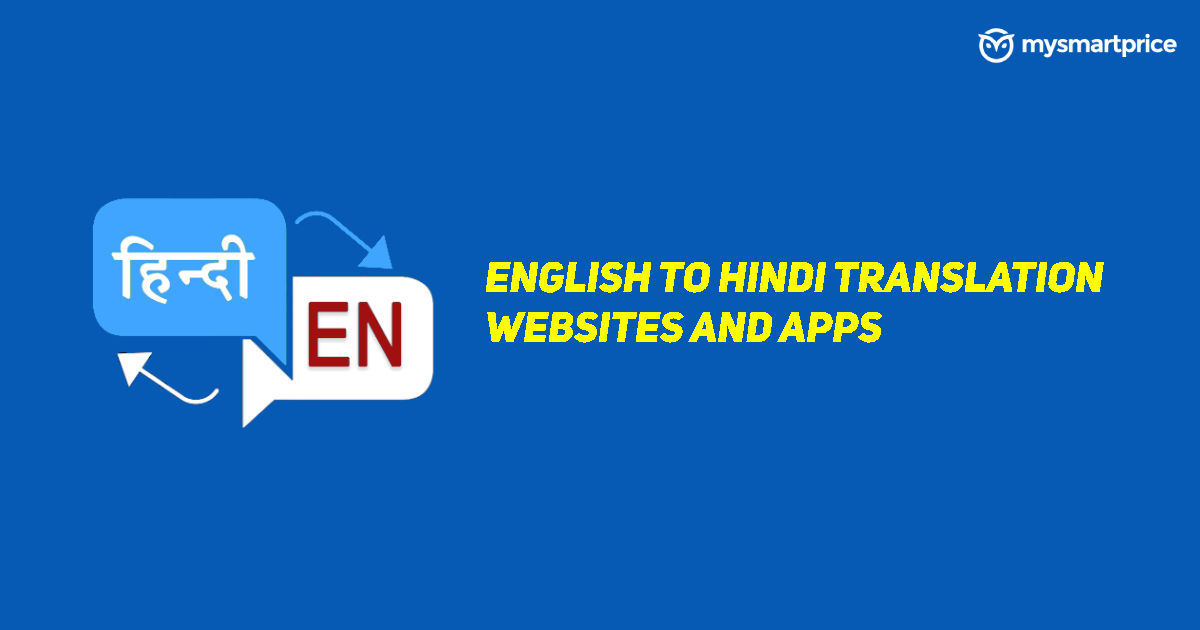 Translation websites are widely utilized by individuals worldwide, offering swift resolutions to linguistic challenges. In this article, we will focus on top-notch platforms and applications for English to Hindi translation. We've compiled a list of the 10 most popular websites and applications, along with their respective advantages and disadvantages. Read on to find out which suits your requirements the best!
10 Best English to Hindi Translation Websites and Apps
Google Translate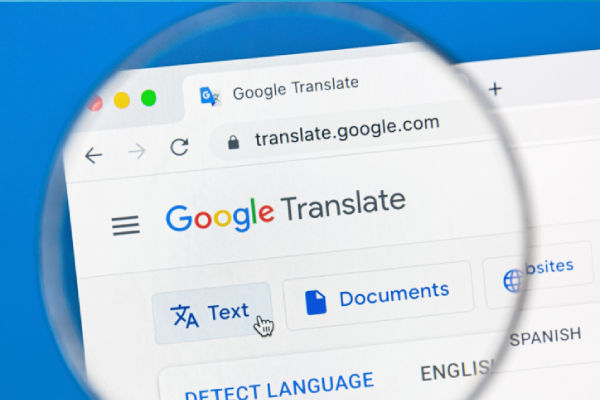 Google Translate is a free online language translation service provided by Google. It allows users to translate text or entire web pages from one language to another. The service supports a wide range of languages and offers translation capabilities for written text, spoken words, and even images through the use of optical character recognition (OCR). Users can input text or upload a document into the Google Translate website or app, and the service will provide the translated version in the desired language.
Google Translate Pros
Google Translate is normally free to use and can be accessed by anybody with a connection to the internet and a suitable device.
Google Translate is extremely fast. It is far faster than a human translator. Even if you have a lot of words, it can interpret them quickly.
Google Translate is really simple to use. You do not need to contact translators or deal with contracts. Simply write or paste your content, and you will receive an instant translation.
Google Translate Cons
Sometimes the translations provided by this platform are not very literal and during the process of translating the accuracy of the subject might get lost.
A good internet connection is a must and this platform does not work well without a good internet connection.
Google Translate does not verify your translation. You cannot be certain it's correct when you make use of it.
Click here to visit Website: https://translate.google.co.in/
Click here for the App: Download "Google Translate" on Android|iOS
Also Read: 10 Best Offline Music Apps for Android/iPhone in 2023 for Seamless Listening
Easy Hindi Typing
Easy Hindi Typing is a website that provides an online platform for typing in Hindi (Devanagari script) using a standard English (QWERTY) keyboard. The website offers a user-friendly interface that allows individuals to type in Hindi without having to install any additional software or special keyboards. Users can type in English, and the website will transliterate the text into Hindi. The website provides an on-screen Hindi keyboard that users can click on to type in Hindi characters.
Easy Hindi Typing Pros
The interface of this platform is a lot simplified and offers user-friendly tools and services.
The tools offered on the platform are very easy to use and also play a key role in enhancing the speed of the task.
Easy Hindi Typing does away with the need for a hardware Hindi keyboard, allowing users to enter information in Hindi using a standard English keyboard.
Easy Hindi Typing Cons
There are potential privacy and security concerns pertaining to the data entered when using the application.
An internet connection is a must and it will not work without a good internet connection.
Using only Easy Hindi Typing tools could discourage people from learning the Hindi language and enhancing their linguistic skills.
Click here to visit Website: https://www.easyhindityping.com/
Click here for the App: Download "Easy Hindi Typing" on Android
Translate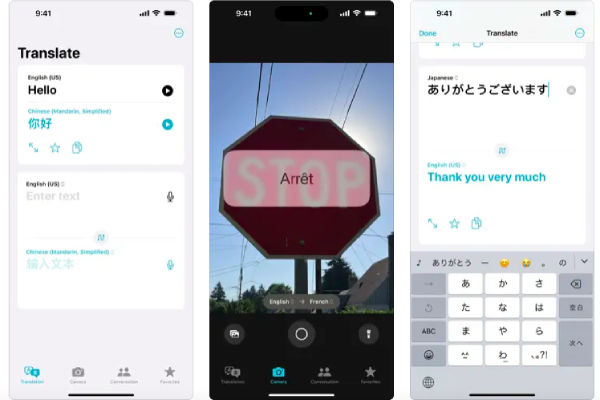 Translate is an application created by Apple for iOS and iPadOS devices, designed for language translation purposes. Within the Translate app, users can convert text, and audio, and engage in dialogues across a wide range of supported languages. Furthermore, the app allows you to download language packs, enabling offline translation capabilities on your device, regardless of an internet connection.
Translate Pros
It provides a very quick and authentic translation.
Data security is the application's top priority and there is no chance of data leakage.
The mobile application is a built-in application for all Apple users.
Translate Cons
An Internet connection is required.
A user has to log in using their Apple ID. As such it could be a little tedious.
The application is not available for the android users.
Click here for the App: Download "Translate" on iOS
LingvaNex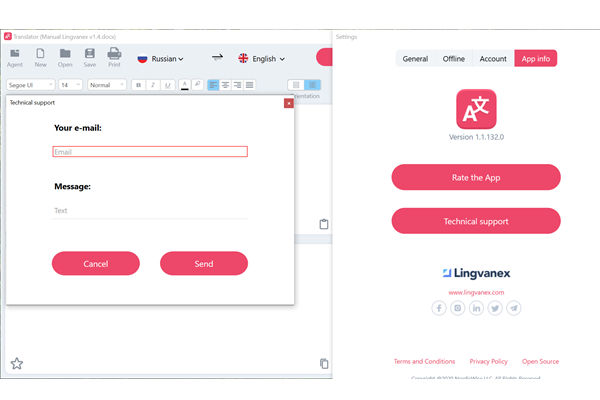 Lingvanex Translator stands out as a cutting-edge translation app offering proficiency in 127 languages, enabling the translation of text, voice, audio, images, web pages, and documents. It's available for various platforms, including iOS, Android, and web browsers, and offers features such as text and voice translation, offline translation, a dictionary, and more.
Lingvanex Pros
It offers a diverse set of languages, making it useful for users who require translations across multiple language pairs.
It also allows users to translate text even when no internet connection is available, which can be particularly handy when travelling or in places with poor connectivity.
It comes with one of the most versatile tools and also allows the users to avail the option of voice, and image translation, making it a versatile tool for a variety of translation needs.
Lingvanex Cons
LingvaNex might demand a subscription or purchase, and the continuous cost of subscriptions could pose a problem for certain users.
Concerns related to the security and confidentiality of information might come up, especially when LingvaNex gathers and keeps user data for interpretation or enhancement purposes.
LingvaNex translations are not always precise or contextually reliable, particularly if the user is dealing with complicated or nuanced data.
Also Read: Top 5 Things You Can Do With the USB-C on the iPhone 15 Series
Click here to visit Website: https://lingvanex.com/
Click here for the App: Download "LingvaNex" on Android|iOS
Microsoft Translator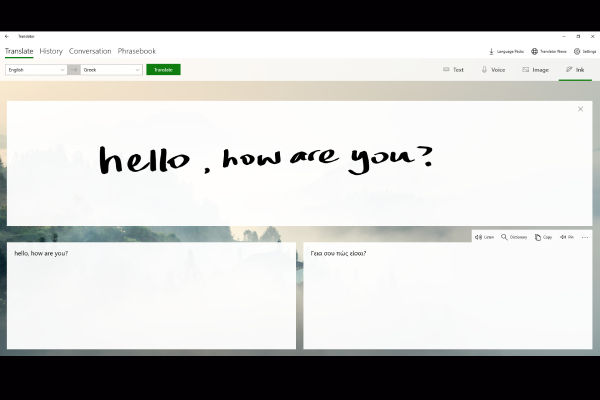 Microsoft Translator is a versatile and powerful language translation tool developed by Microsoft. With this user-friendly application, you can effortlessly translate text, speech, and even images from one language to another. It supports a wide array of languages, making it an indispensable resource for global communication and language understanding. It is a free, personal translation app that supports over 70 languages, enabling you to translate text, voice, dialogues, camera-captured photos, and screenshots. Additionally, you have the option to download languages for offline translation at no cost, making it convenient for your travel needs.
Microsoft Translator Pros
Some Microsoft Translator versions have complex and user-friendly tools and settings that allow several users to work alongside one another on translating a document, which can be valuable for groups or teams who are working on multilingual projects.
Over time, Microsoft prefers to make investments in constant improvements and updates aimed at improving the precision and efficiency of its translation service so that users can have a better experience while using it.
It usually offers several kinds of translation modes, which include written content, voice, and visual translation, that can satisfy a spectrum of communication demands.
Microsoft Translator Cons
Internet connectivity, although the platform offers offline services a few of the enhanced features and tools can only be used with the help of internet connectivity.
There are potential privacy and security concerns while using this platform which can pose some serious risk to the data entered by the users.
The accuracy of the data received might not be up to mark and there could be room for errors.
Click here to visit Website: https://translator.microsoft.com/
Click here for the App: Download "Microsoft Translator" on Android|iOS
Typing Baba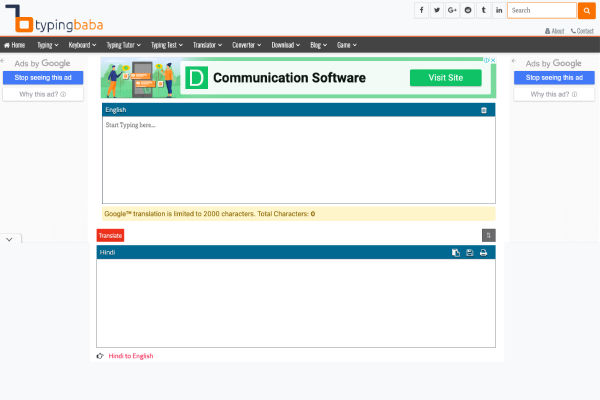 Typing Baba is an efficient online typing tool designed to enhance your typing skills. With a user-friendly interface, it offers a convenient platform for practising and improving your typing speed and accuracy. This tool provides a wide range of typing exercises, including beginner to advanced levels, making it suitable for users of all skill levels. Typing Baba also offers lessons in multiple languages, ensuring its accessibility to a diverse user base. It tracks your progress and provides real-time feedback to help you identify areas for improvement. Whether you're a student, professional, or simply looking to boost your typing proficiency, Typing Baba is a valuable resource. It's a free, web-based tool, eliminating the need for software downloads. Start enhancing your typing skills today with Typing Baba!
Typing Baba Pros
Typing Baba specialises in typing work for Indian languages, and this can be extremely useful to individuals wanting to further develop their typing abilities in dialects such as Hindi, Marathi, Gujarati, and others.
Plenty of features available to be used on Typing Baba can sometimes be free, enabling customers to take advantage of typing courses, practice activities, and tests without needing to enter into a payment commitment.
Typing Baba is typically accessible online from a variety of devices, giving users flexibility in regards to when and where they are able to make use of the services.
Typing Baba Cons
Although it is excellent for learning Indian languages, it is not as effective for learning other languages. The users might face a lot of problems.
Typing Baba may lack capabilities such as advanced analytics when compared to more advanced typing software.
How good Typing Baba is depends on the language you're studying and how you learn – it may not work for everyone.
Click here to visit Website: https://www.typingbaba.com/
Hi Translate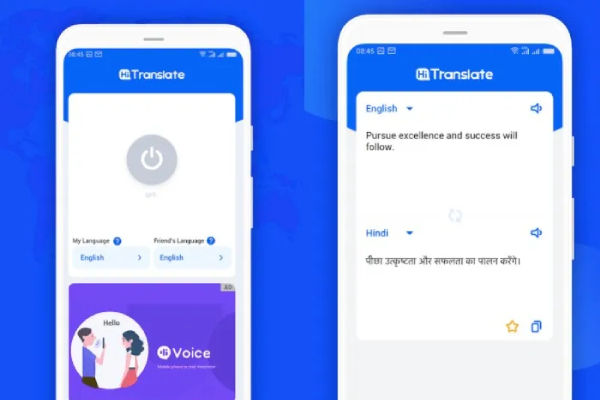 Hi Translate is a free language translator for 57 languages, including Hindi translation to English, English to Marathi translation etc. Known as an online translator. This powerful tool allows users to quickly and accurately translate text, voice, and even images. Whether you're travelling, working, or communicating with people from diverse linguistic backgrounds, Hi Translate simplifies language barriers.
Hi Translate Pros
This online application is available for all Android and Apple users.
This translating platform is easy to use and is made accessible to the public along with a bunch of interesting tools and features that enable the users to have a good time while using the application.
It provides good and speedy translation services to its users.
Hi Translate Cons
The protection of data might be a bit compromised while using this service. There are no proper measures taken to safeguard the data entered by the users.
Internet connectivity is required while using the application.
The platform might fall short when it comes to using some of the advanced services.
Click here for the App: Download "Hi Translate" on Android|iOS
SayHi Translate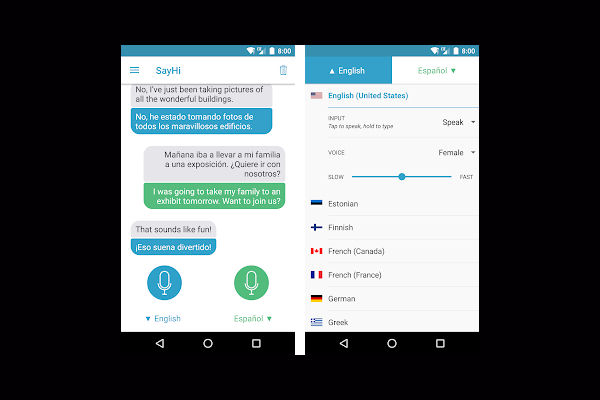 SayHi Translate is a convenient language translation app that supports multiple languages. With a user-friendly interface, it allows you to quickly translate text or speech between languages, making it an ideal tool for travellers, language learners, and anyone communicating across language barriers.
SayHi Translate Pros
Some SayHi Translate editions consist of the mode of offline translation, which can be helpful when travelling to places with limited or no access to the internet.
It generally involves text-to-speech and speech-to-text features, enabling users to both listen to and read translations in order to enhance understanding.
SayHi Translate normally covers an extensive list of various languages, which makes it flexible and efficient for an extensive variety of languages and translation requirements.
SayHi Translate Cons
People may be concerned that their information may be gathered and retained by the app, raising security issues.
SayHi Translate may not always yield perfect translations. There might be room for mistakes.
The application may prompt users to sign up for a subscription or make in-app payments in order to fully utilize all of its capabilities, which may be a detriment to users looking for free solutions.
Click here to visit Website: https://www.sayhi.com/en/translate/
Click here for the App: Download "SayHi Translate" on Android|iOS
iTranslate Translator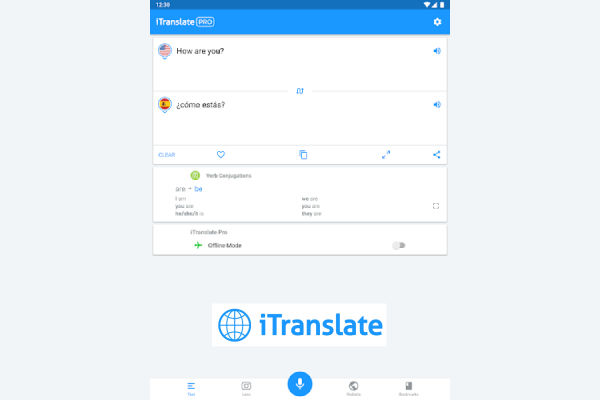 iTranslate Translator is a versatile translation app designed for seamless communication in over 100 languages. It offers features like text and voice translation, offline mode, and even the ability to translate websites and entire documents. This user-friendly app is an excellent companion for travellers, language enthusiasts, and professionals looking to break down language barriers.
iTranslate Translator Pros
The users can make use of the services even when they are not using the Internet.
The app may include phrases and examples that can help users grasp and employ popular phrases across multiple languages, resulting in improved interpersonal interaction.
It frequently provides real-time translation, permitting people communicating in different languages to share ideas instantly, thus being helpful in travel and foreign conversation.
iTranslate Translator Cons
The tool might find it difficult to understand all of the implications of an expression or phrase, subsequently leading to technically accurate but theoretically faulty translations.
There is a possibility that the accuracy of the data might be compromised.
While the simplest version can often be used for free by the users, some advanced functions might require a membership.
Click here to visit Website: https://itranslate.com/
Click here for the App: Download "iTranslate Translator" on Android|iOS
How do I choose the best site for English-to-Hindi translation?
If you are looking for a good site that will instantly provide you with a good English-to-Hindi translation. Then, you should definitely be paying attention to some of these points –
Consider translation accuracy, ease of use, and language pair support.
Evaluate translation speed, specialized terminology support, and data security.
Examine the cost, read user reviews, and explore additional features.
Ensure compatibility, customer support, and regular updates.
Check for user communities and forums for additional support.
FAQs
Are these translation apps and websites free to use, or do they require a subscription?
The availability of free usage or subscription options varies depending on the specific app or website. Some offer free basic services, while others have premium features that require a subscription.
Do these apps and websites offer accurate translations from English to Hindi?
Yes, these apps and websites strive to provide accurate translations from English to Hindi. However, the accuracy may vary based on the complexity of the content and the platform's capabilities.
Can these translation tools handle both written and spoken English to Hindi translation?
Yes, most of these translation tools are designed to handle both written and spoken English to Hindi translation. They often support text input as well as speech recognition for convenient and comprehensive translation.