Highlights
Karan Johar gets trolled by Kareena Kapoor and Alia Bhatt
Kareena ignores Karan's question about Ameesha Patel
Karan Johar claims Alia Bhatt is his "firstborn."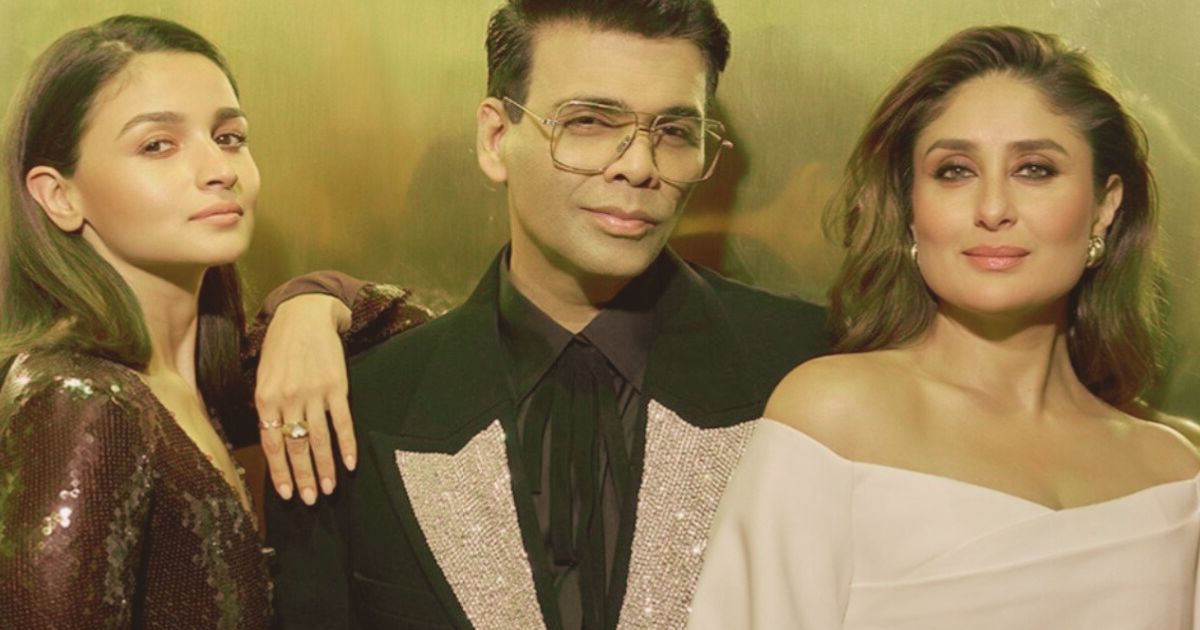 The popular chat show Koffee With Karan, hosted by Karan Johar, is well-known for its frank discussions, contentious disclosures, and impressive roster of guests. It's in its eighth season, and the impressive list of guests on the show is creating quite a buzz. Ranveer Singh and Deepika Padukone gracing the couch in the opening episode and creating quite a controversy gave the show much-needed hype among the audience. The second episode of the show saw the Deol brothers (Sunny and Bobby Deol) speaking candidly with the host and sharing their journey from going into oblivion to going back with a bang on the silver screen. The third episode brought the funk back to show, with BFFs Sara Ali Khan and Ananya Pandey making candid confessions about their relationships and other secrets. Now, viewers should gear up for much more outspoken and related-to each other guest on the show, which is sure to bring fireworks to the show—Kareena Kapoor Khan and Alia Bhatt.
We are seated for this trio to spill the beans! #HotstarSpecials #KoffeeWithKaran Season 8 Episode 4 streaming from 16th Nov. #KWKS8OnHotstar#KareenKapoorKhan @aliaa08 #KaranJohar @apoorvamehta18 @aneeshabaig @jahnvio @Dharmatic_ pic.twitter.com/3lS5xIcnpc

— Disney+ Hotstar (@DisneyPlusHS) November 15, 2023
Koffee With Karan Season 8 Episode 4: OTT Release Date and Platform
Disney+ Hotstar is presenting Koffee With Karan Season 8 on its platform. Episode 4, with Kareena Kapoor Khan and Alia Bhatt as guests, will be streamed on November 16. Viewers will need to have a subscription or upgrade their subscription to Disney+ Hotstar to watch the show.
Koffee With Karan Season 8 Episode 4 Guest: Kareena Kapoor Khan and Alia Bhatt
The eighth season of the show features Kareena Kapoor Khan and Alia Bhatt, two formidable female figures from Bollywood. While Kareena is making her eighth appearance on the show, Alia will be making her seventh appearance.
Koffee With Karan Season 8 Episode 4 Promo
Disney+Hotstar's most recent promo has Kareena and Alia looking gorgeous in their ensembles. The two actresses are prepared to cuddle up on the dreaded "controversial couch" and playfully tease Karan. They are all set to amuse the audience and share some fascinating anecdotes about their life with their charm and humour. This episode looks to be quite dramatic and entertaining, as the promo says. In a lighthearted reference to the controversy that frequently surrounds Koffee With Karan, Alia quips that the show is a "controversial couch with a 'K'". However, Kareena's response to being referred to as "bhabhi" (sister-in-law) makes people take notice and could allude to an unpleasant scene or inside joke during the show.
Cozy conversation and friendly roasting throughout the show are some of the best parts of Koffee With Karan. Fans may anticipate some funny moments and snappy comebacks as Kareena and Alia mock Karan and surprise him with their quick wit and mischievous personality. Observing the three of them together is sure to be entertaining.
The preview suggests that Bollywood has a lot of awkward talks and strained friendships. Karan prodding Kareena on her absence from the Gadar 2 success party and her relationship with Ameesha Patel is something to watch out for. It also raises the possibility of rivalry and jealousy within the industry, which heightens the episode's mystery.
Watch out for this space for more such updates.